Serbia and Montenegro: 14 May: Nis - Kumanovo
Today was to be a long day, so we left the Regent Hotel a little after seven o' clock for our first meeting. It turned out to be quite an unforgettable one - a visit to the "Dusko Radovic" old people's home in Nis. All the inhabitants were there to receive us, and one of them proudly carried the torch inside, which was burning with a bigger flame than ever. The choir of the house sang two songs.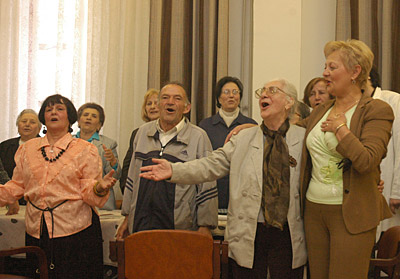 One was a welcome song, which they accompanied with big gestures, and the other a song that expressed their love for their homeland. These songs were so beautiful and sung with such heartfelt feeling, that they brought tears to our eyes. An old lady spoke a few words to us, saying that though they were not be able to run very fast any more, they would be with us in spirit all the way to London. We were so moved! These kind old people with their life experience certainly knew how to value the meaning of the torch. Likewise we will not forget them. We then went to the garden together, where a Harmony Tree was planted.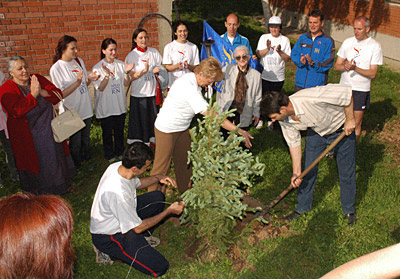 After many handshakes and hugs we at last said goodbye.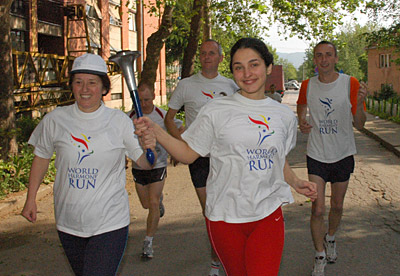 Our second meeting of the day was in the village of Donji Dusnik, where a day of Olympic Games was being organized for the schools in the region. We were invited to light the Olympic flame with the Harmony Torch, in recognition of the values of sportsmanship, respect and joy that we share with spirit of the Olympics. In comparison with our first meeting, there could hardly have been a greater contrast. But then again, that is what is so special about the World Harmony Run; its message strikes a chord in everyone's hearts, and so it can connect people of all ages, backgrounds, nationalities and beliefs in a way that very few other intiatives can.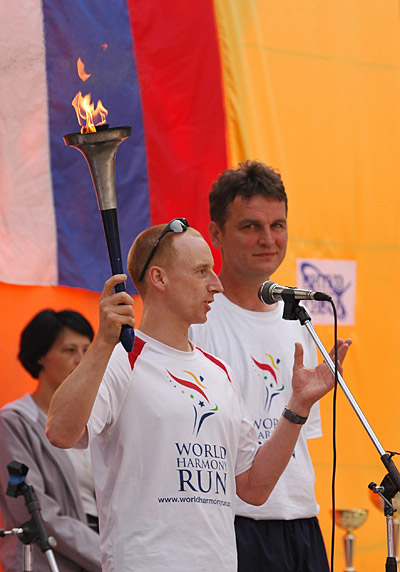 At the sportsfield all the different teams were lined up, with flowergirls in the front.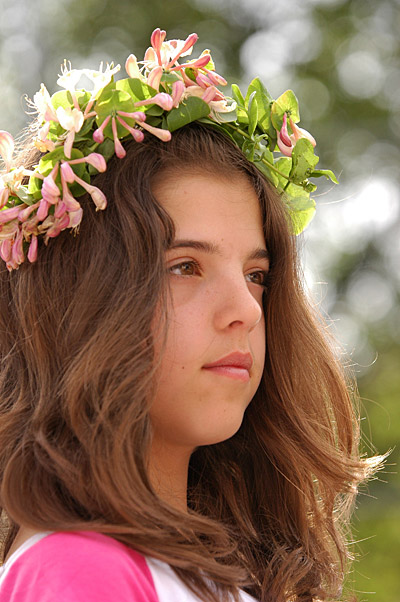 At the entrance children's impressions of the World Harmony Run in connection with their Olympic day were shown. Our torch lit theirs, and they were ready for a day of competition in friendship.
The hills and mountains south of Nis are amazingly beautiful. To one side of us, we had Suva Gora ("dry mountain") and on the other side Babicka Gora ("grandmother's mountain"). This is really Balkan country, wild, unspoiled and very sparsely habitated.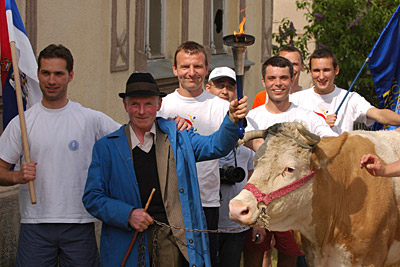 I had the luck to run a few miles totally alone through this country, in complete silence and peace, precious moments indeed. In our car we chose music that fitted this peaceful beauty.
Dragan, one of the local runners, was born in these hills, and he was very inspired to run here again, and do many miles.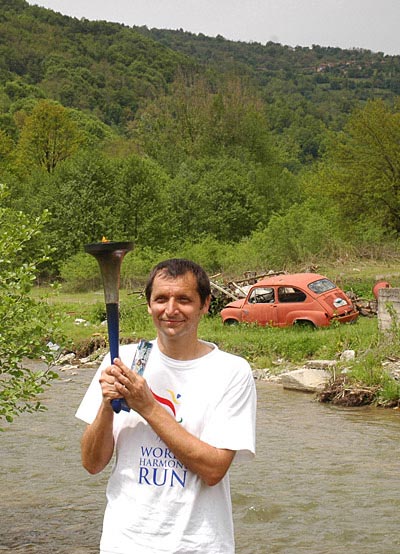 On the road we met a couple from Leskovac. They were so inspired they gave us flowers from the mountains and insisted we will be their guests next year and spend the night in their house.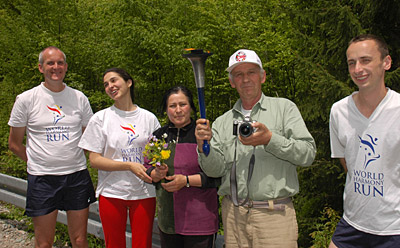 We then reached the village of Crna Trava, meaning Black Grass. This name seemed not to fit the very green hills around us. We were told told that the name was given in World War II. In these wild hills a group of partisans was fighting the Germans. They fell asleep in the green, smelling grass, were surprised by the Germans and lamented: "grass, what have you done to us?".
Some boys read out their thoughts on harmony in the world. This is always very inspiring to us, these young people with so much willingness to make a better world. What do think of this, written by a boy of probably not older than 14 year?
"Life is a great mystery. Everyone must walk the path of life and deal with its problems on the way. While walking the path of life we are experiencing many joyful or sad moments that do not depend on our will. But it seems that there is something above all these events, above our planet and even above the universe. Finding inner peace is life's greatest goal. To harmonize our desires and possibilities, our abilities and goals, our moods and obligations, to make the world a better place, more beautiful and openminded, is the essence of life. And if we leave something good behind, we did not live in vain."
After leaving Crna Trava we really went up, reaching a pass with a nice lake at perhaps 1200 meters. It felt like going back in time, as the trees still hardly had leaves and everything in nature was only now awakening from winter. The highest tops still had snow on them. As the climb up was long so was the descent, with many hairpin curves.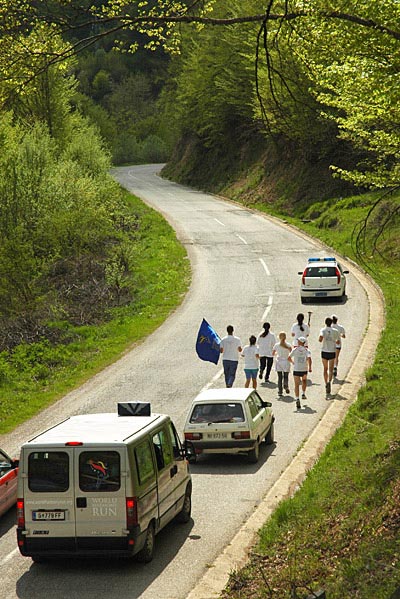 Back in the valley we reached Surdulica, where another group of enthusiastic youths ran with us and spurred us on. We were impressed by a very little boy with his arm in a cast, who would not give up, and went with us all the way.
And off we went for our last meeting in Serbia in the city of Vranje, where a lot of people had gathered on the main square. On the way there we had a good time with Jadranka teaching us the World Harmony Run song in the Serbian language. For the last time we were able to share our dreams and hopes for a world of oneness.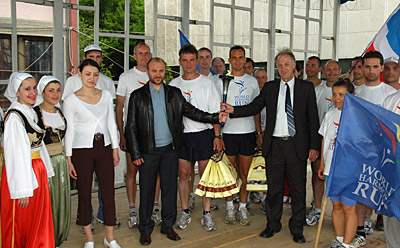 And so came an end to five magnificent days in Serbia. We enjoyed so much their warm hearts and great smiles and the beautiful scenery that we felt a little sad at leaving. We also felt a little sad at saying goodbye to the local organizers, our hosts and friends, who did a tremendous job and made all this possible.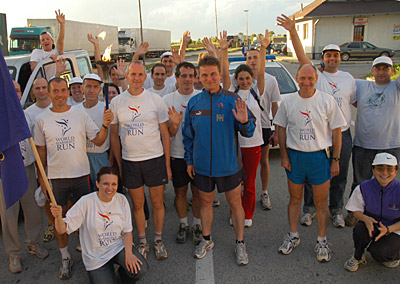 Pedrag and his friends took care of all we needed and much, much more. The great local runners, Srjan, Namitabha and Dragan, to name just a few, covered many, many kilometres for us and in this way helped us tremendously. We hope to see you all back soon!
In beautiful evening light we crossed the border to Macedonia, ready for new adventures in a new country.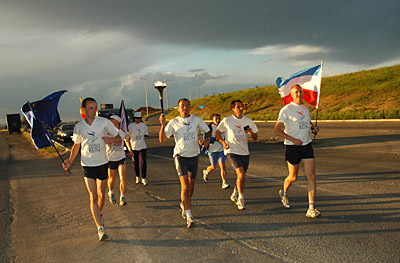 We were surprised with a big meeting in the bordertown of Kumanovo, where also the national television was present. Many, many children with a lot of dynamism and energy made us ran faster than we would have done by ourselves at the end of a long day.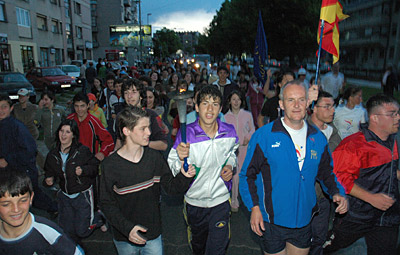 We were greeted by the mayor and with a lot of modern dancing.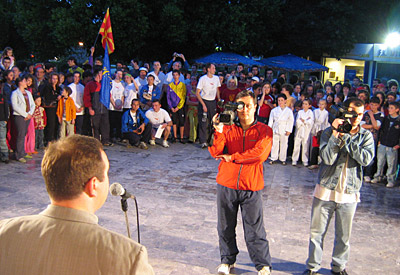 We were quite tired as we finally drove to the nearby capital Skopje, where our hosts had prepared a delicious meal for us.
In the morning the Team was strengthened by the coming of Jadranka from Belgrade. At the border we unfortunately had to say goodbye to Tihomir, who returned home to Crotia. Late at night Natalia from Lithuania arrived. The Team is growing and now counts 8 people.
---
Distance: 223km
Team Members:
Andrea (Hungary), Frank de Lange (Holland), Jadranka Grbic (Serbia and Montenegro), Mark Collinson (England), Ondrej Vesely (Czech Republic), Petr Machacek (Czech Republic), Roberto Barth (Germany), Tihomir (Croatia).
Harmonemail:
You can send a message to the runners or read the messages.