Slovenia 4 May: Ljubljana - Postojna
This morning we took part in a wonderful ceremony in front of the Ljubljana town hall. We were meeting the mayor of Ljubljana, mr. Zoran Jankovic and several other Slovenian guests who had come out to support us and speak about world harmony. First we met up with children from the "Prehizov Voranc" elementary school, who would accompany us running to the mayor's office. They were quite happy to take part.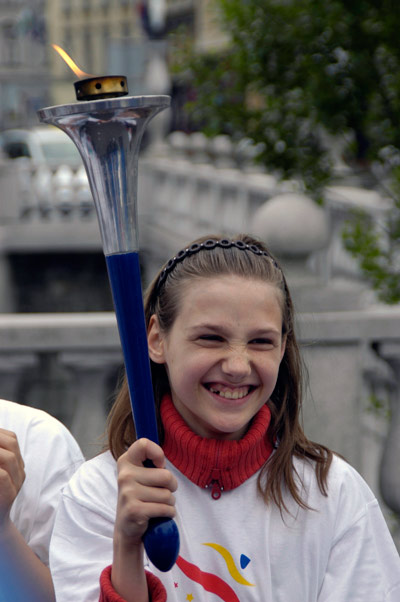 The mayor received us with beaming smiles. He commented that he himself runs on a daily basis. He definitely looked healthy and happy!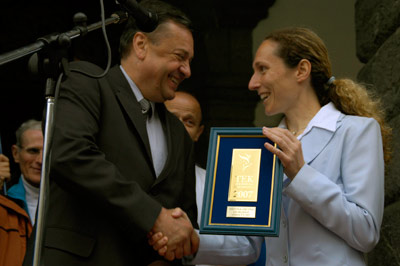 A former businessman and CEO of the widely branched out Mercator supermarket stores, Mr. Jankovic has been in office as mayor for only a few months, but as one Slovenian assured us, he accomplished more in those few months than many believed possible.
The other guests included Miroslav Cerar, two time Olympic gold medal winner in gymnastics and the current president of the Slovenian Olympic Academy. Mr. Cerar was extremely kind and supportive. It is always a thrill to meet with an Olympian champion!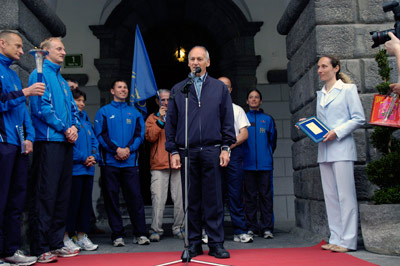 Former Prime Minister and current member of the European Parliament for Slovenia, Mr. Lojze Peterle, also honoured us with his support. In his speech, he conveyed his admiration for Sri Chinmoy's work, who is the founder of this Run.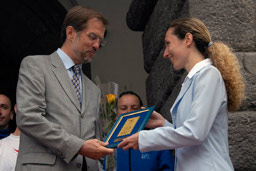 Jerica Mrzel, who is one of Slovenia's foremost actresses and an accomplished artist as well, graced us with her kind and encouraging words.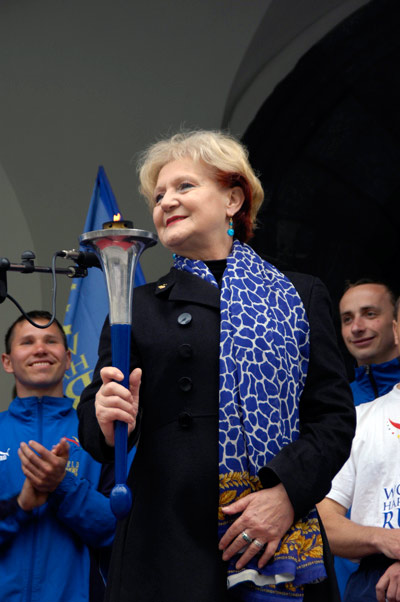 Mr. Dragan Bulic, a well known journalist for Slovenian national radio and television and Mr. Ales Gulic, Slovenian member of parliament, were also present at the meeting. Both gave a heartfelt speech on the issue of world-harmony. Afterwards we were all ushered inside where refreshments were waiting for us and where we were able to talk in a more informal manner. The children proved to be a real asset to the meeting with their enthusiastic and bright presence.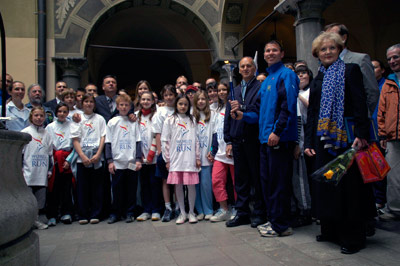 We left the meeting with a warm glow in our hearts. When people like those mentioned above come out to support us and join their voices with ours, it really gives us immense encouragement and joy. We are deeply grateful to all of them for their inspiration and goodwill.
Onwards we went with the children through the streets of Ljubljana.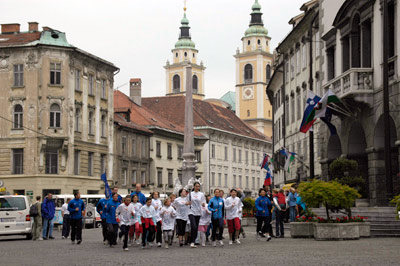 Then we ran back to their school and gave a short presentation outside for all the schoolkids.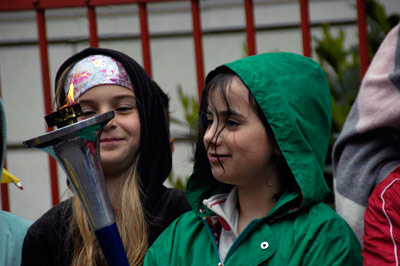 Children still remain our favourite World Harmony runners!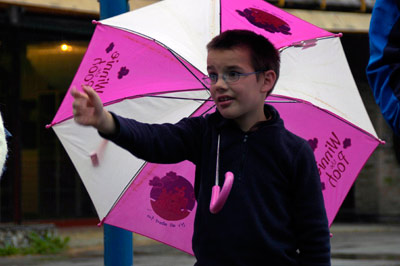 We had one more stop-over before we left Ljubljana. The Austrian ambassador, Dr. Valentin Inzko, who was also present at the meeting in the town hall, had invited us to his embassy for refreshments and to meet with some of his colleagues. We were very kindly received and shared their enthusiastic spirit. Martin, our inhouse photographer, happens to be Austrian himself, so this is one of the rare shots where he can be admired (fourth from the right).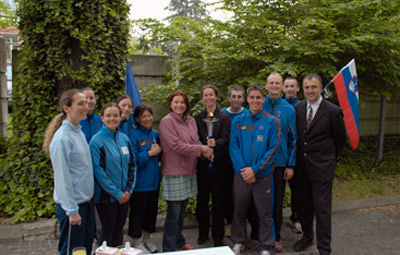 Our run of today took us past the communities of Brezovica, Vrhnika and Logatec, where we were most generously received. All mayors of these towns had prepared delicious snacks of fruits and nuts for us: the best running fuel imaginable. It is impossible to be hungry for long on the World Harmony Run, as we found out in Slovenia.
The town of Postojna was our final destination today. Alas, the rain kept dogging us throughout the day. Even so, the mayor of Postojna proved brave enough to greet us out on the road and run several steps along with yours truly.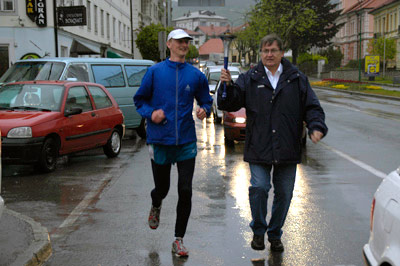 Postojna is famous for its enormous underground caves, which happen to form the largest natural cave system in Europe. Naturally we grabbed the opportunity and took the guided tour into the caves.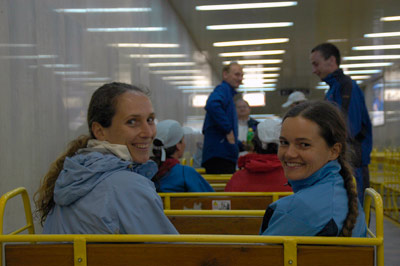 We were struck and simply amazed by the natural beauty inside and underground. The Postojna cave is renowned for its beautiful constellations of stalagmites and stalactites, the limestone outcroppings hanging from the ceiling and those sprouting up from the ground. As we were told it takes about ten to thirty years for the outcropping to grow one millimeter in height. Many of the stalagmites and stalactites could be measured in metres, the largest one measuring even 18 metres! You do the math. One could not help feeling humble walking among this limestone eternity. We were indeed standing face to face with the age of the earth.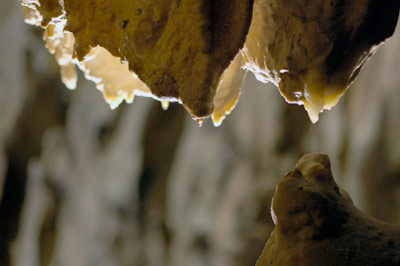 ---
Team Members:
Martin Leitner (Austria), Hidde Abhinabha Tangerman (The Netherlands), Jana Chochlikova (Slovakia), Tatyana Chochlikova (Slovakia), Frank Foerster (Germany), Predrag Trkulja (Serbia), Petr Machacek (Czech Republic), Janusz Wiewior (Poland)
Harmonemail:
You can send a message to the runners or read the messages.