Slovenia 2 May: Ptuj - Novo Misto
A lot of kilometres were in store for us today, but it was balanced out by a modest amount of meetings, so we were not overly pressed for time. The mayor of Ptuj saw us off in front of the town hall as we embarked on our longest journey in Slovenia.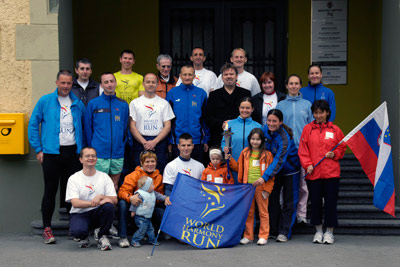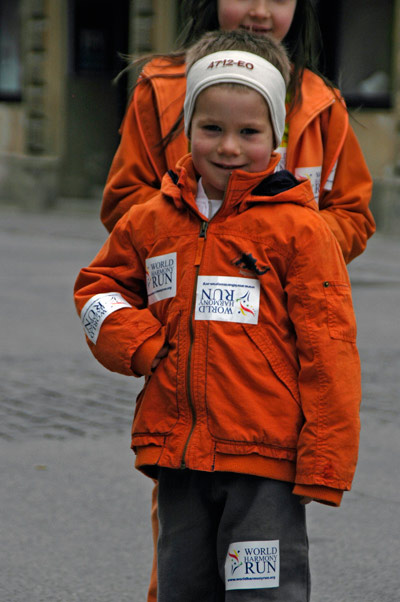 The first of the two scheduled meetings took place at quite an idyllic venue: Aqualuna, an open air swimming pool and slides park. The mayor of the adjacent town of Podcetrtek welcomed us here and treated us all to drinks after a traditional run with the torch. He used to be an avid sportsman in his youth and was runner-up in the Slovenian cross-country championships of 1983.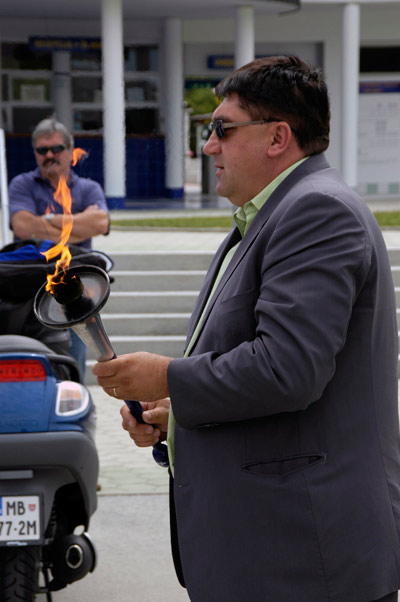 We further learned from him that this region is famous for its chocolate. Unfortunately our route today did not include any of the local chocolate factories, but the mayor saved the day for us by promising us a whole bagfull of chocolate, which he personally would deliver to us. He proved to be a man of his word and we are much obliged to him and very grateful for his generous offering.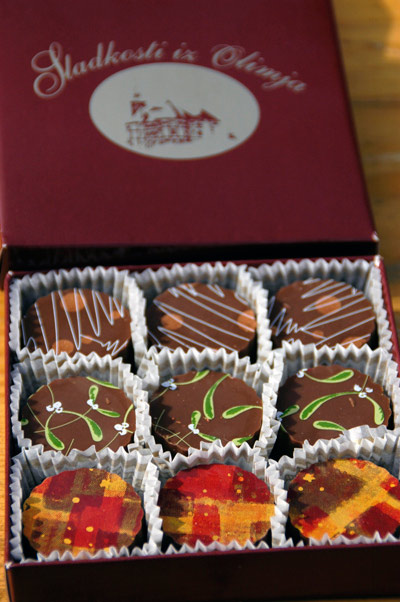 The chocolate was put to good use during our next meeting, where it served as the dessert to a sumptuous lunch. After the drinks were done we all dipped into the pool, eager enough not to let this golden opportunity slip. The slides conjured up a childlike merriment and joy and were a very welcome change to our schedule.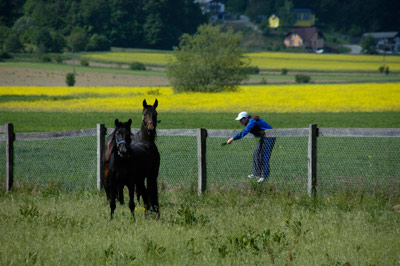 We spent over an hour in the water while our Slovenian friends covered the distance to the next town. The World Harmony Run is all about flexibility, willingness and a cheerful surrender to whatever presents itself along the way. We were happy and grateful that they understood well. In Bistrica ob Sotli we all found each other again. The mayor of this quiet little town was all smiles as he made his welcoming speech. Two large wooden tables on the small town square were laid out with pasta, vegetables, cheese and bread and we were warmly invited to partake - an offer we simply could not refuse.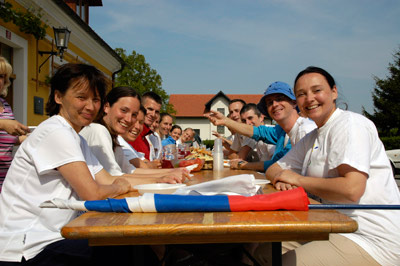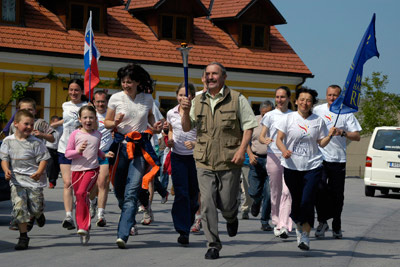 The remainder of the day was spent running through the breathtakingly beautiful countryside of Slovenia. Undulating hills and lush forests vied for attention, and little villages dotting the green valleys and dales. One cannot help becoming a little philosophical while treated to these mesmerizing vista's.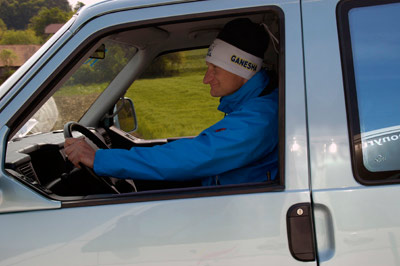 Personally I can never be grateful enough for the opportunity this World Harmony Run provides in expanding one's horizons, being taken up into the very heart of different cultures and nations and reaching out to the very best in each human being. The whole thing is such a wonderfully positive and uplifting experience that one feels strengthened, encouraged and deeply hopeful about the future of our world, despite the often bleak situations we face today.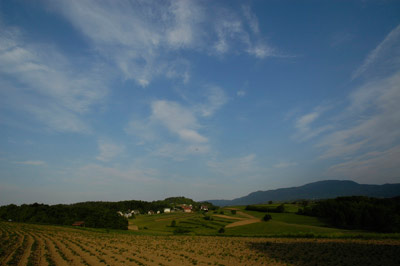 ---
Team Members:
Martin Leitner (Austria), Hidde Abhinabha Tangerman (The Netherlands), Jana Chochlikova (Slovakia), Tatyana Chochlikova (Slovakia), Frank Förster (Germany), Predrag Trkulja (Serbia), Petr Machacek (Czech Republic), Janusz Wiewior (Poland)
Harmonemail:
You can send a message to the runners or read the messages.