Leichtenstein May 16: Vaduz - Sevelen
Today we met grey skies and clouds as we made our way south through the Swiss Alps. The mist around the mountaintops created a truly 'mystifying' atmosphere and proved the perfect backdrop for a day of diligent and arduous running along a mountainous course.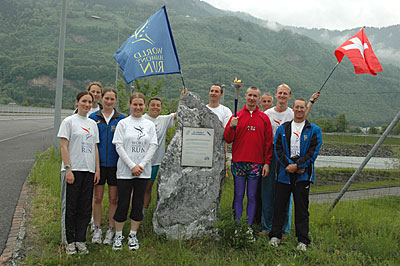 As today was Pentecost Monday and a national holiday, there weren't many meetings along the way. Our team split into three different groups doing various parts of the course, which started in Altstatten - the finishing town of May 14. Two of our team members ran the first stretch into Vaduz, the capital of Liechtenstein - one of the world's smallest countries. From Vaduz the main group of about 11 runners started off. We crossed the bridge that connected Liechtenstein to Switzerland, which was dedicated to peace several years ago. Across the border we were joined by two women and one man from "Lauftreff Sevelen", an athletic club from the nearby town of Sevelen. The women ran with us for over an hour, while the man stayed with us for nearly three hours - he had inexhaustible energy!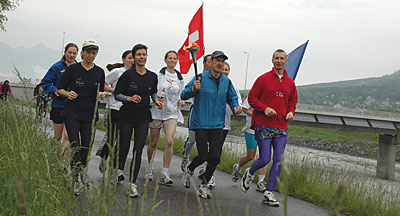 For many miles the runners followed the Rhine river, which meandered through the beautiful and pastoral countryside, walled in by the ever present snow-capped mountains of the Alps.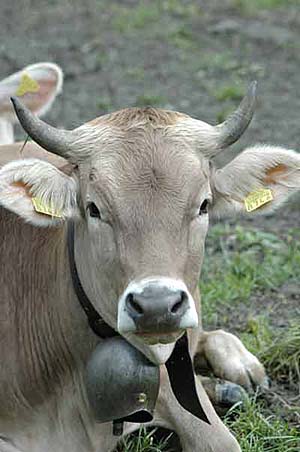 Today's run took us to Davos, which is the place where a lot of world class athletes from various disciplines do their training, as Davos is the highest town in the entire Alpine region, situated at an altitude of 1500 metres. As you could read from yesterday's report, we had already arrived in Davos (by car) for the big European meeting of the Sri Chinmoy Marathon Team on Sunday, so today we were travelling back again to make it to Davos on foot and with torch.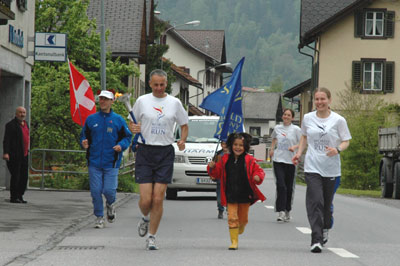 In many of the cosy villages along the way we met with local townsfolk who enthusiastically cheered us on. Their genuine support for our World Harmony Run was encouraging and heart-warming. In one of those villages, Jenaz, we met with four representatives from the city council who had made time for us on their day off to meet with us, hold the torch and give their support for world-harmony.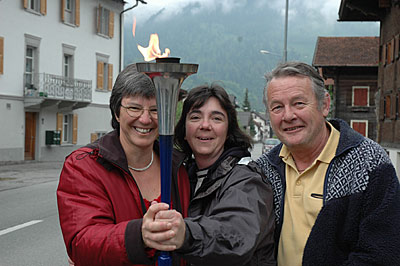 In Jenaz the main group finished for the day, because early in the morning two of our team members had already run the 30 or so kilometres from Jenaz to Davos. A fit pair, those two! So from Jenaz we drove to a nice restaurant in Davos to fill up on spaghetti with tomato sauce and then drove to a beautiful, fairytale-like chalet on the outskirts of town to enjoy a well earned rest.
Abhinabha, The Netherlands
---
Distance: 90km
Harmonemail:
You can send a message to the runners or read the messages.