Switzerland 17 May: Davos - Malles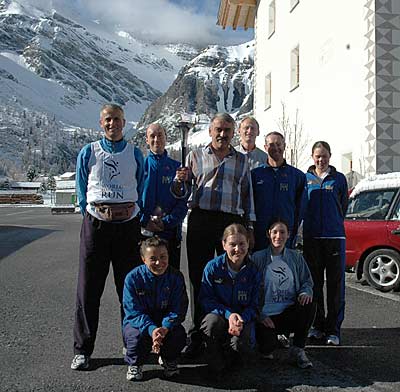 What a surprise when we opened the windows of our hotel room this morning: snow everywhere! Where yesterday we had driven through grassy green alpine meadows, the entire area was now covered with a soft white blanket - halfway through May, mind you! We felt like we were in the middle of a fairytale. Of course, at an altitude of 1800 metres, anything can happen. Yet when we drove down the mountain to our first meeting of the day in Davos the world turned green again. (Pictured above, our host at the Hotel Walserhuus)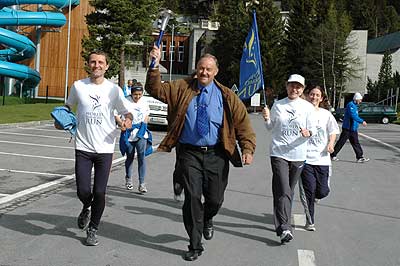 In Davos we were greeted by the same person that welcomed us on Sunday from the City Council, State Councillor Mr Christian Stiffler. He told us he had read all about us on our website and he said he was "very proud" of what we were doing.
Right from the start we were up for some serious mountain running. The famous 'Fluela Pass' was awaiting us at 2300 metres altitude: the highest point of the World Harmony Run in Europe. Pratul, always an inspired runner, went for a solo climb all the way to the top of the pass. Here we were once again in snowy surroundings.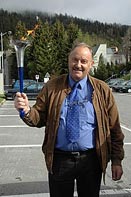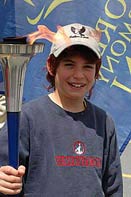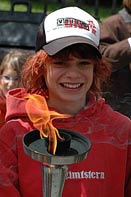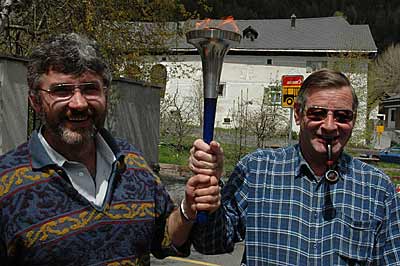 The descent took us into the small village of Susch, where we were received by the Mayor (above left) and some of the local townsfolk, including several children. We were now in the heart of Graubunden, Switzerland's most southern province where the Retro-Romanic language is spoken: a mixture of Italian, German, and even ancient Latin. Even though this language is spoken only inside this province, there are as many as five different versions, each with slightly different grammar and pronunciation. The Mayor spoke to us in Retro-Romanic first and then continued in German. The local kids ran with us for a while and we continued to our next small village: Lavin.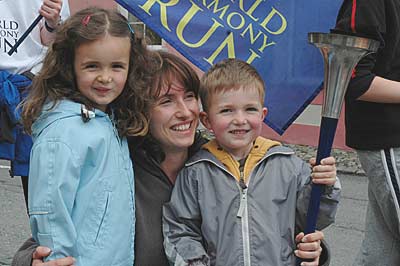 In Lavin we were greeted by members of a local sports club who offered us fresh water and bananas.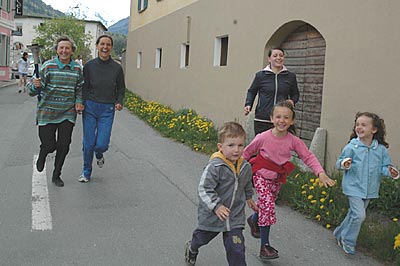 The torch went round as we spoke to the villagers about the reasons we are running for World Harmony.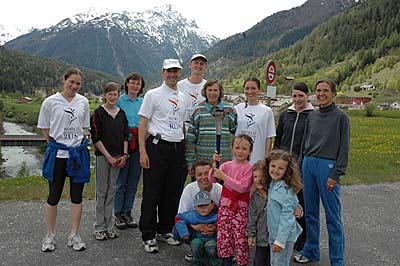 Then we all waved goodbye as we headed towards Scuol, a small town famous for its fresh mineral water.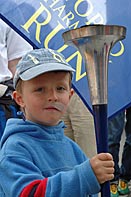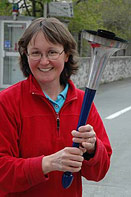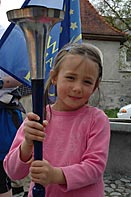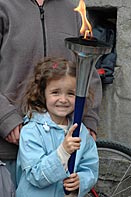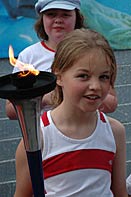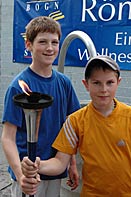 In Scuol are twenty natural springs gurgling up from beneath the earth, which provide the citizens with some of the most healthy mineral water there is to be found. Local schoolkids ran with us into the town centre, where we were generously received by the Mayor, Mr. Baroloni (below left), and treated to a bottle of their excellent water.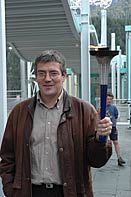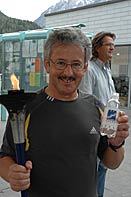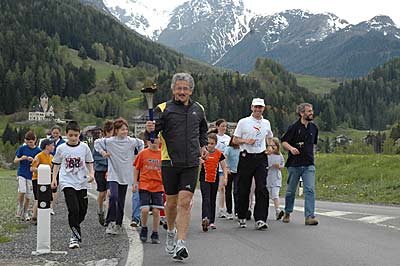 From Scuol it was only a little distance to the picturesque town of Sent, located several hundred metres higher up, so the running - although short - was challenging. In Sent we had yet another reception, complete with delicious Swiss cheese sandwiches. This time both the Mayor, Mr Rauch (below left), and the Office of Tourism had made time for us to meet and greet.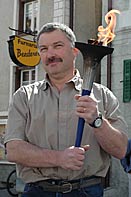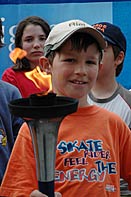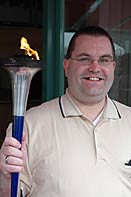 They loved the Run and asked all about it - how far do we run, which countries do we cross and how do we finance all of it? 'We finance everything ourselves,' Dipavajan, our European coordinator, explained. Luckily we get lots of help from City Councils, hotels, and local restaurants, who often support us with free meals and lodgings. We know that without them we would be nowhere and we are always extremely grateful for their generosity.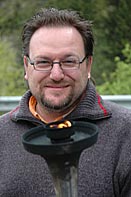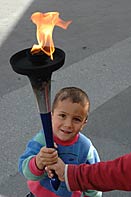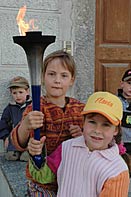 From Sent we then ran 16km to Martina, a village of a hundred inhabitants, and our last stop-over in Switzerland. Mr Bass (above) from the tourism office greeted us and offered us a most delicious nut and honey cake - a local delicacy. Lush mountainsides, cosy, pastoral villages, wonderfully pure air and open-hearted, friendly villagers - this was our great experience of Switzerland.
We briefly touched Austrian shores (3 km) and then ran into Italy, through the German speaking region of South-Tirol. There one runner from the Italian team met us close to the border. He had taken off that afternoon from Malles and had ran the 30km towards the Austrian border. So with all the stretches covered we headed by car towards Malles, where we spent the night in a cute local pension and had pizza, pasta and polenta for dinner. Ah, Italy!
Abhinabha, The Netherlands
---
Distance: 90km
Harmonemail:
You can send a message to the runners or read the messages.