Turkey 16 May: Chios - Manisa
We left our nice hotel at seven in the morning to get to the ferry. The boat ride to Cesme in Turkey took us about 40 minutes.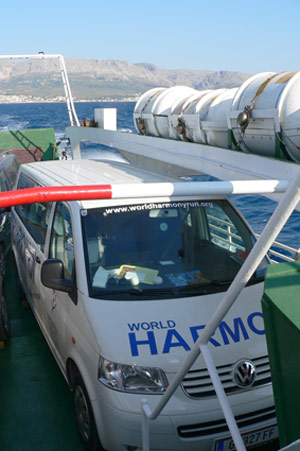 Looking back we waved goodbye to the beautiful island of Chios. We said farewell to Susameepa, our super-selfgiving Greek coordinator. It was almost a little sad, we had such a nice time in Greece!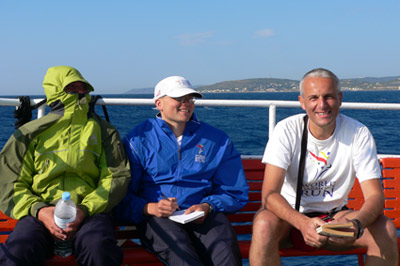 But his loss was made up by the arrival of three new friends. Sahatvan, Banu and Huznye were waiting for us just after customs. It's always great to meet new team members. Good bye Greece...
Welcome to Turkey!
In Cesme we suffered some delay at the customs but then our Turkish adventure began!
We started running, passed the old fortress of Cesme and reached the city hall. Here we were cordially received by the secretary of the mayor of the city. She received the torch and invited us for some refreshments.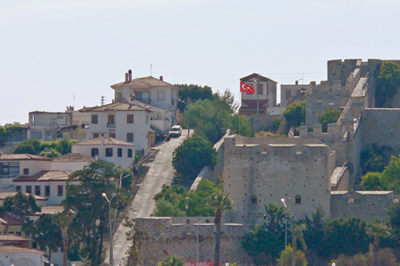 We drank our first Turkish chai (tea)! Chesme is a very famous tourist city, known for its thermal baths. In wintertime there live about 25.000 people but on weekends in the summer the city holds over one million people!
From the city hall we ran towards the first school. It is amazing how, even when just arrived in Turkey, you feel already the difference with Greece. Every country has its own unique qualities. The reception at the local high school surpassed all our expectations. 500 meters before the school a group of runners was waiting for us to join us for the last bit of the run.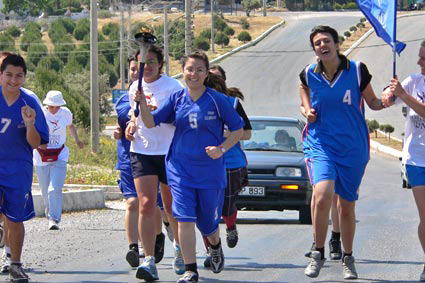 Outside the school the kids were eagerly waiting for us and started cheering very enthusiastically when we arrived. We made a short presentation in front of the school and the children were clapping and cheering very sincerely.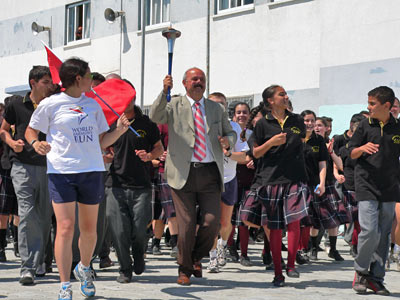 Afterwards we chatted with the kids and with the teachers for a long time. Each of us was surrounded by a big group of kids asking many questions.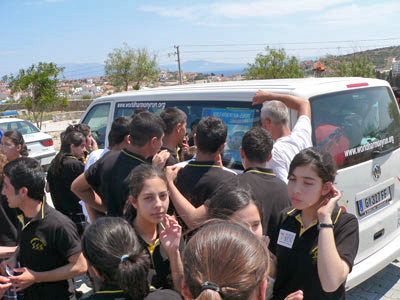 From Cesme we had to really proceed fast to the city of Urla, to be on time for the next reception. Every one we met on the way was so enthusiastic! Many, many people were waving, cars were honking, kids spontaneously ran with us holding the torch, people came up to us asking what it was all about, it was just amazing.
In Urla we had a reception at a primary school. The kids were even more enthusiastic than in the first school, they just loved us!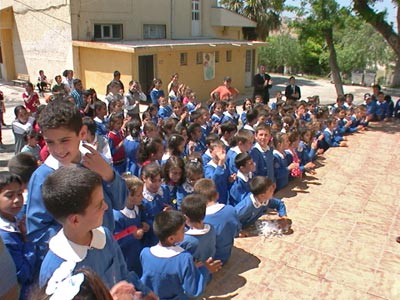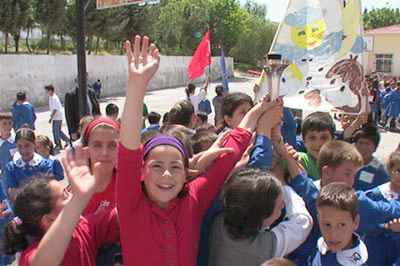 They were clinging to us saying we love you, we love you, kissing us on the cheeks. When we started giving out the World Harmony Run stickers their joy really knew no bounds.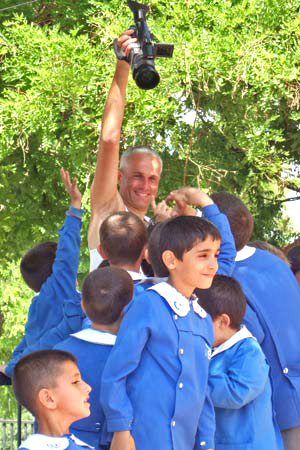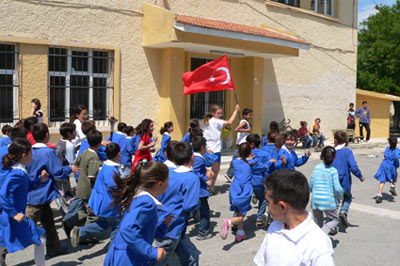 The school also provided us with a really nice lunch. We had been only for four hours in Turkey but one thing is already clear: Turkey has opened its heart for us, and we love it!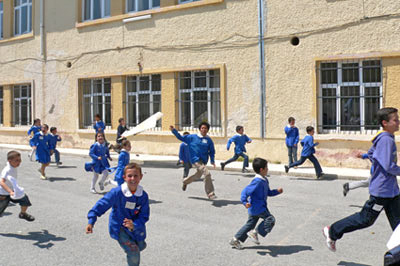 From Urla the route went along the coast to Narlidere where the next school was waiting for us. It was a Turkish - German school. The kids were actually Turkish, but in this school they get a lot of extra German lessons from a very young age. We arrived rather late but still in time to do a ten-minute presentation (in German) before the kids had to leave. Next year we'll hopefully come back and spend some more time.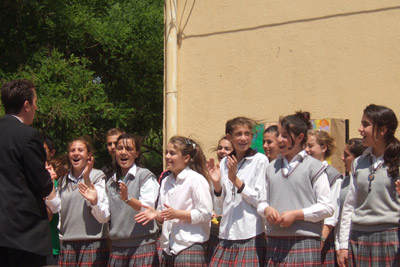 After the meeting in Narlidere it went on through the huge city of Izmir. This city has actually more than five million inhabitants (unofficially)! In this big city with its busy traffic we lost some runners here and there but we managed to find everyone again. Along the highway we ran on to Manisa the final stop for today.
At the entrance of the town we were very nicely received by some officials. They escorted us to the luxurious Buyuk Sarahun hotel that the city of Manisa has very kindly provided for us. At the hotel we got a nice present with the local sweet Mesir. This sweet, tasting like cinnamon, is already produced in Manisa for over 500 years. If you eat it it will bring you good fortune! Tomorrow we will make the official reception at the city hall. It's been enough for today. We covered 140 kilometer, Sarah, Mark and Tatjana all ran approximately a half marathon and Martin even completed 27 km. Enough reason to enjoy some food and a good night sleep....
---
Distance: 140km
Harmonemail:
You can send a message to the runners or read the messages.