World Harmony Run Visits Safety Harbor, FL
Melinda Robinson—the head of the school—holding the torch with PE teacher, John DiJohn, to her right.
The World Harmony Run USA visited the Safety Harbor Montessori Academy on March 20th. The event was extremely nice. There were about 80 children from preschool through eighth grades. We spoke to the children about the World Harmony Run and answered many intelligent questions.
Norma Galante holding the torch and the children making a wish for harmony.
We passed the torch for everyone to hold and make a wish for harmony.
Afterwards, we had a short relay around the school yard while we played the World Harmony Run song. The children were delighted to run with the torch. Their enthusiasm was infectious!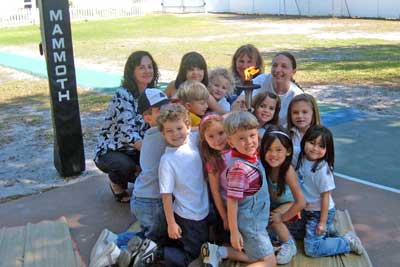 Kamila Hozlarova and children with all hands on the torch. The two other adults are teachers---Maureen Apple and Brigitte Bernhardt.
---
Harmonemail:
You can send a message to the runners or read the messages.