USA 28 May: Seattle - Seattle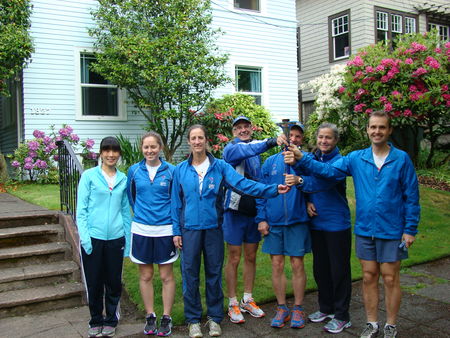 The day started early as the Seattle World Harmony Run Team prepared to start the run from a landmark home in Montlake.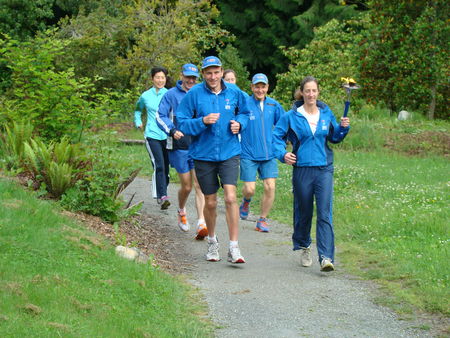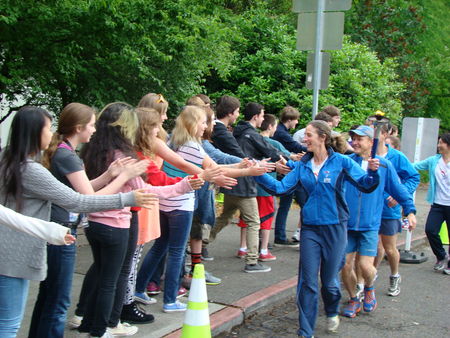 We were greated enthusiastically by the student of the Bush School. We shared the Run with the students and staff and they shared their accounts of good deeds and work for the community with us.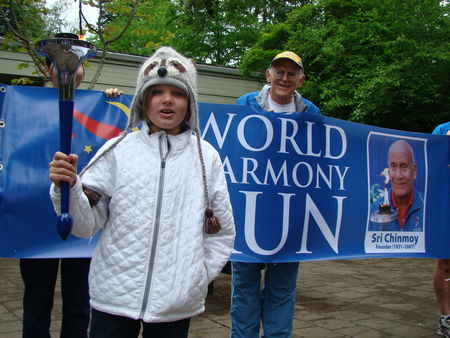 Many students came forward to tell us about their personal efforts to better the
community and the lives of the people in it.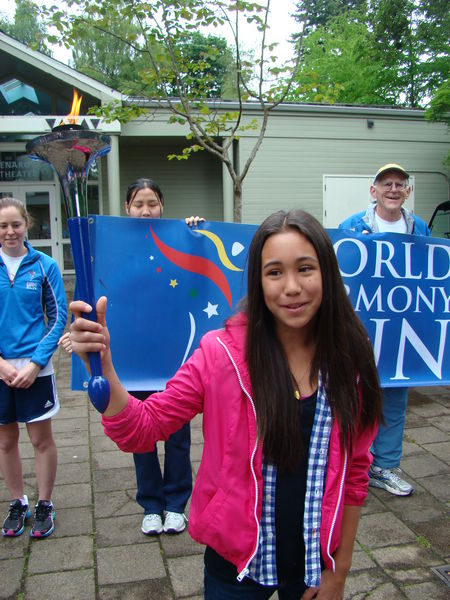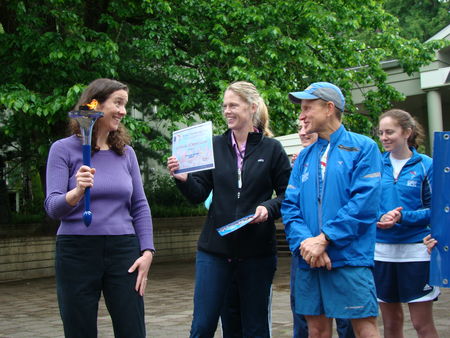 Joan Kade recognized the hard work of the Valley School's composting pioneer.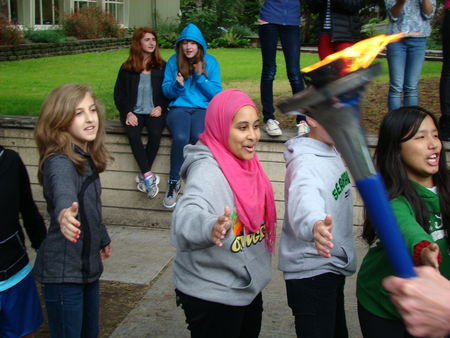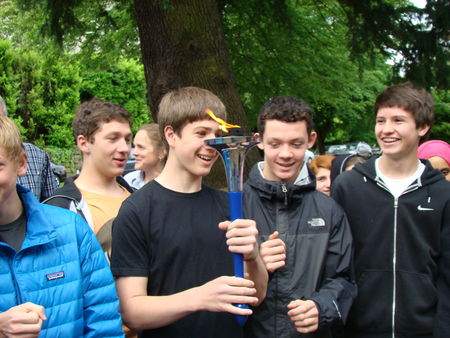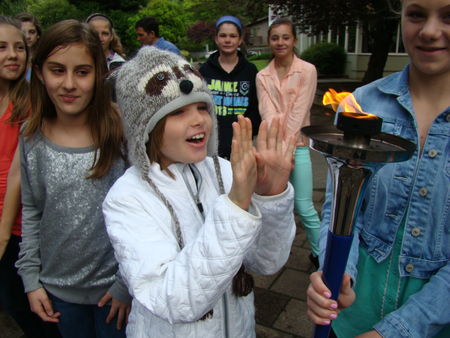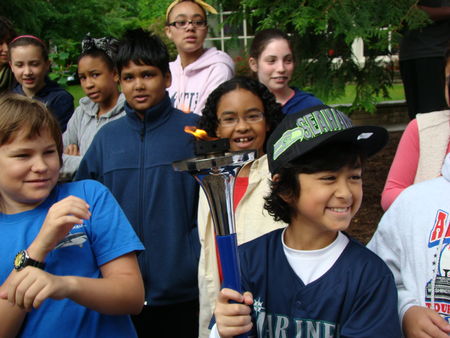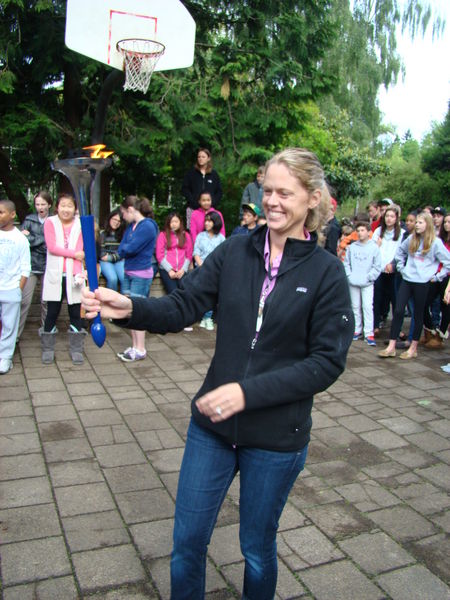 Thanks again to Joan for inviting us to visit the Bush School!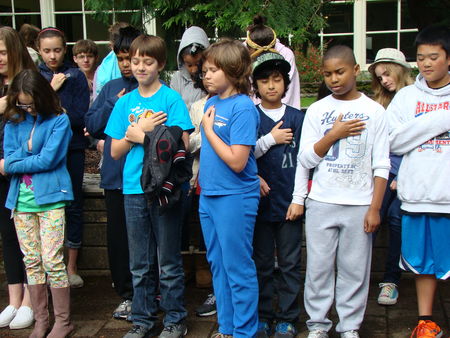 A moment of silence, then... let the running begin!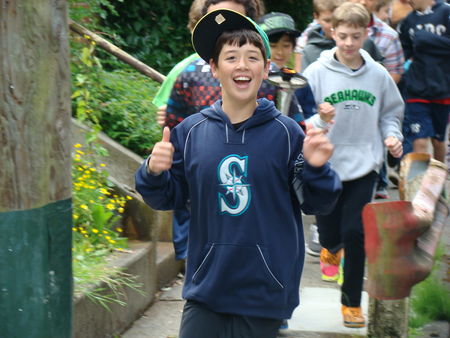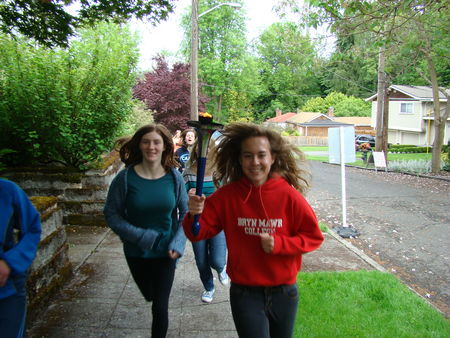 Everyone had a chance to run with the torch.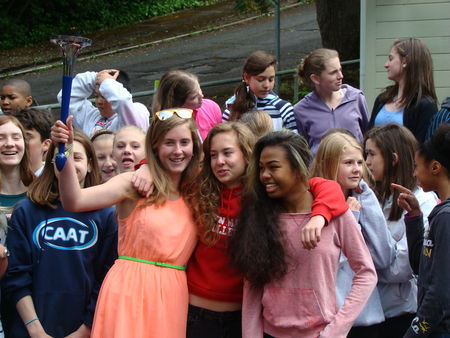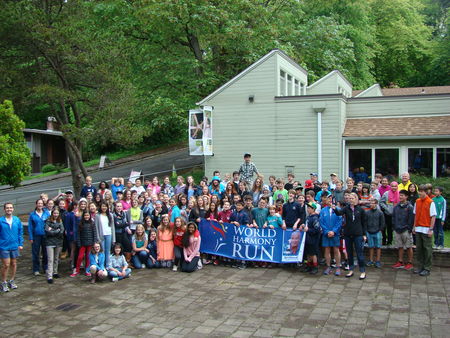 We said our goodbyes and made our way to the Valley School. With some time to spare before our expected arrival time at the Valley School, we decided to make a quick stop at a local bakery.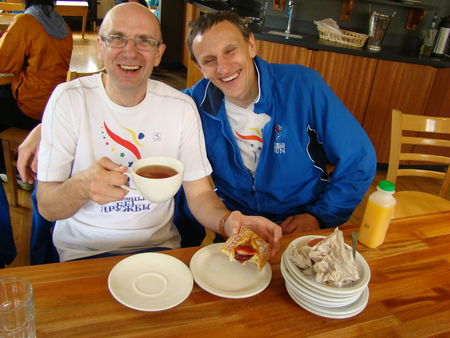 Tonis and Vasily were especially happy to enjoy the pastries. Then, it is on to the Valley School...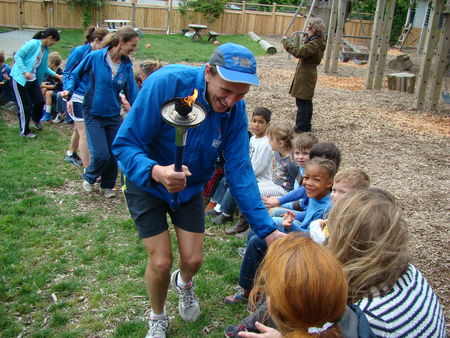 led by Vasily. He received a warm welcome from the students there.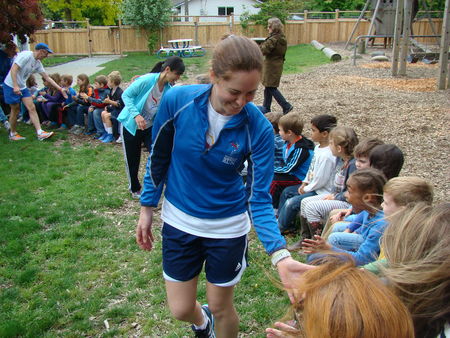 Everyone was happy to greet us and be a part of the Run.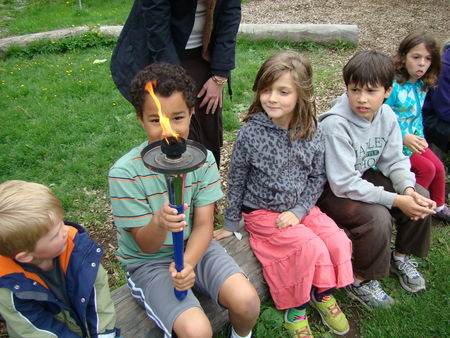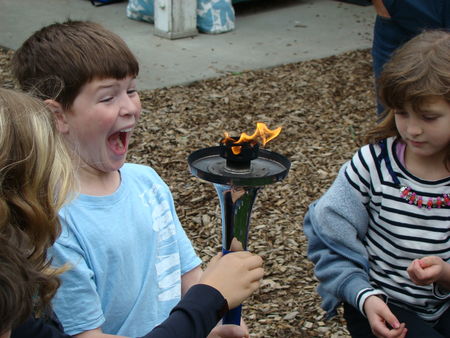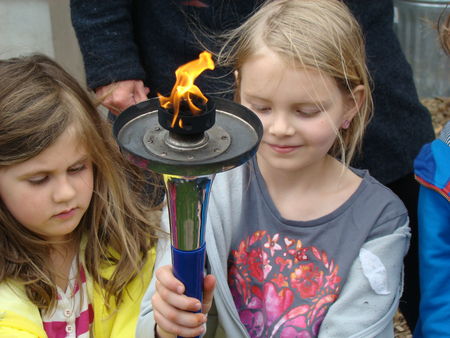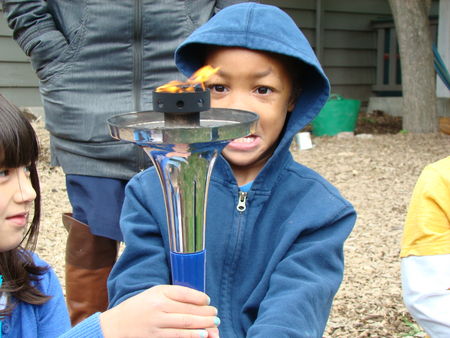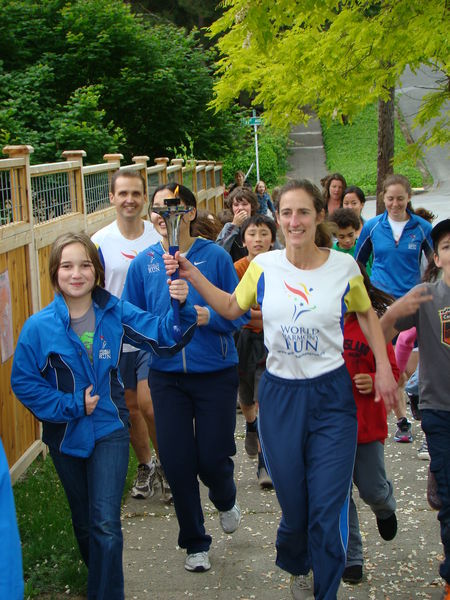 Our newest team member sported the Harmony Run jacket and got the runners started. Then everyone had a chance to carry the torch and be a member of the team for the day. Once a Harmony Runner, always a Harmony Runner.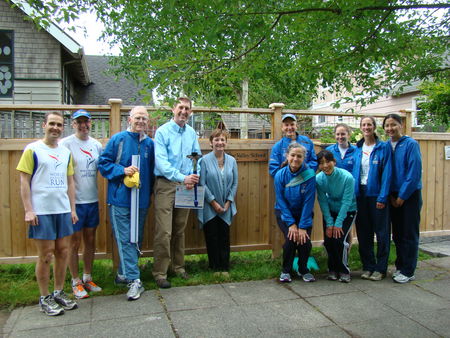 Goodbye to the Valley School and thank you to Robert Schultz. Next stop is the Seattle Girls School.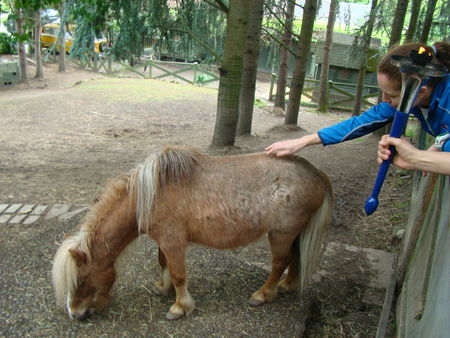 But not before greeting the neighbors. Pranlobha made a new friend...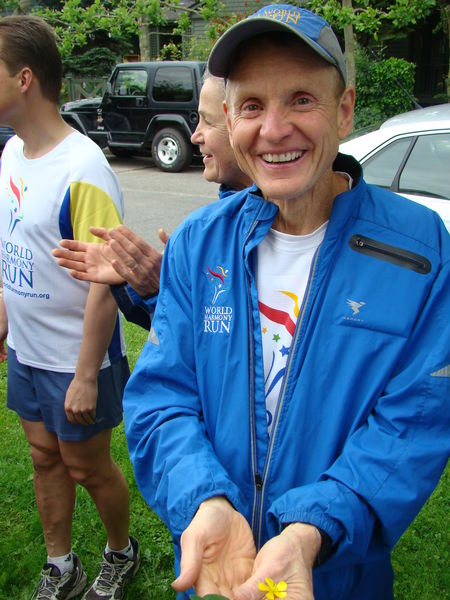 and Daulot received a special gift of a beautiful flower with a shamrock and jewel from one the creative students' of the Valley School.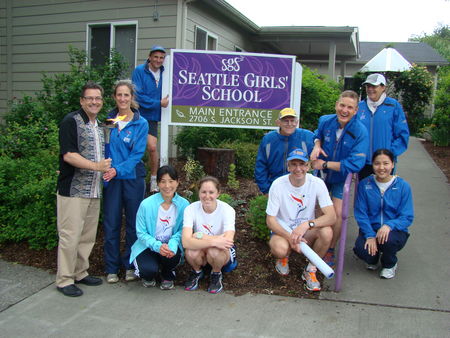 Then we made our way to the Seattle Girl's School. Our gracious host and Director of the school Rafael del Castillo was happy to receive us, on behalf of the students.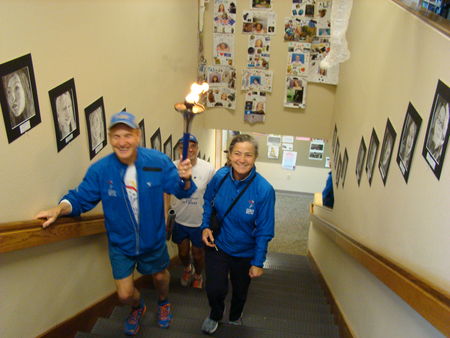 We made our way up to greet the girls for an intimate indoor event.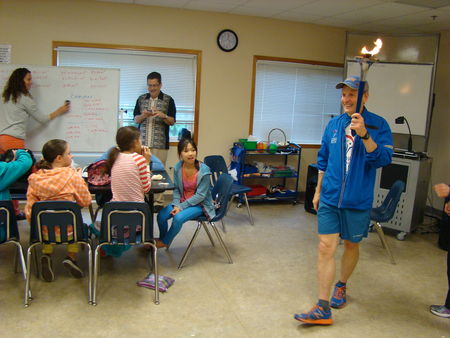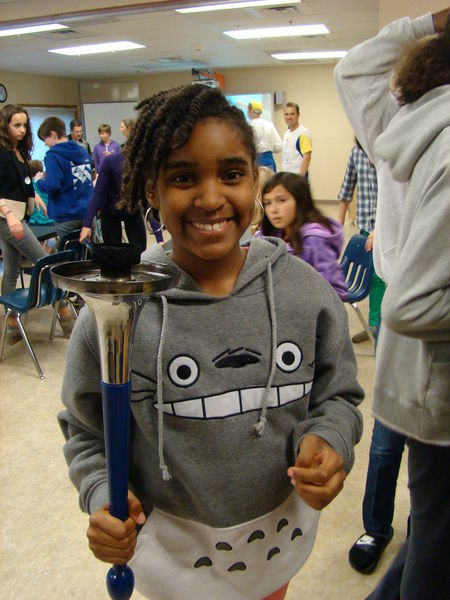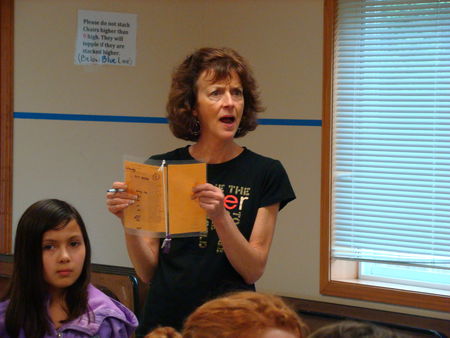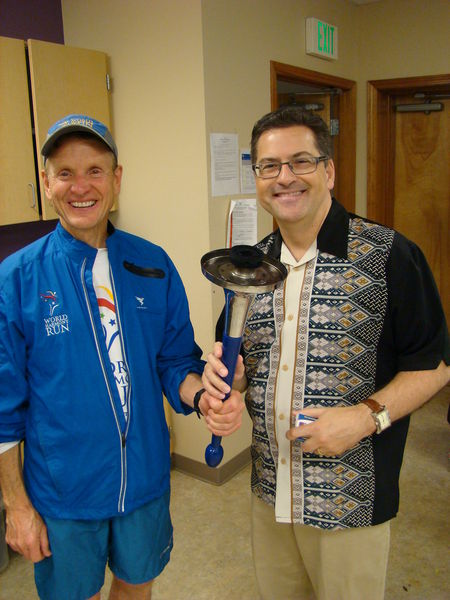 Thank you again to the the Seattle Girls School and Director Rafael for welcoming us so warmly! It was a welcome and friendly stop to finish up the World Harmony Run events in Seattle.
---
Distance: 10 miles
Team Members:
Daulot Fountain (USA), Stota Fountain (USA), Pranlobha Kalagian (USA), Tyagini Furukawa (Japan), Sergey (Ukraine), Vasily (Ukraine), Tonis (Russia), Rupasi Young (USA), Nayak Polissar (USA), Nandita Polissar (USA)
Harmonemail:
You can send a message to the runners or read the messages.
Gallery: See more images!