Vietnam 7 February: Nha Trang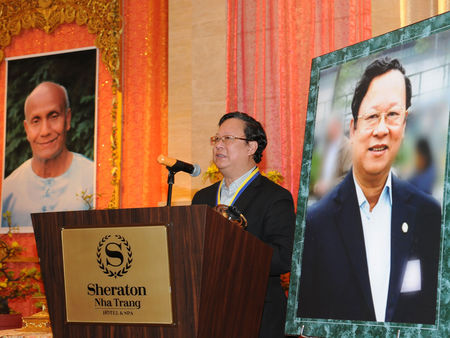 We were truly honored to be able to present HE Vu Xuan Hong with our World Harmony Run Torch-Bearer award. Mr. Hong currently serves in quite a number of capacities he is President of the VUFO, Viet Nam Union of Friendship Organisations, which co-ordinates Viet Nam's official contacts with all international organisations; Deputy to National Assembly; Member of National Assembly's External Affairs Committee and Permanent Member of the Committee for Foreign NGO Affairs. Perhaps most importantly he is a man who values peace, friendship and harmony above all else and works tirelessly to enable these qualities to find a fertile environment in which to thrive.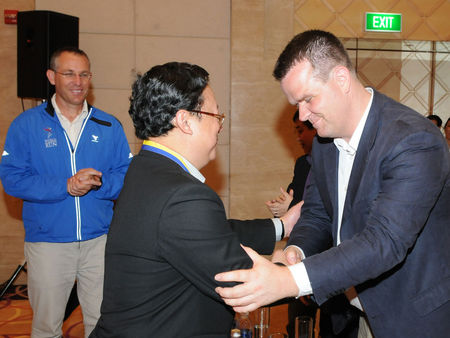 We were delighted to have Mr. Hong as our guest and he can be seen here greeting Mr. Gangane Steffanson who is the Executive Director UNICEF Iceland. We have been working with his organisation for 20 years since Sri Chinmoy's first visit to Viet Nam in 1992. In 2004 Mr. Hong arranged for Sri Chinmoy to receive Viet Nam's highest national award given to a person from another nation--the Medal for Peace and Friendship Among Nations.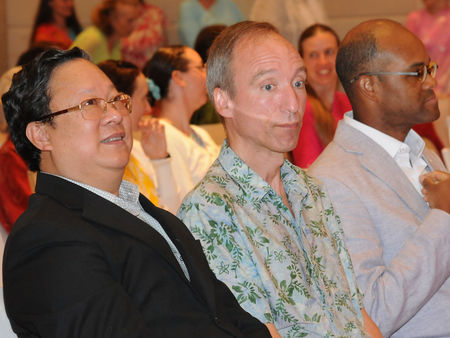 Mr. Hong enjoyed the musical renditions of Sri Chinmoy's compositions. Also pictured is Snatak Matthiason of Iceland and Dr. Pratishruti Nahorst of the Dutch Antilles.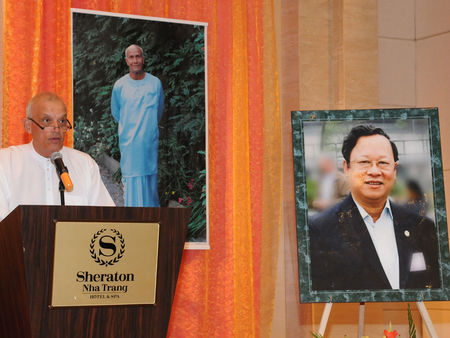 Kaivalya Torcpy quoted from Sri Chinmoy's December 1992 reflections on the nationalist Vietnam leader Hồ Chí Minh. "Most people find it extremely difficult to see any good qualities in their enemies. Once we consider someone our enemy, we do not see anything good in him." Sri Chinmoy noted that even after fighting the French and American forces, Hồ Chí Minh had a rare wisdom which allowed him to see good qualities even in enemies. For example, he appreciated the American Declaration of Independence, which was the vision of USA President Jefferson. He also took inspiration from the French message on the Rights of Man.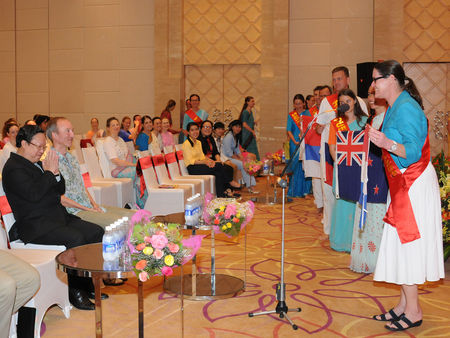 Representatives of over 30 countries introduced themselves by saying their country and the word for Peace in their Language.. Mr. Hong responded encouragingly, many times in that language!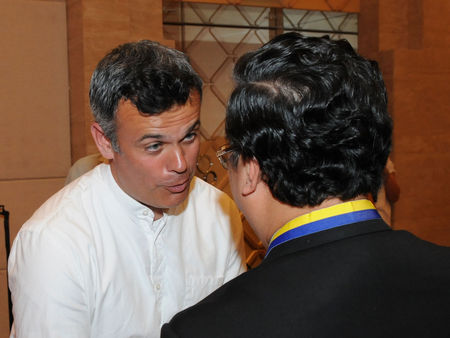 Devashishu Torpy served as our Master of Ceremony.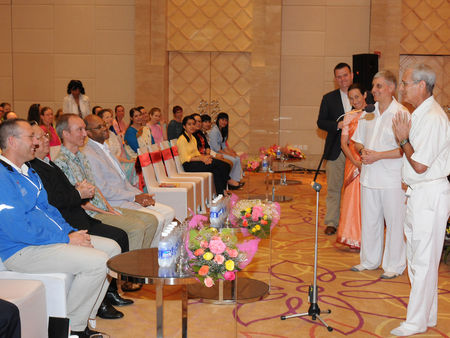 Numerous former and current United Nations Organizations' staff members came up and announced the office where they served and for how long.
As introduction to the World Harmnoy Run, a video of Dr. Davidson Hepburn, President of the UNESCO General Conference (2009-2011) was shown. It included clips from actual WHR events around the world, which illustrate Dr Hepburn's message for 25th Anniversary of the World Harmony Run and a vision for the decade 2012 to 2022 and beyond.
The version shown has Russian subtitles in honour of the international audience and that, Mr. Hong also knows this language.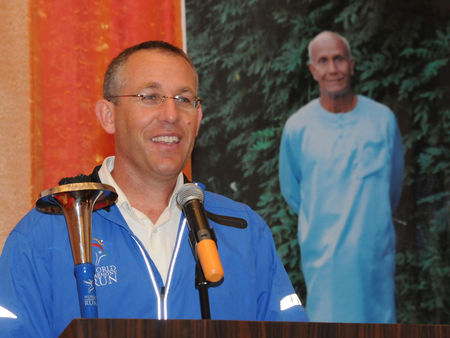 Executive Director Salil Wilson was honored to present Mr. Hong with the "Torch Bearer" award for his unparalleled service particularly in the NGO and non-profit sector.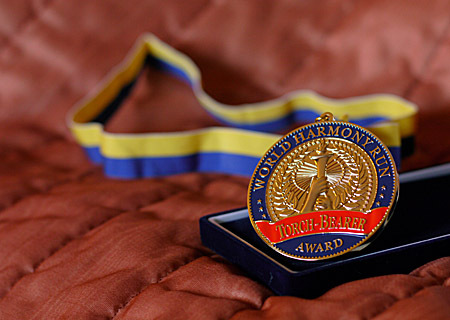 He said, "In Mr Hong we find not just one or two good qualities or significant achievement, but a veritable host. Here is a jewel of humanity and we are truly fortunate to have this humbling opportunity to recognize and honor his significant contributions to the betterment of humanity."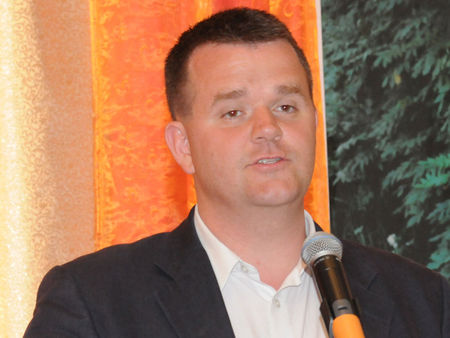 Gangane Steffanson shared a synsopsis of Mr. Hong's remarkable life of service - while recognizing the impossibility of doing justice to the enormity Mr. Hong's contributions in the field of peace, friendship, reconcilation and international relations.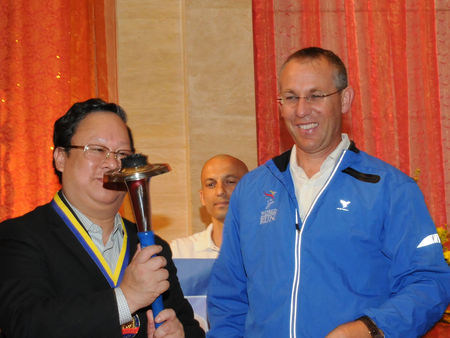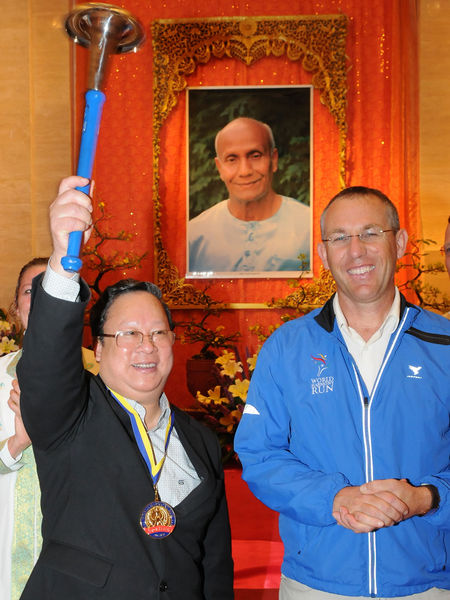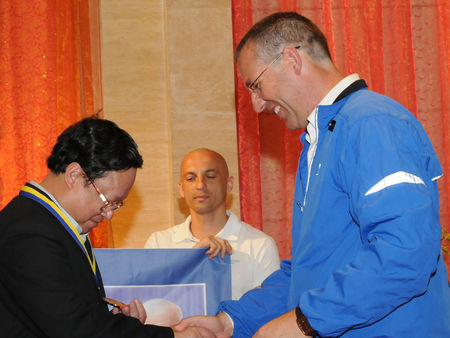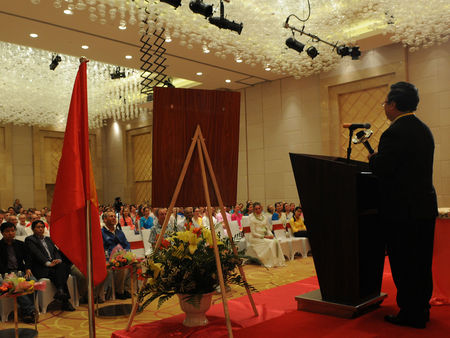 To a spellbound audience Mr. Hong very kindly shared with us his insightful thought on peace, friendship as well as detailing some of his intiatives and motivations.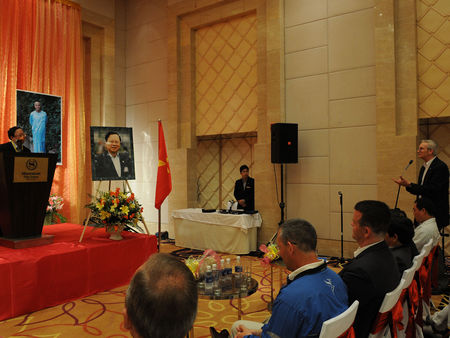 He was kind enough to take questions from the audience for which we were very gratful and found his answers fascinating and edifying.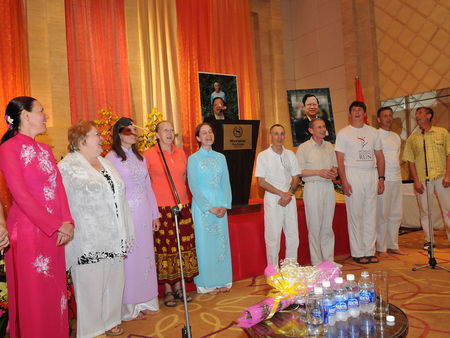 Mr. Hong is fluent in a number of languages including Russian, Czech, Spanish and Italian. He can be seen here singing Russian folksongs with a number of our team from Russia. Mr. Hong is blessed with an excellent voice.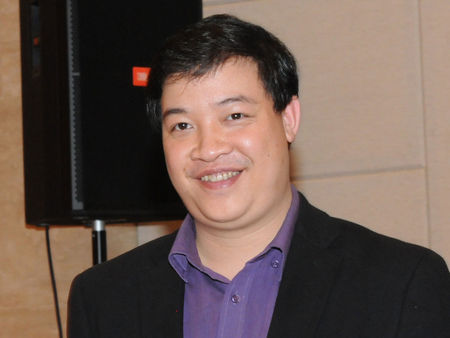 Mr. Nguyen Ngoc Hung, Deputy Director General and Co-Director of VUFO NGO Resource Centre, People's Aid Coordinating Committee travelled with Mr. Hong and was invaluable in enabling us to have a World Harmony Run in Nha Trang.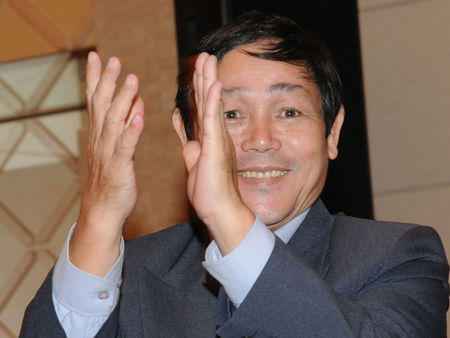 Mr. Tran Duc Thang, President of the Khan Hoa Union of Friendship Organizations also attended and was of considerable assistance enabling the World Harmony Run in Nha Trang.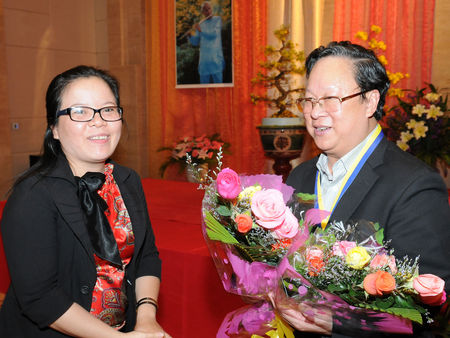 Mr. Hong with a member of the Khan Hoa Union of Friendship Organizations.
---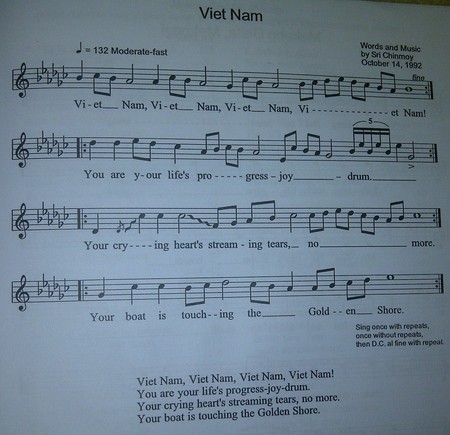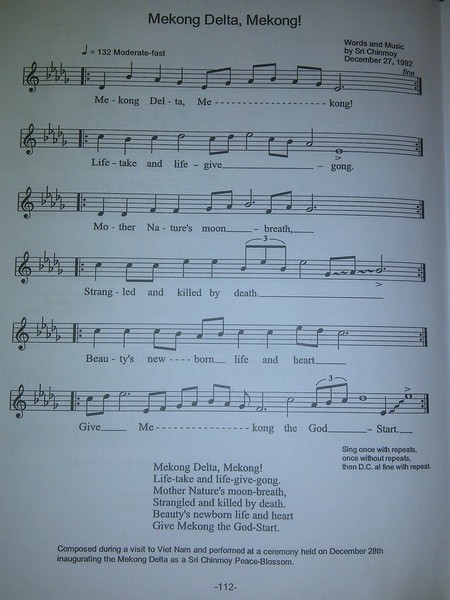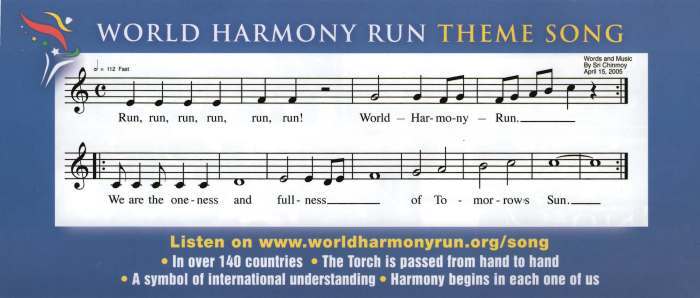 ---
Gallery: See more images!