Manitoba
The World Harmony Run 2005 passed through Manitoba in May, commencing in Brandon on May 18 and finishing in Winnipeg on May 20.
Brandon, Wednesday – May 18: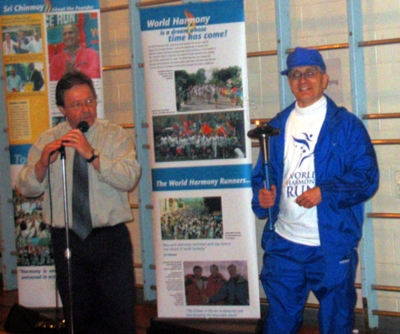 Fleming school principal Craig Manson with World Harmony Run team member Shishir Pauk
200 singing children gave a vigorous welcome to the torch team as it entered the gym at Fleming School . Shishir Pauk was inspired to give a talk on the school's motto, "we're all related". A team from the school relayed 1km to meet J.R. Reid School students halfway. The relay continued to J.R. Reid where 250 cheering students cheered as the athletes reached the auditorium.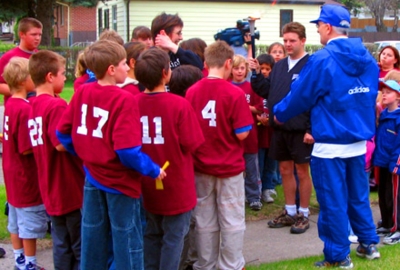 Fleming School team ready to relay.... ..and they're off and running..... J.R. Reid students await the relay team J.R. Reid students show their World Harmony Run ribbons Portage La Prairie – Thursday, May 19: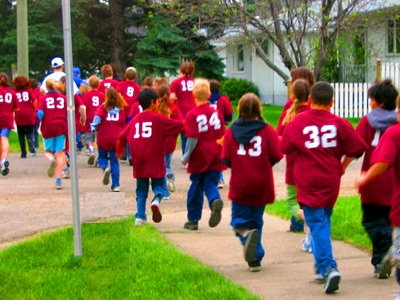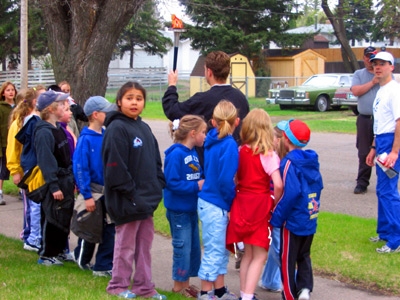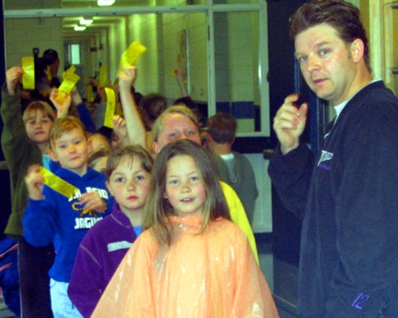 At Yellow Quill School , runners were welcomed by over 300 children singing the World Harmony Run song. Shishir was a good communicator and the children presented the team with their inspiring words.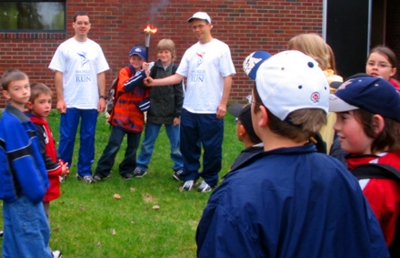 Yellow Quill School team about to relay to Fort La Reine School
A team from Yellow Quill joined the core team for a 2km run to meet Fort La Reine students. Councilor Dave Quinn spoke about the occasion "You are doing an important thing – making people think about harmony – we need it in Canada…if we can do it here, we can spread it around the world." Then the run continued on to Fort La Reine School.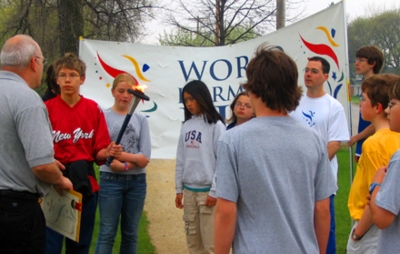 Portage La Prairie Councilor David Quinn reads the World Harmony Day proclamation to student relay teams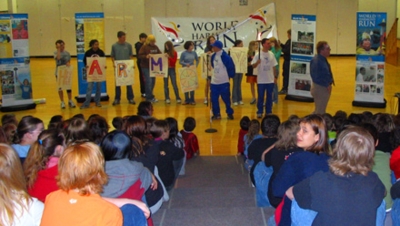 Yellow Quill and Fort La Reine students offered presentations on harmony to the WHR team
West St. Paul – Thursday, May 19:
120 students of West St. Paul School sang the World Harmony song as the core team entered the school gym. A team member offered inspiring words about the international relay, and three classes gave spectacular artistic presentations in painting, poetry and written messages on the harmony theme.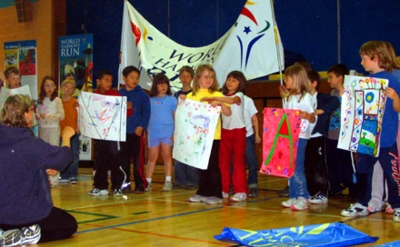 West St. Paul students with their art presentation on World Harmony
Winnipeg – Friday, May 20:
This action-packed day began with an inspiring interview on a popular morning TV show called "The Big Breakfast". Host Jon Llungberg was very supportive, and the conversation with the three runners was very uplifting. Even the other guests and TV crew were keen to hear about the Harmony Run. Andrew Mynarski School welcomed the Harmony Run at the opening ceremony of its Track and Field Meet, and students sang the World Harmony song as a team of runners did a lap with the torch. A TV station filmed the event.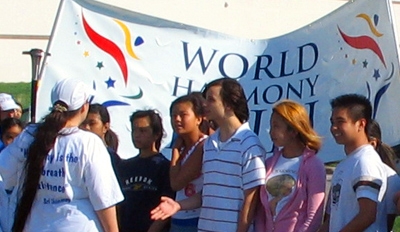 Andrew Mynarski School students with Manitoba World Harmony Run co-ordinator Purnakama Rajna
---
Harmonemail:
You can send a message to the runners or read the messages.