Northern Ontario
Kenora – Friday, May 20:
A French Immersion Grade 9 Class at volleyball and soccer champion school St. Thomas Aquinas enjoyed the presentation of the core running team; then 22 athletes and the Principal Murray Delorme ran 5km through the streets of Kenora to City Hall under the watchful eye of a police escort. Mayor Don Canfield congratulated the group and read out the World Harmony Day Proclamation. Students then gave and received lots of joy by holding the banners and encouraging passing vehicles to honk for harmony! Many honked, to the delight of all!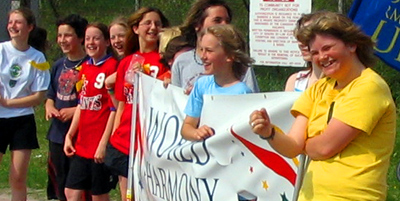 St. Thomas Aquinas students cheer on torch runners
Fort Frances – Saturday, May 21:
Fort Frances Mayor Ian Onichuk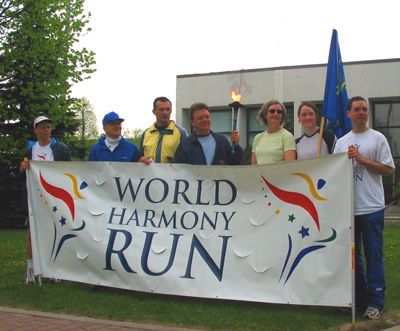 Fort Frances Mayor Ian Onichuk and Councilor Stuchan Gilson with local and team runners
The Harmony team was joined by local runners on the outskirts of town and relayed torch in to be received by Mayor Ian Onichuk and Councilor Stuchan Gilson at Town Hall where a proclamation was read, making May 21, 2005 World Harmony Day in Fort Frances, Ontario. Mayor Ian Onichuk indicated to the team how the spirit of this event may be well received this June where a gathering of municipal leaders from all across Canada will take place in St John's, Newfoundland.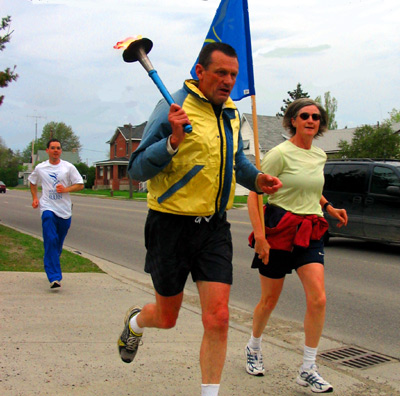 Fort Frances Councilor Stuchan Gilson and local runner
Thunder Bay – Saturday, May 21: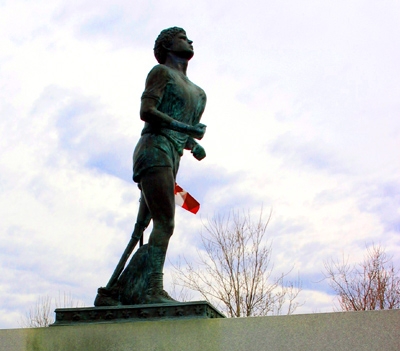 Terry Fox stands forever tall, in Thunder Bay and in Canadian hearts
Mayor Lynn Peterson offered a letter of endorsement to the Harmony Run and extended a warm Thunder Bay welcome saying, "We are proud that this torch relay is coming through our City as it makes its way around the globe … Congratulations and best wishes to the organizers of World Harmony Run for your efforts to draw attention to the need for friendship and understanding among people and nations, and for utilizing the power of sport to create awareness and change."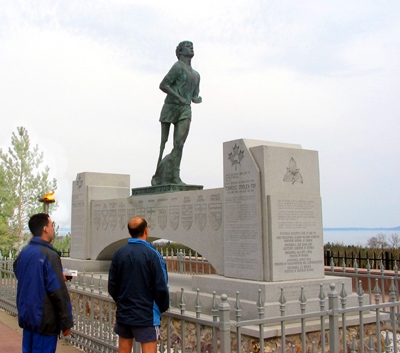 World Harmony tem runners pay tribute to Canadian icon of courage and hope, Terry Fox
This afternoon the Harmony Run paid tribute at the Terry Fox Memorial just outside Thunder Bay. Tourists from New York, New Brunswick and other parts of North America held the torch and offered their best wishes in spreading the message of global friendship and understanding. Marathon – Sunday, May 22:
Local runners along with Joe McGill stuck it out in the pouring rain to relay to Town Hall to meet with Mayor David Bell who graciously received the torch and read out a proclamation making May 22 through May 29 World Harmony Week in Marathon, Ontario.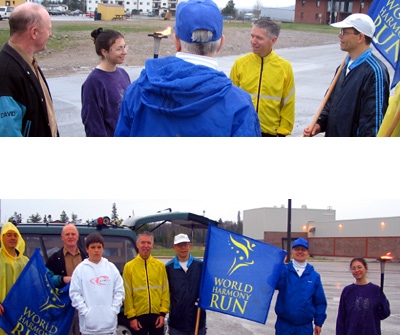 Mayor David Bell with local and team runners
Mayor Bell was also expressing his enthusiasm about the possibility of making the Harmony Run a bigger event next time by incorporating a marathon race as part of the program.
Marathon student runner
Wawa – Sunday, May 22: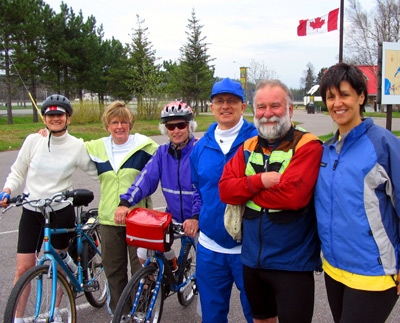 Local Councilor Helen Lamon joined by Sylvana Duceski, Ron Hal and a number of cyclists met the Harmony team on the edge of town by the beautiful and giant Wawa Canada Goose statue: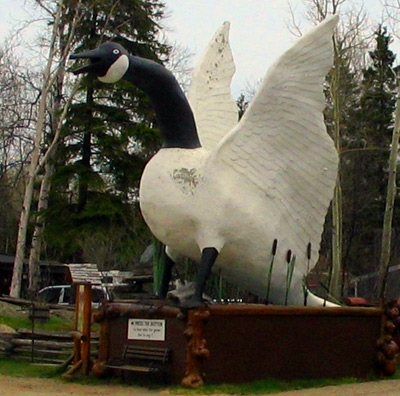 All relayed the torch into Town where May 22 was proclaimed World Harmony Day in Wawa , Ontario.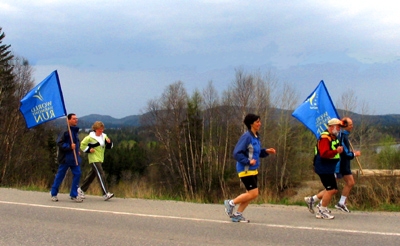 Local runners and WHR team running the torch into Wawa
It turned out the local runner Ron and team member Shishir are old time wrestlers and had a brief "go" to warm-up. A great group of people welcomed the team in Wawa.
After leaving town the team discovered a beautiful treasure along the Trans Canada – northern Ontario's own "Harmony Beach" team stopped for inspiration and photos.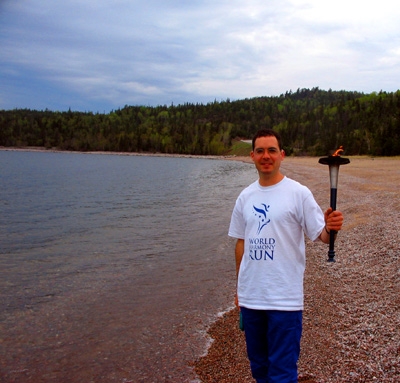 WHR team runner Eric Langlois enjoying a quiet moment with the torch at Harmony Beach.
Sault Ste. Marie - Monday, May 23:
Jeremy Pockwon, President of the Sault Sainte Marie Striders Running Club carried the World Harmony torch into the Tulips 2005 Concert and Festival today.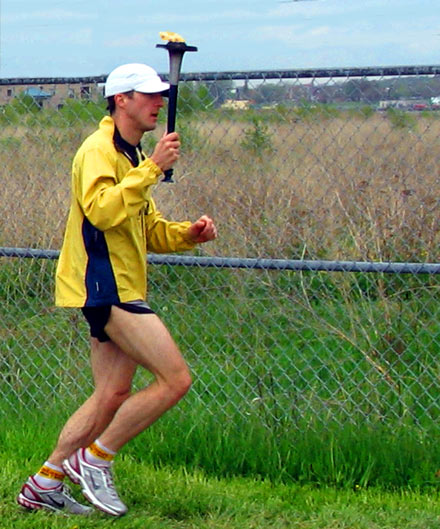 Jeremy Pockwon
City Councilor Terry Sheehan received the torch and extended a warm greeting of kind words and colourful SSM pins to the team of runners. He then announced that May 23 was officially World Harmony Day in Sault Sainte Marie. Councilor Terry Sheehan expressed his sentiments on how "harmony is what we all strive for, we all need balance."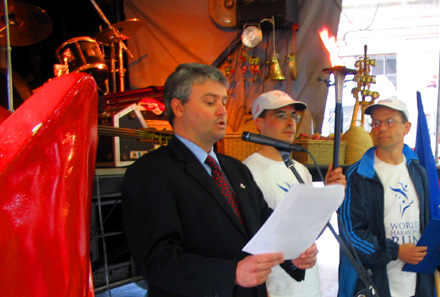 City Councilor Terry Sheehan reads World Harmony Day proclamation in Sault Ste. Marie, Ontario
Lots of photos were taken with Terry Sheehan and with Mr. & Mrs. Joseph Callow; Joseph is a WWII Veteran and was part of the D-Day invasion.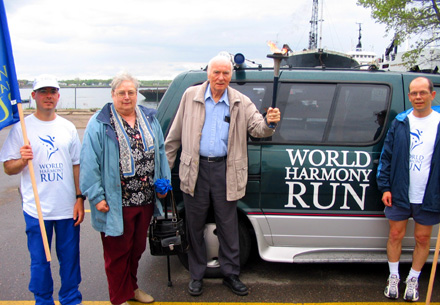 Mr. Joseph Calloway, WWII veteran, holds the WHR torch
Karyn Montgomery-Jones was really pleased to have the WHR to town. She is eager to arrange school visits next time the torch comes to the Sault. The big heart of the Sault made the team feel right at home.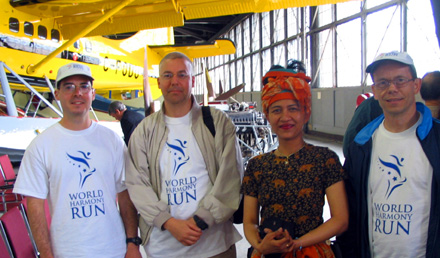 Photo opportunity for World Harmony Run team members Eric Langlois and Sukhdev Lacroix, seen here with a beautifully dressed performer at the Sault Ste. Marie Tulip Festival 2005
Sudbury – Tuesday, May 24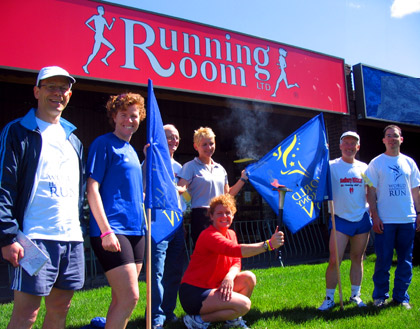 Sudbury's Runnung Room manager, Donna Smrek holds the WHR torch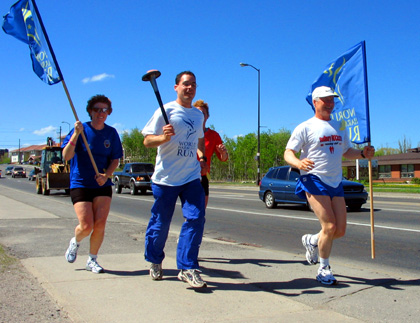 Smiling torch runners in Sudbury
250 students from St. Anne's School inspired the core team with their presentations about harmony. Then outside the school they formed a large circle so that the Grade 7 class could run relays inside the circle, giving high 5's to their schoolmates. The Principal and Vice-Principal were appreciative.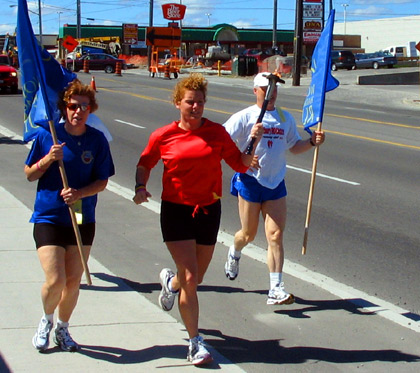 Donna, Monique and Vincent run towards Sudbury's City Hall with the torch
Donna Smrek, who manages The Running Room, and Monique Fournier and Vincent Perdue, both of whom are preparing for the Ottawa ING Marathon, ran with the torch to City Hall to greet Councillor Andre Rivest who, on behalf of the Mayor, presented runners with Sudbury's Award of Distinction.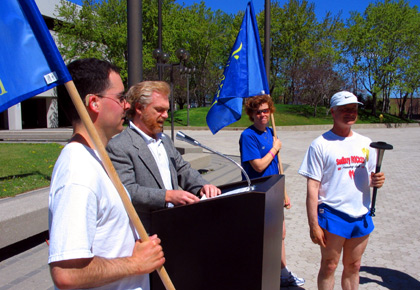 City Councillor Andre Rivest addressing the WHR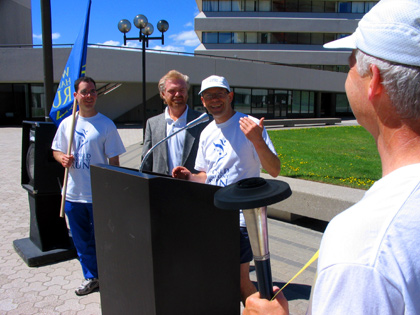 WHR team member Anvita Winters at the microphone in Sudbury
North Bay – Tuesday, May 24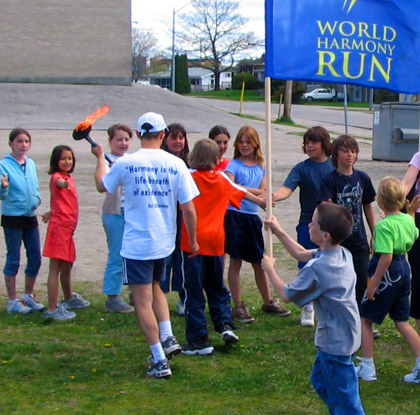 Principal Nicole McKinnon of Pinewood French Immersion arranged for fabulous presentations by the students. Each grade had something unique to offer the team on the theme of harmony. Afterwards the students signed their banners while listening to the Harmony Run theme song over the PA system. The students then formed a giant circle outside by linking their arms together and designated runners from each class ran with the torch around the circle, with a great cheer from everyone.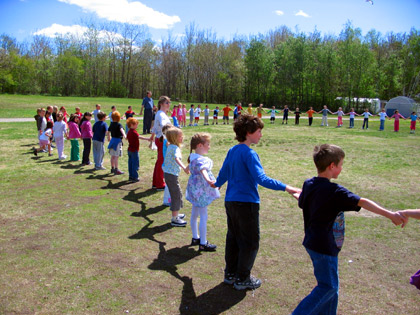 The torch was passed around for all the students to hold, making their own wishes for world harmony.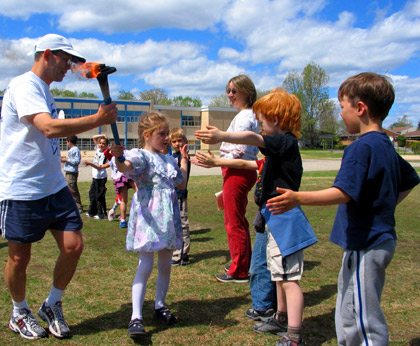 The next stop was City Hall. Mayor Victor Fedeli greeted the runners and read out the City Proclamation making May 24 th World Harmony Day in North Bay.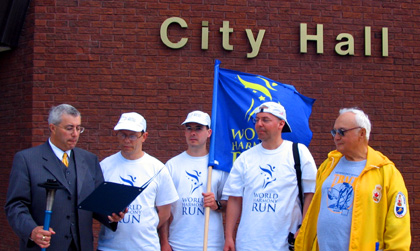 Art Gabor of the Royal Legion Track Club spoke beautifully about how sport builds character and good world citizens. Art is a veteran coach of 40 years and has coached medal-winning Olympic track athletes. It was an honour for us to see his appreciation of the message of the World Harmony Run.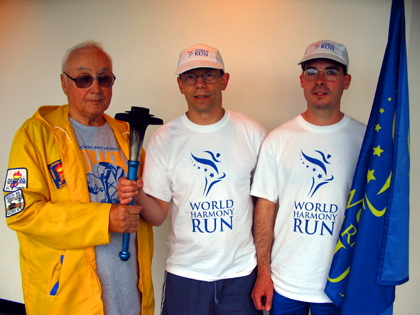 ---
Harmonemail:
You can send a message to the runners or read the messages.