Saskatchewan
The World Harmony Run passed through Saskatchewan in May, 2005 commencing in Brandon on May 18 and finishing in Winnipeg on May 20.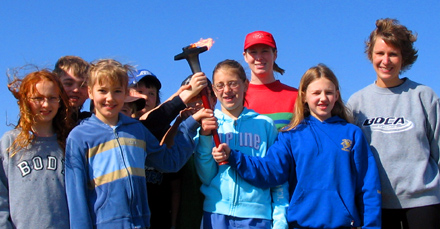 North Battleford - Sunday, May 15:
At 8:30 am, the best place to be in the Battlefords was the famous RCMP statue, where local resident Mary Ann had organized 6 local runners, including 3 high school track team members to relay the torch to the monument. Mayor Julian Sadlowski had prepared a proclamation declaring May 15, 2005 World Harmony Day in North Battleford.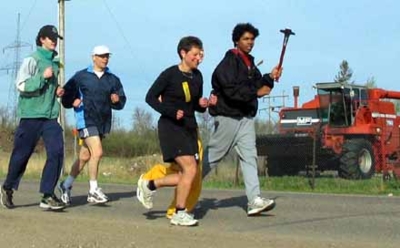 Mary Ann and Battleford runners striding through the prairie morning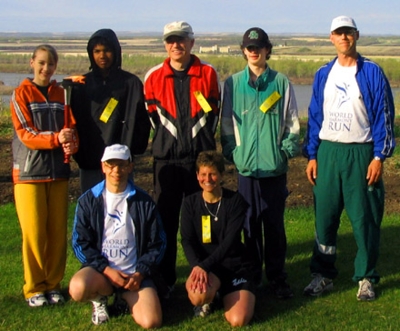 Battleford and World Harmony Run team runners stop for a picture
The local runners commented encouragingly about the importance of harmony in our day to day life and how it spreads to the world.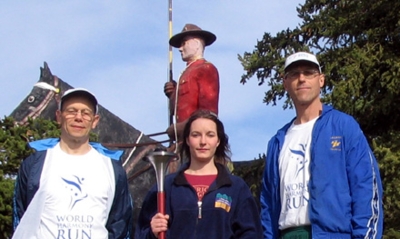 Dawnlyn Ward with World Harmony Run team runners Anvita Winters and Sulabha Wisniewski in front of the famous RCMP statue
Dawnlyn Ward, a local story-teller added to the cheerful spirit of the morning event by sharing stories about harmony between the native peoples and nature. Her final story titled "Lessons from Geese" illustrated the necessity of harmony for survival (you will find this story at the end of the page).
Prince Albert – Sunday, May 15:
At 2:30 pm. The Harmony Team was given a warm Prairie welcome at Kinsmen Park by Deputy Mayor Arne Lindberg who endorsed the message of the World Harmony Run and welcomed the run to Prince Albert. Marge Nainaar, President of the city's Multicultural Council and one of the most respected and active members of the community, opened the event with a talk on the absolute necessity of harmony especially in our present world situation.
Prince Albert Deputy Mayor, Arne Lindberg and President of the Multicultural Council, Marge Nainaar
The audience included many cheerful Sunday picnickers and all were treated to a spry performance of Irish Dancing courtesy of Dan and Laurie Sterling's troop.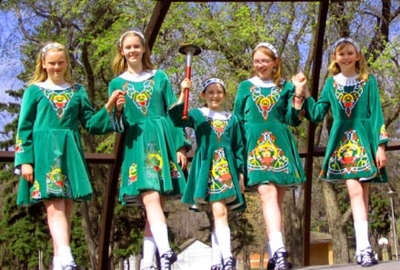 Dancers of Dan and Laurie Sterling's Irish Dance Troupe
Next was a joyful performance of Ukrainian Folk music followed by a rousing group of Ukrainian folk dancers.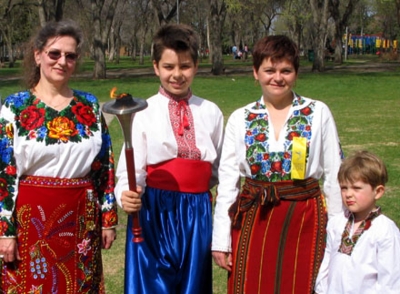 Prince Albert Ukrainian Dancers
The Harmony Run Team then spoke, offering their sincerest appreciation for the beautiful, heartfelt and colourful reception and noted the extraordinary good nature of the Prince Albert community.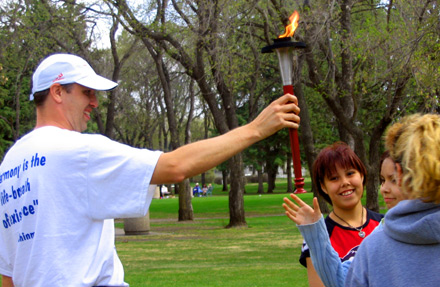 Passing the torch in Prince Albert
The closing performance of the day was by the First Nations Music Group: Iron Swing, their presence was an honour.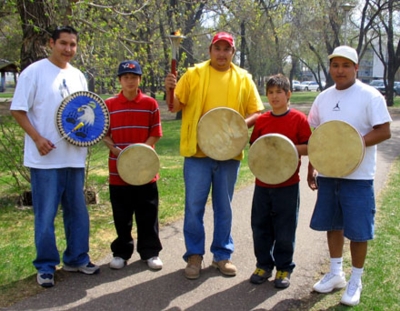 Iron Swing, Prince Albert
The performance they gave was made possible by the First Nations University and arranged by Patti Canon-Levesque.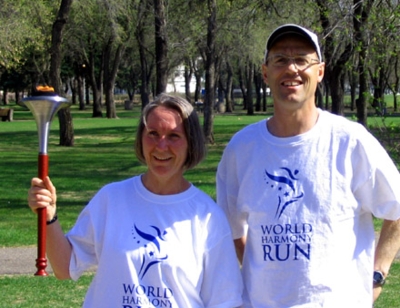 Patti Canon-Levesque and World Harmony Run team runner Sulabha Wisniewski
A smorgasbord of cultural foods was presented for all, made possible by the efforts of Marge Nainaar with the generosity of community members. Prince Albert is a place the team will always remember with fondness.
Melfort – Monday, May 16:
Torch runner Anvita Winters ran onto the track field of Reynolds
Elementary where 200 students cheered and waved flags they had made to show their country of heritage. Then two students from each class relayed the torch around the track while the remaining students sang the World Harmony Song together; what a fabulous performance they gave! Principal Mariette Baker McDermid spoke significant words on how inner harmony leads to outer harmony. Mayor Daryl Collins then read out a proclamation declaring May 16, 2005 World Harmony Day in Melfort.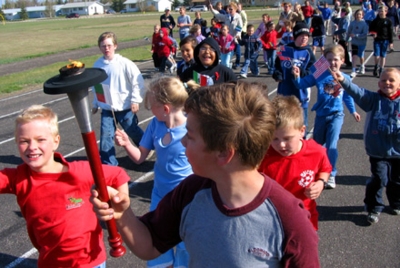 Melfort student parade
Coach Karen Hansen and members of the Brunswick School cross-country team ran the torch out of Reynolds Elementary School to Broadway Elementary School; along the way the runners received big cheers from fellow Brunswick students.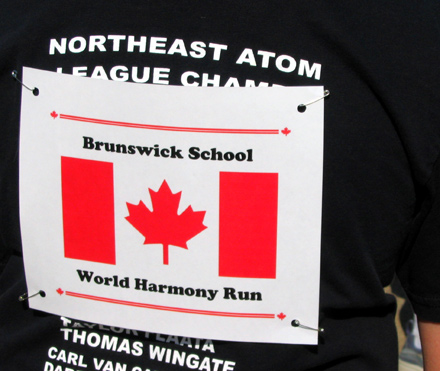 On reaching their goal, students were greeted by a circle of 50 more students who passed the torch from hand to hand while the Harmony team encouraged all to see how they were taking part in the sharing of the Harmony Run message to their community and ultimately the world at large. A final school visit at Maude Burke Elementary had 20 track team members relay the torch. In all it was a fantastic harmony achievement by all participating schools.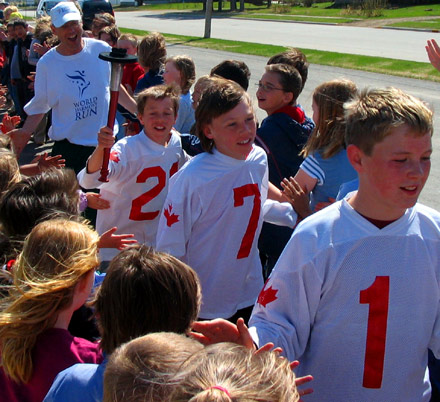 Maude Burke students relaying the torch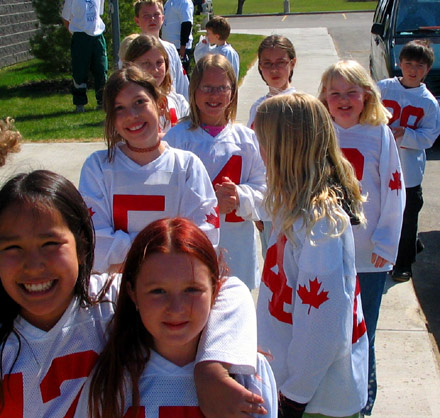 Harmony in practice at Maude Burke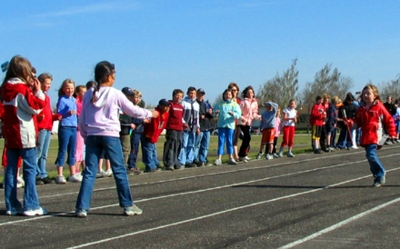 Melfort students
Saskatoon – Monday, May 16:
The team was greeted by May Cummings of Mount Royal Collegiate who had organized for members of the school to relay the torch along the shores of the beautiful Saskatchewan River.
Bouncing with enthusiasm, Susan Thai and Ryleigh Carr carried the torch to the City hall.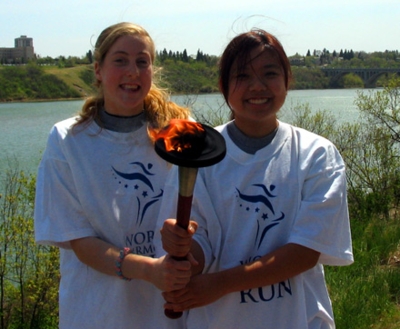 Mayor Donald Atchison read out the proclamation making it World Harmony Day in Saskatoon and followed it with a reading of: "An Eulogy to – I Can't".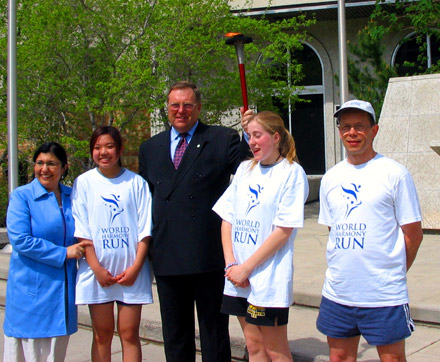 Saskatoon Mayor Donald Atchison and May Cummings of Mount Royal Collegiate, along with students Susan Thai and Ryleigh Carr, and WHR team runner Anvita Winters
The team was sent off with wishes for a joyful journey.
Moose Jaw – Tuesday, May 17
Moose Jaw YMCA Champion Ultra Marathon runner Quinton Johb ran the torch through town to City Hall, where Mayor Al Schwinghamer joined the runners to read the World Harmony Day Proclamation and share stories from the road.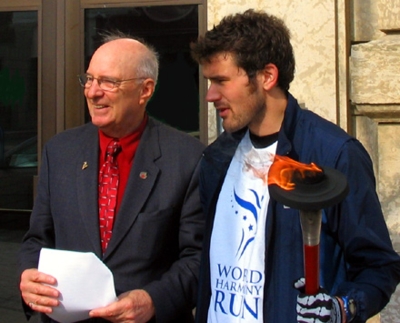 Moose Jaw Mayor Al Schwinghamer and ultra-marathon champion runner Quinton Johb at City Hall
Regina – Tuesday, May 17
World Harmony Run events in Saskatchewan culminated today in Regina, with an official greeting from the province at the Legislature building.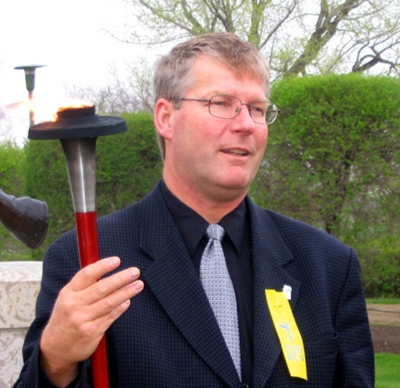 Provincial MLA for Saskatchewan, Kim Trew holds the World Harmony Run torch
MLA Kim Trew said "Thank you very, very much for the privilege of holding this torch. I will wear the World Harmony shirt with pride. You guys are doing a great job." "I am doing such a small thing by simply holding this torch, and I am very humbled to be a part of this global run." Team members were inspired by his genuine enthusiasm and warm-hearted welcome. Earlier today, Councillor Wade Murray extended a welcome on behalf of the city, announcing May 17 as World Harmony Day in Regina.
Lessons from Geese (by Battleford story teller Dawnlyn Ward):
As each Goose flaps its wings it creates uplift for the birds that follow. By flying in a V-formation, the whole flock adds 71% greater flying range than if each bird flew alone.
Lesson: People who share a common direction and sense of community can get where they are going more quickly and easily because they are traveling on the thrust of one another.
When a Goose falls out of formation, it suddenly feels the drag and resistance of flying alone. It quickly moves back into formation to take advantage of the lifting power ahead.
Lesson: If we have as much sense as a Goose we stay in formation with those headed where want to go. We are willing to accept help, and give help to others.
When the lead Goose tires, it rotates back into the formation and another Goose flies to the point position.
Lesson: It pays to take turns doing the hard tasks sharing leadership. We are interdependent on each other's skills, capabilities and unique arrangements of gifts, talents and resources.
The Geese flying in formation honk to encourage those up front to keep up their speed.
Lesson: We need to make sure our honking is encouraging. The power of encouragement to each other is the quality of honking we seek.
When a goose gets sick, wounded or shot down, two Geese drop out of formation and follow it down to help and protect it. They stay with it until it dies or is able to fly again. Then they launch out with another formation or catch up with the flock.
Lesson: If we have as much sense as Geese, we will stand by each other in difficult times as well as when we are strong.
---
Harmonemail:
You can send a message to the runners or read the messages.