France 9 March: Mont St. Michel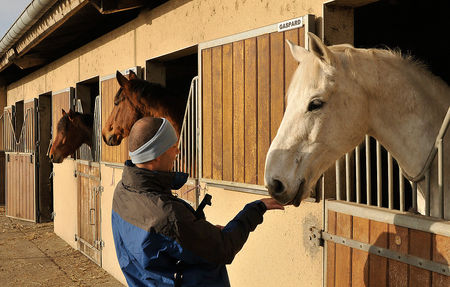 Yesterday, the cows, today the horses!
hier, les vaches, aujourd'hui les chevaux !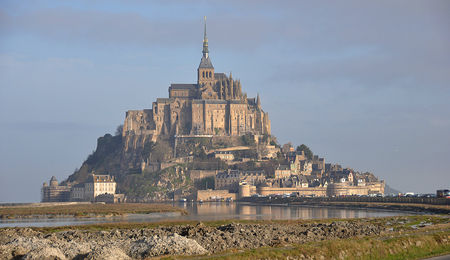 Le Mont St Michel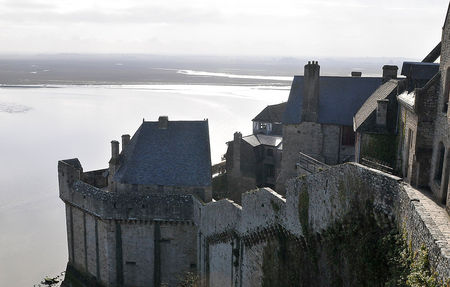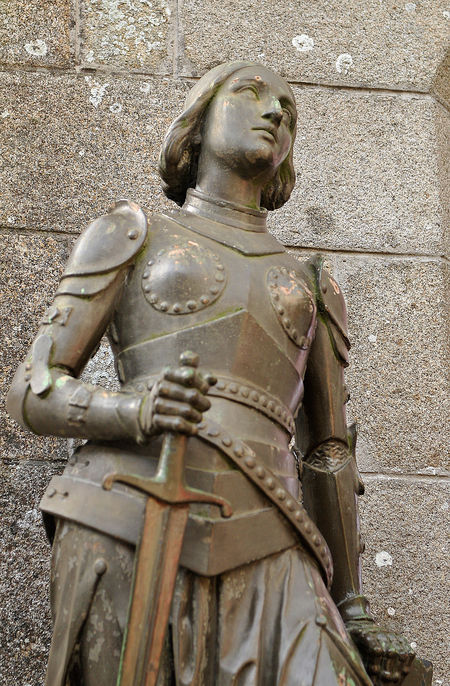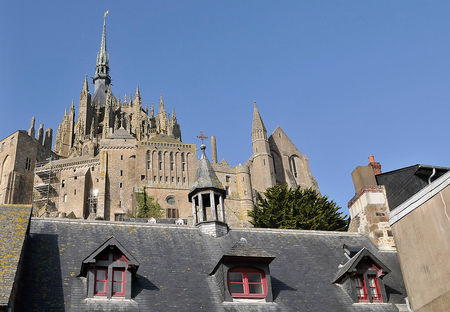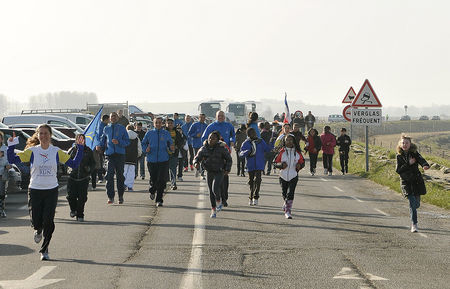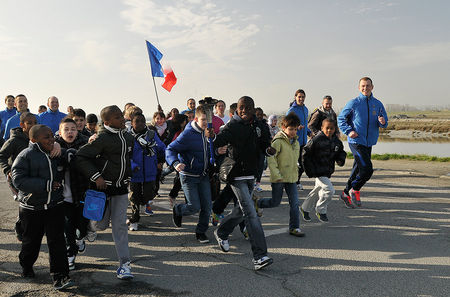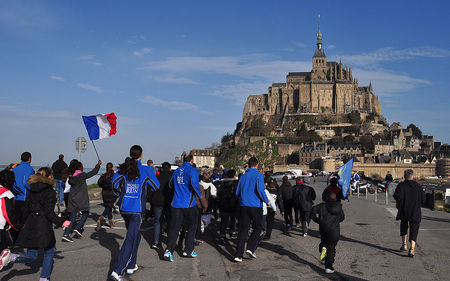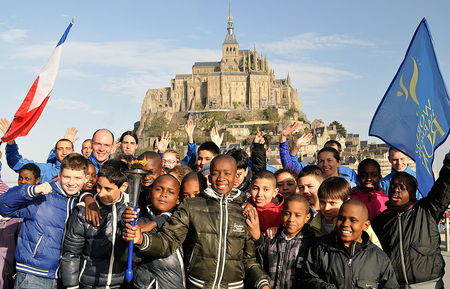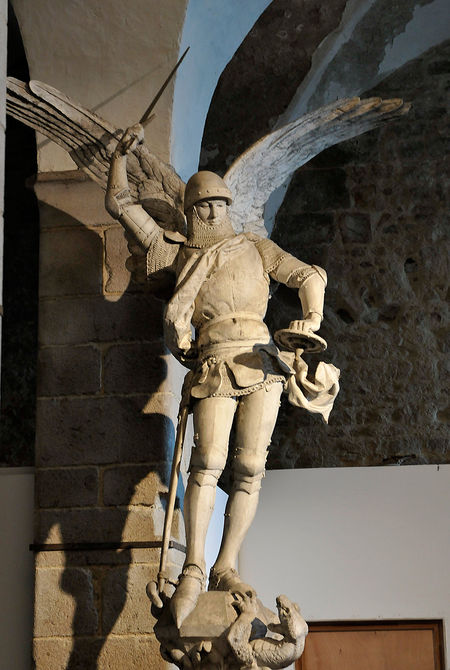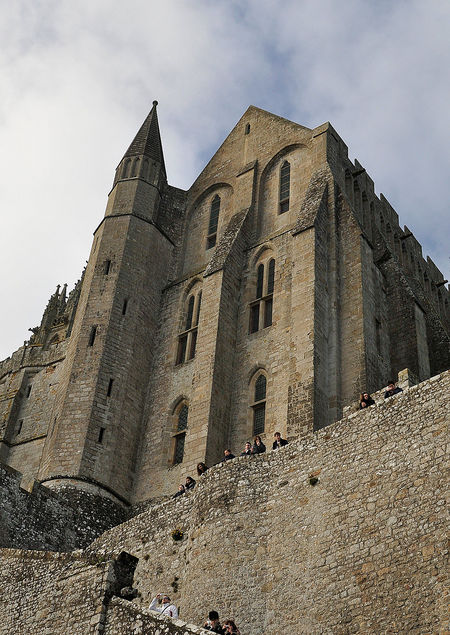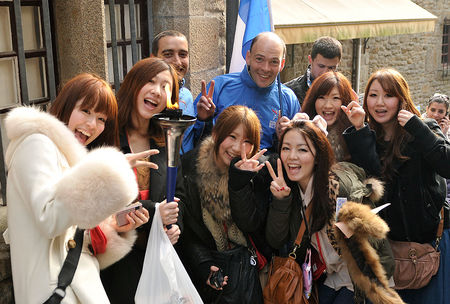 meeting with the whole world ...
rencontre avec le monde entier...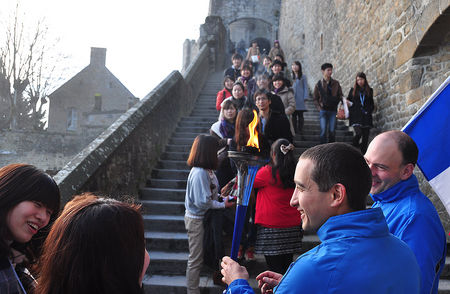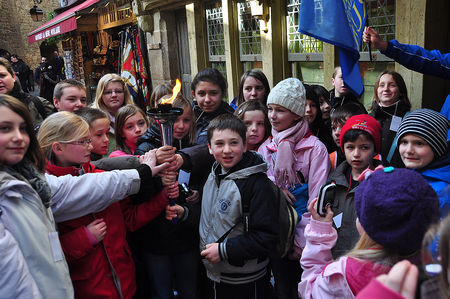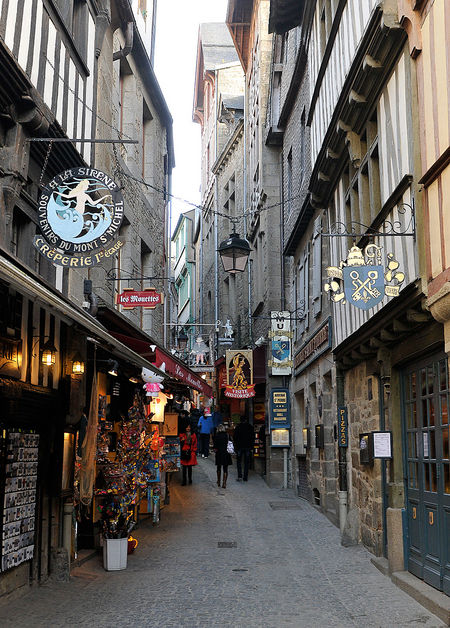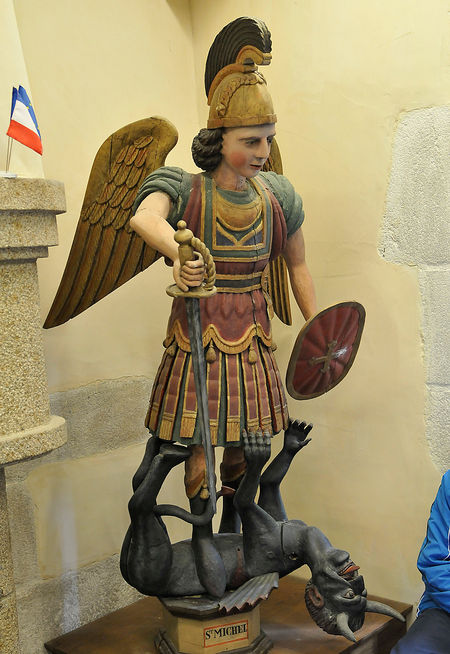 The legend of St Mikael...
la légende de St Michel...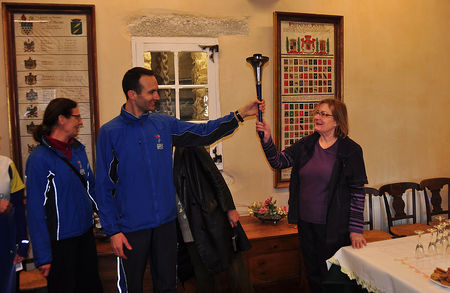 reception at the Townhall with the Deputee Mayor.
Accueil à la mairie de St Michel avec Madame l'Adjointe au Maire.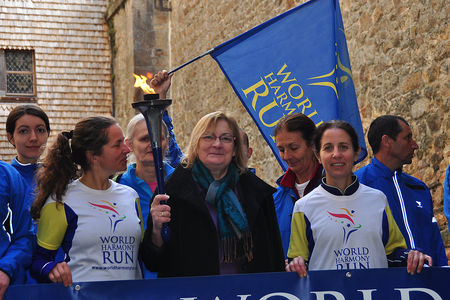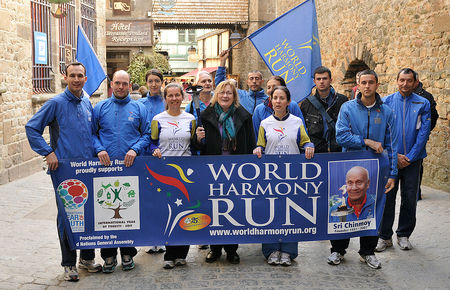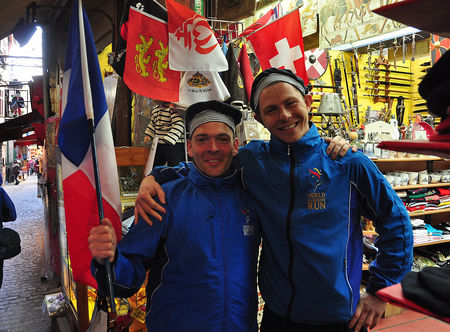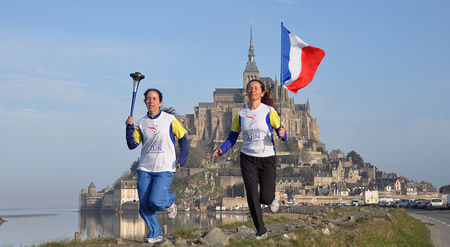 last run with the Torch and the French flag
derniers pas avec la torche et le drapeau...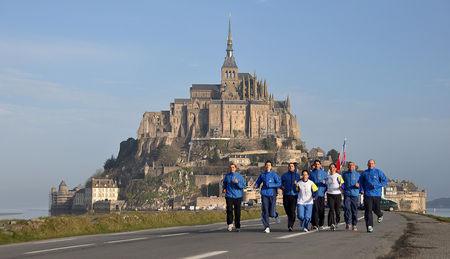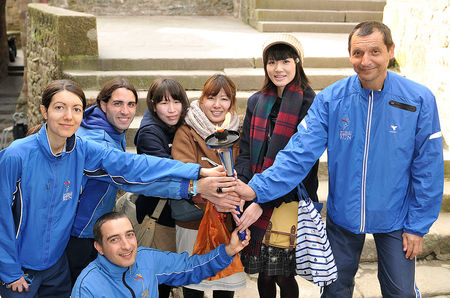 And this closes another page of the World Harmony Run in France.
See you next time!
et nous refermons ainsi une nouvelle page de la World Harmony Run en France.
A la prochaine fois! 
---
French/ Francais: Vers 2022 et vers un Monde d'Unité - message de Mr. Davidson Hepburn, Président de la Conférence Générale de l'UNESCO (2009 - 2011) - 25ème anniversaire de la World Harmony Run: "Je crois que tous les citoyens du monde sont tournés avec impatience vers la prochaine décade -jusqu'à 2022 et au-delà- qu'ils voient comme une ère de progrès importants et de changements radicaux. - Il est impératif de travailler ensemble pour construire un véritable Monde d'Unité. - Parmi les récentes initiatives qui aspirent à ce but, la World Harmony Run est l'une des plus remarquables et qui atteint le plus de monde. - Elle fut fondée par Sri Chinmoy en 1987 et continue, même après sa disparition en 2007, à grandir, portant les idéaux essentiels de l'UNESCO et de toute la communauté des Nations Unies. More>

Video Message from Dr. Davidson Hepburn, President (2009 - 2011) of the General Conference of the United Nations Educational, Scientific and Cultural Organization (UNESCO) for 25th Anniversary of the World Harmony Run and a vision for the decade: "Toward a Oneness-World".
Full Text of the 25th annversary message and link to 25 language informal Translations: http://www.worldharmonyrun.org/25
or Click on language button for separate youtube videos wth sub titles in varous languages
See also: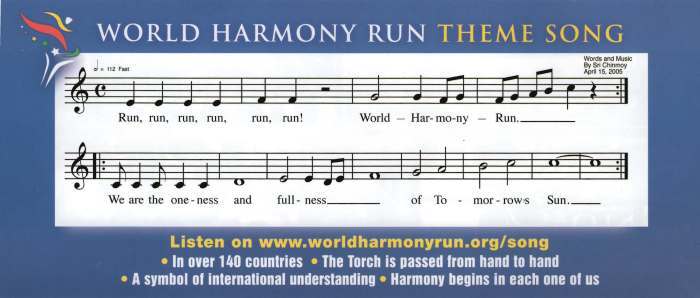 La couse de l'harmonie mondiale - tempo = rapide
Cours, cours, cours, cours, cours, cours
Lacourse de l'hamonie mondiale
Nous sommes l'unité et la plénitude
du soleilde demain!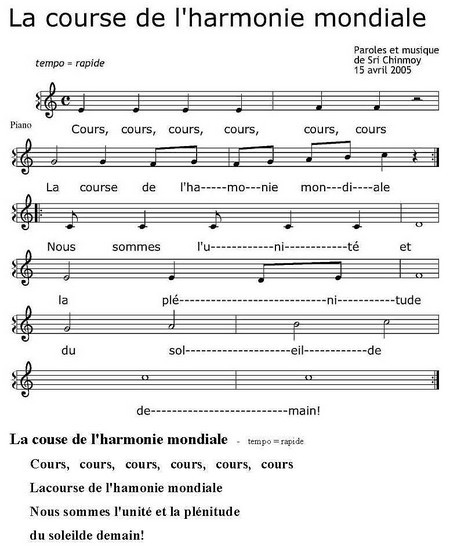 Download French language score: PDF format, jpg format, ms word format

---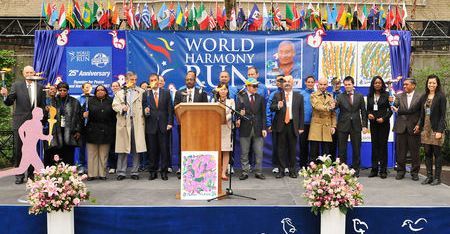 See start of the International 25th Anniversary Celebration across from the United Nations at Dag Hammarskjold Plaza in New York.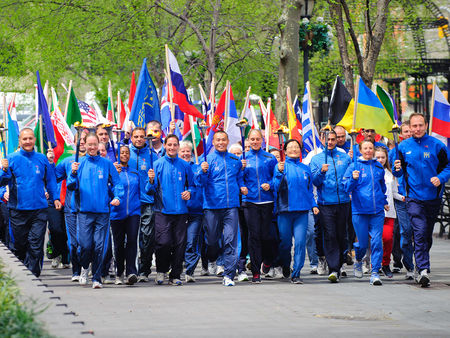 On 27th April 2012. in many cities around the world, special events marked the WHR 25th Anniversary
View some early highlights. The United Nations had proclaimed 1986 the International Year of Peace, and Sri Chinmoy wanted to offer a heartfelt and sincere expression of peace on a global scale. The opening ceremony, broadcast live on NBC-TV's The Today Show.. On April 27, 1987, five minutes of global television time was dedicated for the inaugural Sri Chinmoy Oneness-Home Peace Run with strong support from Archbishop Desmond Tutu, the UN Secretary-General, celebrities Carl Lewis, Clarence Clemons and Narada Michael Walden, and thousands...Also includes Clips from Philippines; Sahara Desert, Morocco; Botswana; Scotland, Nepal, Russia, Sri Lanka, Switzerland, Ukraine, Japan, Malaysia, Mexico, Ethiopia, Dominican Republic, Ireland, Great Britain, Colombia, Bahamas, Hungary, Spain, Mongolia, Czech Republic, Portugal, USA
---
Team Members:
Dipavajan Renner (Austria), Apaguha Vesely (Czech Republic), Sandro Zincarini (Italy), Andre Carvalho Ribeiro (Portugal), Sumahat Strohn (Germany), Mladen Vujaklija (Croatia), Petar Mihaylov (Bulgaria), Rui Paulino (Portugal), Vladimir Ilyasov (Russian Federation), Barbara Tabackova (Slovakia), Padmasini (France), Mena (France), Netramati (France), Natashira (France), Ratna (France)
Harmonemail:
You can send a message to the runners or read the messages.
Gallery: See more images!