Slovakia 12 May: Zvolen - Novaky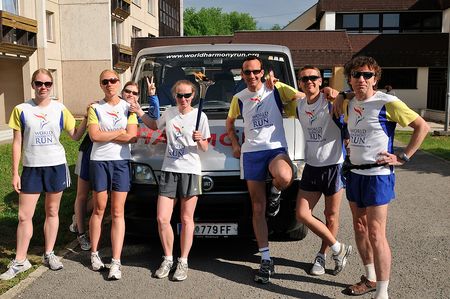 Cool team ready to go... :-)
Náš tím machruje pred dnešnou etapou... :-)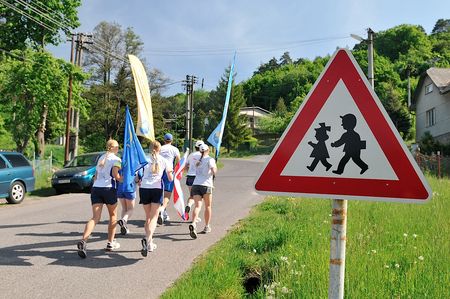 Uphill to Trnavska Hora Primary School.
V Trnavskej Hore tu musia chodiť deti do školy do kopca.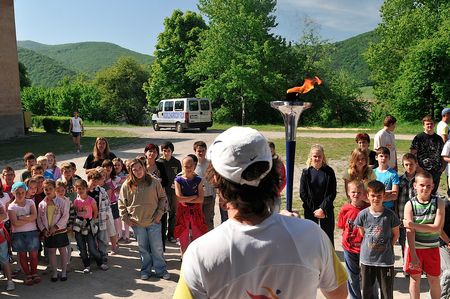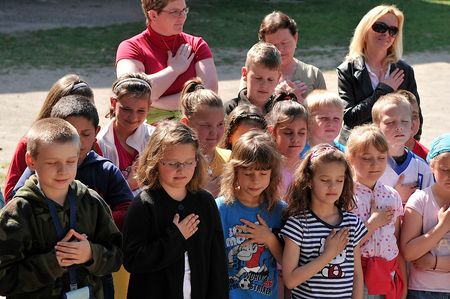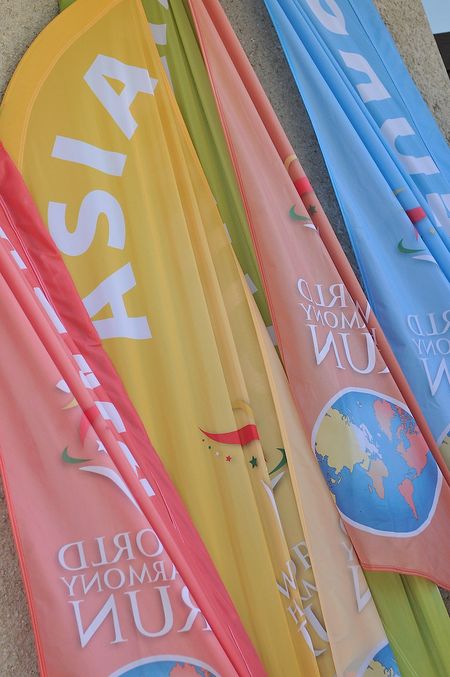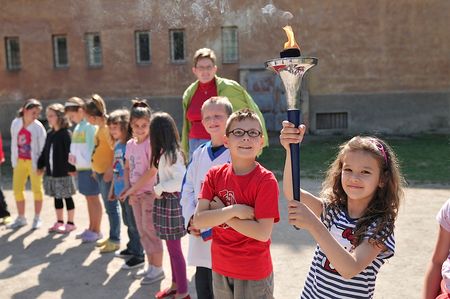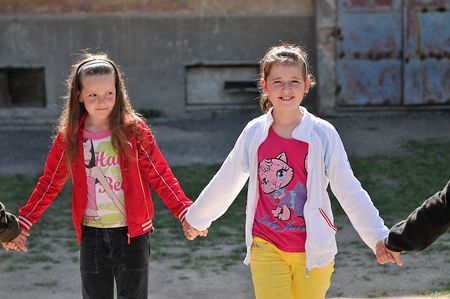 Linking hands for harmony...
Spojenie v harmónii...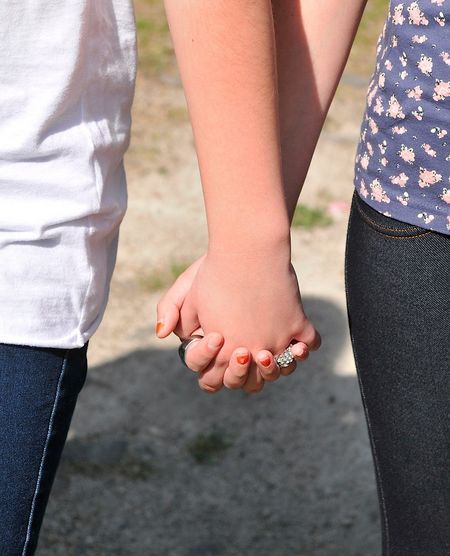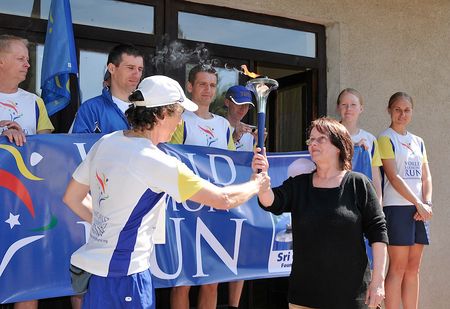 The Principal of the school recieves the harmony torch.
Pani riaditeľka prijala za celú školu pochodeň harmónie.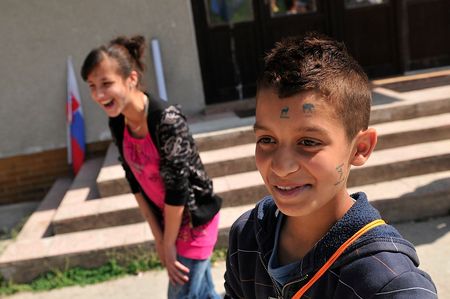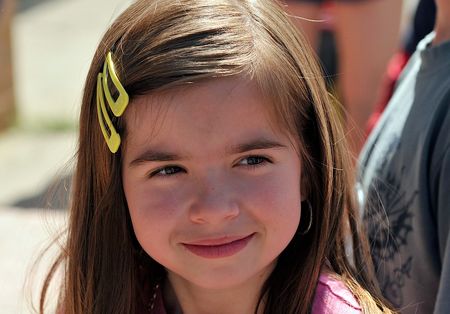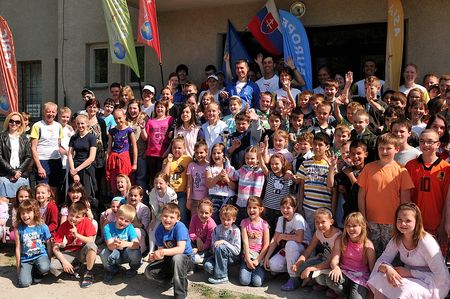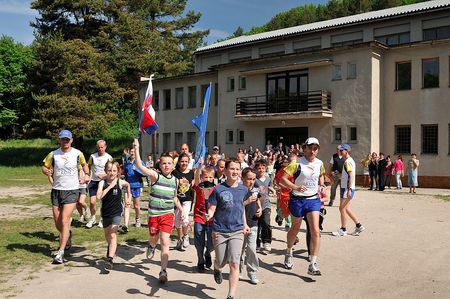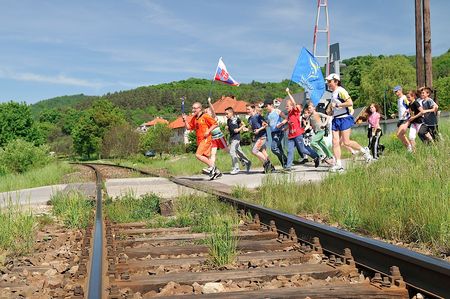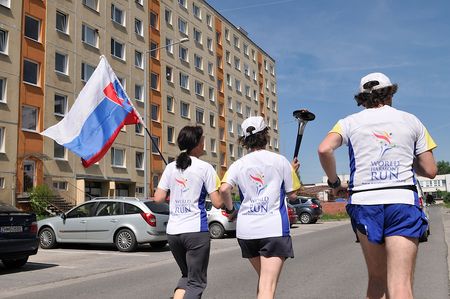 It is a contrast to the countryside housing style as we enter Ziar nad Hronom.
Bežíme prírodou aj mestom, teraz sme v Žiari nad Hronom.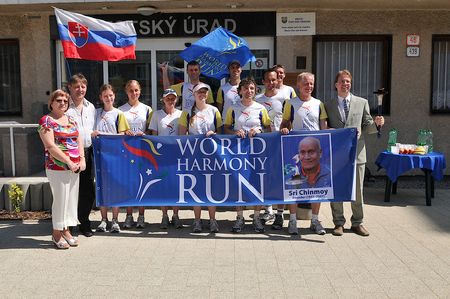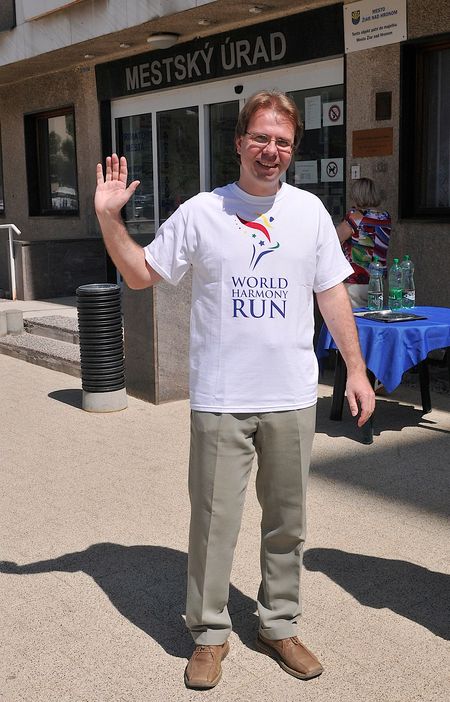 The city council member enthusiastically changed from his formal attire as soon as we gifted him the team shirt.
Zástupca mesta si v rýchlosti a s radosťou vymenil kravatu za naše tímové tričko.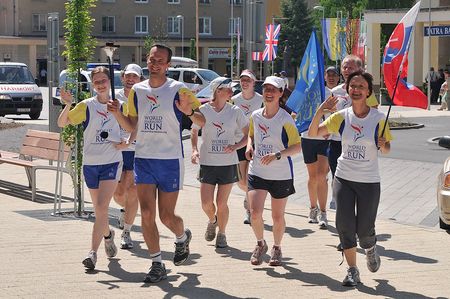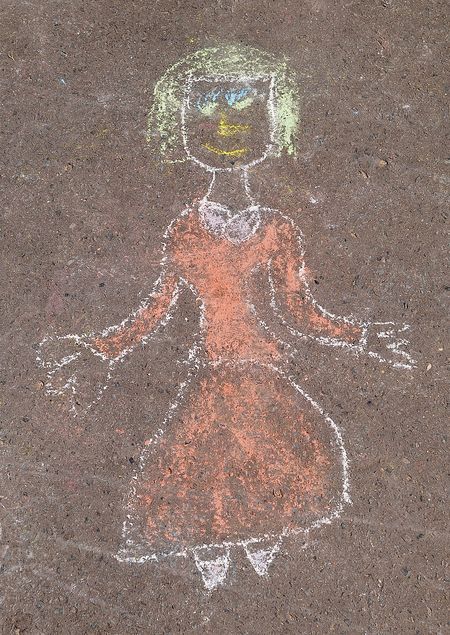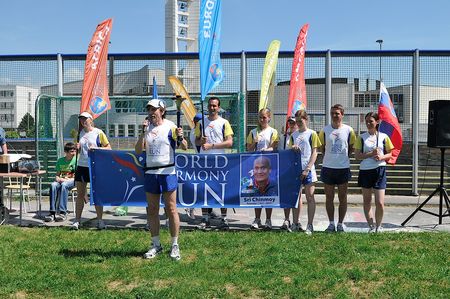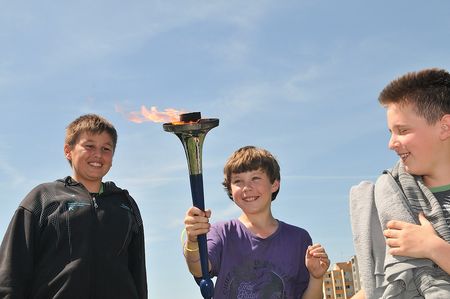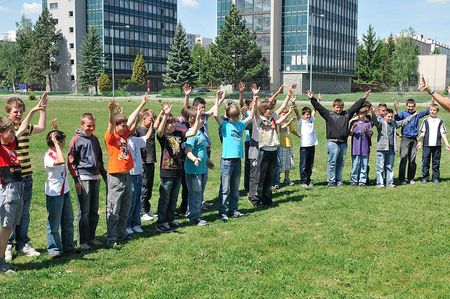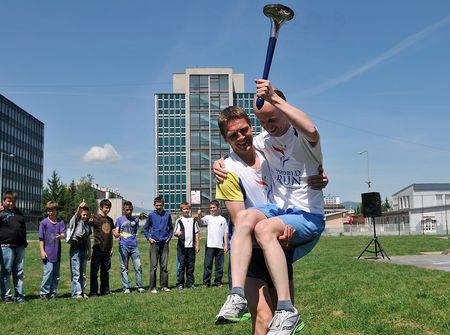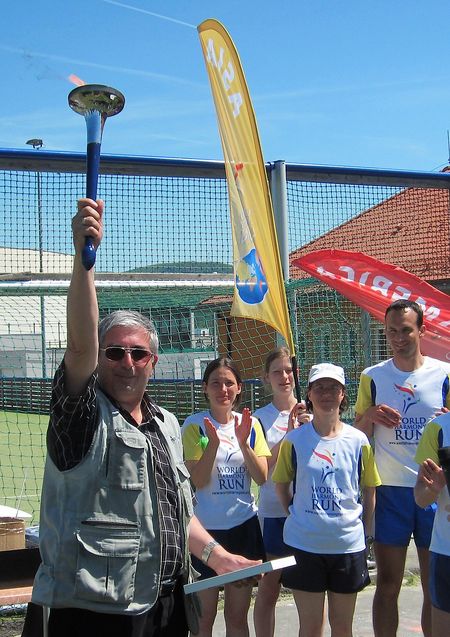 The teacher of Ziar nad Hronom School expressed fond memories of a team visiting many years ago and he still has a faded shirt to prove it .
V škole v Žiari nad Hronom nás privítal zástupca školy, ktorý sa zúčastnil nášho behu aj pred mnohými rokmi. Dodal, že by prišiel na ceremóniu v tričku z toho ročníka, keby nebolo už tak ošúchané.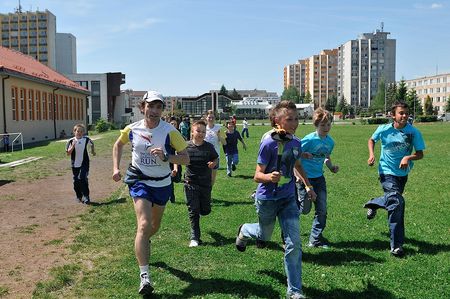 Vlado trying to keep up! We have to say he is not the youngest anymore :-)
Vlado sa snaží držať krok s mladou generáciou! Musíme podotknúť, že už nie je najmladší :-)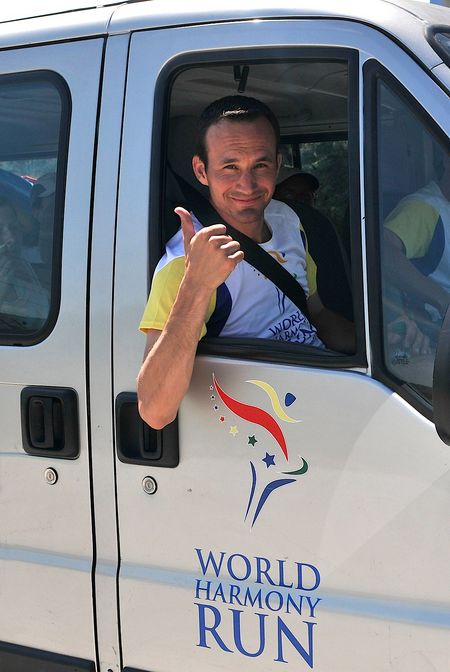 Apaguha has things well under control.
Apaguha má veci pod kontrolou.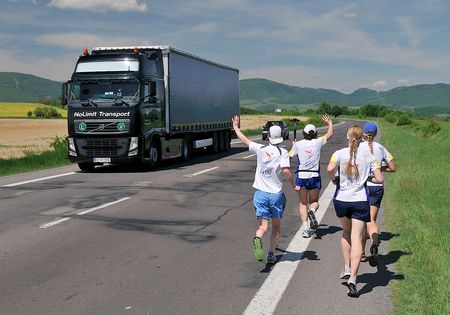 We always welcome greeting toots from passing vehicles.
Vždy radi privítame, keď nás okoloidúce autá zdravia klaksónom.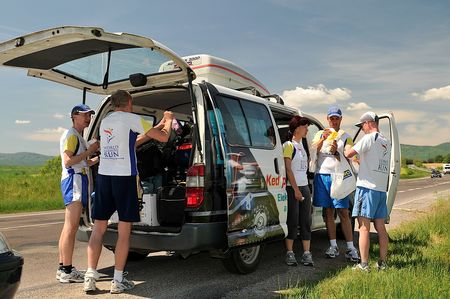 Lunch arrives...
Prichádza obed...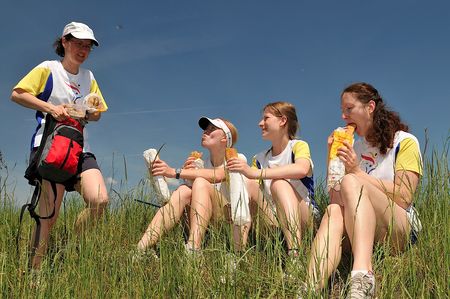 ...and after running in the scorching heat we deserve a rest in the meadow.
...po behu v horúčave si zaslúžime odpočinok na lúke.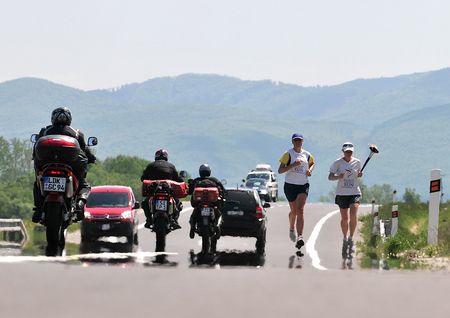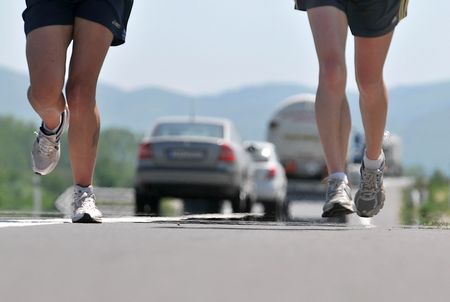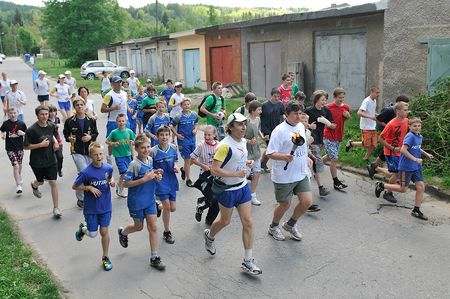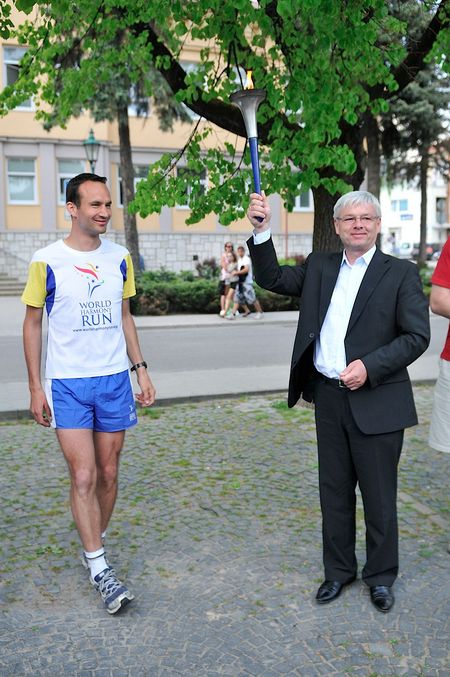 Mr. Dusan Klas, vicemayor of the town Handlova
Pán Dušan Klas, zástupca primátora Handlovej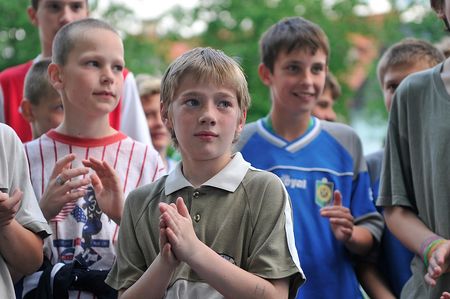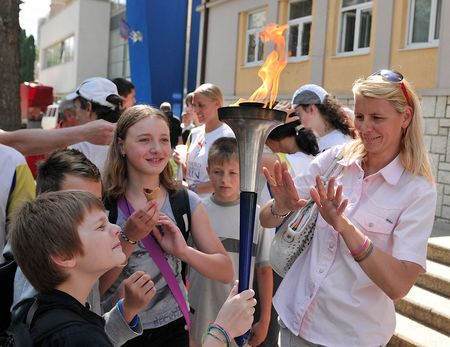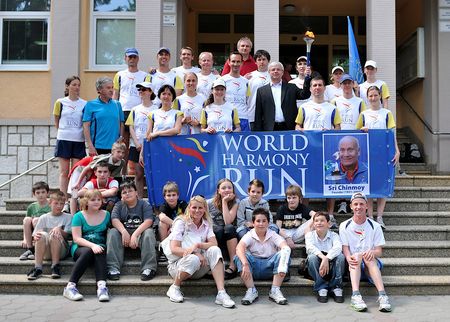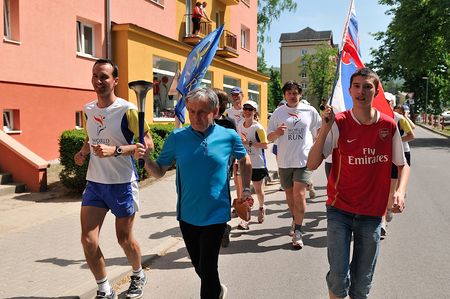 Mr. Eduard Straka carries the torch representing the Council. In his prime he race walked an impressive 50km in 4 hours.
Pán Eduard Straka, bývalý rýchlostný chodec nesie pochodeň.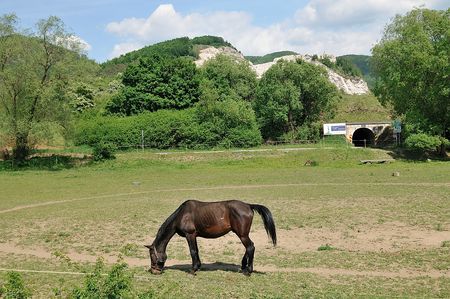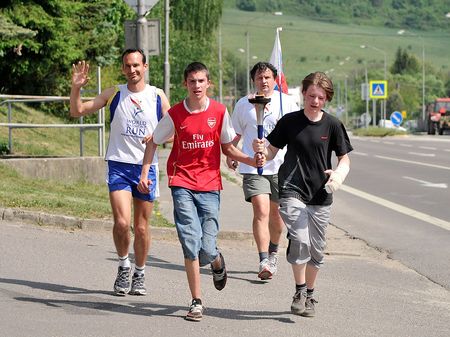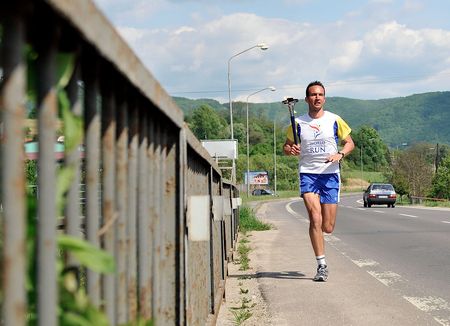 ...we need to be fast now.
...teraz potrebujeme byť rýchli.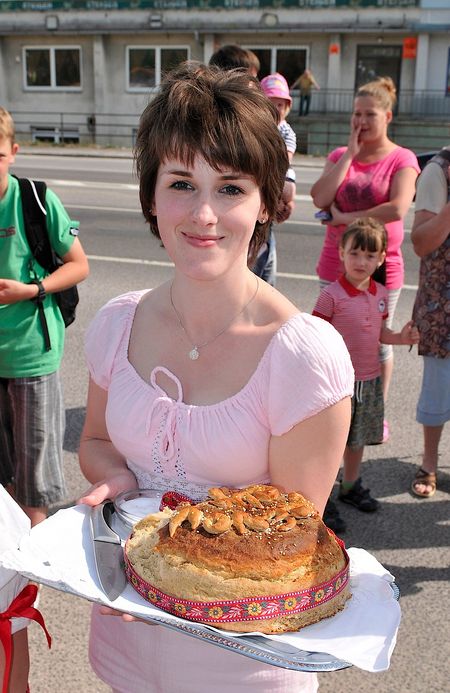 The baker of the bread for the traditional Slovak bread offering. The name of the village is embossed there.
Ďakujeme veľmi pekne pani, ktorá pre nás upiekla tento vynikajúci "uvítací" chlieb aj s názvom obce.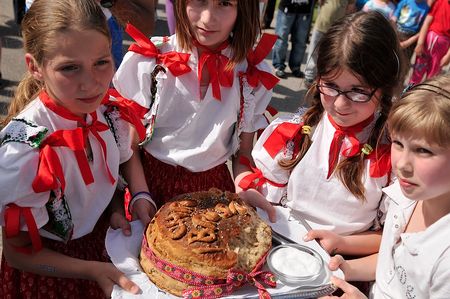 These kids passed the loaf for each of us to dip a portion in the salt...delicious!
Tieto deti nás potom chlebom a soľou ponúkli...vynikajúce!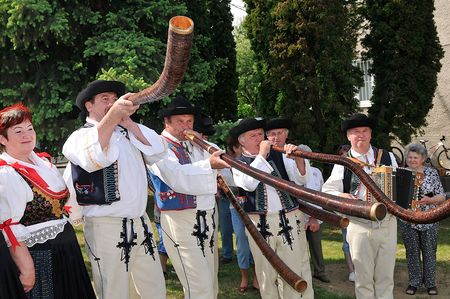 Our New Zealand runners said that "these local "trumpets" remind us of Australian didgeredoos but the sound is a little more tuneful".
Naše kamarátky z Nového Zélandu povedali, že: "tieto miestne "trúby" nám pripomínajú austrálske "didžeridy", len sú trochu hlasnejšie"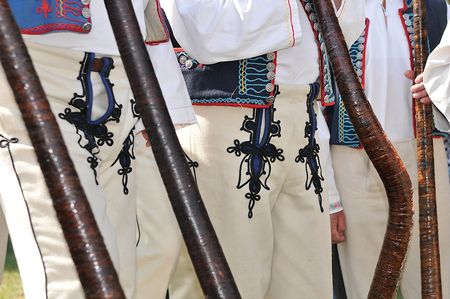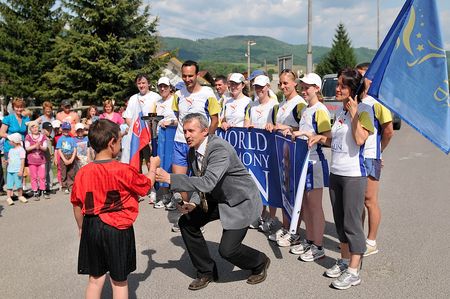 The Mayor of Chrenovec-Brusno, Mr.Tibor Cicmanec passes the torch.
Starosta obce Chrenovec-Brusno, pán Tibor Čičmanec podáva pochodeň.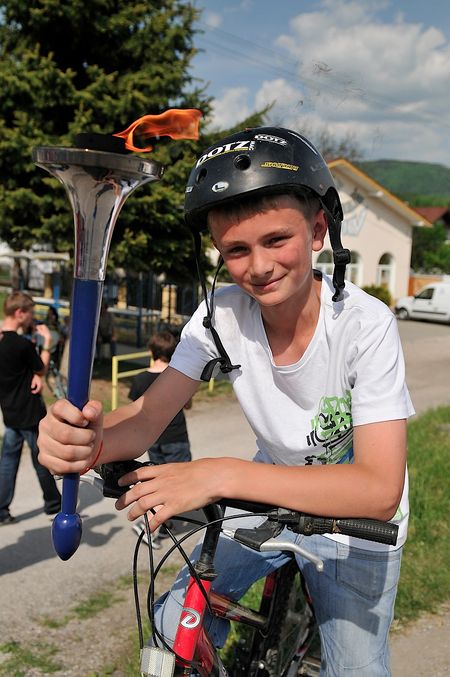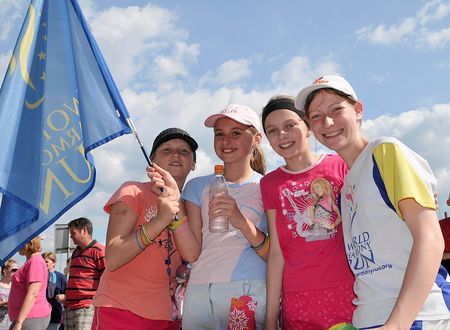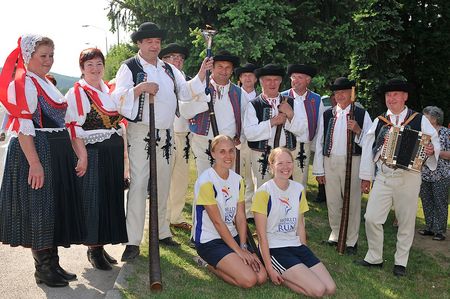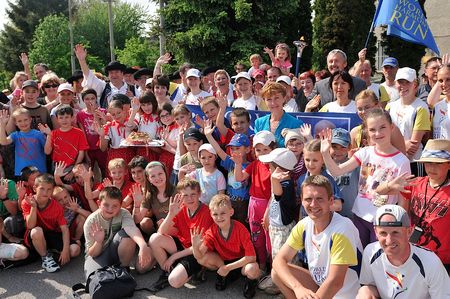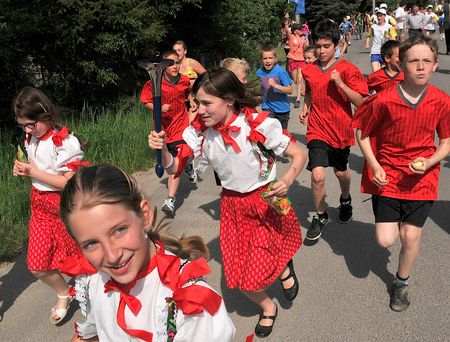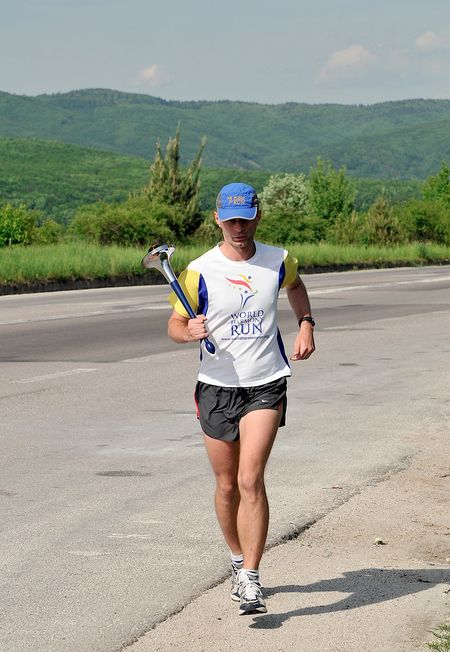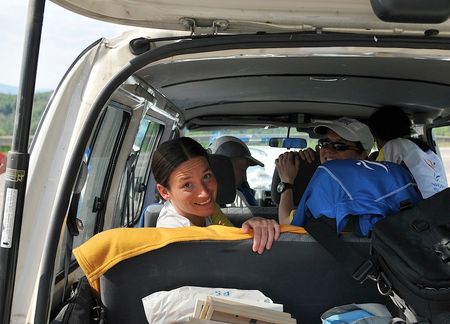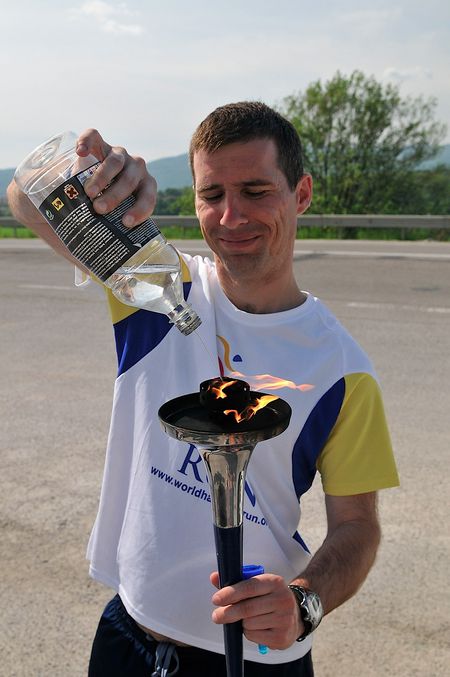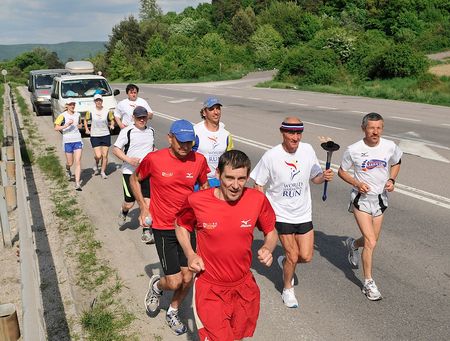 Runners from Prievidza join our team for a good few kiilometers.
Na pár kilometrov sa k nám pridali bežci z Prievidze.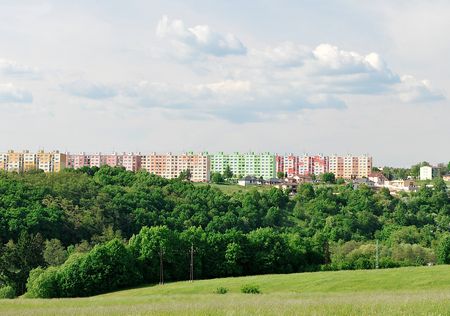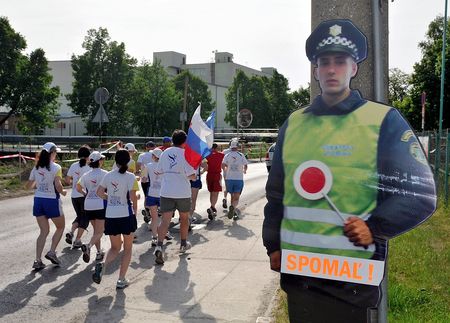 Slow down!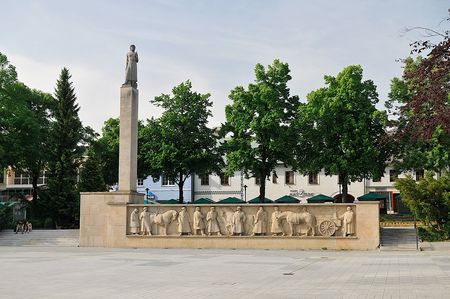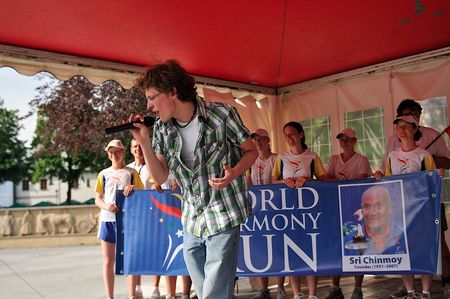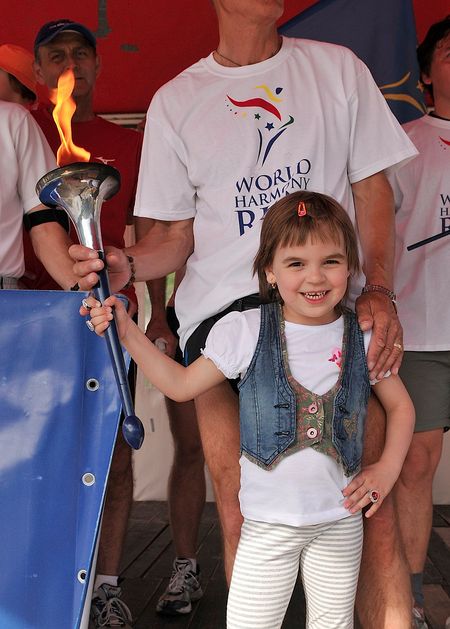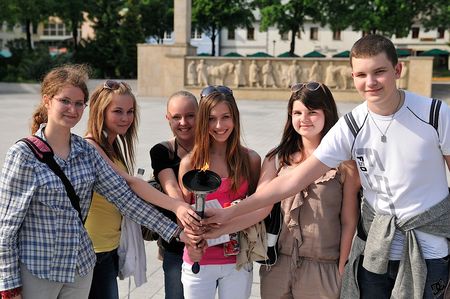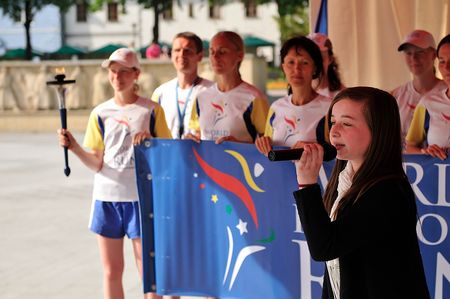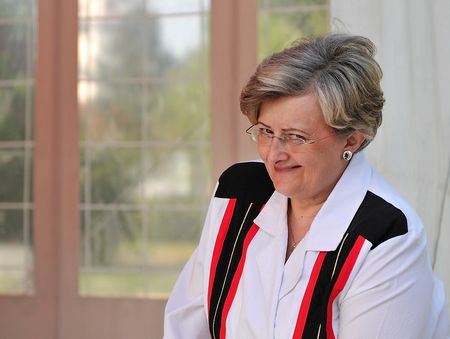 The vicemayor of the city Prievidza Helena Dadikova has a very good heart and always organises a beautiful ceremony for World Harmony Run.
Zástupkyňa primátorky Prievidze pani Helena m á veľmi dobré srdce a vždy pripraví krásne privítanie Svetového behu harmónie.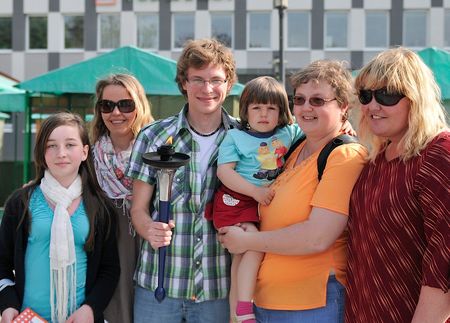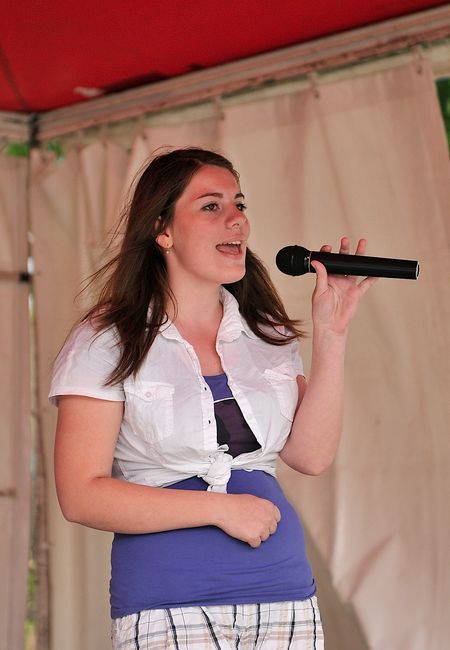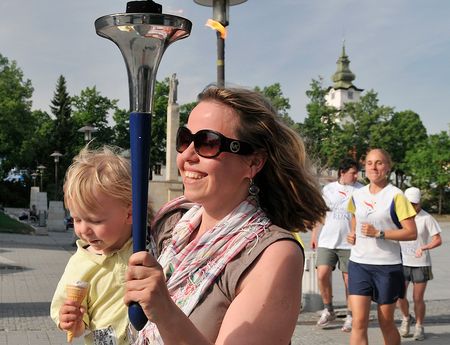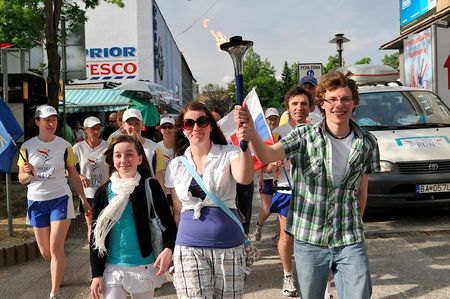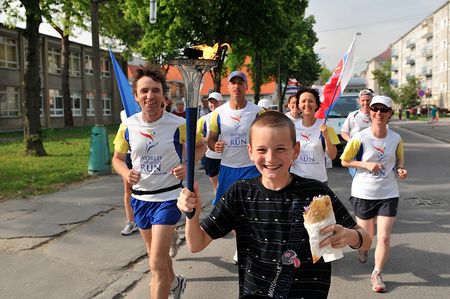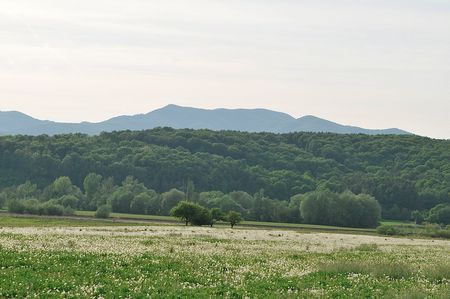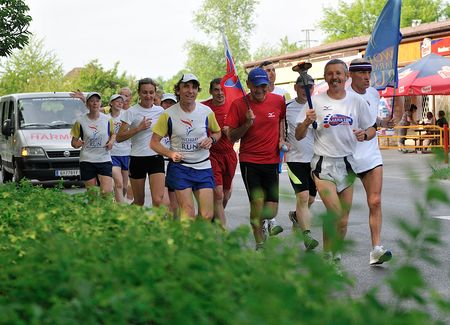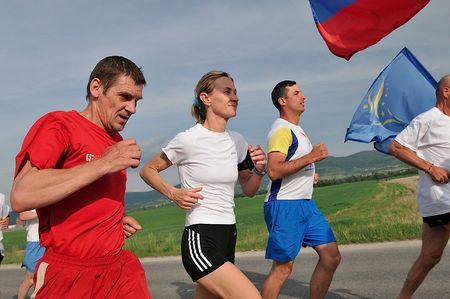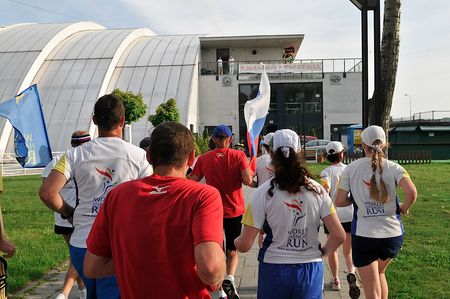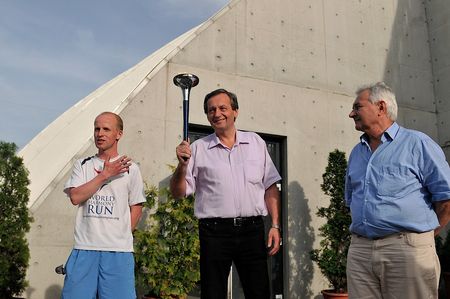 Mayor of Novaky, Mr.Dusan Simka and Mr.Kupka, former member of the Czechoslovakian national team in water polo warmly welcomed us.
Primátor mesta Nováky, pán Ing.Dušan Šimka a pán Kupka, bývalý československý reprezentant vo vodnom póle nás srdečne privítali.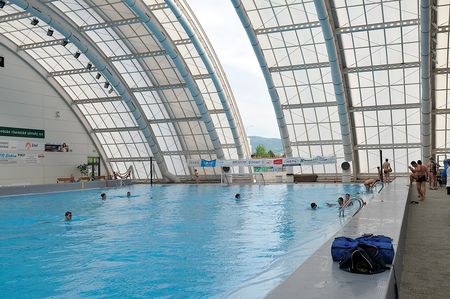 National Centre of Waterpolo - the only one in Slovakia.
Národné centrum vodného póla- jediného na Slovensku.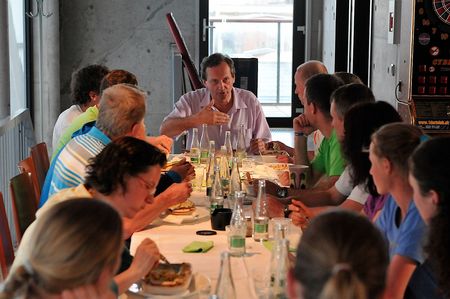 We enjoyed dinner with the Mayor who kindly arranged for our free accommodation, food and use of the sporting facilities.
S pánom primátorom sme strávili príjemné chvíle pri večeri v Národnom centre vodného póla, kde nám pomohol zaistiť aj ubytovanie.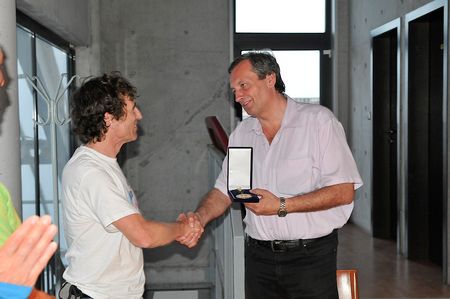 Mr.Mayor recieved the Torch Bearer Award, he was the only recipient in Slovakia this year, for his work for the citizens of the town Novaky. This Award we are offering to those people who work selflessly for others and help inspire those around them.
Pán primátor od nás dostal ocenenie "Torch Bearer Award" ako jediný tohto roku na Slovensku, za jeho prácu pre obyvateľov mesta Nováky. Toto ocenenie dávame ľuďom, ktorí sa snažia svoju prácu robiť srdcom pre dobro iných.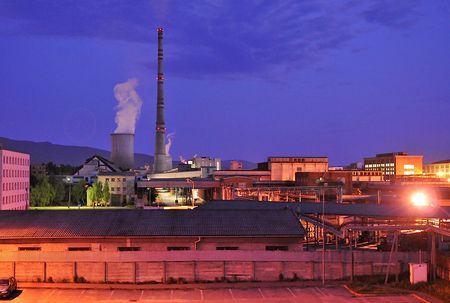 Night view of the factories that give work to many people in the area.
Nočný pohľad na továrne, ktoré zamestnávajú mnoho ľudí regiónu.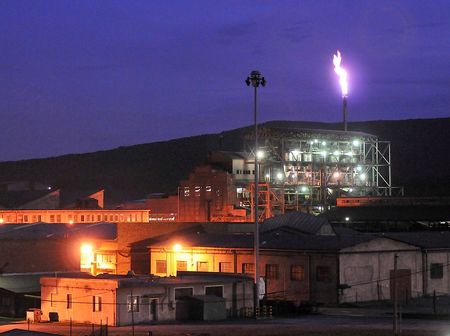 ---
Distance: 77 km
Team Members:
Apaguha Vesely (Czech Republic), Shobhavati Davies (New Zealand), Nataliya Lehonkova (Ukraine), Ujjwala Mettrick (New Zealand), Josef Sverma (Czech Republic), Ananda-Lahari Zuscin (Slovakia), Danica Cernakova (Slovakia), Petra Kasperova (Czech Republic), Padyatra Komak (Slovakia), Jan Stanko (Slovakia), Ayodhika Chochlikova (Slovakia), Devatulya Sulekova (Slovakia), Vlado Kulisek (Slovakia), Zdenko Michalec (Slovakia), Kuladipa Babusik (Slovakia), Marek Novotny (Slovakia)
Harmonemail:
You can send a message to the runners or read the messages.
Gallery: See more images!