Turkey 11 May: Manisa - Akhisar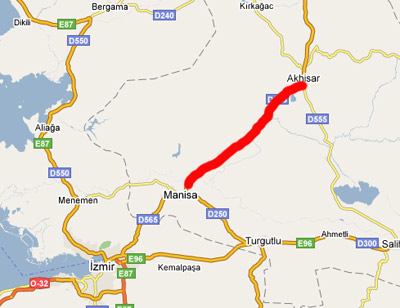 Today's route
Our day started with a pleasant breakfast at the Ögretmen-Evler-Hotel. From there we had to run just a few steps to our first appointment of day: The Ahmet Tütüncüoglu Primary-School in Manisa. This school has about 2000 students. Some of them come in the morning, some in the afternoon. Anyway, a tough job for all the teachers.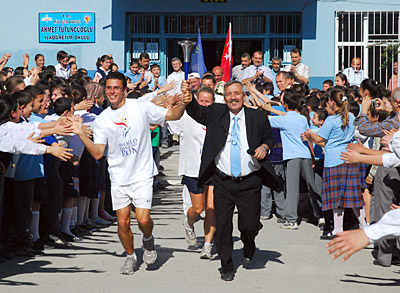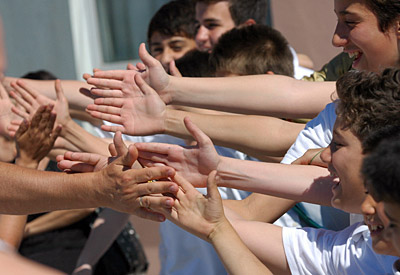 They welcomed us with flowers and a folk-dance performance by the little children.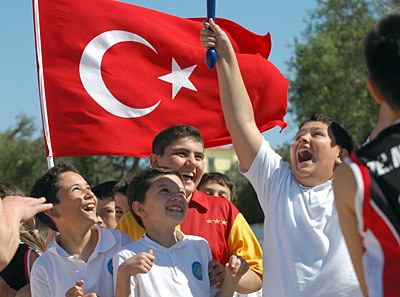 As we had an appointment at the governor's place in Manisa we could not stay that long at the school, but we took with us the joyful enthusiasm of hundreds of children and best wishes from everybody for our ongoing journey.
Escorted by the police, we ran through the city to the waiting Vali of Manisa, Mr. Refik Arslan Öztürk.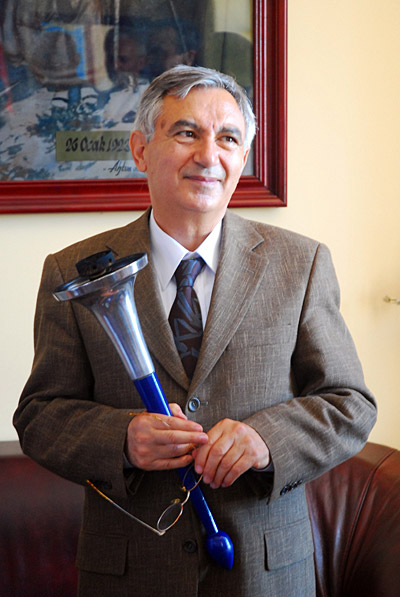 Those who had been here last year felt almost at home. Again Mr. Öztürk offered us a very warm welcome. His words about peace and understanding, which he addressed to us truly came from the heart. Here we met also with Mr. Murat Özel, the head of the Youth and Sports Directorate of Manisa who supported our endeavor very much.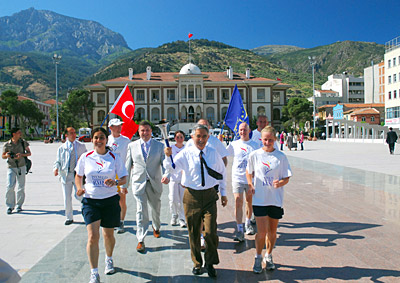 We all were very much impressed how high-ranking politicians like those two gentlemen have such a deep understanding about the cause of our run.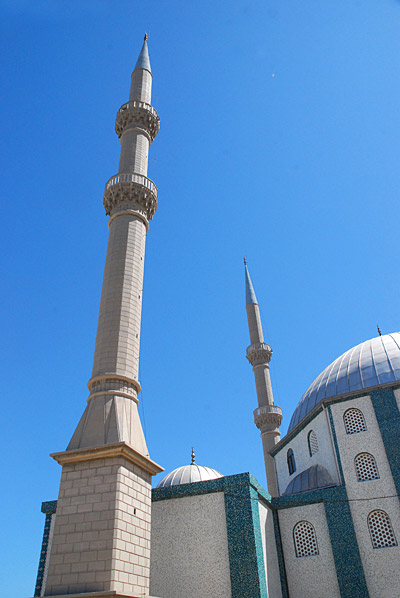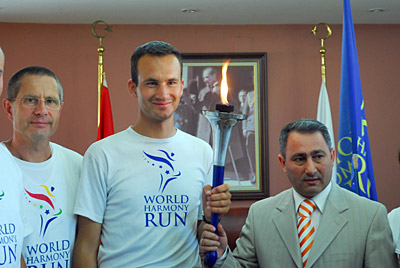 After the visit to the governor we went also to the mayor´s place. Although he personally could not receive us, because he was in Ingolstadt in Germany, the sister-city of Manisa, we were cordially received by his representative with tea and cold drinks, which we gratefully enjoyed. Once again a big thank you to the city of Manisa for its outstanding hospitality.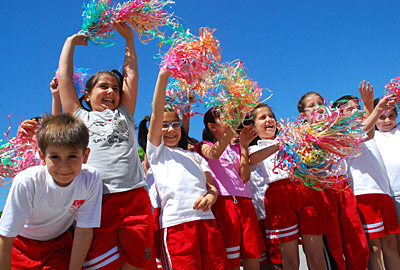 The police in Manisa was very helpful and brought us to all the places. So also to our next destination, the private Ülkem Primary School. The little children greeted us in a very cute way, waving, dancing and smiling.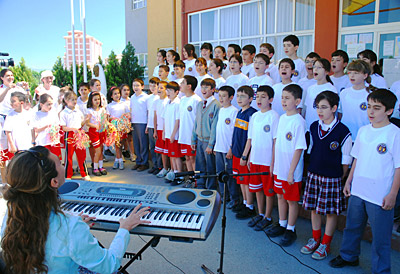 The older ones had learned the World Harmony Run song and sang it for us, accompanied by their teacher. As often, we here also did our little game: The students had to guess from which countries we come, and they were really good. After passing the torch from hand to hand and running with us they learned the motto of our run: Harmony begins with me! Now they are members of our team.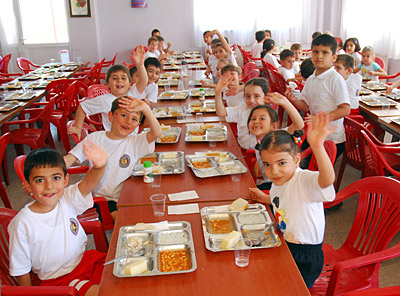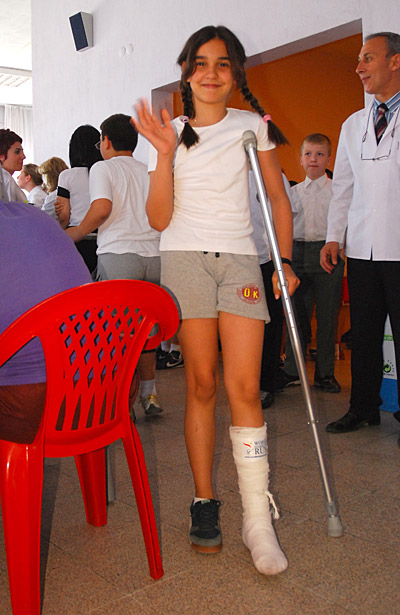 The school invited us to a very nice lunch together with the children, who took the opportunity to get more signatures from us on postcards, papers and hands; there were never enough pens.
After a warm farewell, we had to split our team because we had to run 50 km to the next school and also could not resist to make a stop at Mr. Özals office.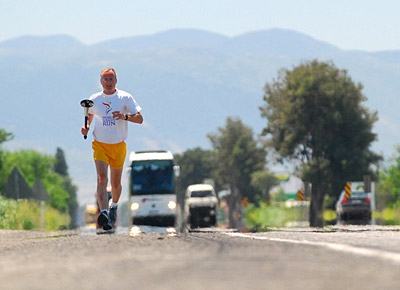 We faced a very strong wind on the road and it was still hot, too hot, as the people here say. They are also worried about climate changes, which could dry out their fields. Let´s hope that we all can manage the consequences in time.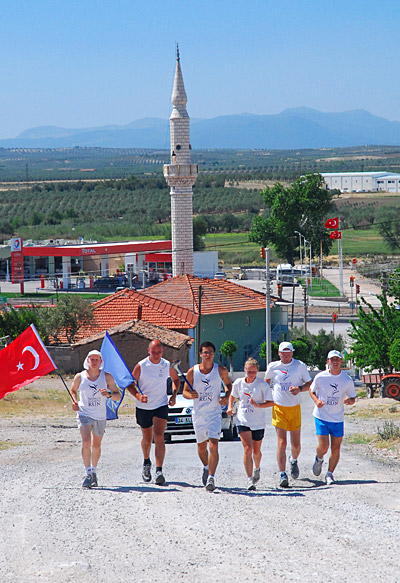 Just before the final school of today we got our team united. So we ran up the hill to the Akhisar Kolej. We visited this school last year and they desperately wanted us to come back. So here we are!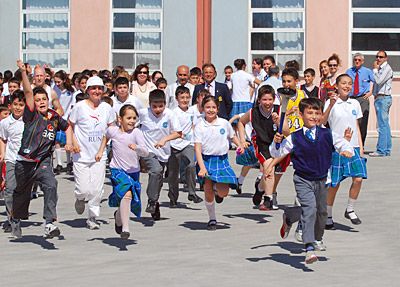 At the large school-yard we asked the children to stand in a big circle and to pass the torch from hand to hand. It was amazing how disciplined they were. After we had sung our song the students also sang spontaneously a song for us. Singing and dancing is in their blood.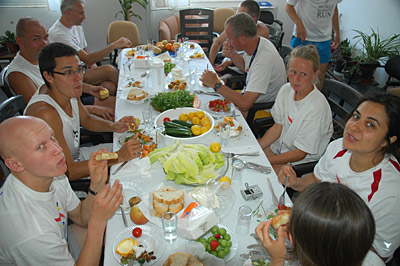 We then were invited for a rest in the teachers' room where they had prepared delicious fresh food and turkish specialties for us. We enjoyed it to our hearts' content.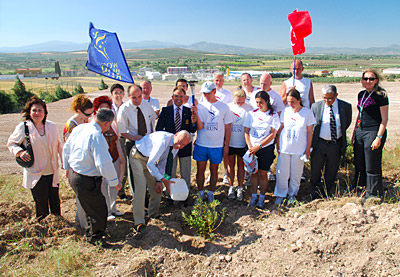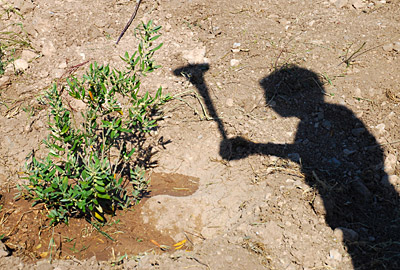 We could not leave the place without paying a visit to the peace-tree we had planted last year in the garden behind the school. Well, olive-trees take a long time to grow. That's probably why they are a symbol for peace. Peace also needs a lot of patience to grow. But we are confident: Our tree is still small, but in good shape.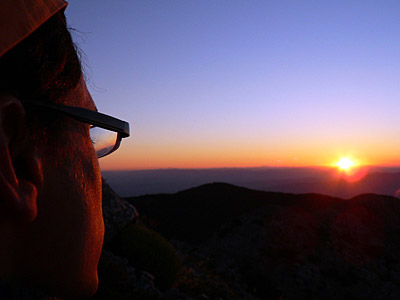 So that was it for a long day on which we met many inspiring people and enthusiastic children and once again could experience the overwhelming Turkish hospitality.
Sahatvam
---
Distance: 52km
Team Members:
Dipavajan Renner and Jewgenij Kuschnow (Austria), Banu Eres and Hüsniye Aktas (Turkey), Ondrej Vesely and Rosta Vagner (Czech Republic), Pierre Lantuas Monfouga (France), Valentin Bebik and Nataliya Lehonkova (Ukraine), Janos Derekas (Hungary), Sahatvam Selbach (Germany).
Harmonemail:
You can send a message to the runners or read the messages.