Turkey 12 May: Akhisar - Susurluk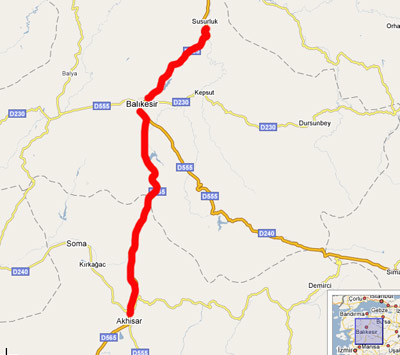 Today's route.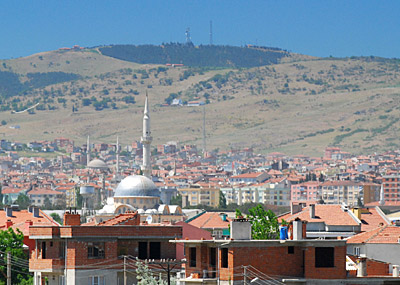 We started our new day well recovered after a comfortable overnight stay in the brand new Palm City Hotel (boys) and the charming Tekel Guesthouse (girls) as guests of the city of Akhisar. Thank you again for this kind hospitality.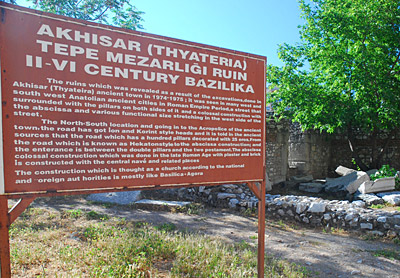 On our way to the first meeting we found a very old church (according to Banu even before Christ???)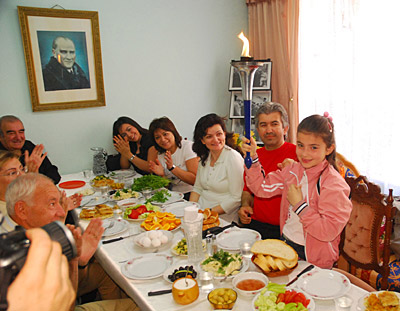 The first invitation of the day was at the Akhisar Health, Education and Culture Foundation which is working on many projects for the betterment of life in Akhisar. By now everybody should know that a Turkish invitation always means being together, sharing news, ideas and ideals and of course: eat and have a good glass of tea.
The mayor of Akhisar also came with his wife and daughter and you cannot imagine how many people fit in a Turkish living-room; we were over twenty and enjoyed our second breakfast. After our short presentation the mayor Mr. Salih Hizli also addressed us with a few very nice words and said that he does not like to hold speeches but that he had to start smiling when he held the torch. It felt like a family meeting.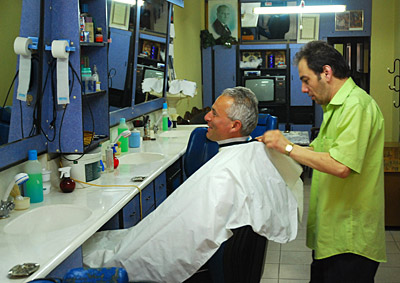 A good old traditional haircut at the local barber makes your day...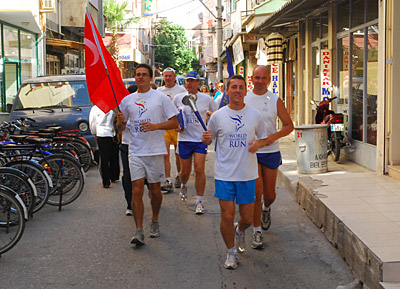 After the breakfast we ran to the stadium of Akhisar where the media were waiting.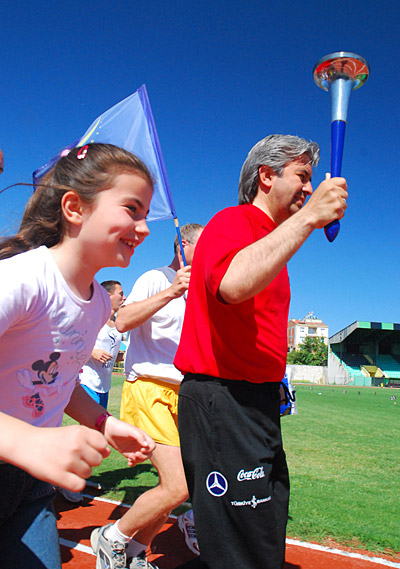 We ran altogether one loop with the torch and the flags and even Mr. Hizli's young daughter accompanied us.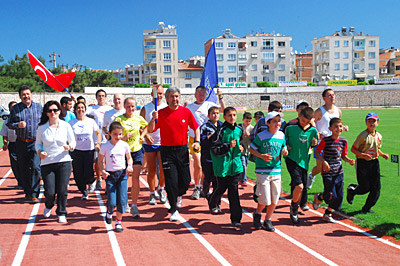 Finally we presented him with our certification of gratitude and the World Harmony Run T-Shirt. All our members got a very nice gift: a bottle of native olive-oil which is very famous in this area. Olives are not only a symbol of peace but they also give you a lot of energy.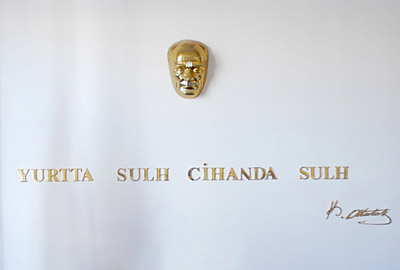 Kemal Atatürk's famous words: "Peace at home, Peace in the world!"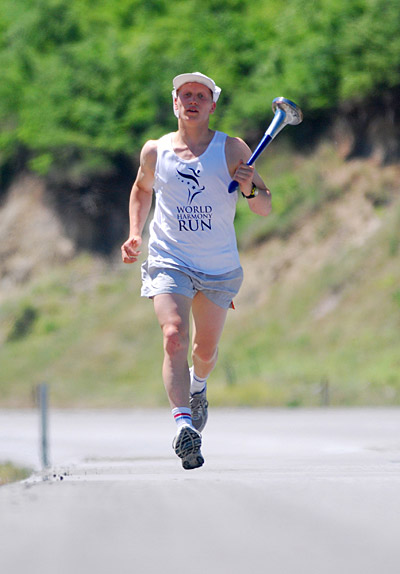 So well supported we went on a long journey that day: 130 km to Susurluk.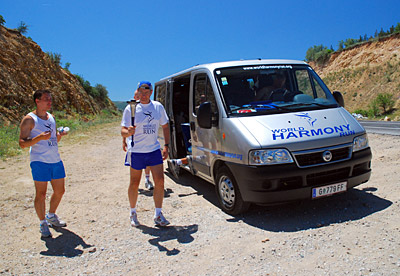 But I must say that after so many receptions, schools and invitations it is good to be out there on the road and to assimilate all this experiences.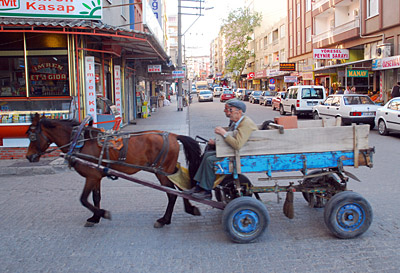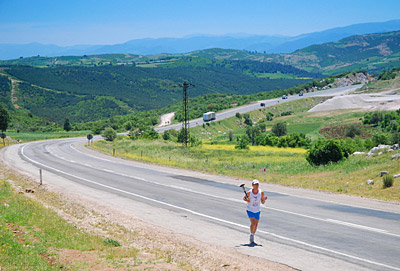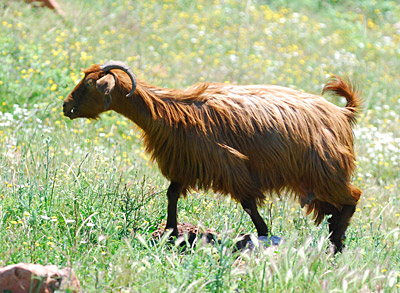 You are running through a lightly hilly landscape with Mediterranean vegetation, goats, sheeps, horses, donkeys - and traffic on your left. Nearly every car would honk when it past by; some would even stop and ask what is going on, if they had not read about the Run in the newspapers. So, on the road running you may be on your own but never alone.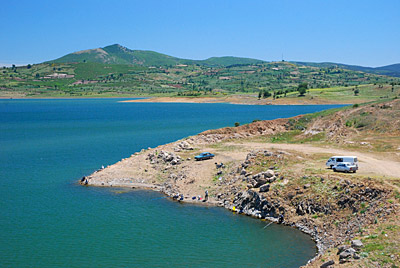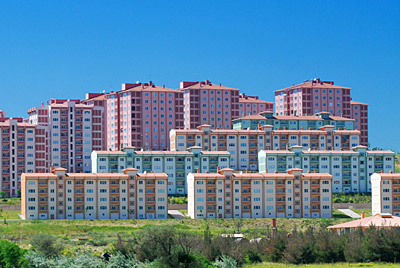 When you spend the whole day on the road the countryside offers you many impressions.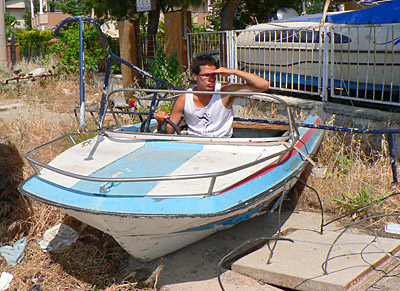 It was a really hot day and no water around!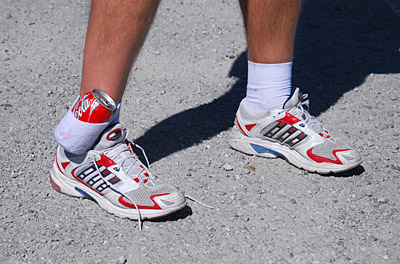 Sahatvam hurt his ankle when bending over, so the situation demanded some improvisation.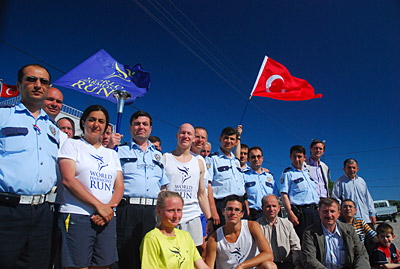 The police-escort brought us to our final destination, the Susurluk guest-house of the city. They very kindly also provided us with a dinner and a desperately needed opportunity to do the laundry. Smiling faces everywhere!
Sahatvam
---
Team Members:
Dipavajan Renner and Jewgenij Kuschnow (Austria), Banu Eres and Hüsniye Aktas (Turkey), Ondrej Vesely and Rosta Vagner (Czech Republic), Pierre Lantuas Monfouga (France), Valentin Bebik and Nataliya Lehonkova (Ukraine), Janos Derekas (Hungary), Sahatvam Selbach (Germany).
Harmonemail:
You can send a message to the runners or read the messages.