Austria 10 June: Lienz - Krimml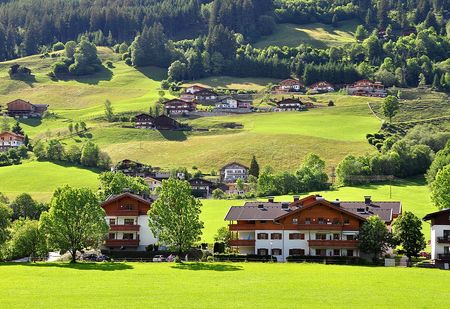 Day 3 on our World Harmony Run in Austria and it turned out to be a most intense day!
We visited 8 schools in 6 places plus we had to cross the Alps by running more than 100km! Not to forget all the city halls and running clubs...
As we had a big team, we cheerfully accepted the challenge and managed to be on all places more or less on time. We simply split the team and the problem was solved!
Tag 3 auf unserem österreichischen WHR war einer der Intensivsten in diesem Jahr!
Wir besuchten 8 Schulen in 6 Orten und wir hatten gleichzeitig die Alpen zu überqueren - bei einer Tagesetappe von über 100km! Nicht zu vergessen all die Empfänge und Laufclubs...
Mit unserem großen Team viel es uns nicht schwer alle Termine einzuhalten und überall mehr oder weniger pünktlich einzutreffen. Wir teilten einfach unser Team und alle Probleme waren gelöst!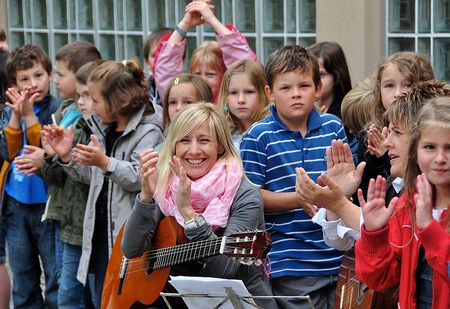 Team One started in Lienz at the primary school Lienz Nord!
Team Eins startete in Lienz bei der Volksschule Lienz Nord!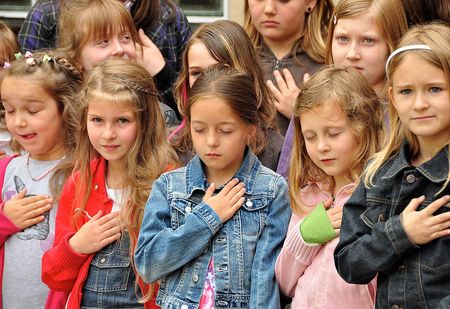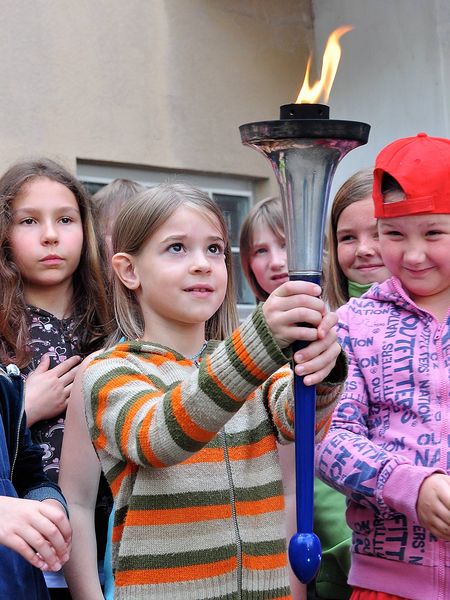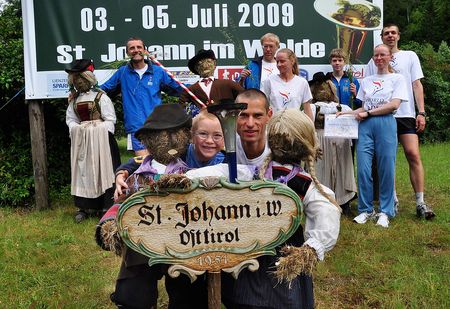 Next place was St. Johann im Walde. The kids from the primary school and from the kindergarden received us together...
St. Johann im Walde war als Nächstes an der Reihe. Die Kinder der Volksschule und des Kindergartens empfingen uns enthusiastisch...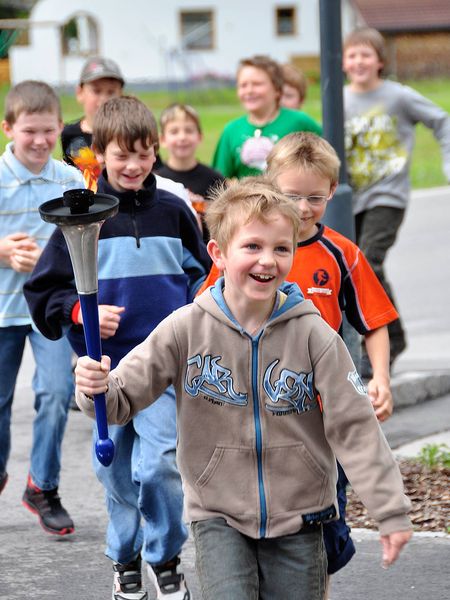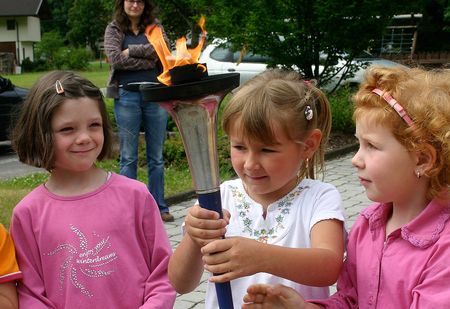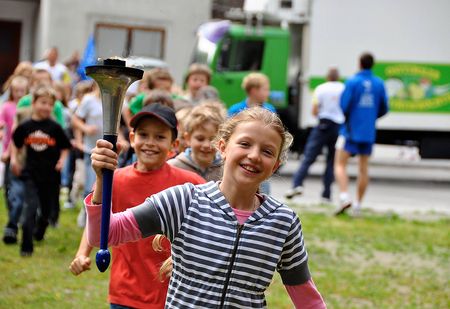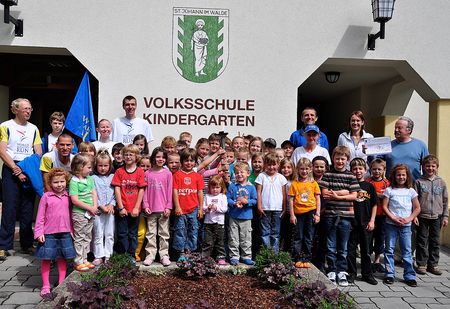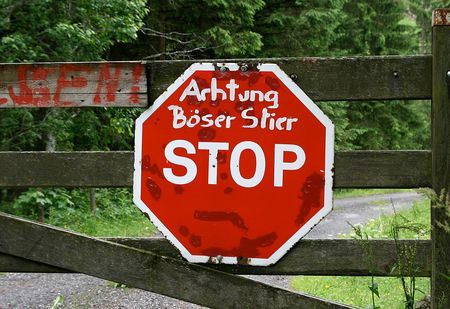 Attention! "evel" bull!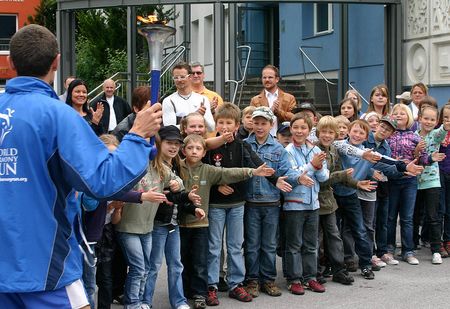 finally we reached Matrei in Osttirol. We spent a great time with the primary school and the secondary school...
schließlich erreichten wir Matrei in Osttirol. Wir verbrachten eine großartige Zeit mit den Kindern der Volksschule und der Hauptschule...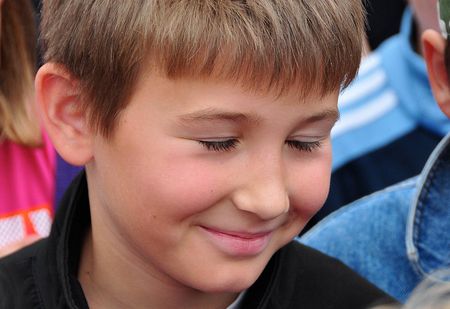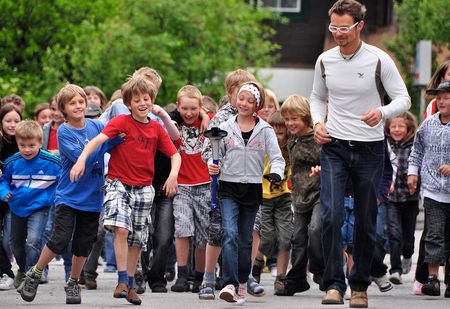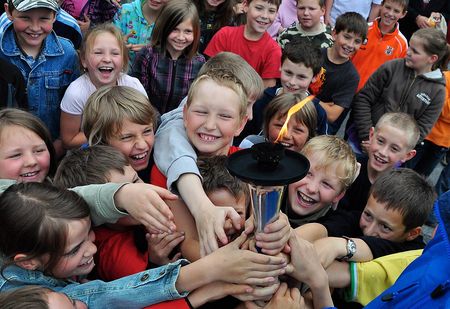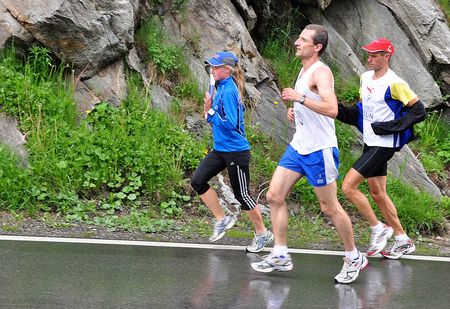 After the schools the real climb over the Alps started. "Felbertauern", one of Austria's passes over the Alps, was no obstacle for our team!
Nach den Schulbesuchen begann der wirkliche Anstieg auf die Alpen. Felbertauern, einer der Alpenpässe, war kein wirkliches Hindernis für uns!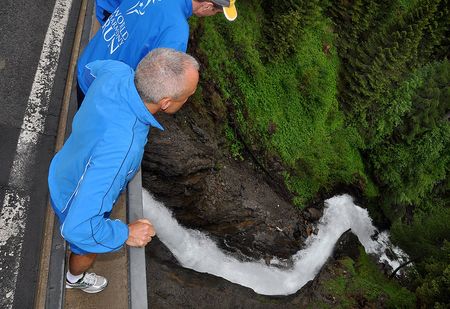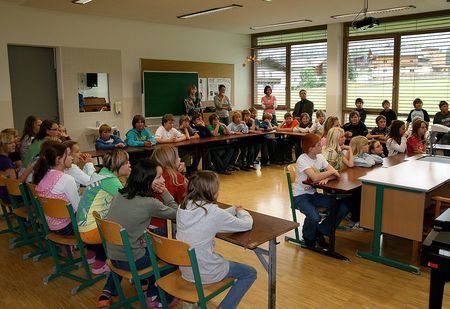 As the schools closed around 1 p.m., Team Two went ahead and visited the secondary school in Neukirchen am Großvenediger.
Da alle Schulen um 13:00 Uhr schließen, fuhr Team Zwei voraus und begann mit der Hauptschule Neukirchen am Großvenediger.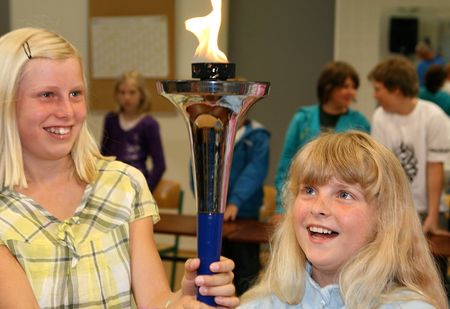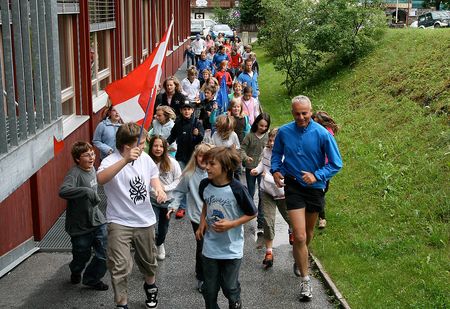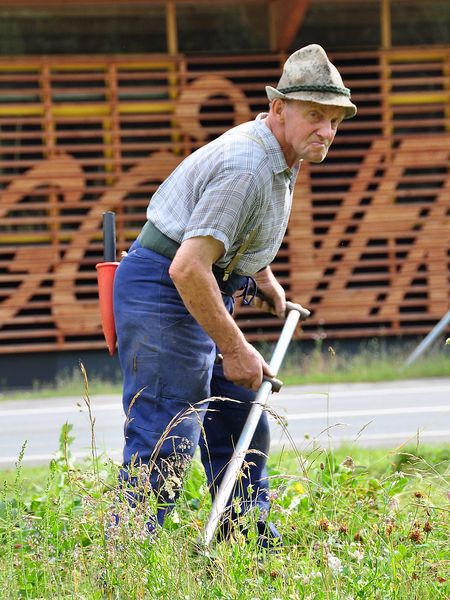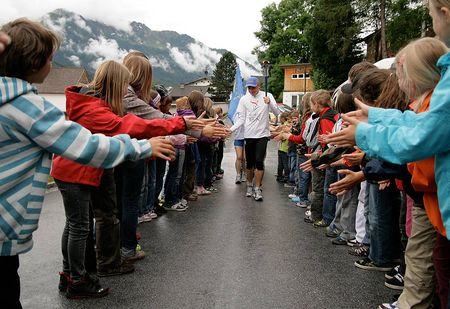 Next were the primary and secondary school in Bramberg.
Die Volksschule und die Hauptschule Bramberg waren als Nächste an der Reihe...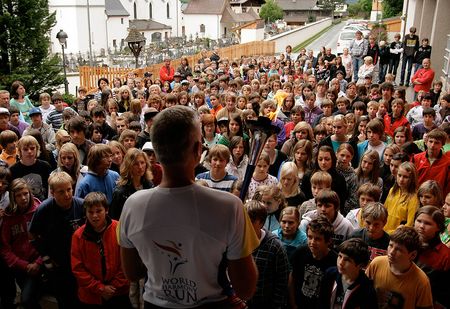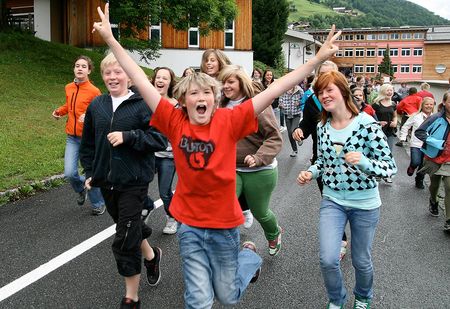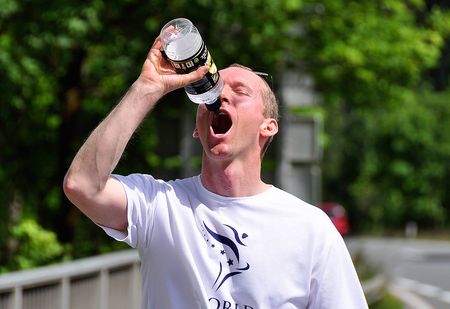 ...some of our runners were so desperate that they considered drinking lampoil...
...einige unserer Läufer waren so verzweifelt dass sie sogar Lampenöl dranken...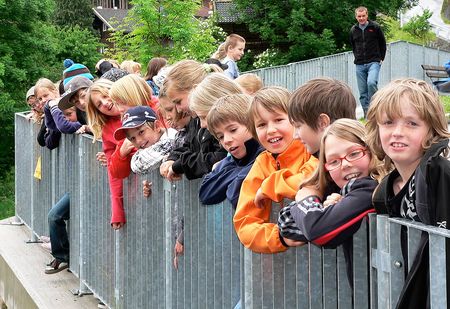 ...the last school for the day was the primary school Wald im Pinzgau.
...die letzte Schule des Tages war die Volksschule Wald im Pinzgau.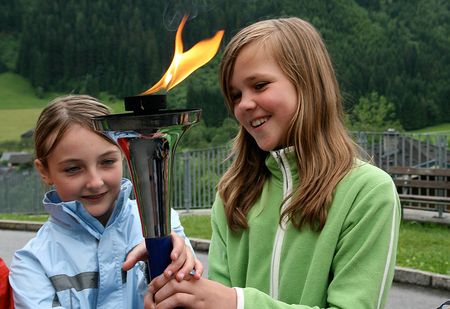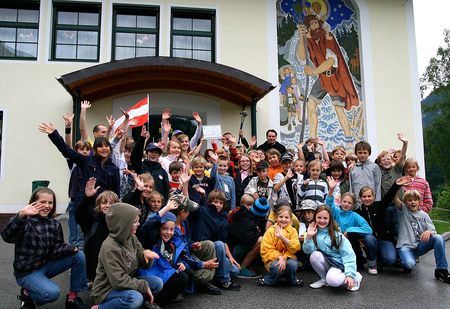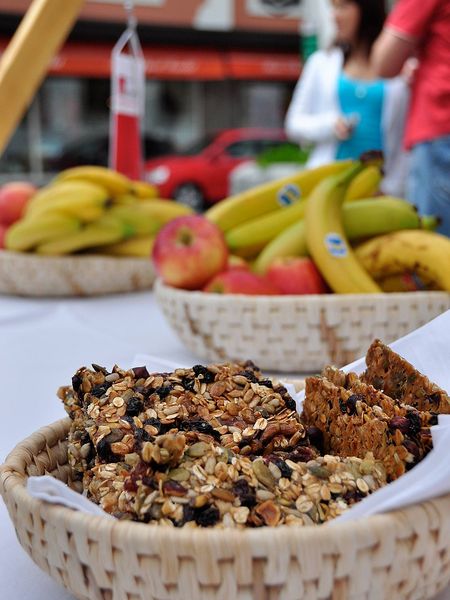 After the team crossed the Alps and all the school meetings took place, we started the other "official" part of the WHR: meetings and runners!
Nachdem wir die Alpen überquerten und wir alle Schulen besucht hatten, begann der "offizielle" Teil des WHR: Empfänge und Laufclubs!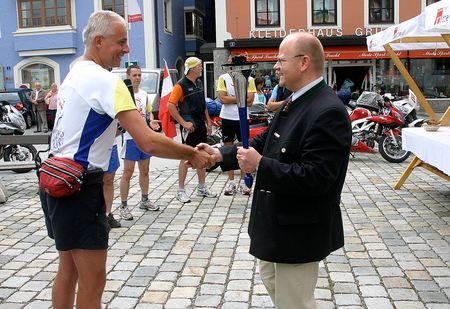 The city representative for Sports of the Town of Mittersill, Austria's "jungest"city, welcomed us and after great refreshments we continued towards Bramberg.
Der Sportreferent der Stadtgemeinde Mittersill, Österreichs "jüngste" Stadt, empfing uns am Hauptplatz. Nach ausreichenden Erfrischungen setzten wir unseren Weg nach Bramberg fort...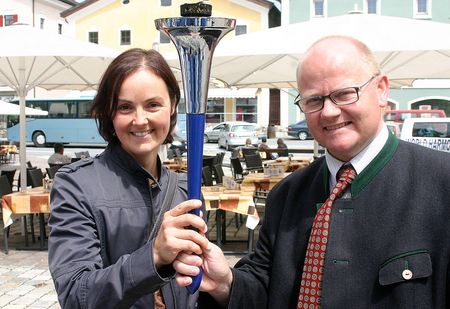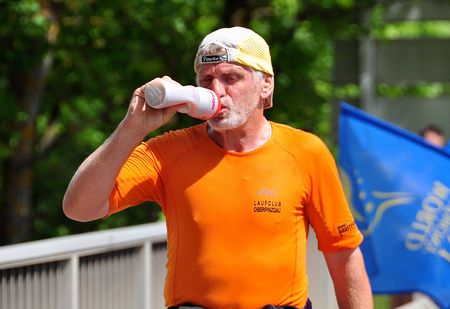 ...Luggi, our new friend...
...Luggi, unser neuer Freund...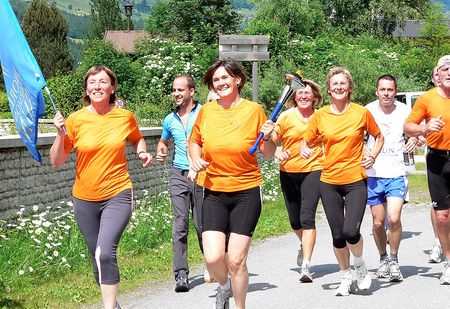 Local runners from the running club "Laufclub Oberpinzgau" joined us for quite a long stretch and together we reached Bramberg.
Lokale Läufer des "Laufklubs Oberpinzgau" begleiteten uns ein längeres Stück und zusammen erreichten wir Bramberg.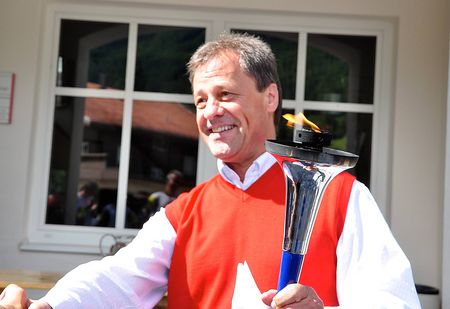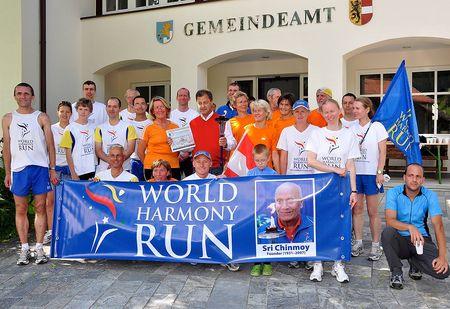 The mayor welcomed us and after the official part we spent some time together in a local cafe.
Der Bürgermeister nahm die Fackel entgegen und anschliessend genossen wir eine wohlverdiente Pause gemeinsam in einem Cafe.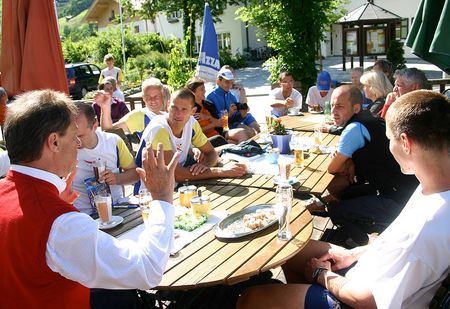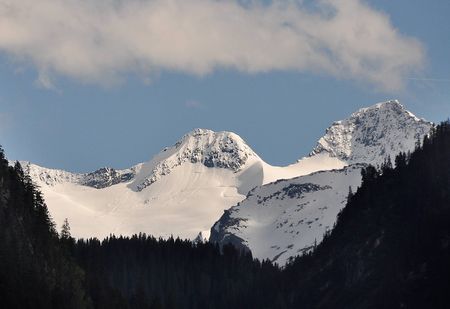 We continued and at the horizon the "Großvenediger", Austria's 4th-highest mountain, smiled at us!
Wir setzten unsere Reise fort und am Horizont ragte der Großvenediger, Österreichs vierthöchster Berg, in den Himmel!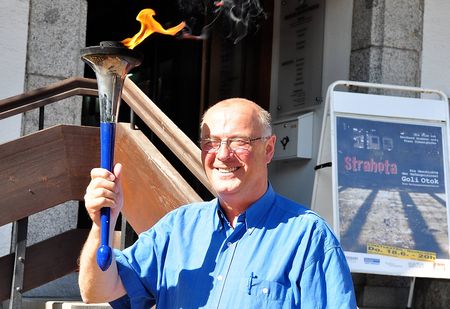 ...the deputy mayor of "Neukirchen am Großvenediger" received the torch!
...der Vizebürgermeister von Neukirchen am Großvenediger empfing den WHR!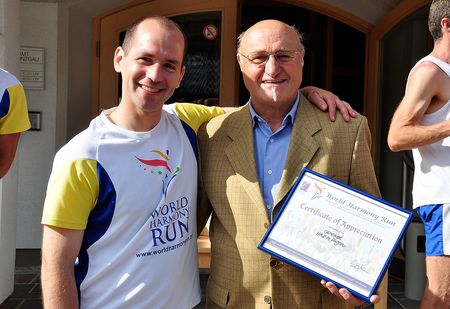 Its easy to make friend on the WHR: the mayor of Wald im Pinzgau with our today's coordinator!
Es ist sehr leicht am WHR Freundschaft zu schliessen: der Bürgermeister von Wald im Pinzgau mit unserem Koordinator!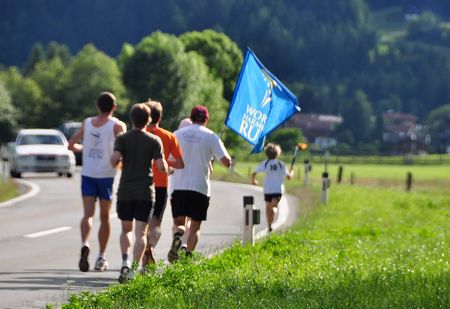 ...local runners carried the torch all the way to Krimml, our today's destination.
...lokale Läufer trugen die Fackel bis nach Krimml, unserem heutigen Etappenziel.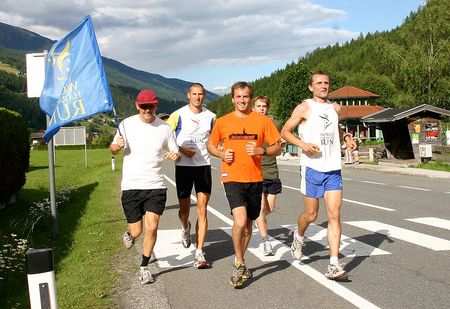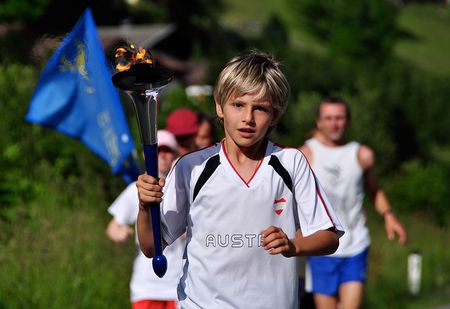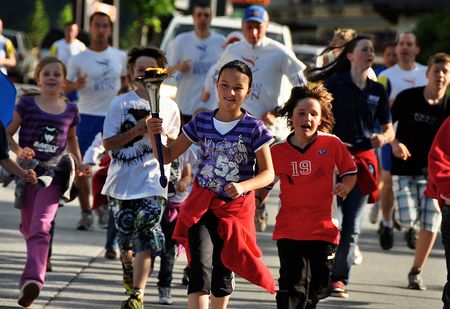 as we arrived in Krimml, local kids excitedly stormed into the town!
Als wir Krimml erreichten, stürmten die Kids regelrecht in den Ort!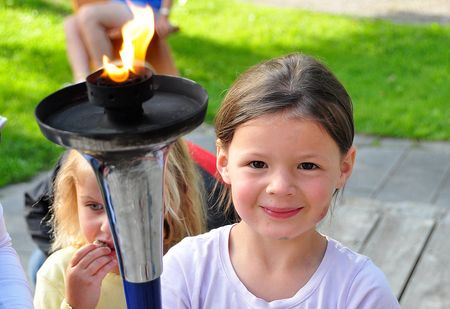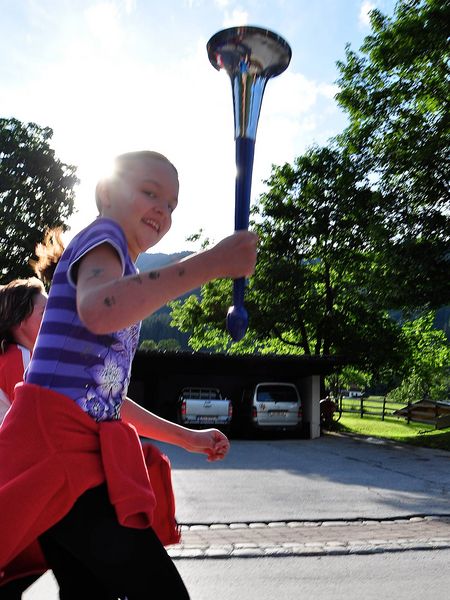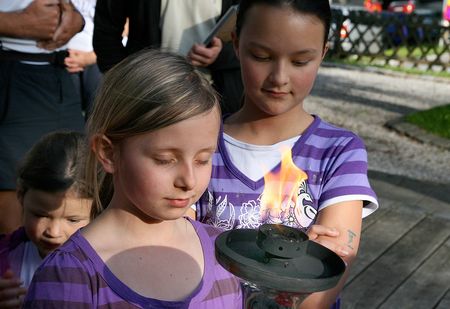 ... the mayor of Krimml receives the WHR...
...der Bürgermeister von Krimml mit der Fackel des WHR...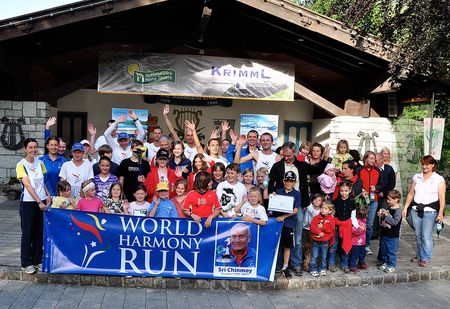 Krimml is famous for its waterfalls, which are among Europe's highest with a total height of 380m!
Krimml ist berühmt für seine Wasserfälle, welche mit 380m Höhe zu den Höchsten Europas zählen...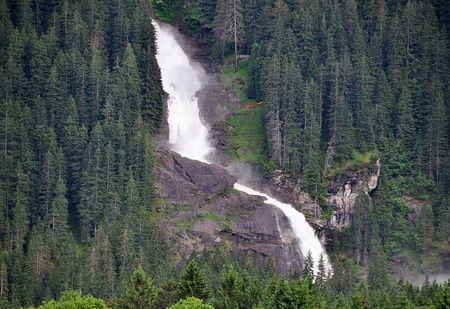 ...we enjoyed a visit at night, everybody well equiped with flaming torches - quite fitting for the WHR team!
...wir genossen einen Besuch der Wasserfälle bei Nacht - ausgerüstet mit Fackel - sehr passend für unser WHR Team!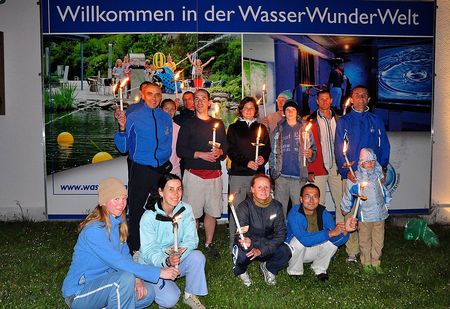 thanks to everybody for this great day!
Vielen Dank für diesen großartigen Tag!
---
Distance: 105 km
Team Members:
Dipavajan Renner (Austria), Dima Lehonkov (Ukraine), Daria Soboleva (Russia), Natalia Lehonkova (Ukraine), Nisanga Mehikic (Bosnia i Hercegovina), David Peschke (Germany), Tatjana Jauk (Slovenia), Zoltan (Hungary), Ekagra Prankl (Austria), Drsalu Grünstäudl (Austria), Pratul Halper (Austria), Edi Brodtrager (Austria), Silke Aich (Austria), Jewgenij Kuschnow (Austria), Io Kuschnow (Austria), Harald Oswald (Austria), Michi Aurenhammer (Austria), Franz Aurenhammer (Austria)
Harmonemail:
You can send a message to the runners or read the messages.
Gallery: See more images!