Austria 26 May: Seefeld - Mittenwald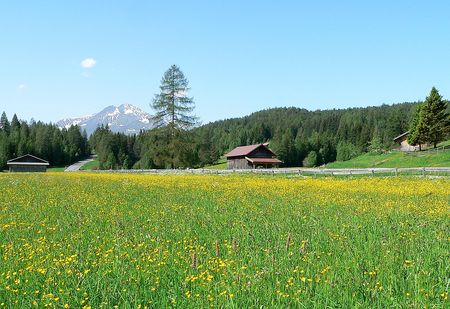 Our second day in the beautiful mountain region of Tyrol, Austria!
Unser zweiter Tag in der wunderschönen Tiroler Berglandschaft!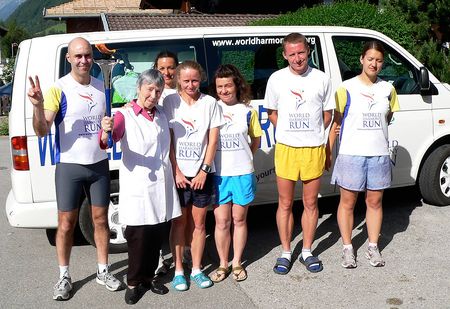 Many thanks to Maria from Fulpmes for your friendship and hospitality!
Vielen Dank, Maria, für deine wunderbare Gastfreundschaft!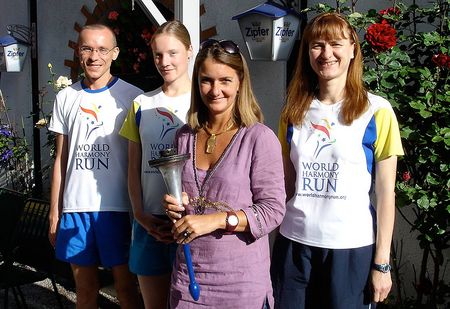 Many thanks to Hotel Dollinger in Insbruck for taking care of some of our runners.
Herzlichen Dank an das Hotel Dollinger in Innsbruck für die Unterstützung des WHR.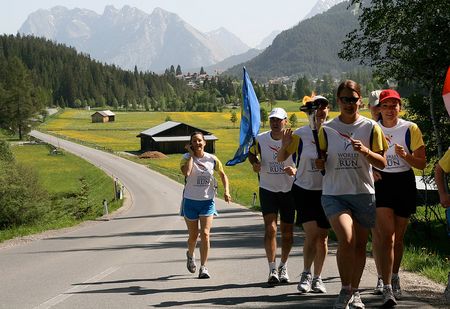 The World Harmony Run continued in Seefeld, a high plateau in the East of Innsbruck.
Der WHR startete heute bei Seefeld. Hoch über Innsbruck setzten wir unseren Lauf fort.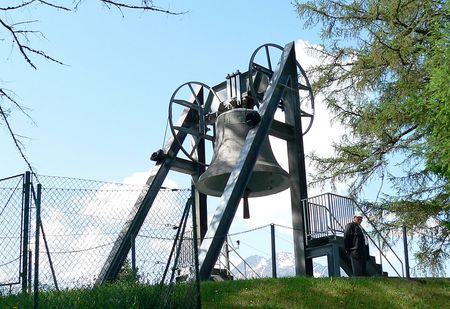 Our first appointment brought us to Mösern, a place high above the Inn-valley and famous for its Peace Bell. The bell sounds everyday at 5 p.m., but for special guests it rings also at other times.
Unser erster Empfang fand in Mösern statt, hoch über dem Inntal. Mösern ist weltbekannt für seine Friedensglocke. Jeden Tag um 17:00 Uhr oder bei speziellen Anlässen wird die Glocke geläutet.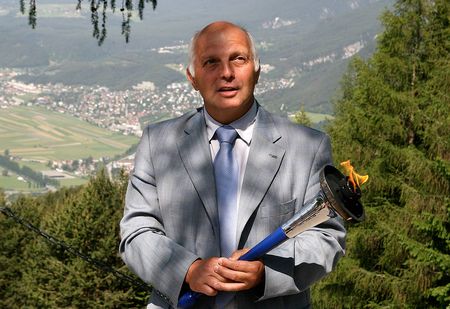 The deputy mayor of Mösern received our team and together we watched the bell swinging. We were allowed to turn on the switch, as the bell has a mechanical device to get it started.
Der Vizebürgermeister von Mösern empfing unser Team und gemeinsam setzten wir die Glocke in Bewegung. Ein Knopfdruck genügt, da das Glockenwerk mechanisch angetrieben wird...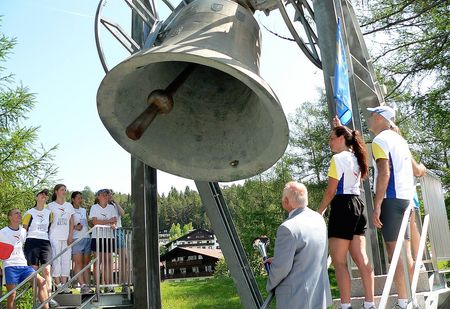 The sound is really amazing, especially when you stand next to the bell!
Der Klang der Glocke ist wirklich erstaunlich, besonders wenn man direkt daneben steht!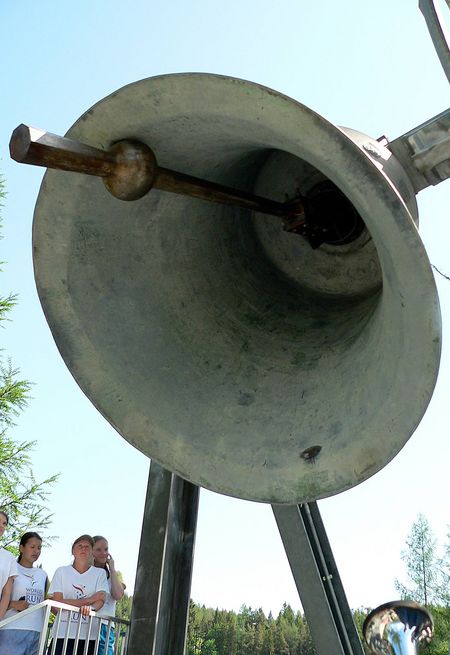 On a day with good accustics the bell can be heard for many kilometres.
An Tagen mit guter Akustik kann das Glockenläuten über viele Kilometer weit gehört werden...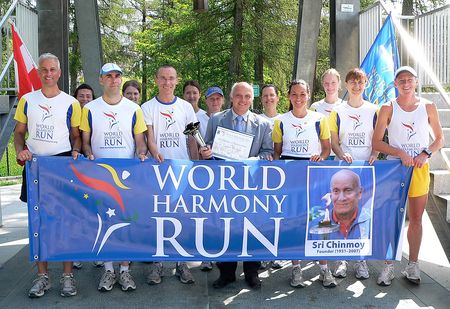 ...after a group picture and great refreshments we kept running....
Ein Gruppenbild und Erfrischungen, dann ging es schon wieder weiter...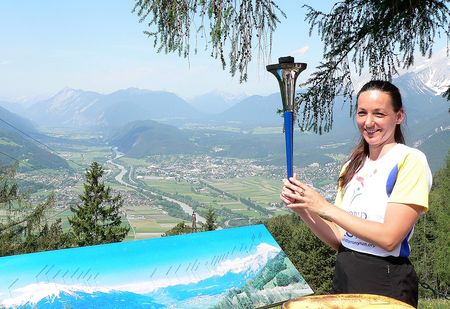 We could see already in the distance our next destinantion.
Weit unten im Tal konnten wir bereits unser nächstes Ziel sehen...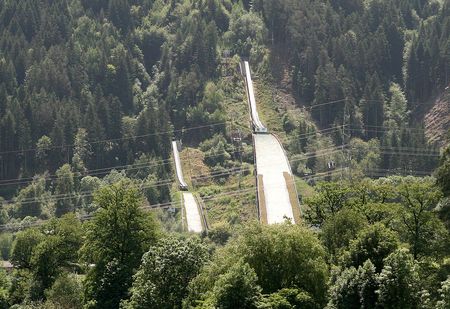 the skijump facilities in Stams...
Die Schisprunganlage bei Stams...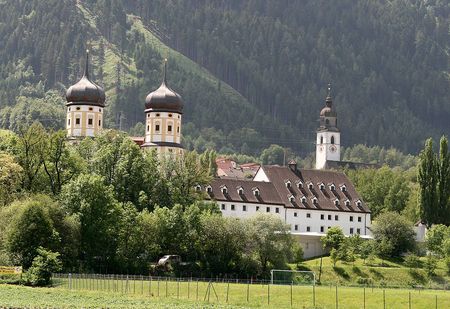 The monastery of Stams is famous as well as the Skigymnasium Stams, a place where most of Austria's worldclass wintersport athletes get trained and educated.
Das Kloster in Stams ist ebenso weltberühmt wie das Schigymnasium Stams, in welchem Österreichs Wintersportnachwuchsathleten ausgebildet werden.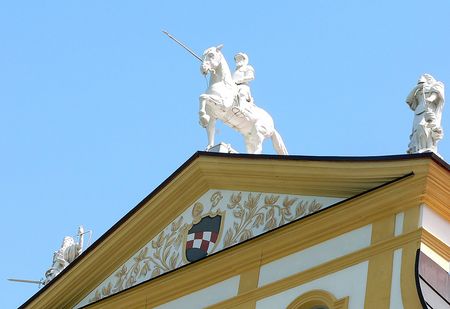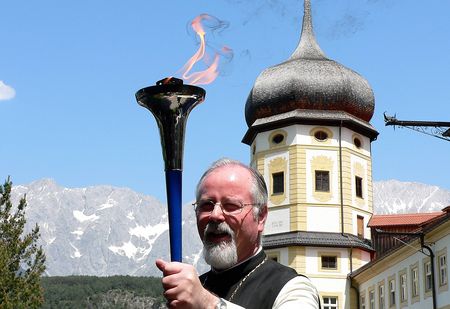 The abbot of the abbey in Stams received the torch and the kids from the school in the monastery performed for us.
Der Abt des Klosters in Stams, der auch Schuldirektor ist, empfing die Fackel. Anschließend sangen die Kinder für uns!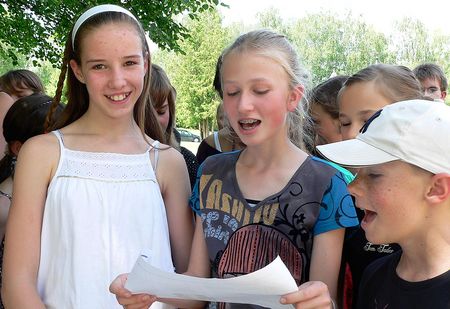 ..they sang much better than we did...
...und sie sangen viel besser als wir...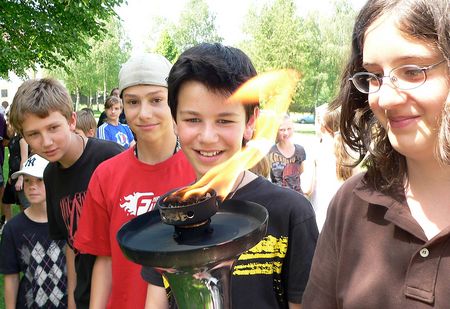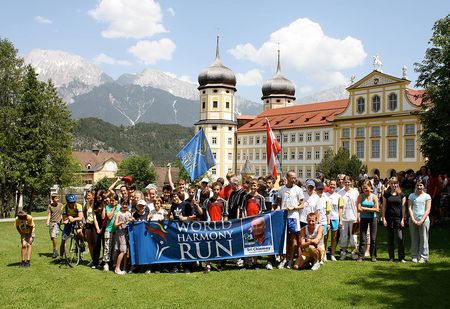 a group picture in front of the scenic monastery was taken and a run with all the kids around the monastery grounds followed...
Ein weiteres Gruppenbild vor der impossanten Klosterkulisse und anschliessend ein Lauf mit allen Kids ums Kloster!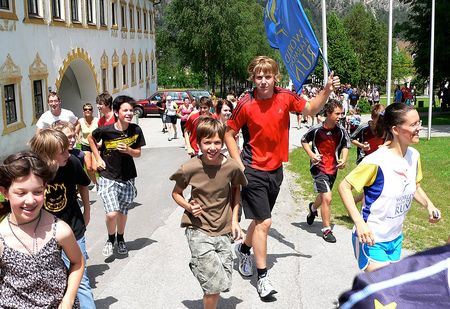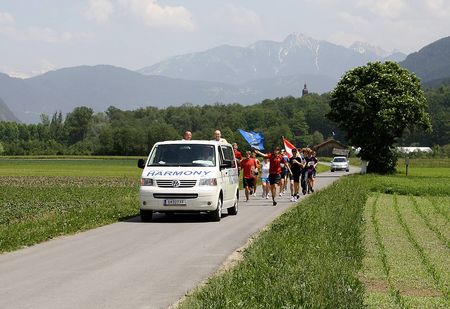 finally we said goodbye and a group of kids joined us for quite some more km...
Ein paar Kids begleiteten uns noch ein paar Kilometer...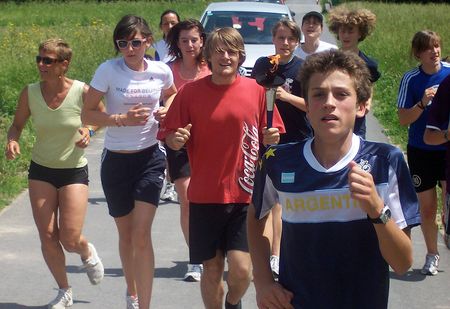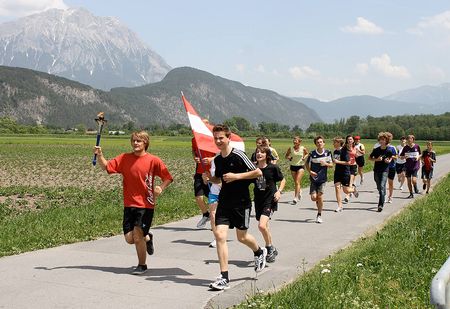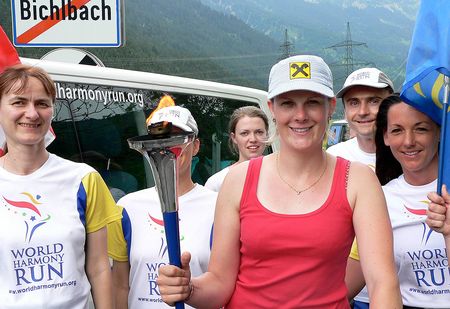 After 50km of intense running up and down we reached Bichlbach, the home of Niki Hosp. Niki is one of Austria's very best skiing-athletes and winner of the overall skiing worldcup 2007 (beside many other titles..).
50 Kilometer später, nach intensivem Laufen in der Tiroler Bergwelt, erreichten wir Bichlbach.
Bichlbach ist die Heimatgemeinde von Niki Hosp, einer der besten Schiathletinnen Österreichs.
Niki gewann neben vielen anderen Titeln den Gesamtalpinweltcup 2007!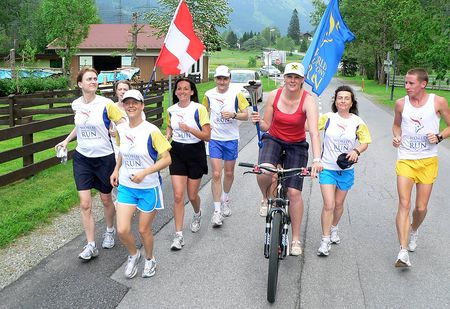 She kindly took the torch and brought it to the city hall, where ther mayor was already waiting for us.
Sie nahm die Fackel mit aufs Fahrrad und so erreichten wir das Gemeindeamt, wo uns der Bürgermeister bereits erwartete.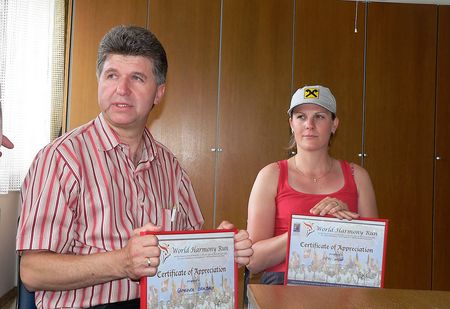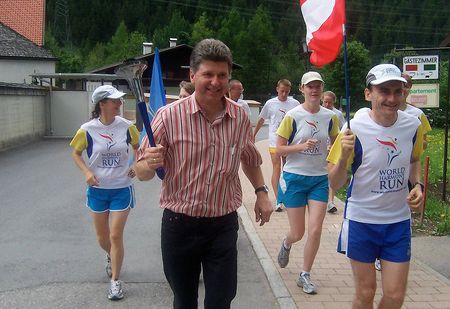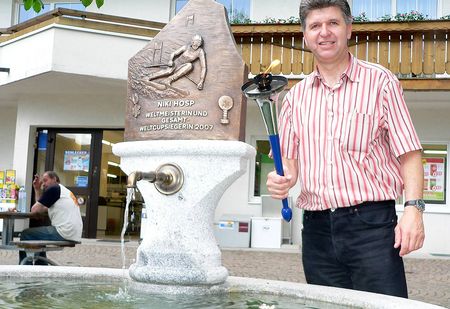 We spent some time in the city hall and afterwards the mayor run with us to a fountain in the centre of Bichlbach: a gift to Niki Hosp for her outstanding performances in the skiing world!
Nach kleinen Erfrischungen im Gemeindamt lief der Bürgermeister mit uns zu einem speziellen Brunnen: ein Geschenk der Gemeinde an Niki Hosp für ihre herausragenden Leistungen!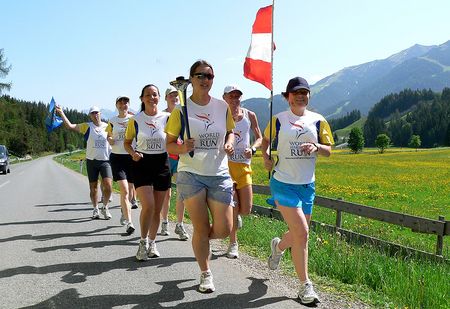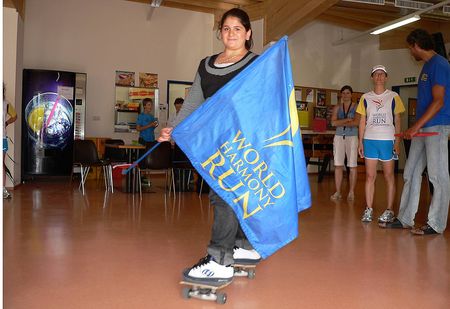 Our last meeting took place in Reutte. We got welcomed in the Centre for Youth...
Unser letztes Meeting fand in Reutte im Jugendzentrum statt. Der Leiter und einige Jugendlichen warteten bereits auf uns und empfingen uns herzlich.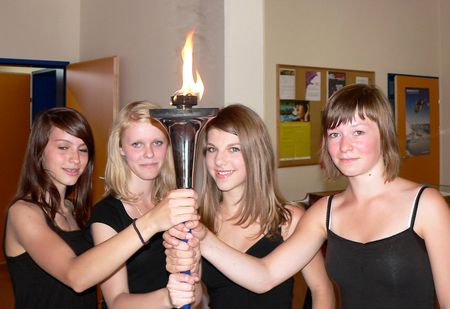 Some of the girls performed a jazz dance for us...
Einige der Kids führten für uns einen Jazztanz auf...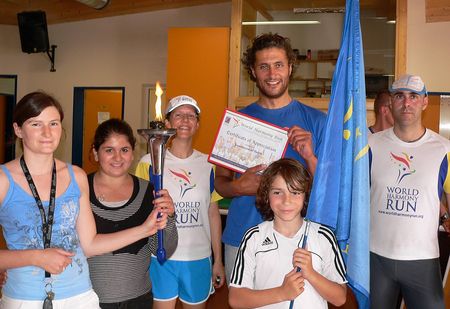 Many greetings from Reutte!
Viele Grüße von Reutte!
After the meeting in Reutte we moved the whole team back to Seefeld. From there we continued to Germany. Finally we reached Mittenwald, our today's destination.
The World Harmony Run will continue in Austria in 10 days, until then greetings to everybody!
Nach dem Empfang in Reutte ging es zurück nach Seefeld. Von dort liefen wir dann weiter nach Deutschland. Bei starkem Sturm gings weiter nach Mittenwald, dem Ende unserer Tagesetappe.
In 10 Tagen gehts dann wieder in Österreich weiter, bis dahin herzliche Grüße!
---
Team Members:
Dipavajan Renner (Austria), Manjula Lecordier (France), Dima Lehonkov (Ukraine), Natalia Lehonkova (Ukraine), Daria Soboleva (Russia), Sonia Bruzzone (France), Domenico Martina (Italy), Nishanga Mehikic (Bosnia i Hercegovina), Roos de Waart (Netherlands), Andrea Fidrmuc (Slovakia), Jarek Werner (Poland), Irina (Ukraine)
Harmonemail:
You can send a message to the runners or read the messages.
Gallery: See more images!