Belarus 8 June: Lukow(Poland) - Brest(Belarus)
From our student accommodations, where we stayed last night, students ran with us to the town hall where we met the head of Lukow council. Many years ago he was in the same class at school as Shayvia.
It took a little longer than usual for the World Harmony van to catch us up at the town hall. We found out later that when we ran off it wouldn't start and had to pushed, because the battery was dead.
It was ideal running conditions today, and a hint that summer could be returning to us. The skies were blue and the sun was shining. The wind was still cool, which was good, since it ensured we didn't get too hot while running.
Pawel had a close encounter with a vicious dog that ran after him and tried to take a chunk or two out of his leg. However, the torch protected him as he used the flame to chase the dog away, howling as it did so. Not even a ferocious dog could stop our Pawel running.
At our final meeting point in Poland, Miedzyrzec Podlaski, we were joined by many children from the sports clubs of local schools who ran with us to the town hall.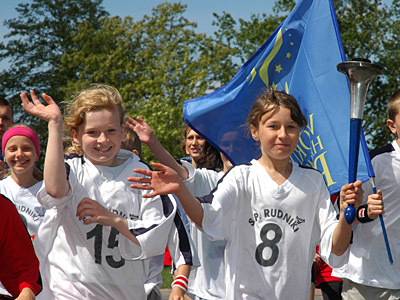 They encouraged other children to join us and some were so eager they ran to the front and took up the torch or the flag.
Once we arrived at the town hall, the mayor of Miedzyrzec Podlaski warmly greeted us, and was glad to welcome back the Polish runners from last year. After the ceremony we were whisked away to the lecture hall next door to meet Elzbieta Dzikowska, who was giving a lecture and book signing of her most recent book. She is very famous in Poland. She is a historian (specialising in art and culture of China), traveller, journalist, photographer and writer of many books and articles in newspapers, and she is also Vice President of the Polish Explorers' Club.
Along with her also famous husband, Tony Halik (now deceased), they had their own long running television travel programme called 'Pepper and Vanilla'. All the Team were invited up on stage, and she said that she was very moved holding the torch and during her many years of travelling she knew exactly how important harmony was in the world.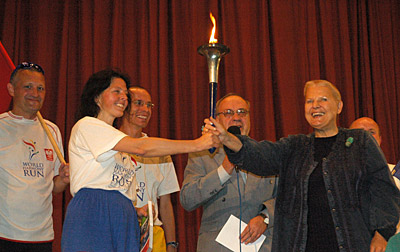 She signed her new book for the World Harmony Run Team, entitled Groch i Kapusta (which translated means 'Hippopotamus and Cabbage'), which is a book about her travels through Poland. With a great applause from the audience we left the lecture hall, to go back and say our goodbyes to the town's representatives. They proudly gave us each a certificate of appreciation as a memento of our visit.
We ran with the children to the outskirts of Miedzyrzec Podlaski, and from there we said goodbye to our Polish friends as border commitments and meetings in Belarus beckoned.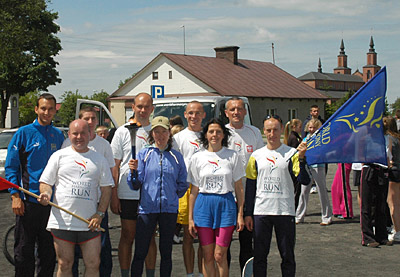 The Polish runners were going to run the 70 km to the border and do the ceremony at Biala Podlaska. We later got a text message from Shayvia telling us that over 1,000 children greeted the runners. The International Team were disappointed that time did not allow us to meet these children.
Many thanks to Janek, our Poland country co-ordinator, for allowing us to stay two nights at his flat, and great organisation; the whole Run in Poland went ever so smoothly, aided by our Polish friends. A special mention must go to Victor for the many trips he made to the Belarus Embassy sorting out our visas. We believe as this report is being written, he is also assisting a Serbian and Bulgarian runner to join the International Team, by arranging their visas and accommodation, and travel requirements into Belarus.
The crossing into Belarus was quicker and smoother than anticipated and we were met by the mayor from Brest, journalists and three sets of camera crews who filmed us running into Belarus and we gave an interview to all of them. Runners from a local running club ran with us the 8 km to Brest. Even one of the television interviewers ran with the torch.
Just a few kilometres from Brest we were joined by about 70 children who had so much energy and were full of enthusiasm.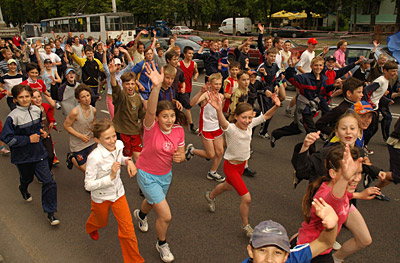 They cheered and whistled and were so happy as the traffic honked their horns in support.
In the main square we were greeted with the traditional bread and salt. We offered the bread to the children and it disappeared within 30 seconds.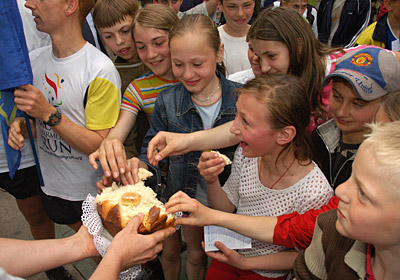 At the war memorial Pawel and Mark respectfully laid a basket of flowers at the foot of the memorial to the accompaniment of a military band.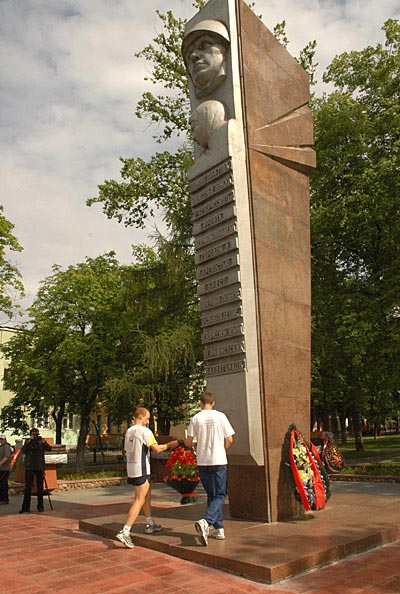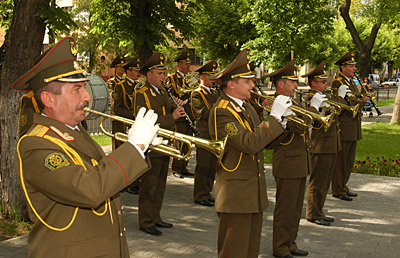 After a dinner we went to visit another war memorial. It is huge! Can you see a person in the picture?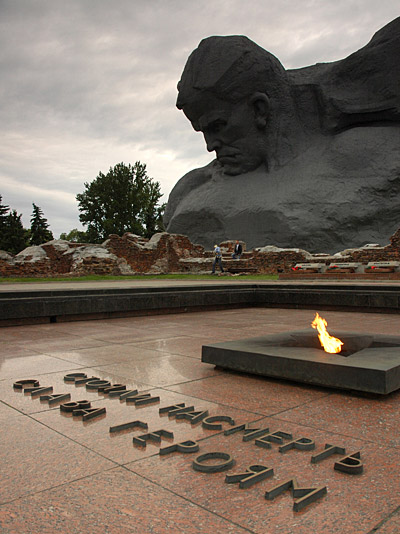 Than we had fun to see the russian tank. Luckily it serves now just as a memento.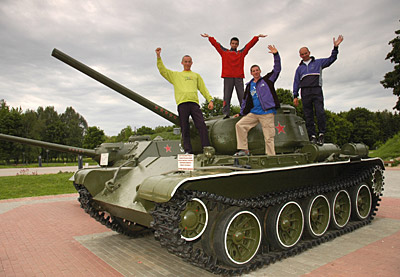 Today we were joined by Denis, who is 13 years old. He will run with us till the end of Belarus.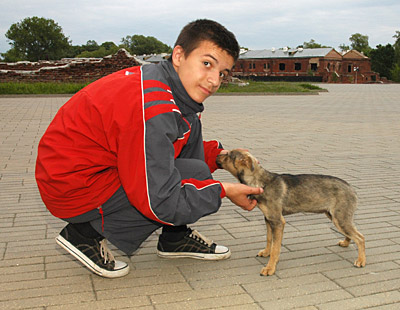 And so ended our first experience of Belarus, as we look forward to five days running through the country.
---
Distance: 107km
Team Members:
Jarek Werner (Poland), Mark Collinson (England), Ondrej Vesely (Czech Republic), Pawel Szymanski (Poland), Valentine Bebik (Ukraine).
Harmonemail:
You can send a message to the runners or read the messages.