Belarus 12 June: Minsk – Smorgon
The International Team started the day with a press conference. We all enjoyed the opportunity to speak about the Run and to say how welcoming and friendly the people of Belarus have been.
We started running from yesterday's war memorial on a wide avenue with the national television filming us and a big truck with speakers following the runners.
Later on we passed some department buildings, that symbolises more the unity of the people of Belarus.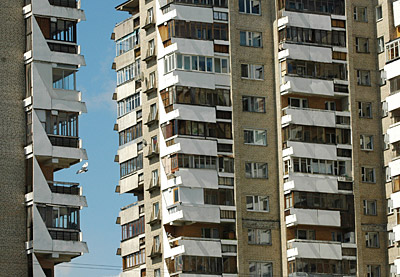 We had three ceremonies and three children's summer camps to visit today.
The Team and runners split into different groups, where an International Team went to visit the children's summer camps, and an all girls' car, and a team of local Belarus runners to cover the majority of the 70 km distance to Molodechno.
At Zaslavl, 25 km from Minsk the girls performed the ceremony, after running into the town with children and local runners. They were entertained with singers and dancers in traditional costume, and some energetic modern dancing.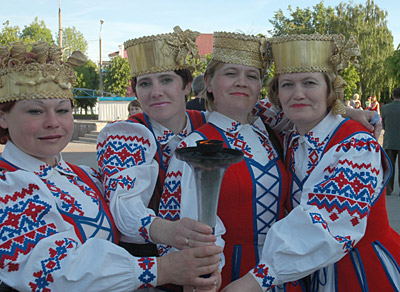 The International Team of runners were always cheered and applauded as we ran into each summer camp.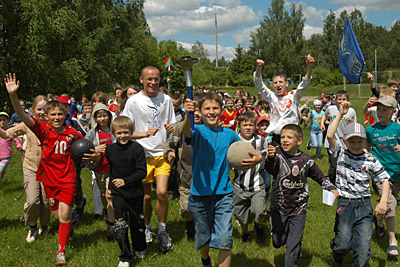 They listened to our speech about oneness and harmony carefully.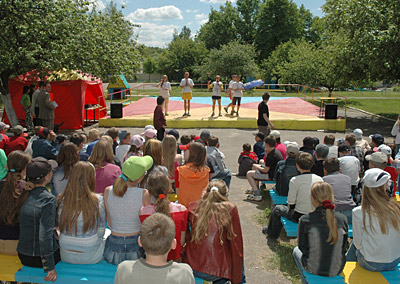 The children were fantastic and the highlight of each visit was giving the children the opportunity to hold the torch and run.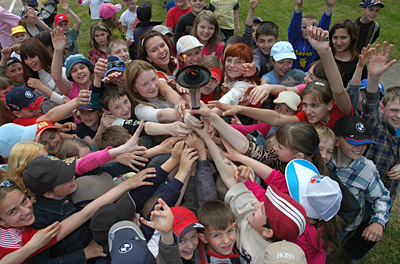 They didn't want us to leave!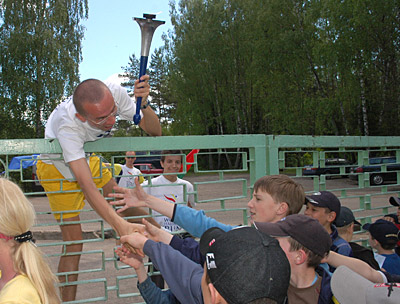 We all joined up again a few kilometres from Molodechno were once again children ran with us to the centre to meet the city representative. We had to quickly eat the food that they so kindly prepared for us, and race off to our final destination of Smorgon, 40 km away.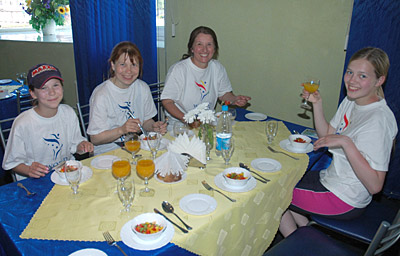 Five kilometres down the road the city representatives quickly caught up with us to so generously give us many bottles of water.
Children from the local running club of Smorgon ran with us to the centre.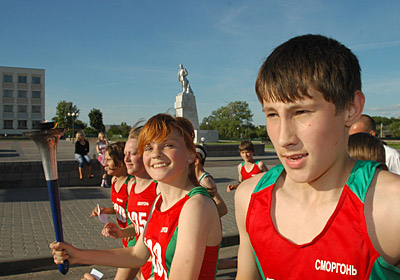 Here over 300 people were waiting along with the city and district mayors. Accompanied by the theme tune from 'Star Wars' girls dressed in fabulous traditional costume presented us the traditional welcome offering of bread. Many times we have received the welcome offering of bread, but never accompanied by the 'Star Wars' theme tune! The people were so friendly here and it is one of the best receptions we have had in Belarus.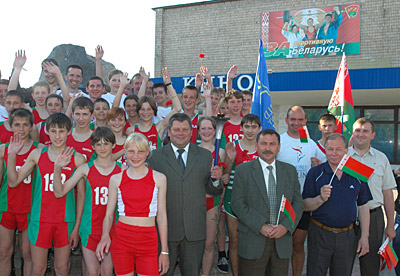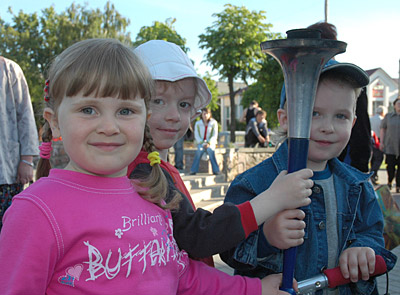 This great hospitality and kindness was to continue with a superb meal in the evening whilst being entertained by enthusiastic singers in traditional costume.
---
Distance: 117km
Team Members:
Denis Panferov (Belarus), Jadranka Grbic (Serbis & Montenegro), Jarek Werner (Poland), Mark Collinson (England), Ondrej Vesely (Czech Republic), Pawel Szymanski (Poland), Valentine Bebik (Ukraine).
Harmonemail:
You can send a message to the runners or read the messages.