Belarus 10 June: Ivatsevichi - Stolbtsi
After a breakfast we headed on the highway 70 km to our first ceremony of the day at Baranovichi. Today's weather was perfect - blue skies, sunny and a nice breeze.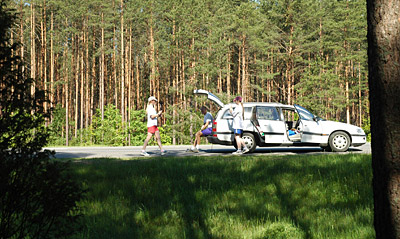 The running was just as good, on long, flat, straight roads through 50 km of a beautiful pine forests.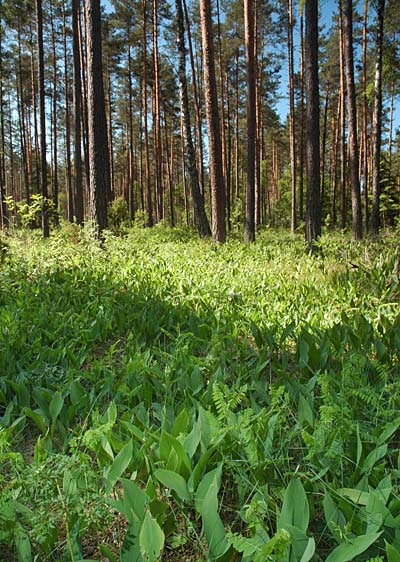 Just a few kilometres outside Baranovichi, children from the local running club joined us. They set a brisk pace and on a busy Saturday afternoon plenty of people were in the city centre to applaud and cheer us on.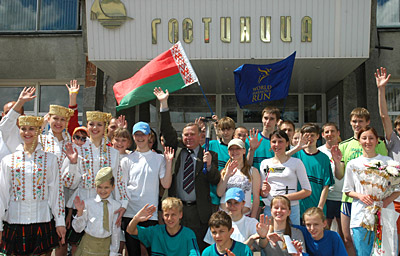 Once at the city centre three girls dressed in traditional costumes and wearing some distinctive hats welcomed us. Some of us remembered their smiling faces from their photograph taken last year that appears on the back of the World Harmony Run European brochure. When we showed it to them they were so happy and we let them have a copy.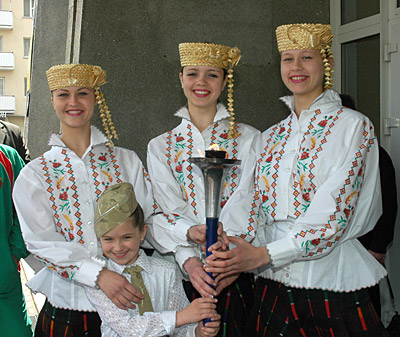 We enjoyed brilliant hospitality from the city and a tasty lunch.
The children from the local running club had waited for us as we ate lunch. As soon as we were ready they couldn't wait to run again. They were so enthusiastic and enjoyed the applause of the people, as they just couldn't stop waving to everyone. Then we continued through beautiful countryside.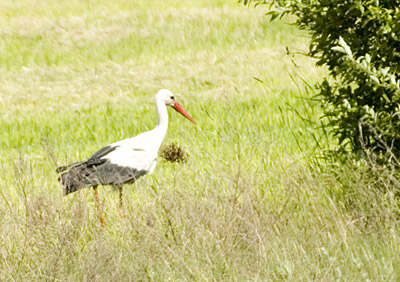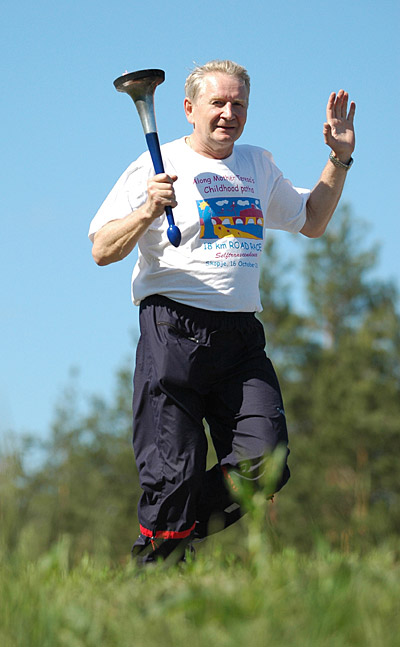 The majority of the International Team drove to a children's summer camp slightly off route whilst the others continued the remaining 64 km of the day to Stolbtsi.
At the summer camp Njoman about 100 children aged 11 – 15 lined to either side of the entrance as each runner ran past them giving high fives. The children loved it. They were eager to find out what we do and what country we were from. One boy was so inquisitive and, although he didn't speak much English, he tried his best and we were able to have an interesting conversation.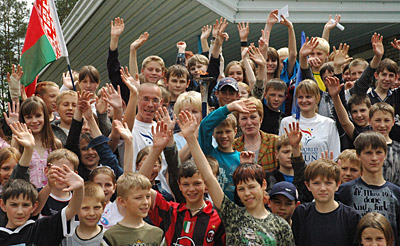 Along the way we met some young cows. We just had to stop and make friends – well, we tried, but they didn't seem too interested. I think they initially thought we were bringing them more interesting food than grass and hay!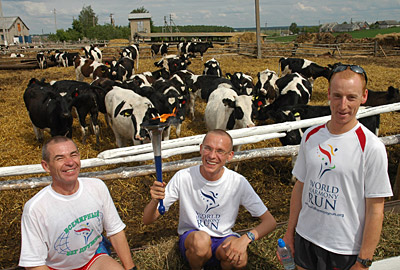 We caught up with the other runners to join some children from the local youth football club, and ran into the town's football stadium.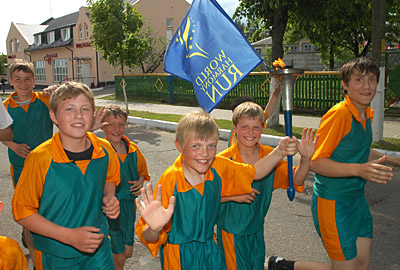 There we met the Head of Stolbtsi's Sports committee. Stolbtsi is a Sri Chinmoy Peace Blossom City and we visited the peace plaque commemorating its inauguration in 2001.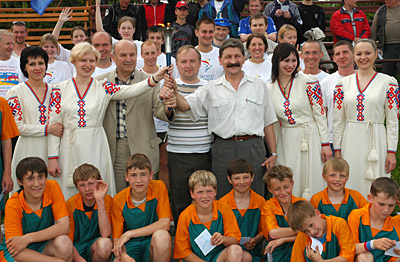 To complete the day we were invited to a concert where we were entertained by some great performances, notably a serene singer playing a grand piano.
---
Distance: 134km
Team Members:
Denis Panferov (Belarus), Jadranka Grbic (Serbis & Montenegro), Jarek Werner (Poland), Mark Collinson (England), Ondrej Vesely (Czech Republic), Pawel Szymanski (Poland), Valentine Bebik (Ukraine).
Harmonemail:
You can send a message to the runners or read the messages.