Germany 17 September: Berlin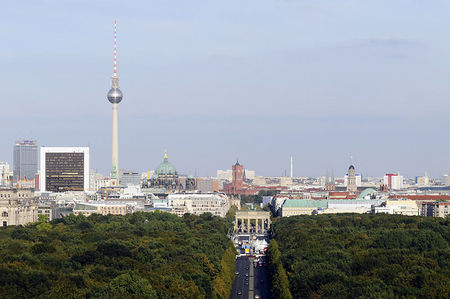 Like every year our international World Harmony Run team looks forward to visit the capital of Germany: Berlin!
Wie jedes Jahr freut sich unser internationales World Harmony Run Team darauf, die deutsche Hauptstadt zu besuchen!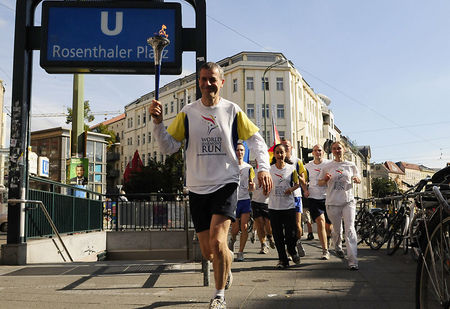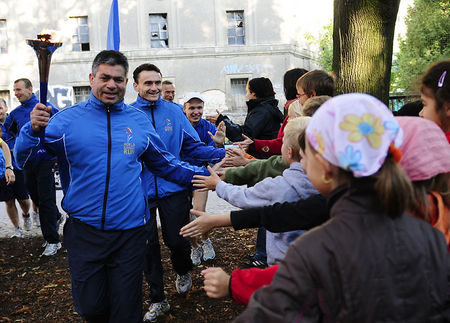 Today we visited the Montesouri Primary School in Berlin Pankow...
Heute waren wir zu Gast in der Freien Integrativen Montessori-Grundschule in Berlin-Pankow...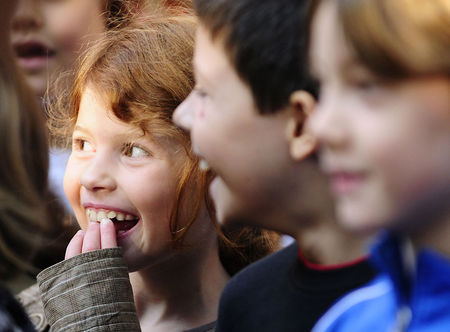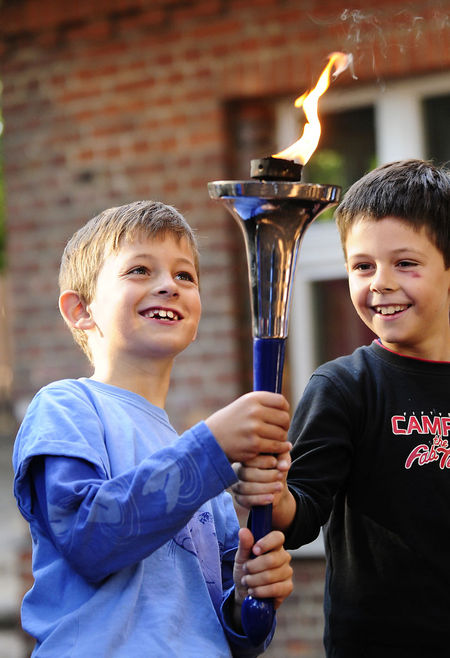 Everybody got a chance to hold the torch...
Jeder durfte einmal die World Harmony Run Fackel halten...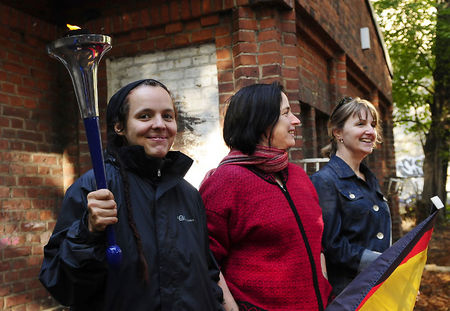 Mrs. Benzmann, her colleges and 30 kids received us enthusuastically!
The international runners introduced themselves in their own languages and the kids had to guess where we were coming from...
Die Kolleginnen um Frau Benzmann und etwa 30 Schüler empfingen uns auf das Herzlichste!
Die internationalen Läufer stellten sich in ihren jeweiligen Landessprachen vor und die Schüler mußten erraten, aus welchem Land wir stammen.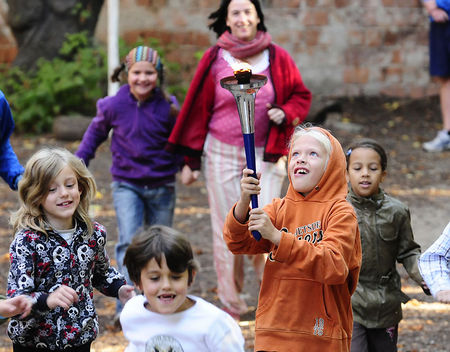 After the kids guessed all the countries right, we sang our World Harmony Run Song for them. As a Thank You they responded with a nice song: "...we are different, but that doesn't matter. It makes life colorful!"
Nachdem die Kinder alle Länder erraten hatten, lösten wir unsere "Wettschulden" ein und sangen den offiziellen "World Harmony Run Song".
Die Kinder bedankten sich ebenfalls mit einem Lied, das ungefährt so ging: "...wir sind zwar alle verschieden, aber das macht nichts. Das macht das Leben erst bunt..."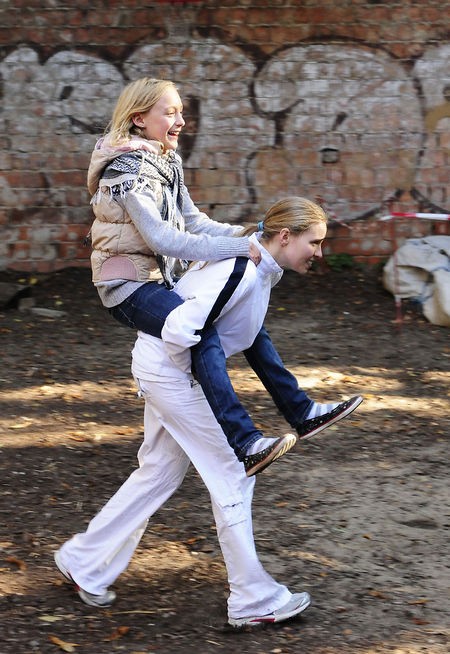 We spent a long time with the kids and played a few funny games...
Wir verbrachten einige Zeit mit den Kindern und spielten einige Spiele zusammen...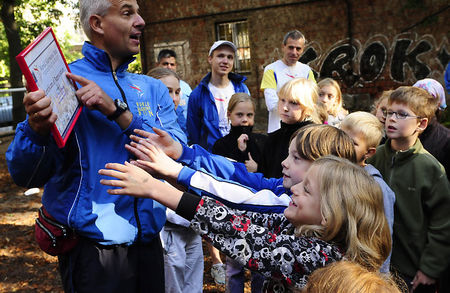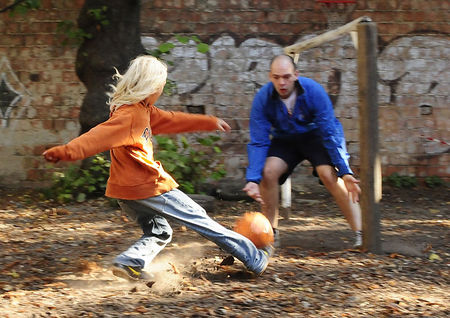 we lost in soccer...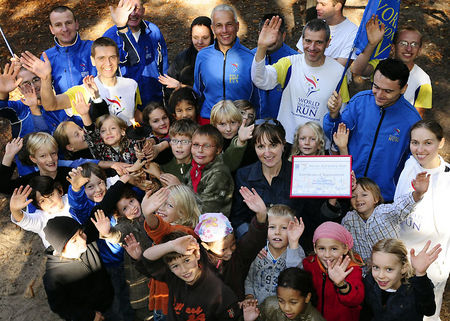 Thanks for the great time!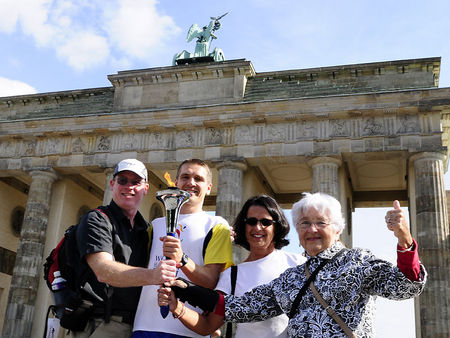 Old friends of the Run from the US! Thanks for your support!
Alte Bekannte aus den USA! Vielen dank für die Unterstützung!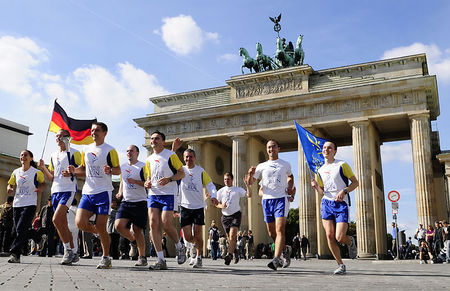 Before we visited the second school of the day, we enjoyed a Run through the city. The famous Brandenburger Gate was a highlit of the scenic run!
Bevor wir die zweite Schule des Tages besuchten, genossen wir einen Lauf durch Berlin. Natürlich stand ein Besuch beim Brandenburger Tor auf dem Programm!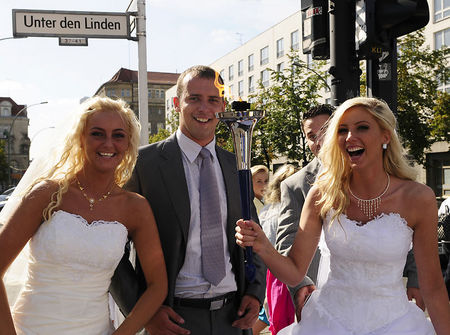 Everybody loves the World Harmony Run!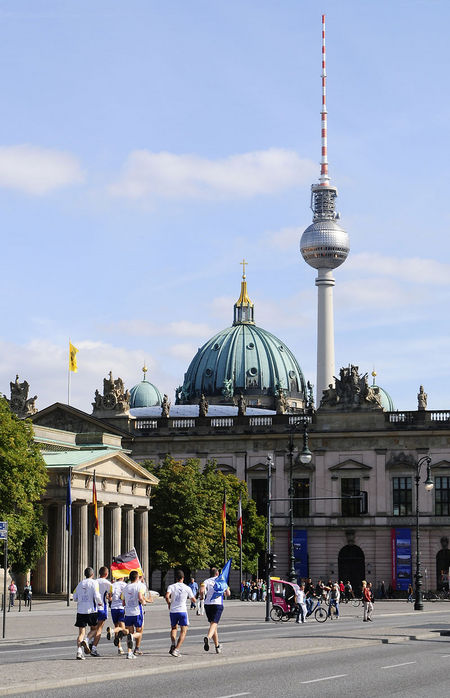 From Pankow to Lichtenberg...
Von Pankow liefen wir nach Lichtenberg...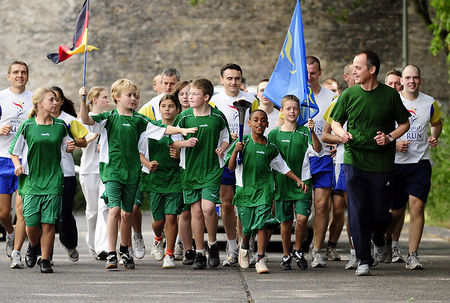 On the Frankfurter Allee we met a group of kids from the Hermann-Gmeiner Primary School, who led us to their school. 300 enthusiastic kids were already waiting for us!
Auf der Fankfurter Allee trafen wir Kinder von der Hermann-Gmeiner Grundschule, die uns bis zur Schule geleiteten.
Ca. 300 Schüler warteten bereits enthusiastisch!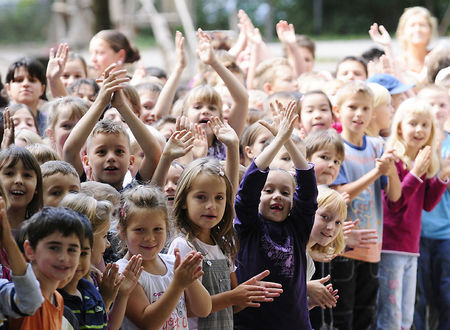 A big hand for the runners...

Very quickly the kids guessed the countries of the runners...
Die Kids brauchten nur Sekunden um unsere Länder zu erraten...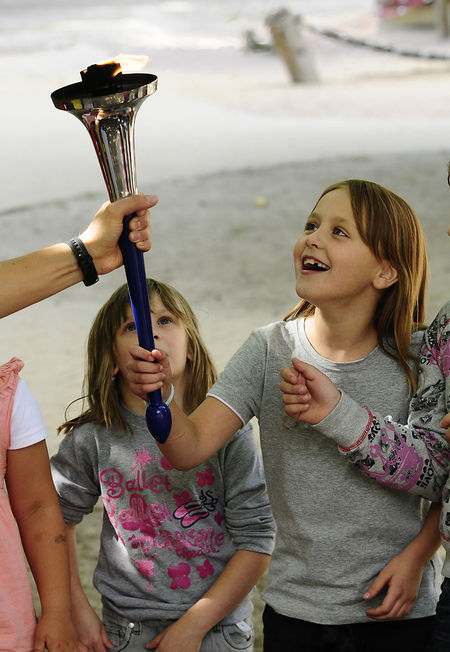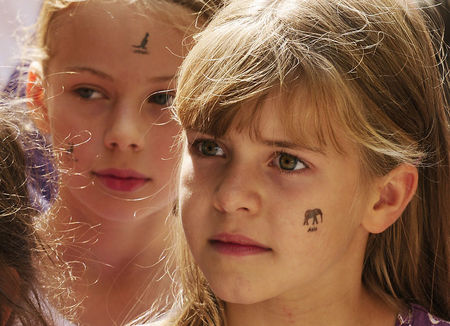 The Stamps with the different continents were a real collectors item...
Die Stempel mit den verschiedenen Kontinenten sind ein beliebtes Sammelobjekt...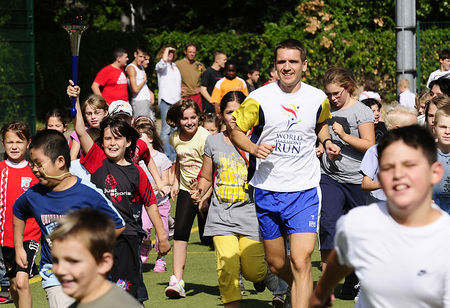 After the kids held the torch, we run together around the school grounds...
Das gemeinsame Laufen bildete einen Höhepunkt unseres Besuches...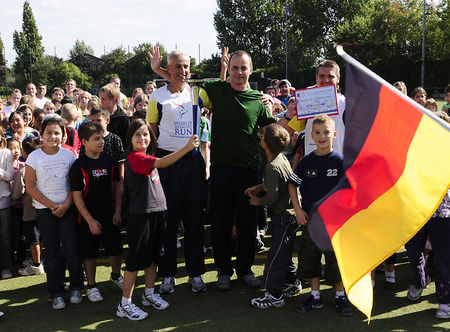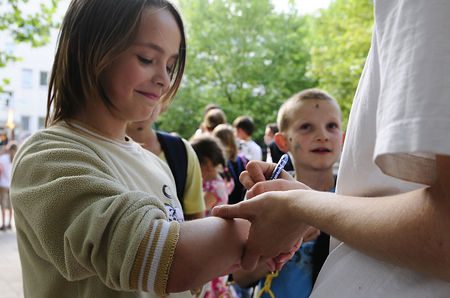 Before we left a few signatures...
Vor dem Abschied noch ein paar Autogramme...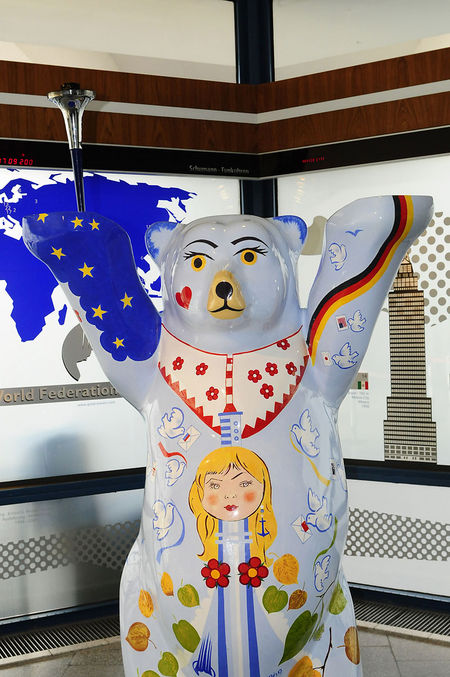 ---
Distance: 18 km
Team Members:
Balavan Thomas (Great Britain), Dipavajan Renner (Austria), Apaguha Vesely (Czech Republic), Jarek Werner (Poland), Josef Sverma (Czech Republic), Anna Lacarna (Italy), Nisanga (Bosnia i Hercegovina), Sumahat Strohn (Bavaria), Roland (Austria), Aladin Tehrani (Iran), Roberto Bahrt (Germany), Samalya Schäfer (Germany), David Peschke (Germany), Matthias Eckerle (Germany), Eva Maria (Germany), Anna Lesmann (Germany), Roger Rogge (Germany)
Harmonemail:
You can send a message to the runners or read the messages.
Gallery: See more images!