Germany 27 May: Mittenwald - Steingaden
Welcome to Germany!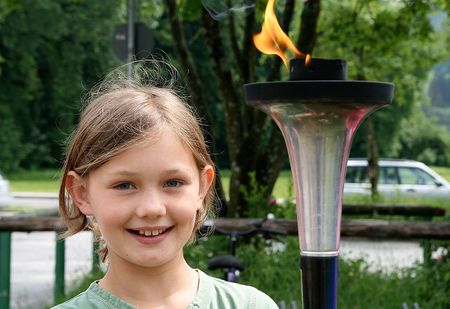 The World Harmony Run arrived in Germany! As we crossed the border already the night before, we enjoyed a good nights rest in Mittenwald, surounded by mountains within a really mystical countryside.
Many thanks to Hotel Rieger, Hotel Post, Bichlerhof and Hotel Pension Bavaria for supporting the Run!
Der World Harmony Run erreicht Deutschland! Sa wir die Grenze bereits am Vorabend überschritten haben, konnten wir nach einer erholsamen Nacht in Mittenwald in das wirklich mystische Oberallgäu hineinstarten.
Vielen Dank an Hotel Rieger, Hotel Post, Bichlerhof und Hotel Pension Bavaria für die herzliche Unterstützung des WHR!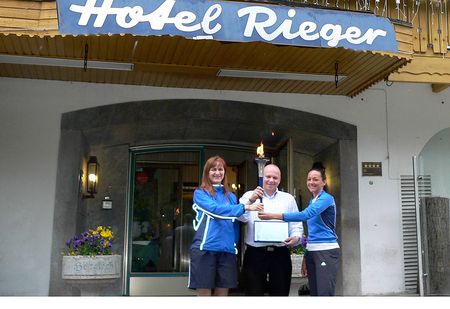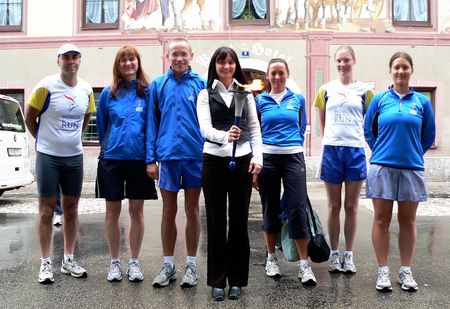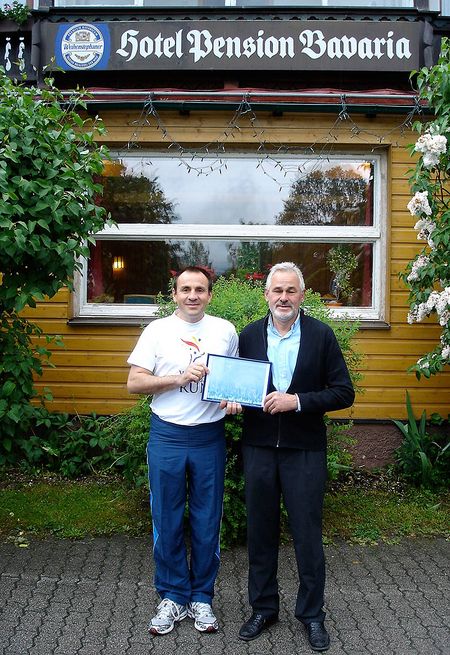 A perfect running day as we took off for our first meeting at the "Günther Krasnitzky" - primary school in Walchensee.
Ein perfekter Lauftag - leicht bewölkt mit ein paar Tropfen - und wir erreichten alsbald unser erstes Etappenziel: die "Günther Krasnitzky" Volksschule in Walchensee.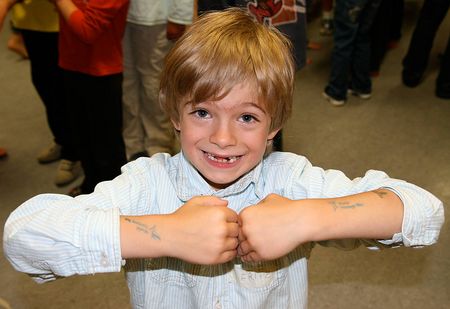 We met the kids in the gym and it turned out to be a very hearty meeting.
In herzlicher Atmosphäre trafen wir die Kids in der Turnhalle.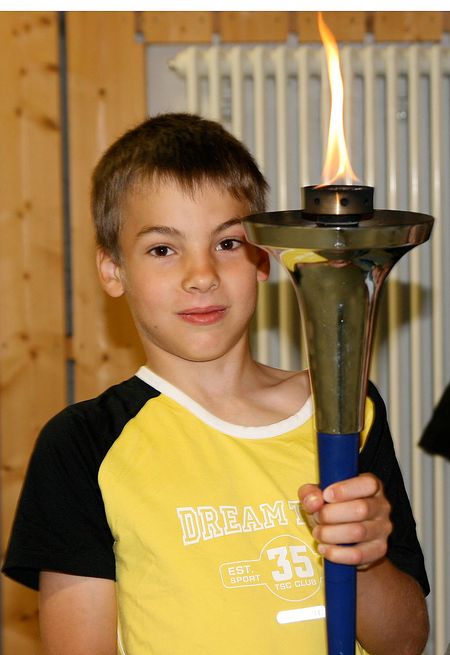 The kids passed the torch and all together we ran to their school building...
Die Kinder reichten die Fackel von Hand zu hand weiter und anschliessend liefen wir gemeinsam von der Turnhalle zur Schule.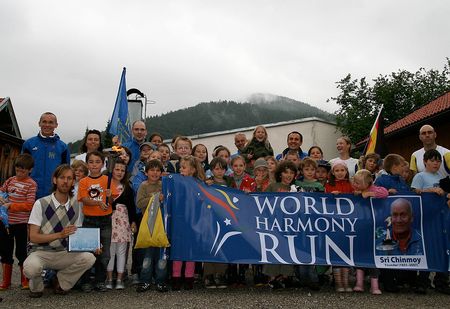 Cheers to Walchensee!
Grüße von Walchensee!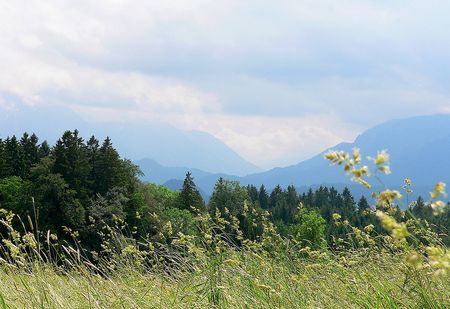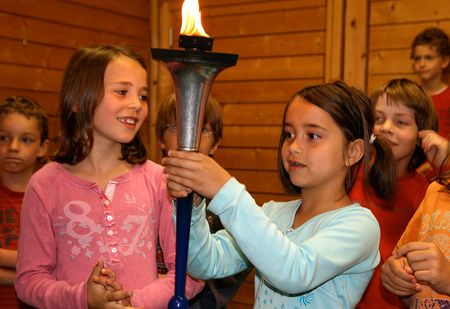 As we run over some local mountain pass, we reached Kochel am See, our next stop.
Nach einem intensiven Anstieg zu einer Passhöhe erreichten wir Kochel am See.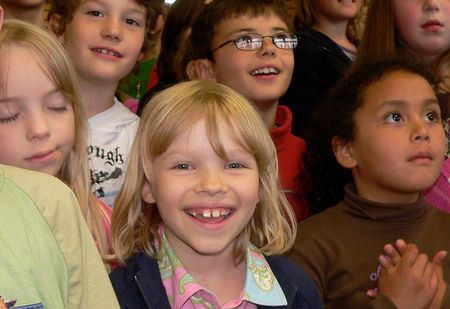 In the primary school we met kids from many different nationalities, and in the same way as the kids usually have to guess our nationalities, we tried to guess theirs.
Die Kinder der Volksschule erwarteten uns bereits. Einder der Höhepunkte unseres Schulprogramms ist das Nationenraten: dieses Mal wurde das Spiel umgedreht, da in der Schule ebenfalls Kinder verschiedenster Nationalitäten vertreten waren. Nun waren wir an der Reihe zu raten!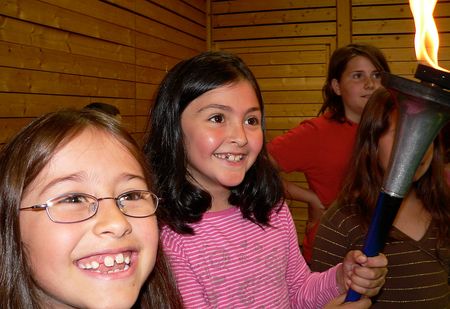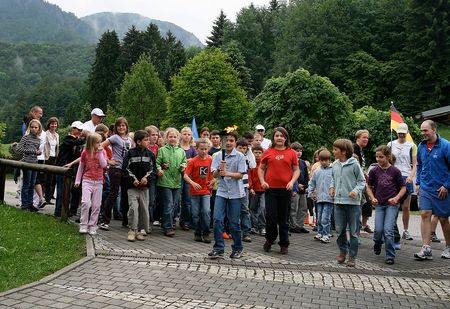 The enthusiastic crowd, including teachers, accompanied our team out of school for some distance.
Eine begeisterte Menge von Kindern und Lehrern begleitete uns noch für ein Stück...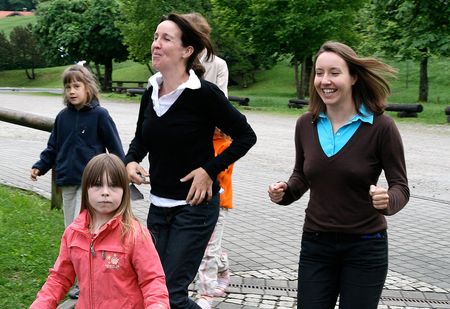 Upper Bavaria, a really mystic country site...
Oberbayern, eine wirklich mystische Landschaft...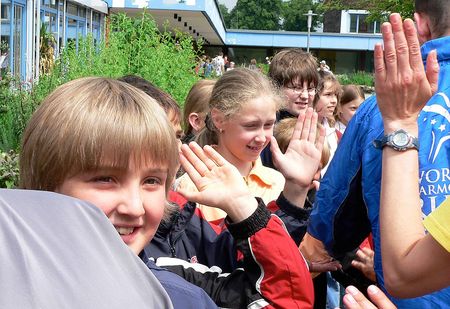 We reached the primary and secondary school in Benediktbeuern.
Wir erreichten die Volks- und Hauptschule Benediktbeuern.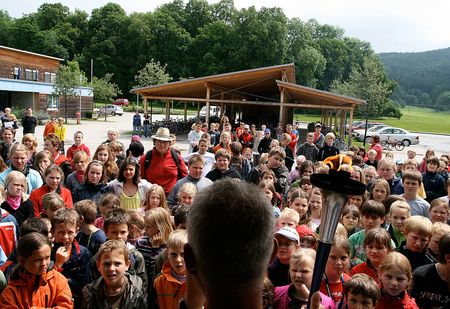 The kids gave us a warm welcome...
Die Kids bereiteten uns einen herzlichen Empfang...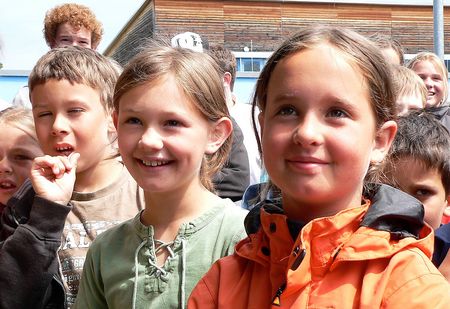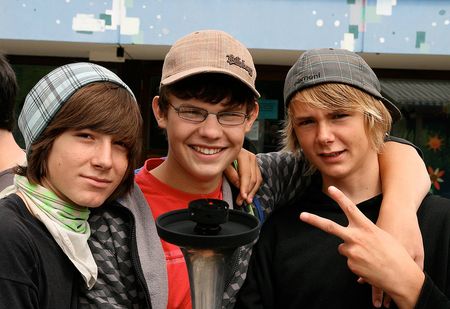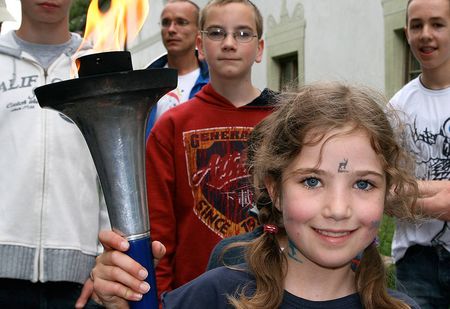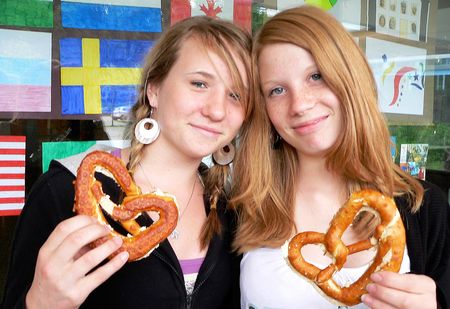 We got a typical Bavarian refreshment: a "Laugenbretz'n mit Butter" - a soft bretzel with butter - delicious!
Eine typische Bayerische Spezialität: "a Laugnbrezn mit Butter"...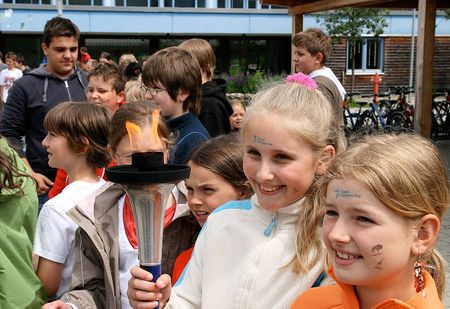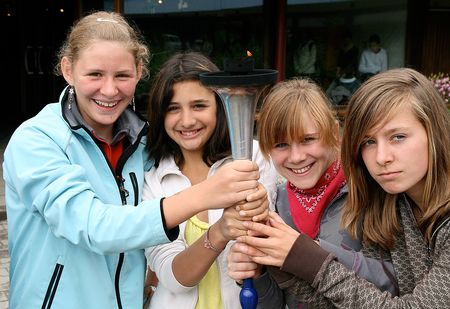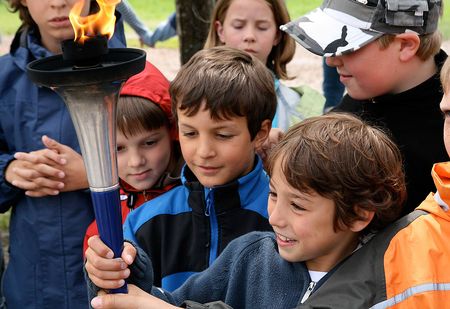 After the kids passed the torch they took us on a Run around their school!
Nachdem die Kinder die Fackel herumgereicht haben, liefen sie mit uns um die Schule!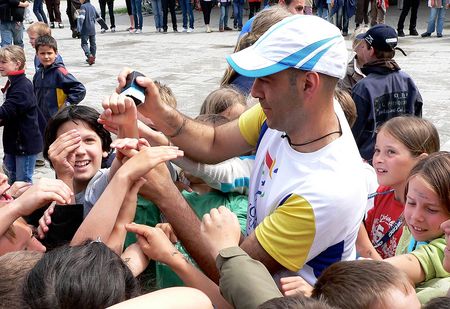 Mimmo, our Italian runner, was very busy giving stamps to the kids...
Mimmo, unser italienischer Läufer, wurde von den Kindern reglrecht belagert!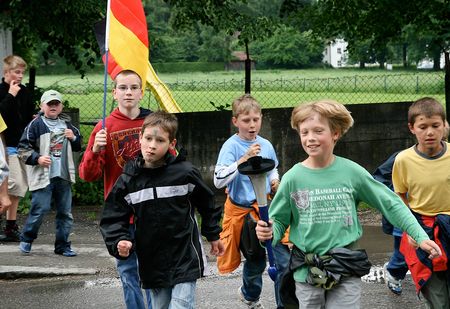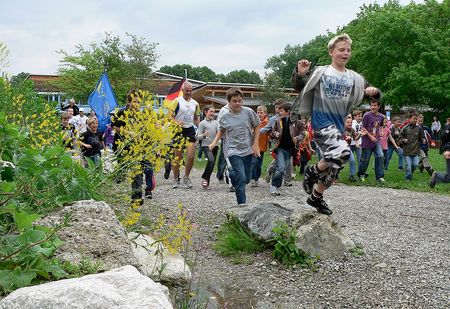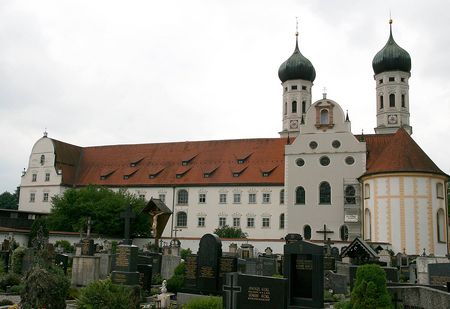 Some of the kids kept running with us to the famous monastery in Benediktbeuern.
Einige der Kinder liefen mit uns bis zum berühmten Stift Benediktbeuern.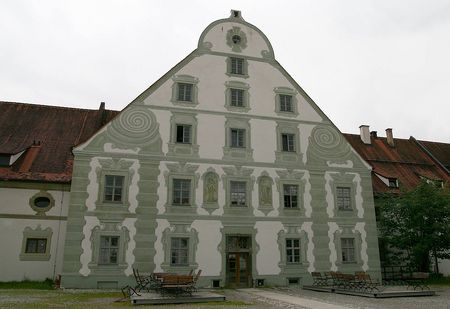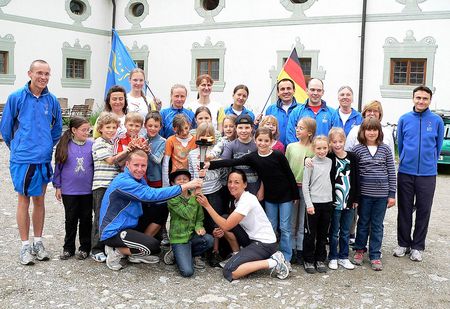 In the monastery we spontaneously had another meeting with a school class...
Im Klosterhof fand kurzfristig ein weiterer Empfang mit einer Schluklasse statt...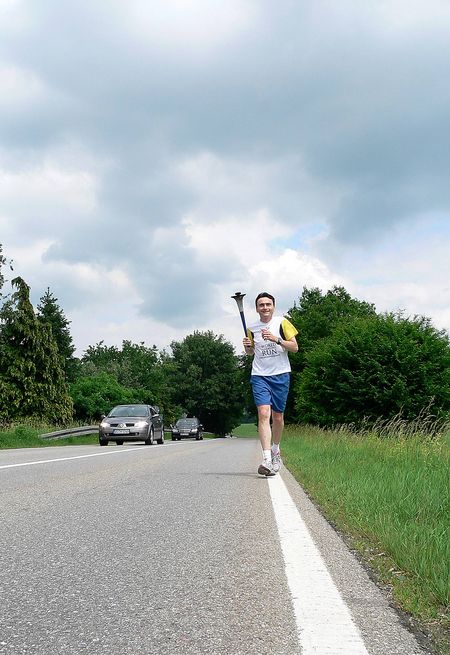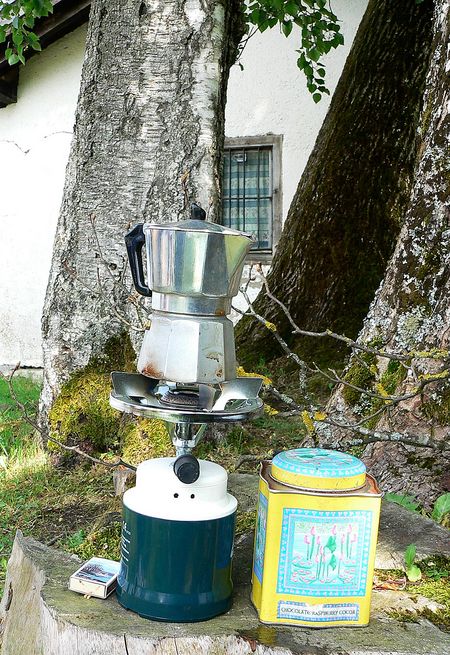 a short lunchbreak with coffee on the road!
eine kurze Kaffeepause an der Laufstrecke!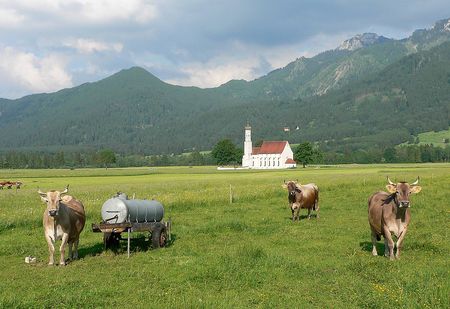 In the late afternoon we reached Steingaden, our today's destination.
The most apealing countryside gave our day the perfect chillout!
Am späten Nachmittag erreichten wir Steingaden, unser heutiges Etappenziel.
Die wunderschöne Landschaft war der perfekte Abschluss für einen intensiven Tag!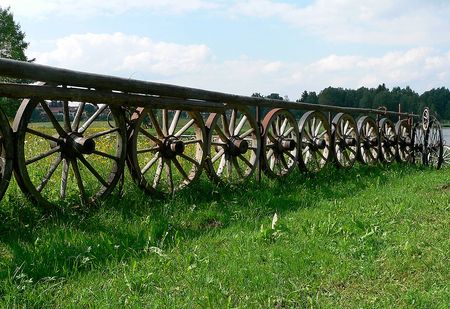 ---
Distance: 96 km
Team Members:
Dipavajan Renner (Austria), Manjula Lecordier (France), Roos de Waart (Netherlands), Dima Lehonkov (Ukraine), Daria Soboleva (Russia), Sonia Bruzzone (France), Domenico Martina (Italy), Natalia Lehonkova (Ukraine), Jarek Werner (Poland), Sumahat Strohn (Germany), Nisanga Mehikic (Bosnia i Hercegovina), Andrea Fidrmuc (Slovakia)
Harmonemail:
You can send a message to the runners or read the messages.
Gallery: See more images!