Faroe Islands 6 September: Skála - Gøta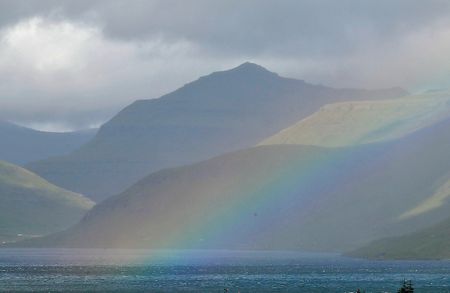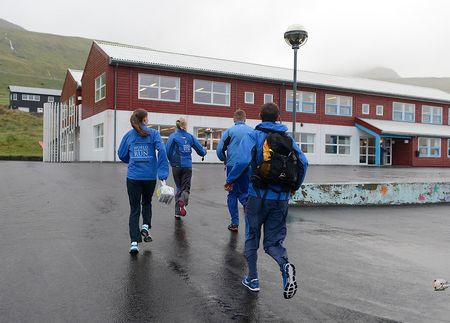 Today World Harmony Run Team had one of its earliest starts ever; at 7 am we had to be ready in our cars, foot on the pedal preferably!
I dag måtte World Harmony Run holdet starte meget tidligt, klokken 7 om morgenen skulle foden være på bensinen!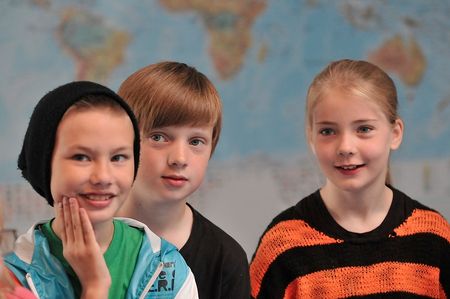 The reason was that we wanted to make up for our space-cadet behaviour yesterday, when we missed a whole village! We actually didn't see it.
Grunden til at det var så tidlig var at vi ville besøge den skole vi ikke fik besøgt i går, da vi kørte forbi den uden at lægge mærke til det! Vi så rent faktiskt ikke byen!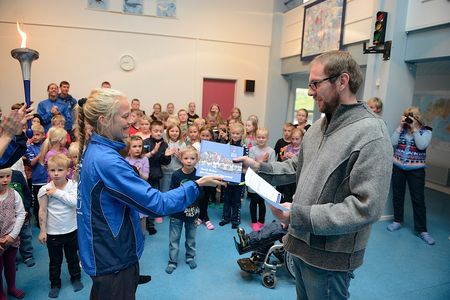 But all was forgiven at the school Skála skúli and the warm welcome we received inside was in perfect contrast to the stormy weather outside.
Men de på Skála skúli tilgav os fuldstændig og den varme vi blev mødt med på skolen var en stor kontrast til stormen der var udenfor.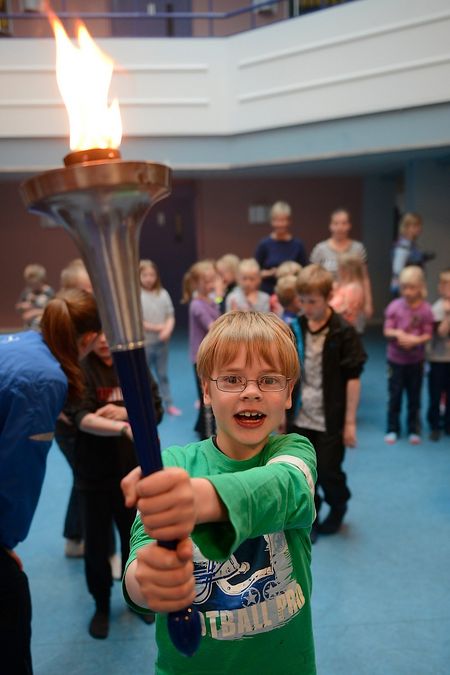 When we arrived the principal told us that he had just been listening to us on the radio show "Good morning Faroe Islands".
Da vi ankom fortalte skolelederen at han lige havde hørt os i radioprogrammet "Godmorgen Færøerne"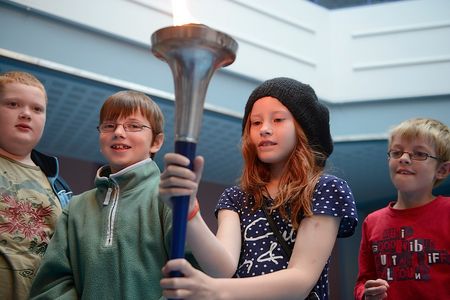 The schools in the Faroe Islands are very relaxed about us carrying the flaming Torch inside the school buildings as we found out at Skála skúli, and we did most of our program inside because of the weather.
Skolerne på Færøerne er meget afslappede omkring at vi har fakkelen tændt inde i skolebygningen, det fandt vi ud af på Skála skúli, så hele arrangementet foregik derfor indendørs på grund af vejret.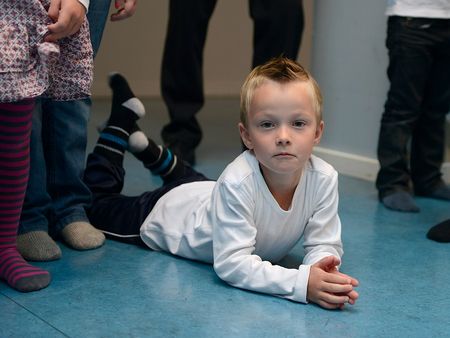 The children were quite young and very attentive.
Børnene var ret unge opmærksomme.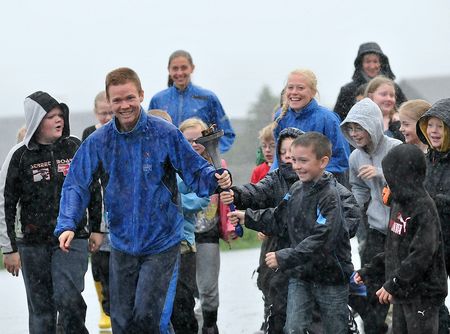 But then it was time to run! Stepping outside, even for a few minutes, was enough to get you totally drenched, so we decided to keep the running limited. When we had run with the older kids, the younger kids came out with their raingear on!
Så var der tid til at løbe! Få minutter udenfor var nok til at blive helt gennemvåd så vi gjorde det kort. Da vi havde løbet sammen med de ældre børn kom de yngre ud i sit regntøj!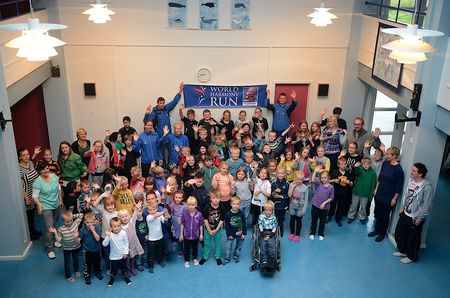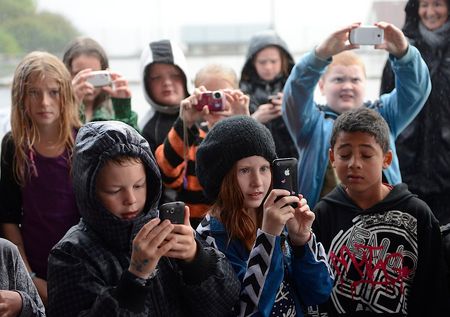 In all the schools we visit, the children are as eager to take photos of us, as we are to take photos of them!
Børnene på alle skoler vi besøger vil så gerne tage billeder af os når vi skal tage billeder af dem!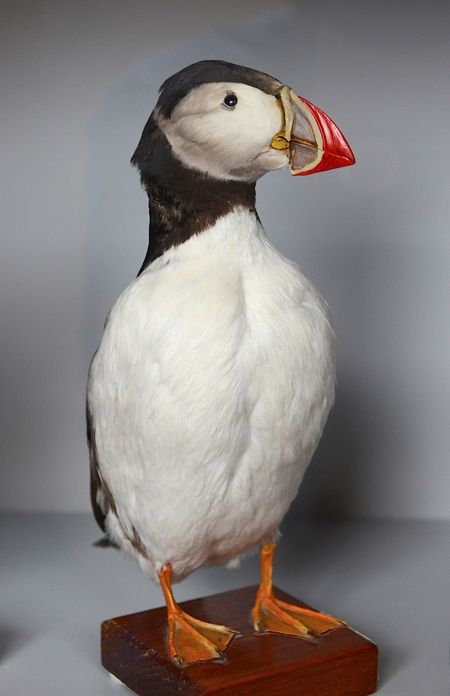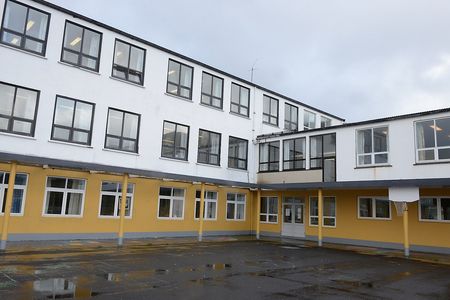 It was still early morning, but we already found ourselves in the second school of the day, Glyvraskúli.
Det var stadigvæk tidligt på morgenen da vi besøgte skole nummer to, Glyvra skúli.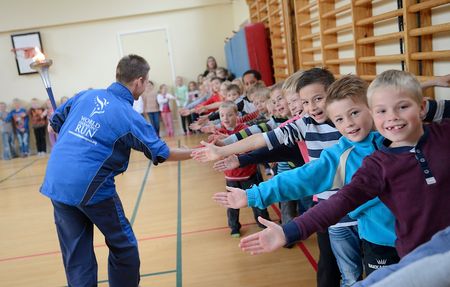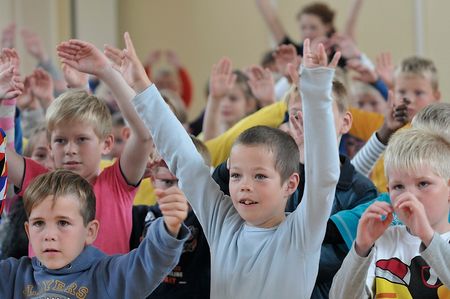 At this ceremony, we also met very young, sweet kids.
Vi mødte også meget unge og søde børn her.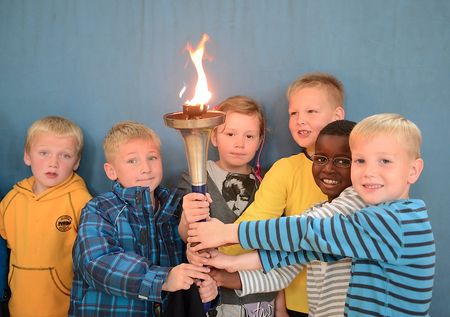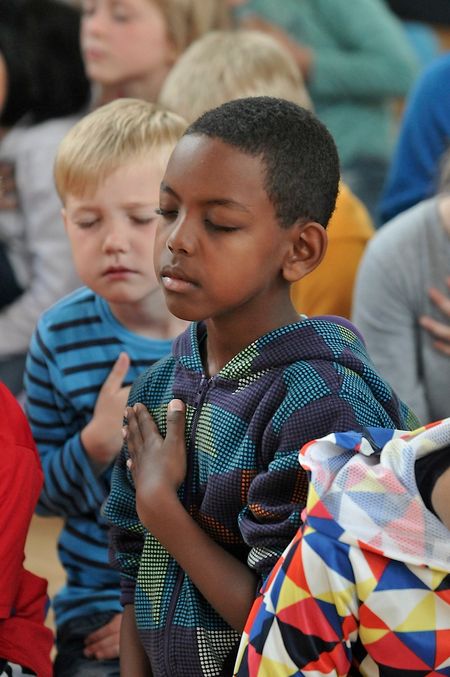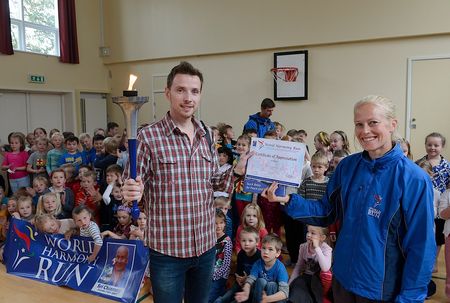 Despite their young age, the children showed excellent geography skills and guessed all our countries correctly. When this happens, we reward them by singing the World Harmony Run song, composed by Sri Chinmoy, the founder of the Run. The kids, in turn, rewarded us by singing a native song for us.
Selvom børnene var unge var de meget gode til geografi og gættede rigtigt på alle vore lande. Når de kan det, synger vi World Harmony Run sangen for dem, som er komponeret af Sri Chinmoy som også startede løbet. Børnene ville også synge for os og vi fik lov til at høre dem synge nationalsangen.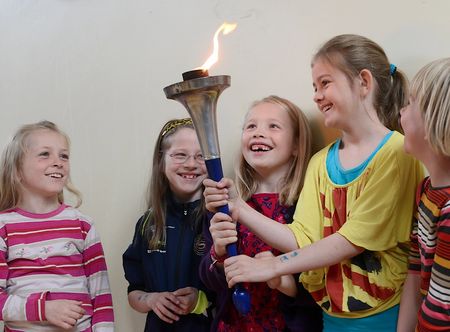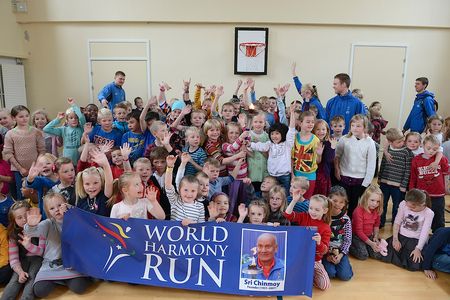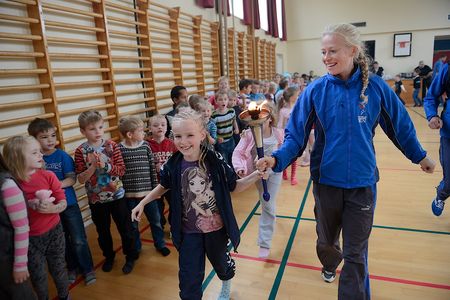 It was still quite rainy outside, so we decided to do the running inside. Everyone had lots of fun, running back and forth along the gym.
Det regnede stadigvæk udenfor så vi besluttede os for at løbe indenfor. Alle havde det rigtigt sjovt ved at løbe frem og tilbage i idrætssalen.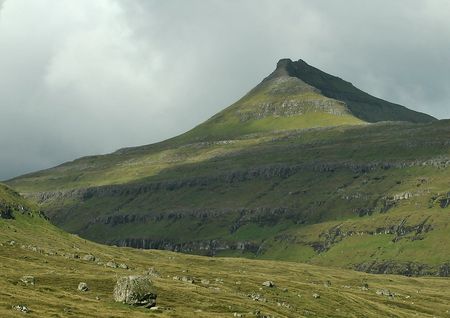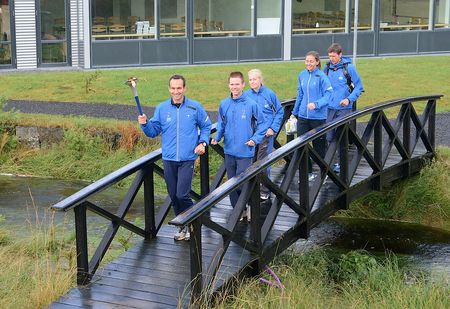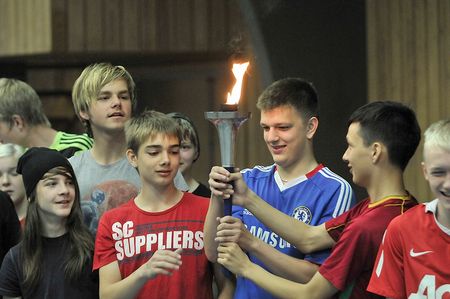 When the kids in this community, Runavík, get older, they go to the next school, Skúlin við Løkin, which, naturally, became our next stop.
Når børnene i denne kommune, Runavík, bliver ældre, går de i en anden skole, Skúlin við Løkin, som selvfølgelig var vores næste stop.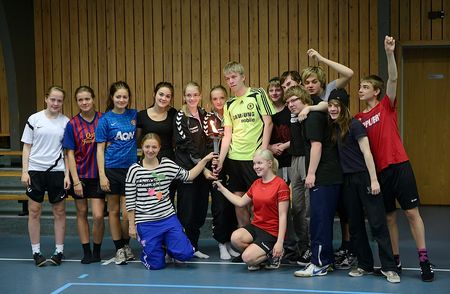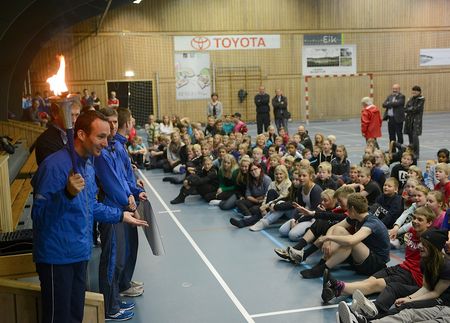 It must be said that whenever we need it, we are fortunate to meet teachers who provide excellent translation from English into Faroese. However, since these were older kids, they also spoke quite a bit of English themselves.
Når vi har brug for det, er vi heldige nok at møde lærere som er klare til at oversætte fra engelsk til færøsk og gør det fantastiskt godt. Men disse børn var lidt ældre og derfor forstod de ret godt engelsk.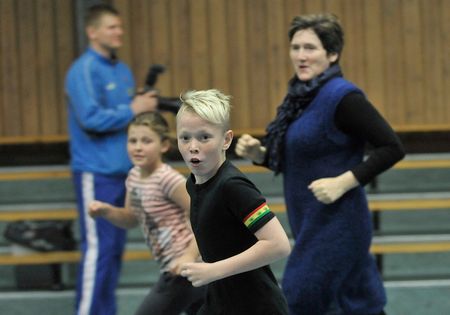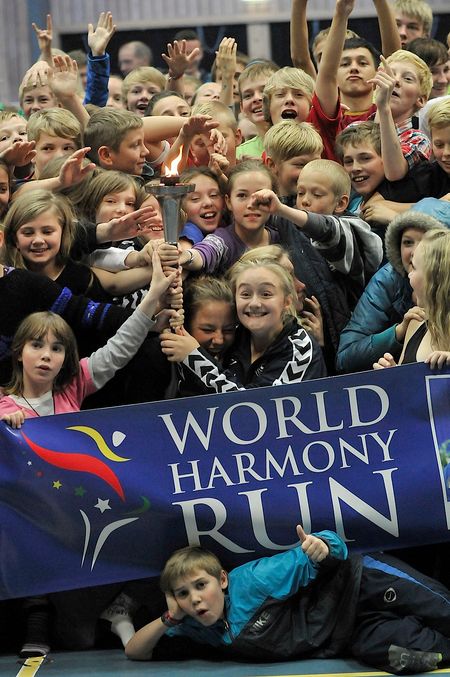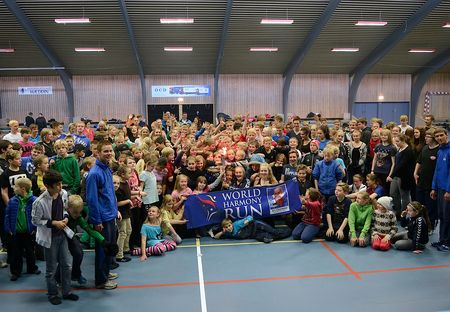 We were touched by how respectful and interested the kids were.
Vi var berørte over hvor respektfulde og interesserede børnene var.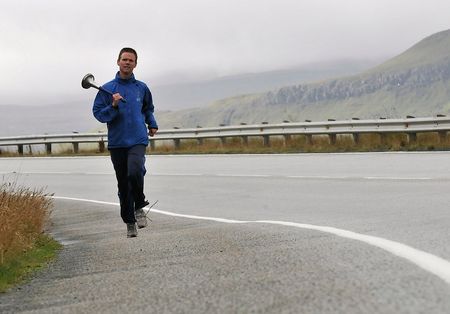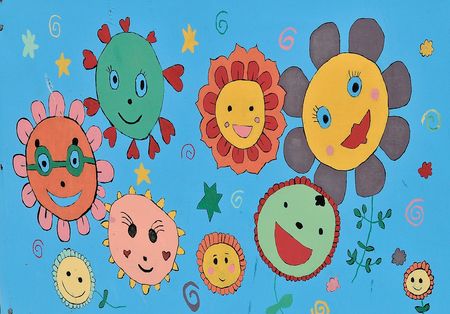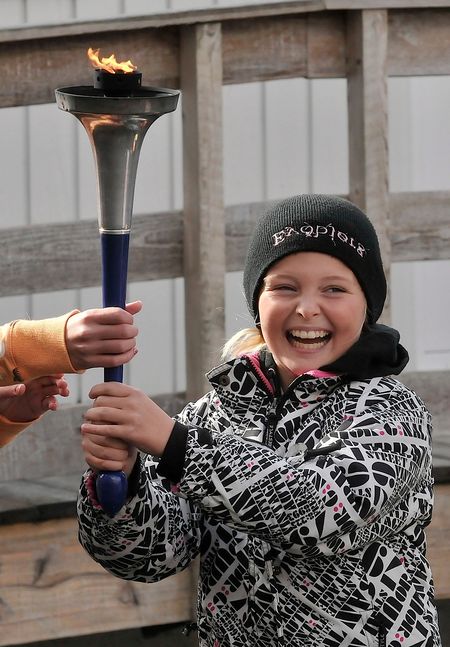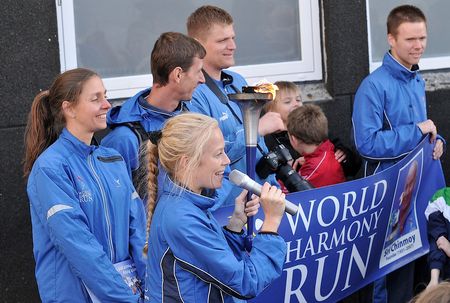 It was time for the fourth school and it was not even noon yet! Ascending a pretty steep flight of stairs we entered into the grounds of Toftaskúli.
Pludselig befandt vi os på skolebesøg nummer fire og det var ikke engang frokost endnu! Ved at løbe op ret stejle trapper ankom vi til Tofta skúli.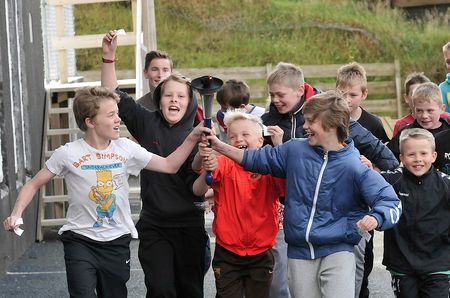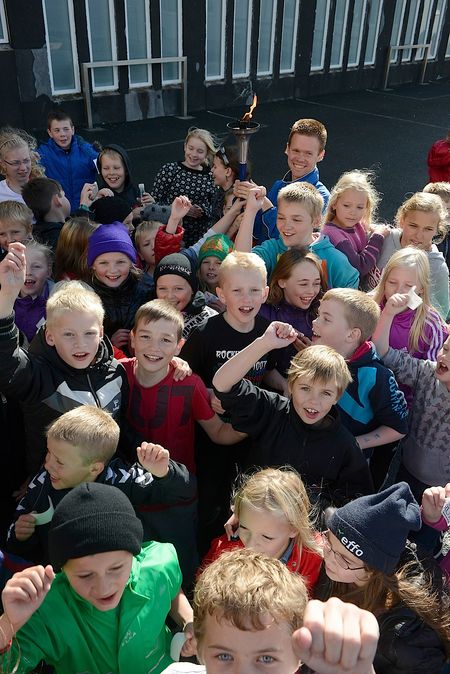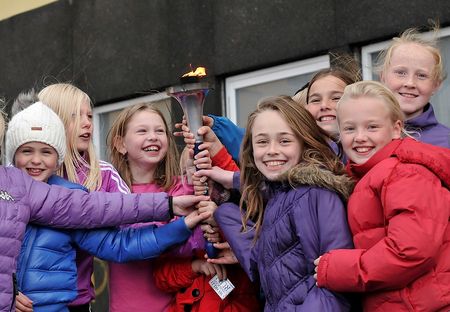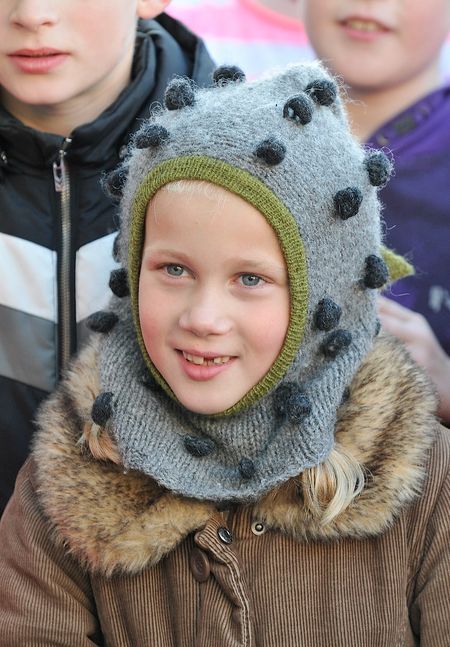 It is not always possible to put in words how welcome we are made to feel, but in Toftaskúli we were made to feel right at home.
Vi kan ikke altid med ord forklare hvor godt vi bliv modtaget og hvor velkomne vi føler os men på Tofta skúli vi følte os præcis som hjemme.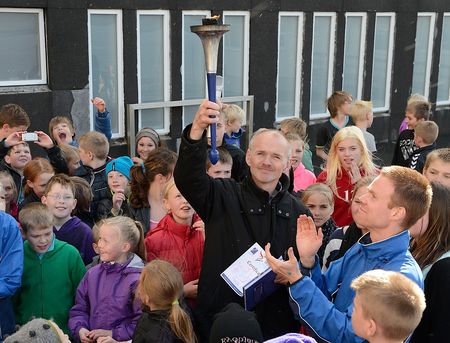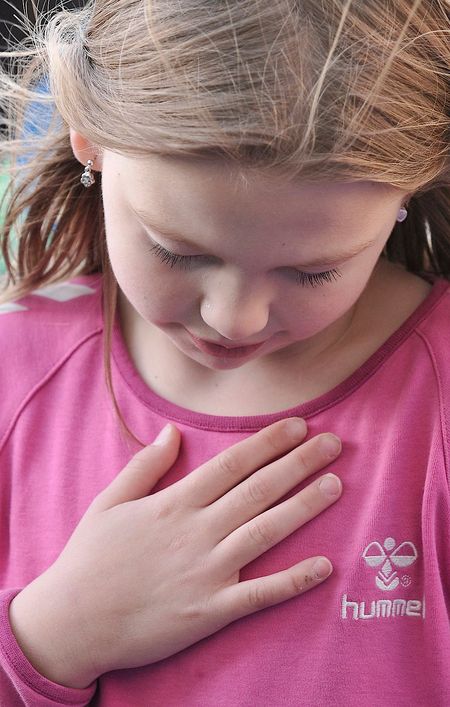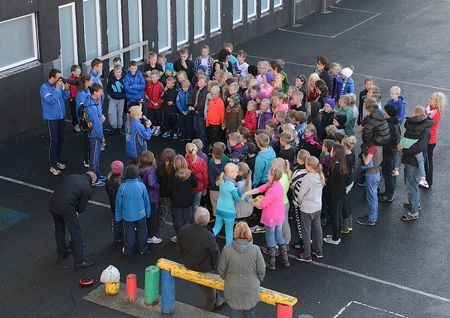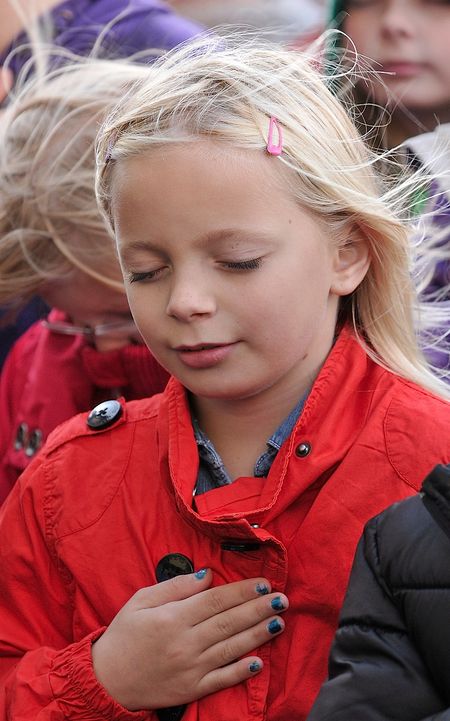 The storm had quieted down and the sun was peeping through the clouds, while we enjoyed a real heart-to-heart meeting with the kids and the teachers.
Det stormede ikke mere og solen kom frem mens vi havde et hjerteligt møde med børnene og deres lærere.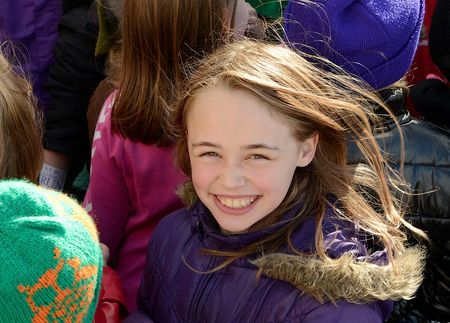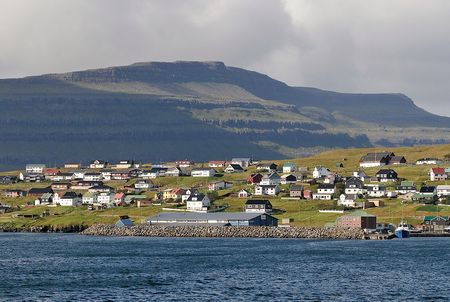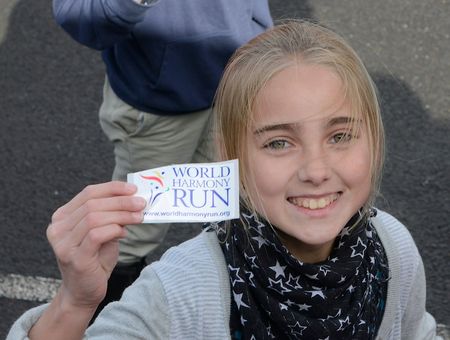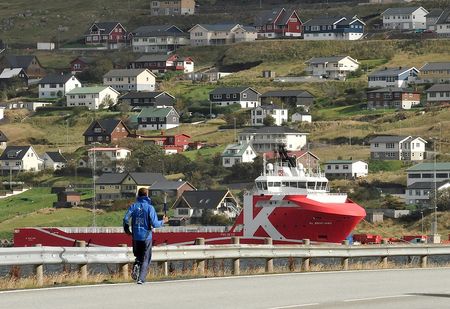 We would have loved to have stayed longer, but our schedule was still pressing and so on we ran to the next village, Gøta.
Vi ville gerne været blevet længere men tidsplanen var presset og vi måtte løbe videre til næste by, Gøta.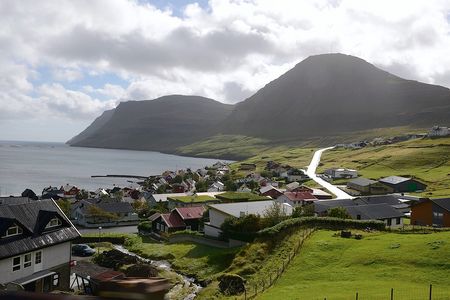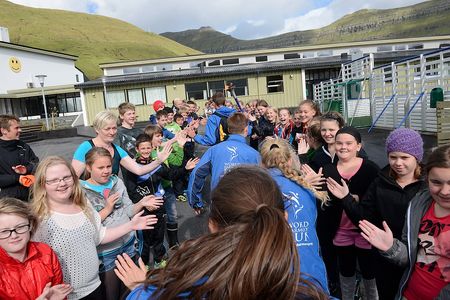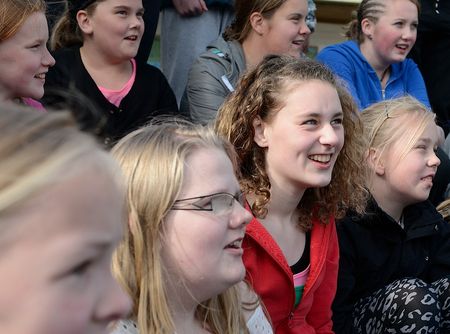 Gøta is not only situated in an amazingly beautiful fjord, it was also the home town of viking chief Tróndur í Gøtu, one of the main characters in Føroyinga Saga, the history of the early settlers in Faroe Islands.
Gøta ligger ikke bare ved en utroligt smuk fjord, men det var også hjem til vikingen Tróndur í Gøtu, en af hovedpersonerne i Føroyinga Saga, en saga om de første beboende på Færøerne.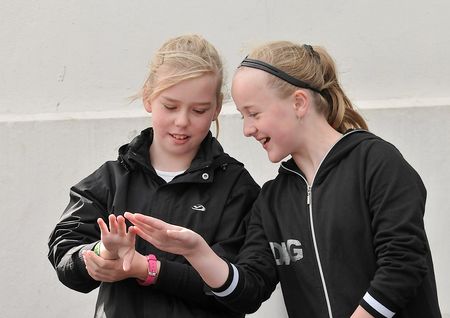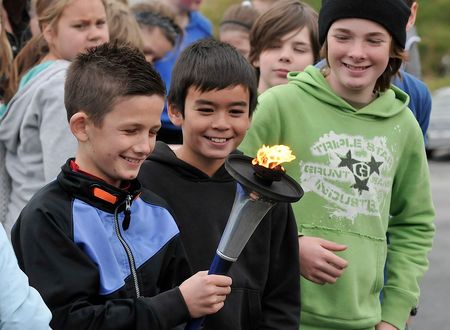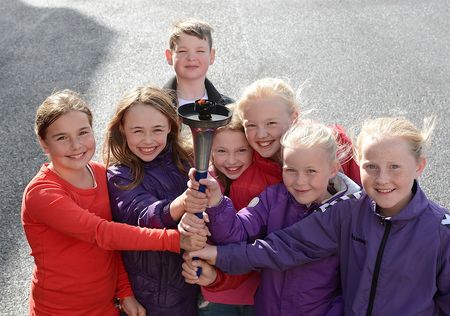 We, however, were welcomed by harmony-loving children and their teachers, and not vikings armed to the teeth!
Vi blev dog mødt af fredsfyldte og fred-elskende børn og deres lærere og ikke bevæbnede vikinger!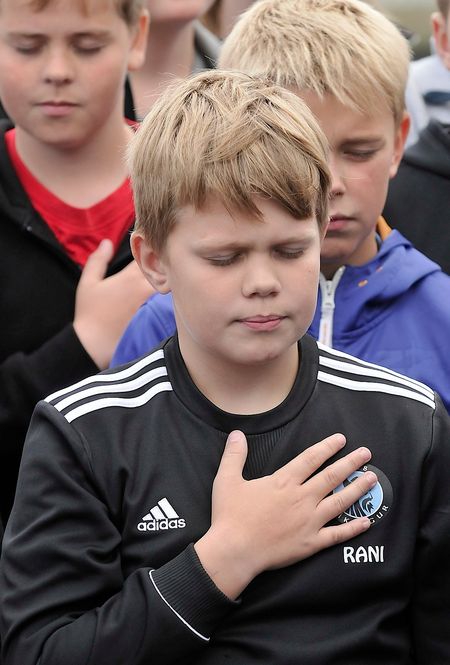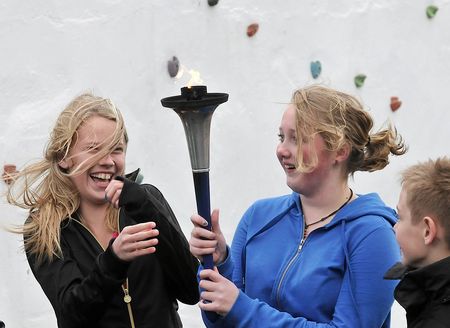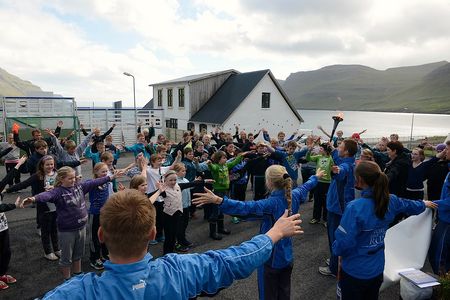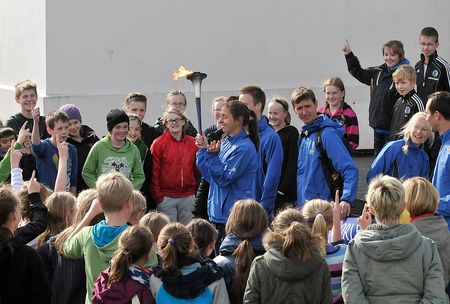 The school was almost over, and we were very proud of the children, who listened to us attentively and patiently.
Skoledagen var næsten slut for børnene og vi var stolte af dem da de lyttede så tålmodigt og var så opmærksomme.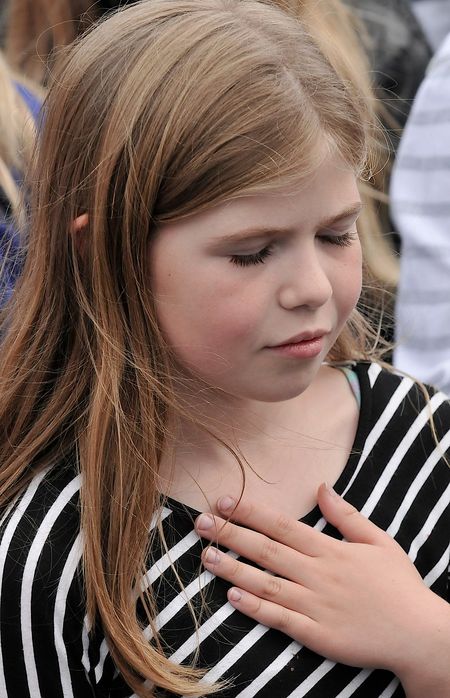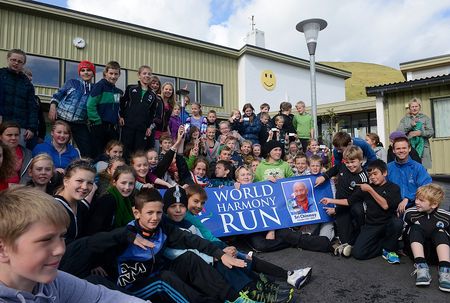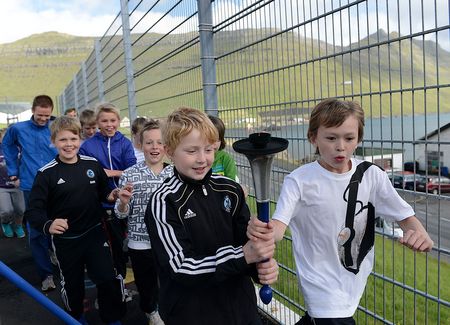 Of course, everyone loves to run with the Torch!
Alle elsker at løbe med fakkelen selvfølgelig!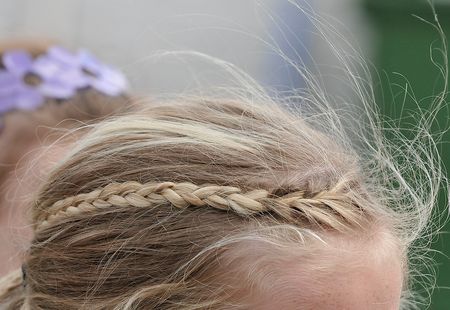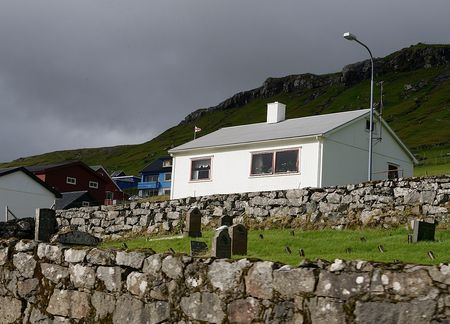 But our day was not over yet! We drove back to Tórshavn to have a meeting with the West-Nordic council. The West-Nordic countries, Faroe Islands, Greenland and Iceland, created this council to help maintain and increase the harmony between these three nations.
Dagen var dog ikke slut. Vi kørte tilbage til Tórshavn for at møde det vest-nordiske råd. De vest-nordiske lande, Færøerne, Grønland og Island, dannede dette råd for at kunne bevare og øge harmonien mellem disse tre lande.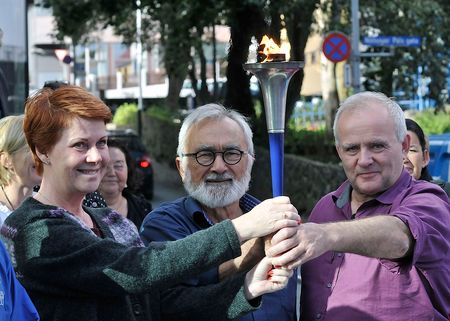 Representing the council at this meeting was the presidium: from left to right: Ólína Þorvarðardóttir (Iceland), Josef Motzfeldt (Greenland) and Henrik Old (Faroe Islands). Each of the council members received the Harmony Torch and passed their wishes for a more peaceful and harmonious world onwards.
Dem der representerede landene var fra venstre: Ólína Þorvarðardóttir (Island), Josef Motzfeldt (Grønland) og Henrik Old (Færøerne). Hver og en af dem fik holde fakkelen og ønske sig mere fred og harmoni i verden fremover.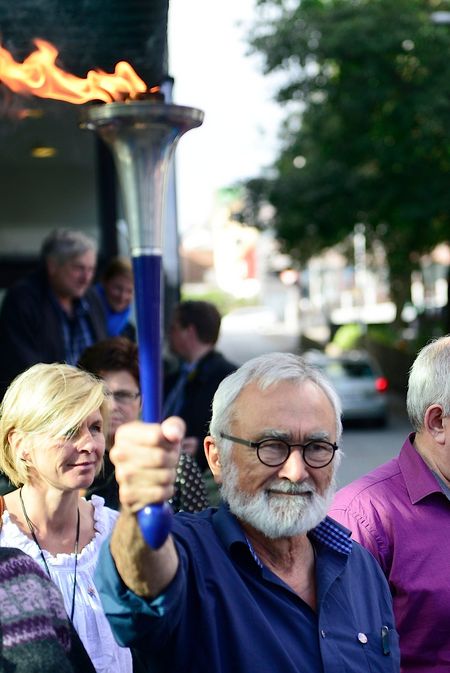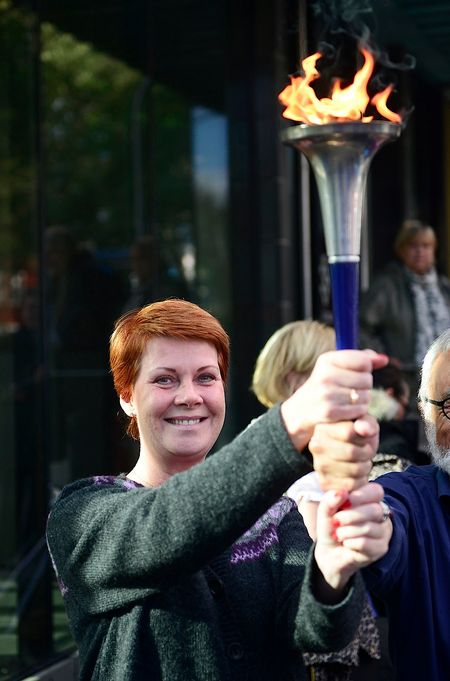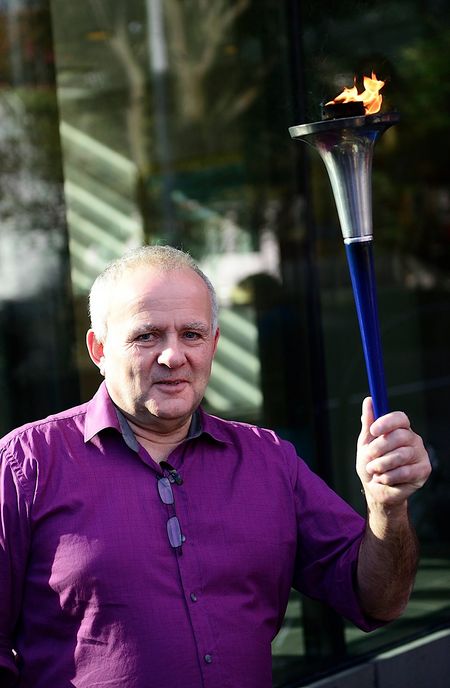 We are very grateful to the council members for taking time out of their busy schedule to receive the Torch.
Vi er meget taknemmelige for at de tog sig tid fra deres pressede tidsplan for at holde fakkelen.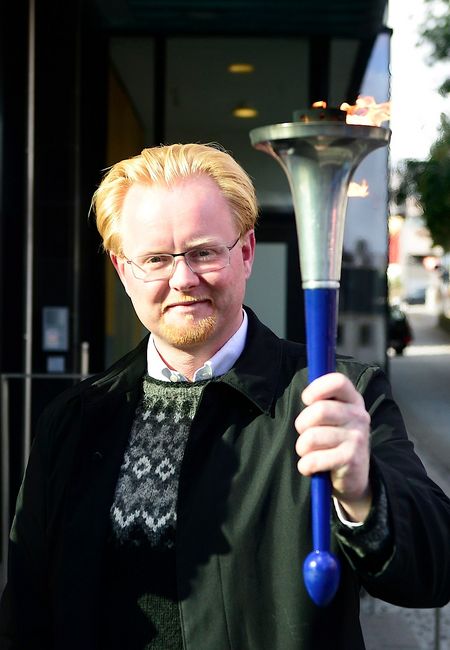 Also, we would like express our sincere gratitude to Jörundur Kristjánsson from the Icelandic delegation who was instrumental in organizing this meeting.
Vi vil også af hjertet takke Jörundur Kristjánsson fra det islandske delegation, som gjorde dette møde muligt.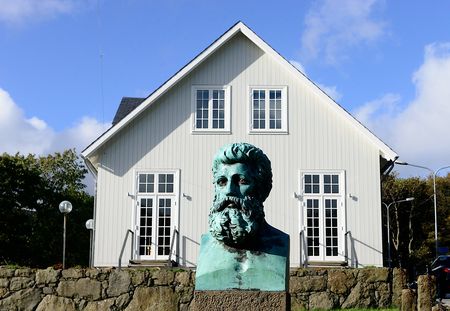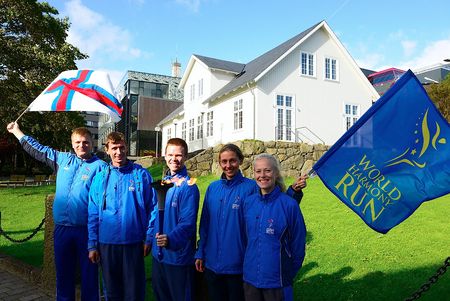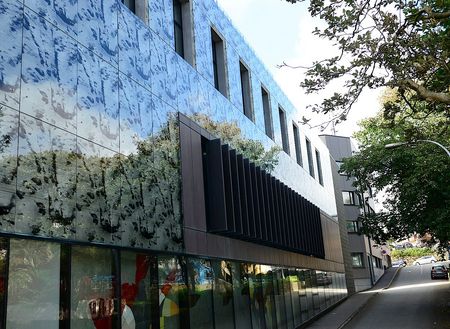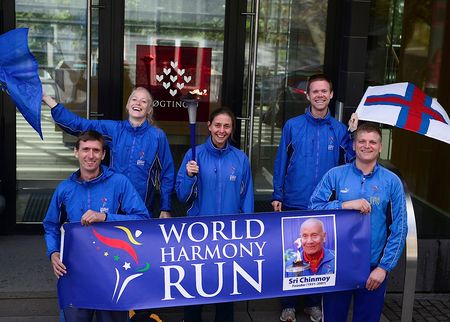 The meeting took place outside Løgting, the Faroese Parliament. We were inspired to take our pictures with this significant building.
Mødet var udenfor Løgting, Færøernes Parlament. Vi var inspirerede til at tage billeder af os ved bygningen.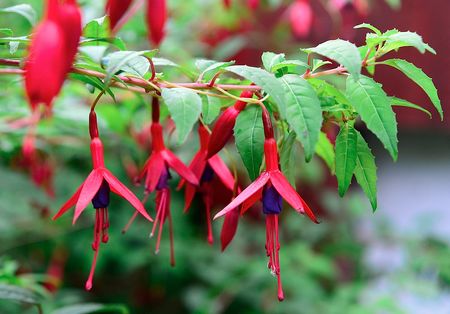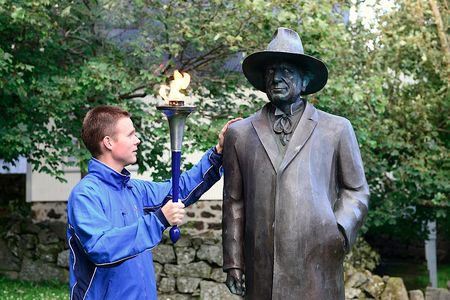 A word or two must be mentioned about our fantastic accommodation in Tórshavn. This is the house that Hans Andrias Djurhuus lived in, who is one of the Faroe Islands' best loved poets and playwrights - if not THE best loved. This is his statue and we are sure that he would have held the Torch if he were alive.
Vi må hellere sige nogle ord om vores "hjem" her i Tórshavn. Her boede Hans Andrias Djuurhus, som er en af Færøernes mest beundrede digter og forfatter - hvis ikke den bedste. Han i haven udenfor og vi er sikre på at han ville holde fakkelen hvis han var i live.
The house "has a fragrance of history" and we are made to feel very much at home in it by the Faroese Amateur Theater Society - Meginfelag Áhugaleikara Føroya.
Huset "dufter af historie" og vi får lov til at føle os meget hjemme her - af foreningen for amatør-skuespillere - Meginfelag Áhugaleikara Føroya.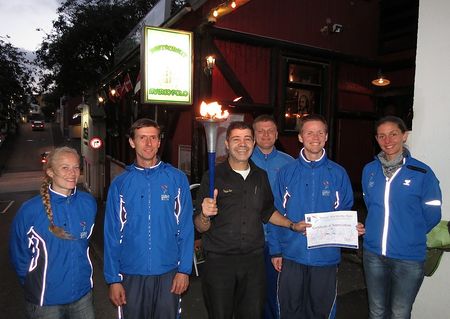 Thanks very much to Nordin Mani at Marco Polo, Tórshavn, for offering a very nice dinner to us.
Mange tak til Nordin Mani, ejeren af Marco Polo restaurant i Tórshavn, for at give os en dejlig aftensmad.
---
Distance: 10 km
Team Members:
Apaguha Vesely (Czech Republic), Suren Torfi Leósson (Iceland), Pranava Rúnar Gígja (Iceland), Laufey Haraldsdóttir (Iceland), Shyamala Stott (Scotland), Mahasatya Janczak (Poland)
Harmonemail:
You can send a message to the runners or read the messages.
Gallery: See more images!