Faroe Islands 8 September: Gjógv - Slættaratindur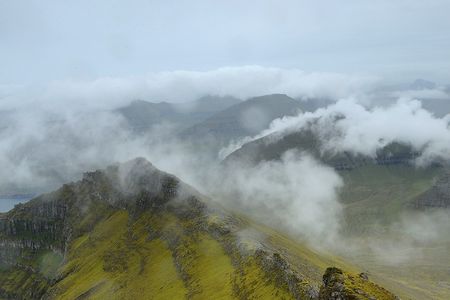 The weekend brought new possibilities and today we had decided to climb the Faroe Islands' highest mountain, Slættaratindur.
I weekenden opstod der nye muligheder og i dag besluttede vi os for at bestige Færøernes højeste bjerg, Slættartindur.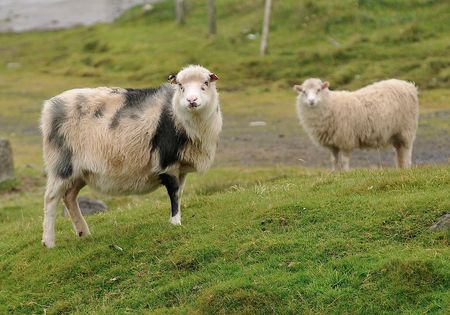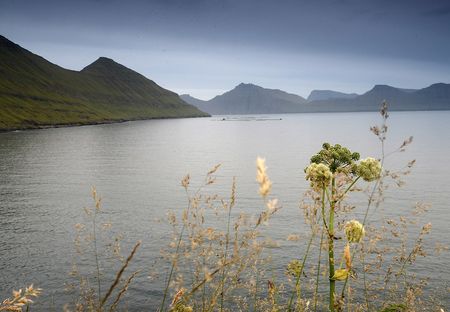 Located on Eysturoy, the road to Slættaratindur lies along the ocean where many a beautiful sight can be seen.
Vejen til Slættartindur, på Eysturøy, ligger langs havet hvor udsigten er meget smuk.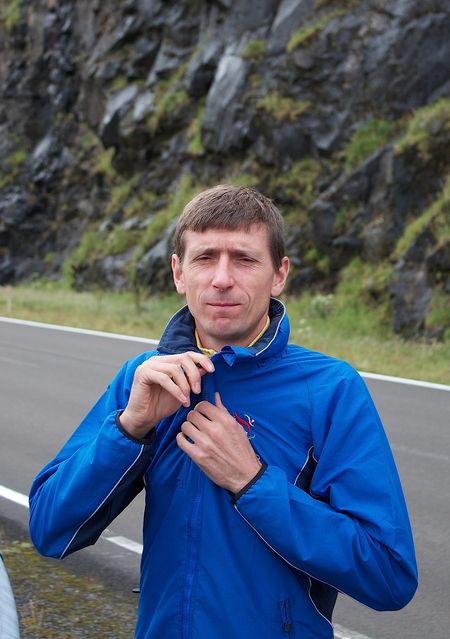 It was a little cloudy and chilly, but we were well prepared.
Der var lidt overskyet og koldt, men vi var forberedte på det.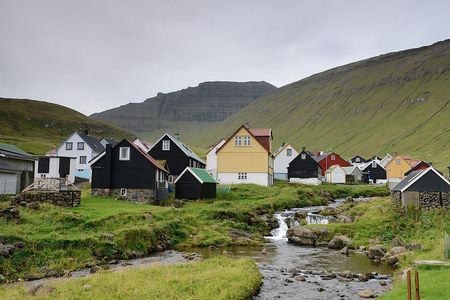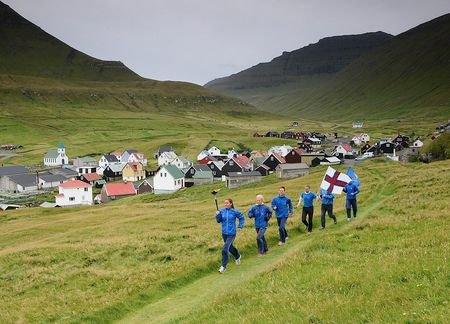 Before the ascent, we stopped at the scenic village of Gjógv, where we met our friend, local organizer and general benefactor Hallur Holm.
Inden vi gik op, stoppede vi i byen Gjógv, en meget flot by, hvor vi mødte vores ven, lokale organisator og velgører, Hallur Holm.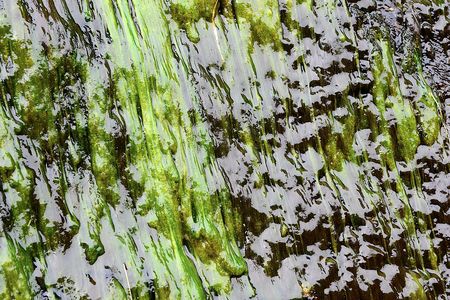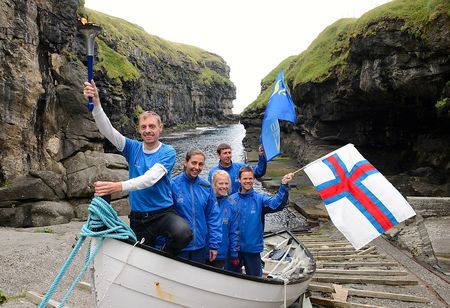 The village actually takes its name from a picturesque canyon from where small fishing boats go out to sea.
Byen har fået sit navn fra en bjergkløfte, hvorfra små fiskerbåde sejler ud.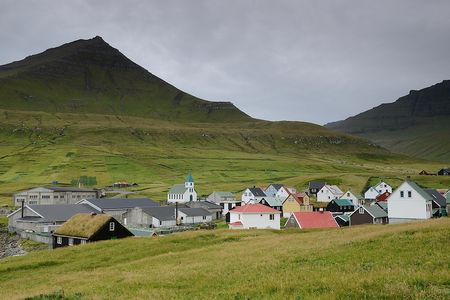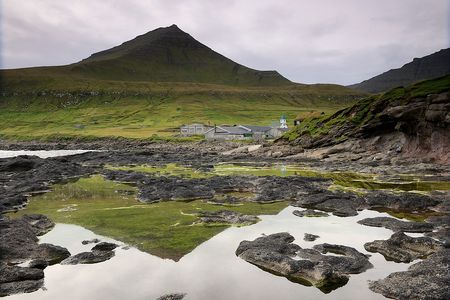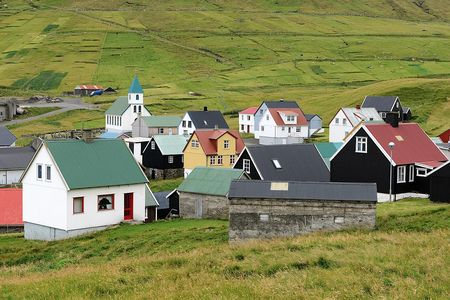 Gjógv is extra charming - even by Faroese standards.
Gjógv er ekstra charmerende - selv i forhold til Færøsk standard.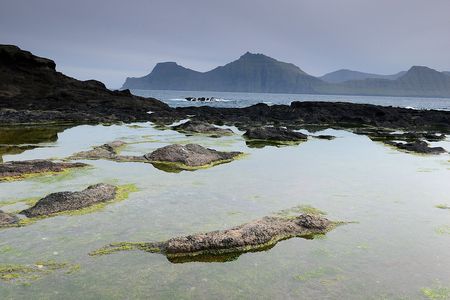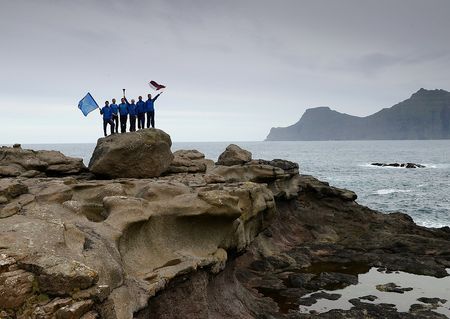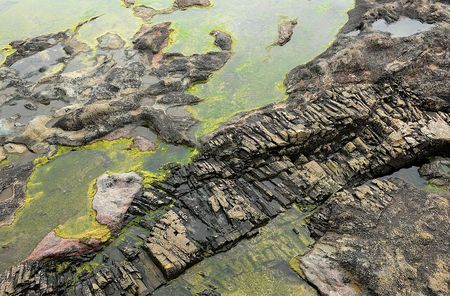 Along the beach of Gjógv, there are many beautiful rock formations that have been shaped by the ocean.
Langs stranden på Gjógv er der mange smukke formationer som er formede af havet.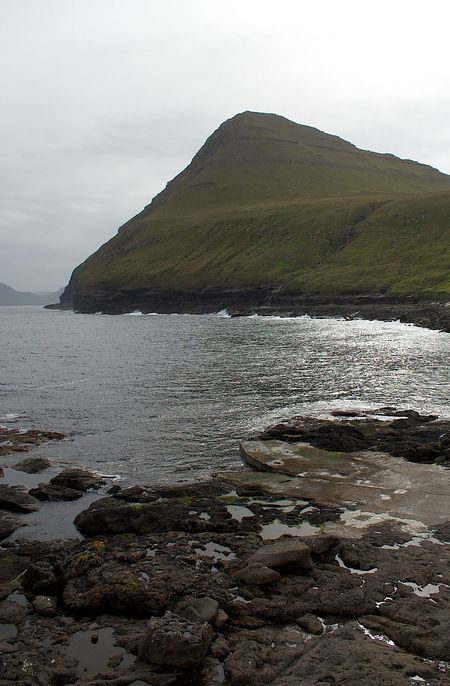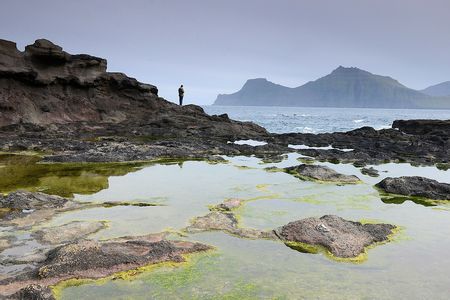 Naturally, we cannot pass over such good photo opportunities.
Vi kan selvfølgelig ikke undgå at tage billeder sådan et sted.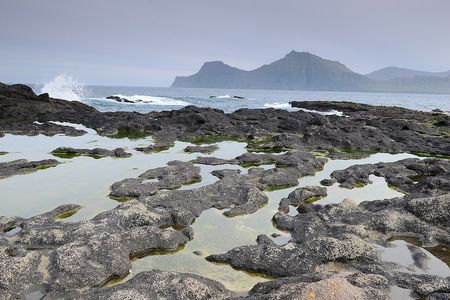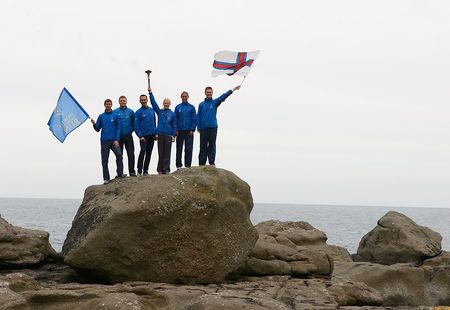 Is this a photo of the World Harmony Run Team, or an album-cover photo for a rock band?
Er dette et billede af World Harmony Run holdet eller et billede på et plade-cover af et rock band?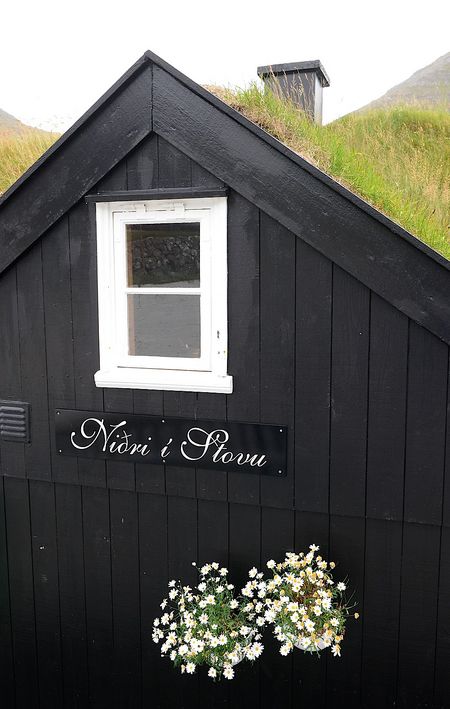 Hallur told us that in the old days there were no street names or street numbers in any village in the Faroe Islands. Instead, each house had a unique name which every one in the village would know. This house, for example, is called Niðri í Stovu, which means "Down in the living room".
Hallur fortalte os at i gamle dage var der ingen gadenaven og nummer i nogen af byerne på Færøerne. Hvert hus havde i stedet et unikt navn som alle i byen kendte. Dette hus hedder for eksempel Niðri í Stovu, som betyder "Nede i stuen"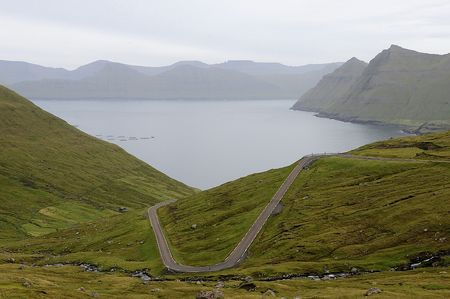 Leaving Gjógv, we made our way to Slættaratindur along roads that snake their way across the hills.
Efter at vi havde været i Gjógv, kørte vi til Slættartindur. Billedet viser hvordan vejene dertil ser ud!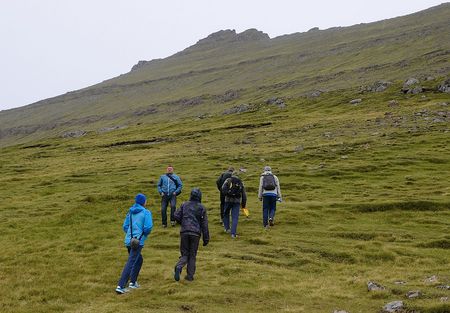 And here we were! Led by Hallur, we felt certain that we would ascend to the top!
Så var vi der! Med hjælp fra Hallur var vi sikre på at vi ville nå op til toppen!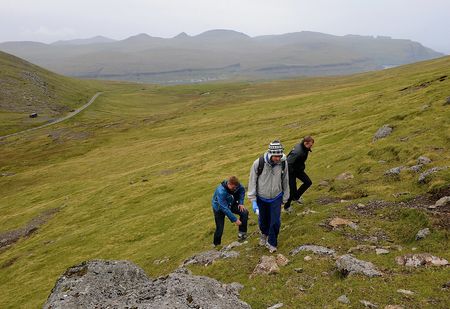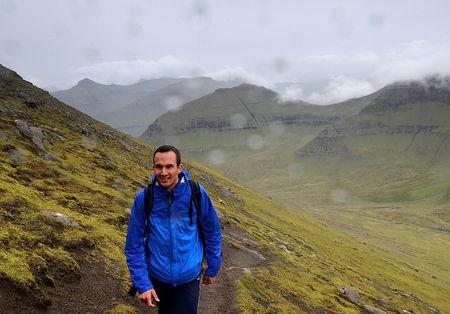 Slættaratindur is actually 882 metres high and a very rewarding climb.
Slættartindur er 882 meter høj og det er det værd at gå derop!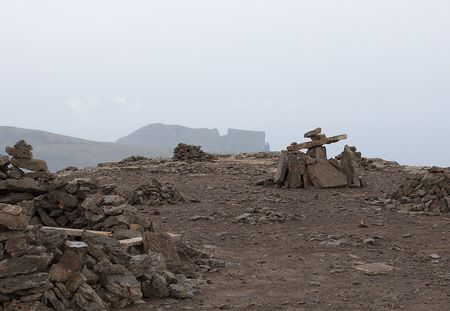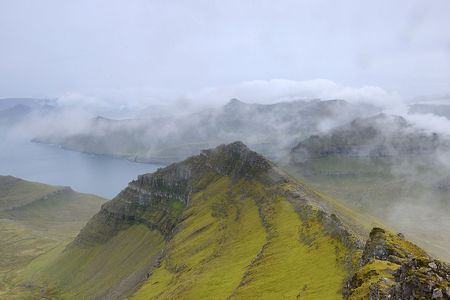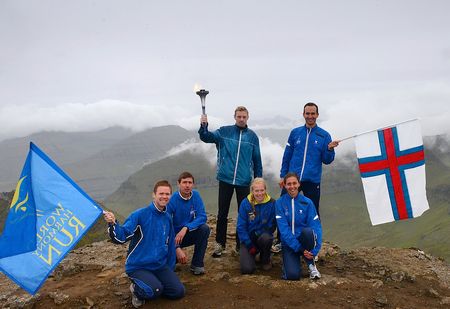 Hallur told us that once he and his son made their way to the top in 35 minutes! We were happy to do it in an hour. And here we were! On the top of the highest mountain of the Faroe Islands!
Hallur fortalte os at han og hans søn en gang var gået op på toppen af Slættartindur på 35 minutter! Vi nåede der op på en timme og var ret tilfredse.Men vi var der! Vi nåede op på toppen af Færøernes højeste bjerg!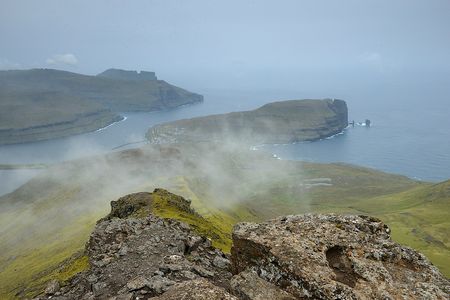 Slættaratindur means "flat top mountain", and it is true that the peak is big and flat, and could easily fit 100 people at the same time. Since it is flat, it offers an incredible view in every direction.
Slættartindur betyder "bjerg med flad top", og det er rigtigt at toppen er stor og flad og der kunne nemt være 100 mennesker deroppe. Siden det er flat kan man nemt gå rundt og nyde den fantastiske udsigt til alle sider.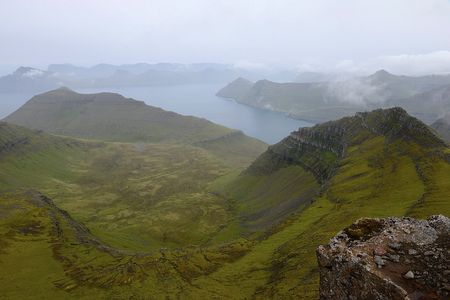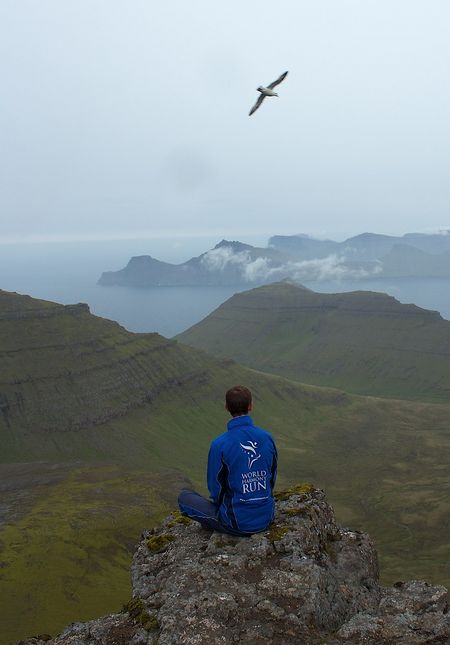 After taking in the beauty that was offered to us at this significant place, we began to think about our descent, since the cloudy weather was transforming into rainy weather.
Efter at vi havde nydt den smukke udsigt fra dette fantastiske sted begyndte vi at bevæge os nedad, siden vi kunne mærke at det var regnvejr på vej.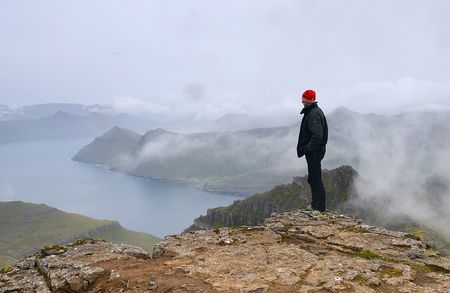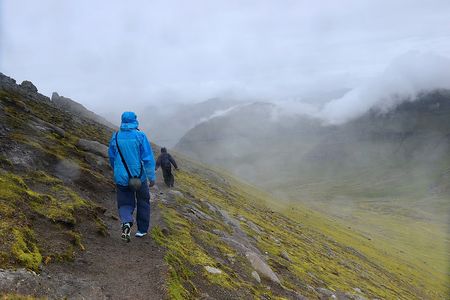 The descent is always harder than the ascent, for various reasons. Happily shielded from the rain in our cars, we followed Hallur who led us to some beautiful sights in the vicinity of the mountain.
Turen nedad er altid lidt sværere end turen opad af forskellige grunde. Da vi var kommet godt ned og var godt beskyttede i bilerne, viste Hallur os nogle meget smukke steder tæt på bjerget.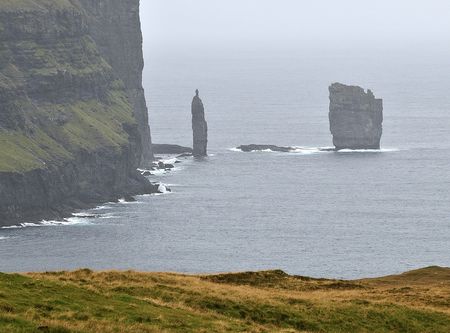 These rock formations are called Risin (the bigger one on the right meaning "Giant") and Kellingin (the tall thin one on the left meaning "Giant lady"). As folk lore would have it, they are trolls who intended to drag the Faroe Islands to Iceland. But the sun came out and turned them to stone.

Disse formationer hedder Risin (som betyder en kæmpe, til højre på billedet) og Konen (som betyder kvindelig kæmpe, til venstre på billedet). Ifølge folkeeventyrene var de trolde som ville flytte Færøerne til Island, men solen kom frem og de omdannedes til sten.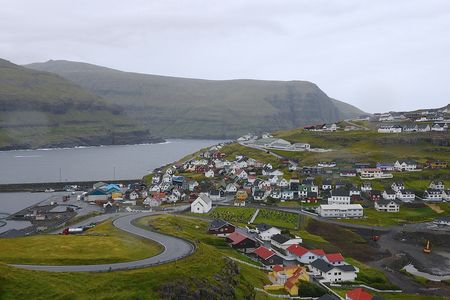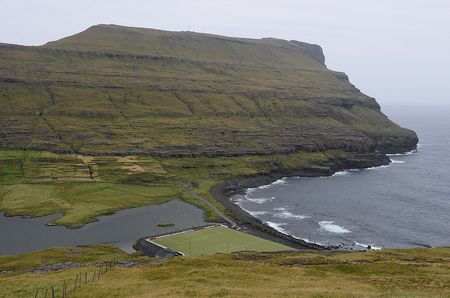 The village of Eiði is close to Slættaratindur. Football is so popular in the Faroe Islands that even here in this remote small village, they have a full-size football field.
Byen Eiði er tæt på Slættartindur. Fodbold er så populær på Færøerne at selv her kan man finde en fodboldbane i fuld størrelse.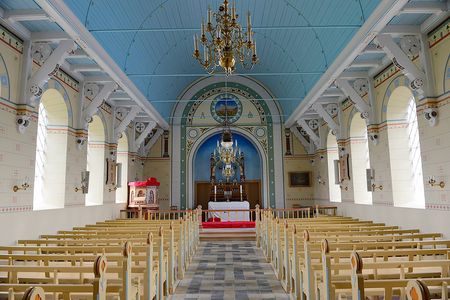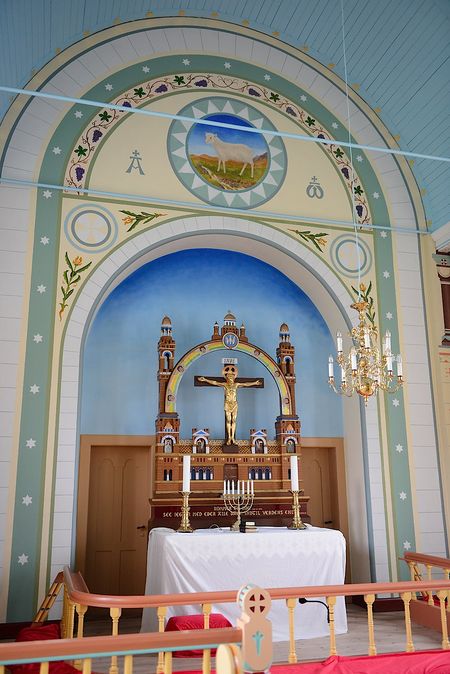 It also seems that every village in the Faroe Islands has a beautiful church.
Det virker også som om at alle byer på Færøerne har en smuk kirke.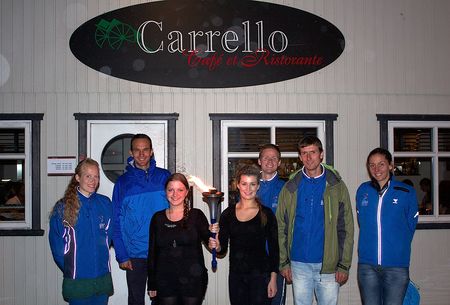 Many thanks for restaurant Carrello, which offered us a very nice discount on their dinner.
Mange tak til restauranten Carello, som gav en god rabat på aftensmaden.
---
Distance: 7 km
Team Members:
Apaguha Vesely (Czech Republic), Suren Torfi Leósson (Iceland), Pranava Rúnar Gígja (Iceland), Laufey Haraldsdóttir (Iceland), Shyamala Stott (Scotland), Mahasatya Janczak (Poland)
Harmonemail:
You can send a message to the runners or read the messages.
Gallery: See more images!