Ireland 25 February: European Opening Ceremony 2010...
Today we launched our European leg of the World Harmony Run! Here's a moment by moment account of how the day unfolded...
The Run was launched in a gala ceremony at Dublin's City Hall.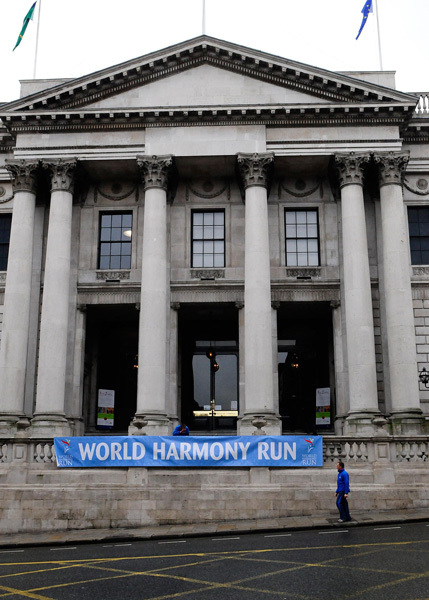 Dublin's Lord Mayor, Cllr Emer Costello was on hand to open the proceedings. Before the ceremony, we began with a photoshoot on the steps of City Hall before going inside.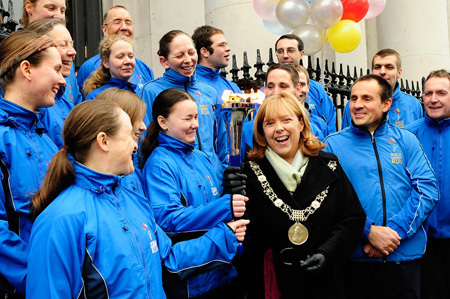 People begin to take their seats for the ceremony...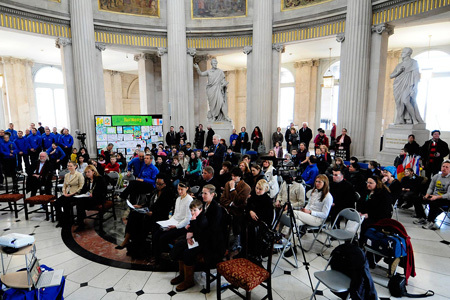 The hall was beautifully decorated with art from our  'Harmony begins with me!' schools competition, as well as a display of paintings on the theme of World Harmony by the founder of the Run, Sri Chinmoy.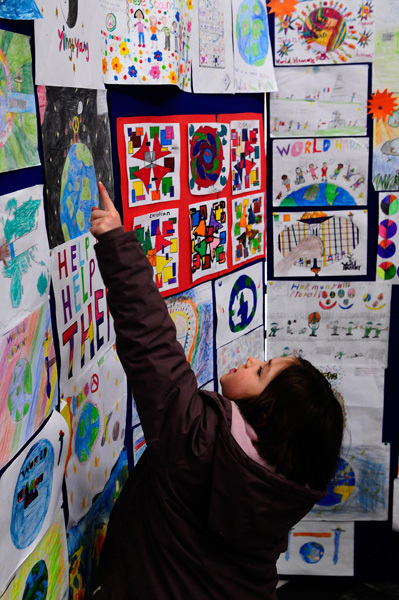 The ceremony began, compered by our ever-eloquent MC Devashishu Torpy.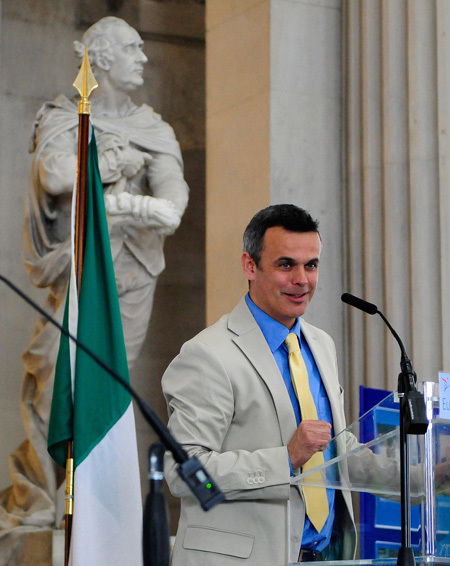 The Lord Mayor then came up to say a few words. This year, Dublin is the European Capital of Sport 2010 and Dublin City Council are working extremely hard to assist in making Dublin a real sporting showcase during the year - including providing invaluable assistance in planning this opening ceremony. We would especially like to thank the Director of Sport, Karl Mitchell and his colleague, Sinead, for  all their help. For more information on Dublin - European Capital of Sport, visit dublinsport.ie
The ceremony also featured readings from poet John F. Deane, the founder of the journal Poetry Ireland and  the winner of numerous awards including the O'Shaughnessy Award for Irish Poetry, the Marten Toonder Award for Literature and poetry prizes from Italy and Romania. He read two poems, 'Semibreve' and 'Canticle' which captured perfectly those moments of stillness and sense when everything seems in its proper place.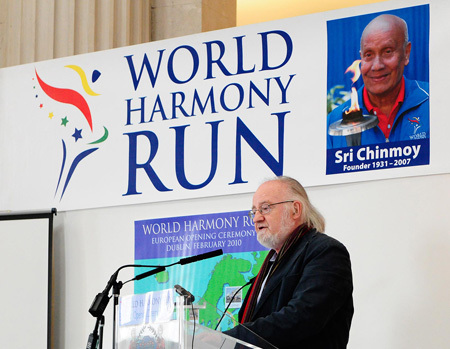 Canticle
Sometimes when you walk down to the red gate
hearing the scrape-music of your shoes across gravel
a yellow moon will lift over the hill
you swing the gate shut and lean on the topmost bar
as if something has been accomplished in the world
a night wind mistles through the poplar leaves
and all the noise of the universe stills
to an oboe hum, the given note of a perfect
music; there is a vast sky wholly dedicated
to the stars and you know, with certainty,
that all the dead are out, up there, in one
holiday flotilla, and that they celebrate
the fact of a red gate and a yellow moon
that tunes their instruments with you to the symphony.
Read more of John F. Deane's poetry here...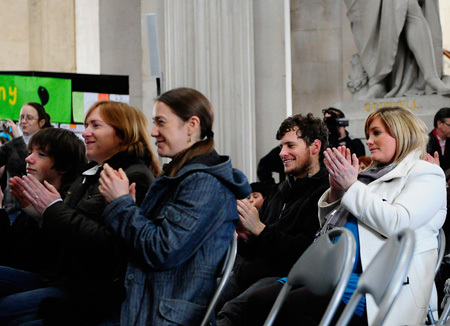 Ireland's own running legend Catherina McKiernan was there to receive a Torch Bearer Award from the World Harmony Run for her inspirational service to the running community.
She gave a moving speech that came from her own experience of how running itself can bring about an inner state of well being and contentment. She reflected on on how she goes running on the Phoenix Park every day, and how she never encounters groups of runners who are angry or frustrated as a result of running, but happy smiling runners you can see all the time!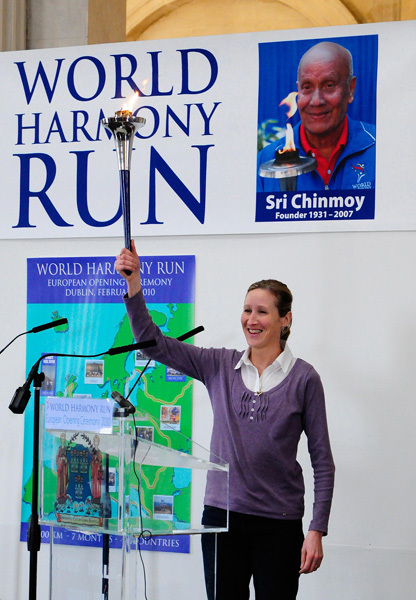 Catherina then presented the prizes to the  winners of our Art competition, where schoolchildren across Dublin were asked to create drawings on the theme of 'Harmony begins with me!' - the motto of the World Harmony Run. We would like to thank Tim O'Sullivan of O'Sullivan Graphics for enthusiastically donating the prizes.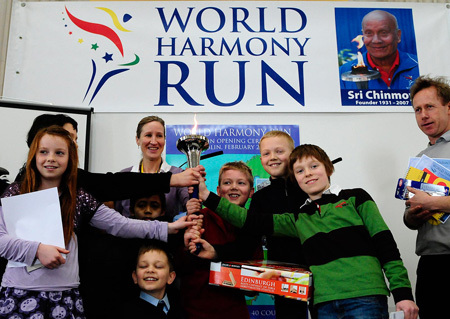 We were treated to some beautiful flute music from flautist Martin Doyle, accompanied by Gwen from France.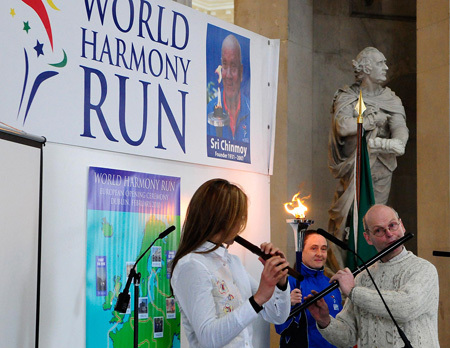 Children from Educate Together N.S in Glasnevin came up and read some very touching poetry on world harmony, as well as giving some beautiful singing performances.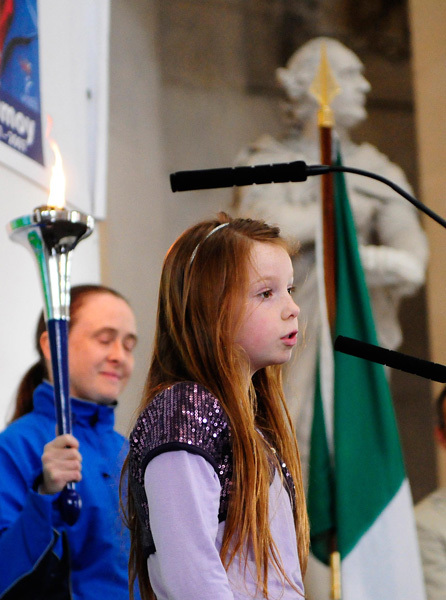 Then the Kenyan Ambassador to Ireland came up to read a message of support for the runners from former world marathon record holder Tegla Loroupe, who unfortunately had to cancel her journey to Ireland at the last minute. All the team members miss her radiant smile and enthusiasm that she brings every time she meets with the Run, and we wish her the very best!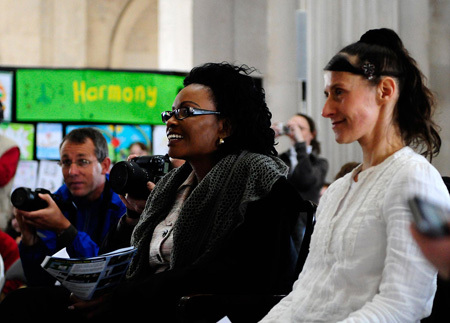 Then the Ambassador held the torch with representatives from the embassies of Finland, Belgium and the Czech Republic.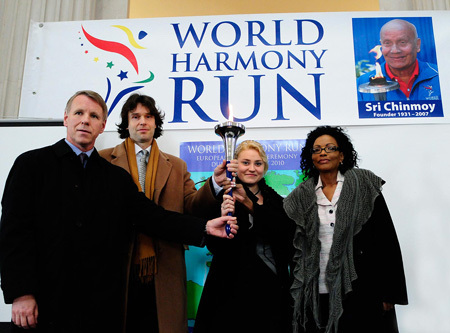 The final item was a multi-part choral arrangement of the World Harmony Run theme song composed by Sri Chinmoy. In a fitting end to the ceremony, the arrangement was performed by the international team themselves, conducted by Suswara Payne.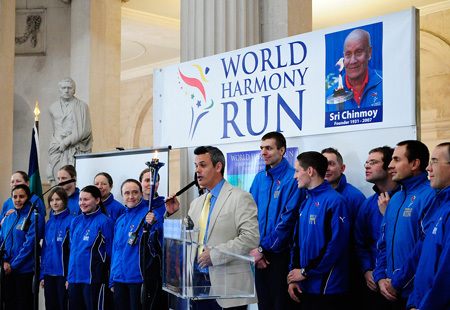 Devashishu did have the prescence of mind to warn the audience that the team were 'runners, not singers' but I think everyone really appreciated the end result!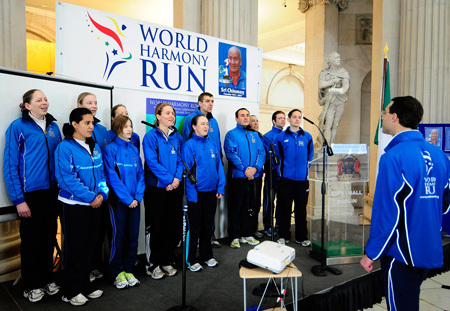 Then outside we went to begin the Run! First of all. As well as Educate Together N.S. in Glasnevin, children from Harold's Cross N.S were also here and we first of all took some group photos with Catherina, the guests and lots of balloons...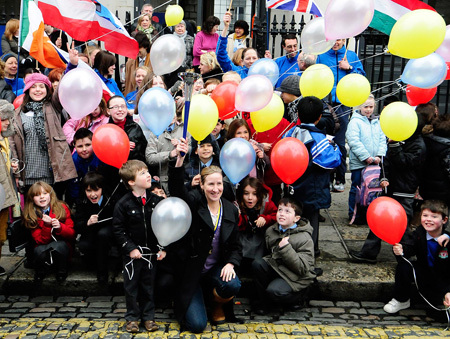 Then we let them get an experience running with the Torch....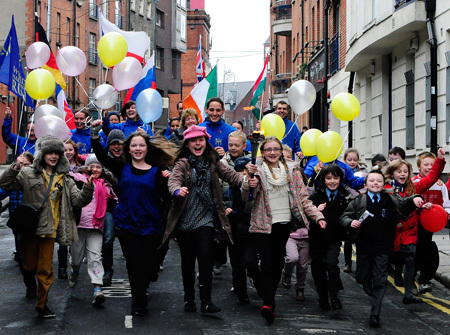 Then it was time to begin the Run in earnest!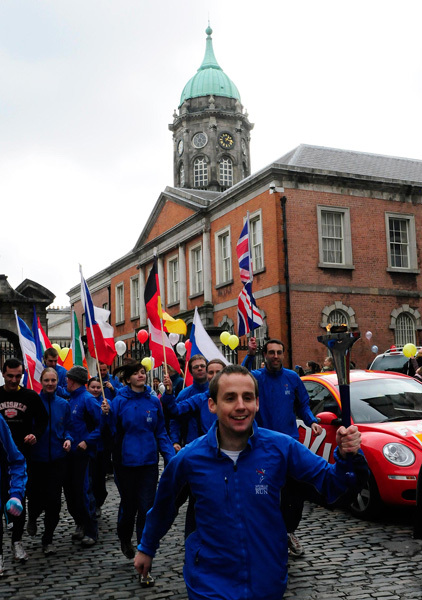 Accompanied by a garda escort, we began a run around Dublin's city centre.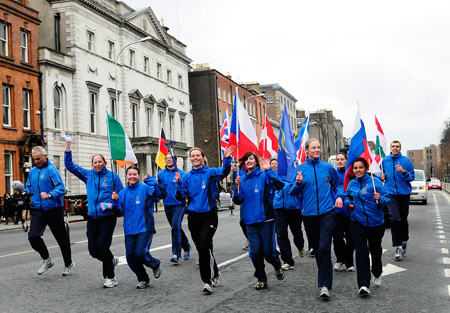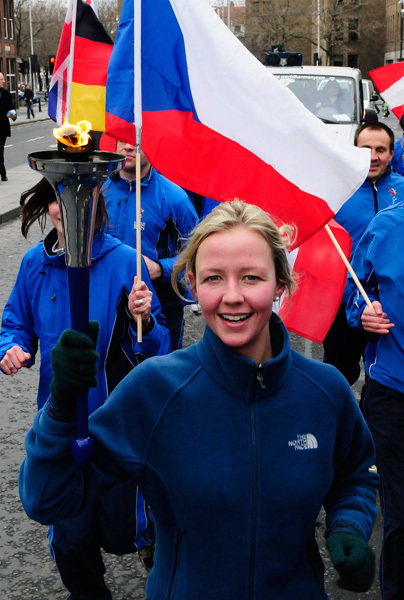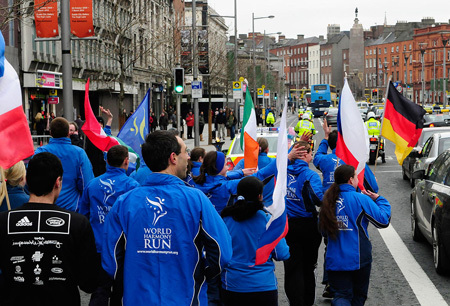 The runners stop to enjoy sandwiches made by Anne from the Irish Harmony Run organising team. Thanks Anne!We would also like to thank Superquinn and Blazing Salads for providing food for the runners.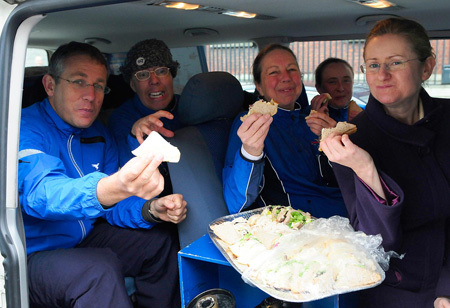 From Dublin we ran our first leg of the journey to Navan - we would like to thank Dimitri who joined with us and came with the team all the way!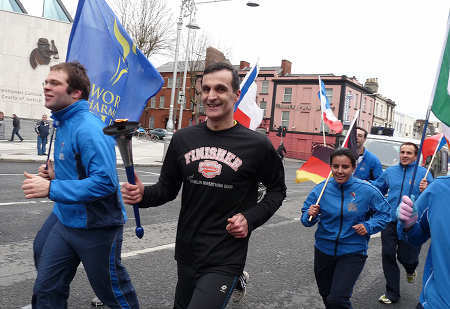 We'd like to thank FM 104, for coming out to give their support and accompanying us on the road - their red Beetles really went well with our blue tracksuits!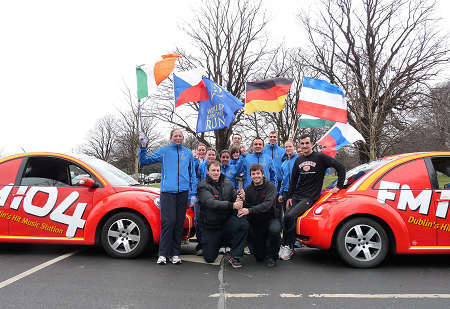 We'd also like to thank Jury's Inn Hotel for putting some of our international team up for the night.
The team were also very well looked after on the food front, thanks to Cornucopia restauraunt, and were supplied with energy gels from Health Matters in Ashleaf Shopping Centre. Thanks guys!
Here's to a small first step in a journey that will take us to 49 European countries in  7 months. Here we go!
If you're interested in seeing what's happening in the coming days, you can check out these links...
---
Distance: 55km
Team Members:
Sadanand Magee (Ireland), Dipavajan Renner (Austria), Salil Wilson (Australia), Apaguha Vesely (Czech Republic), Enyi Juarez (Guatemala), Balavan Thomas (UK), Ambarish Keenan (Ireland), Mangala Keenan (Ireland), Zoltan Theobald (Hungary), Roos de Waart (Netherlands), Maria Manecke (Germany), Karnayati Morrison (Canada), Kastura Panenkova (Russia), Tanya Kuznetsova (Russia), Carolina Hausenblasova (Czech Republic), Kokila Chamberlain (Wales), Sharada Crowe (UK), Aivaras Zydelis (Lithuania), Matthias Eckerle (Germany), Ed Silverton (UK), Suswara Payne (UK), Sanjaya Spettigue (UK), Katka Purusova (Czech Republic), Hanka Uchytilova (Czech Republic), Adelino Carvalho (France)
Harmonemail:
You can send a message to the runners or read the messages.