Ireland 16 March: Dublin - Drogheda
After a hectic day of visiting schools and mayors in Dublin yesterday, it was time to hit the road and head northwards. But first we had one more Dublin school to visit - Harold's Cross National School.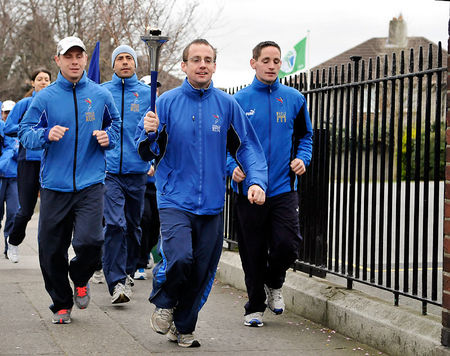 Past the beautiful cherry tree at the beginning of the school...
The children take turns to guess what countries the runners are from (it must be said, Irish kids are particularly good at this game!!!)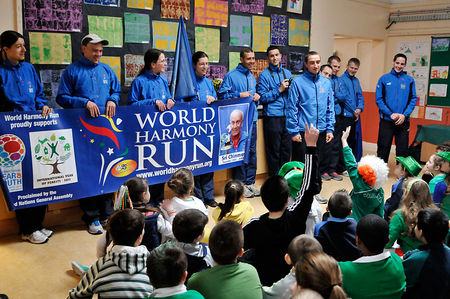 It's St Patrick's Day tomorrow, so the children all have their leprechaun hats and wigs on...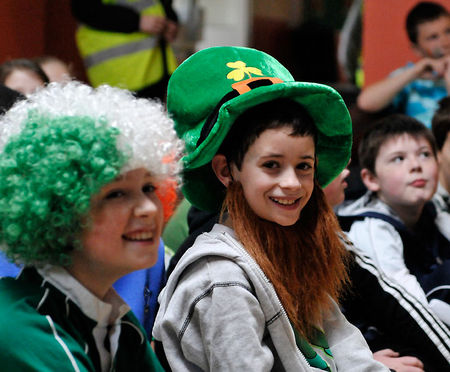 A chance to hold the Torch and make a whish for a more harmonious world.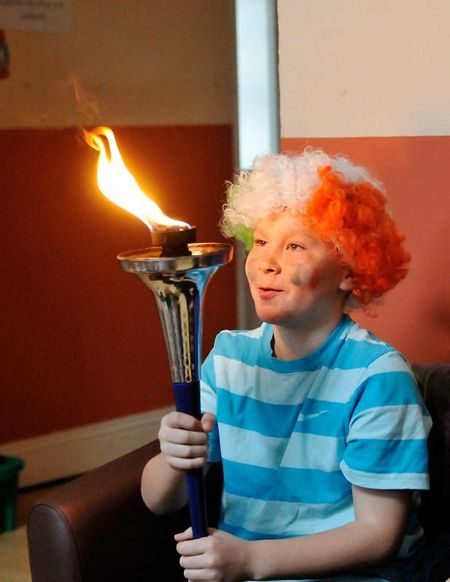 And then the moment we've been waiting for...a chance to run with the Torch!!!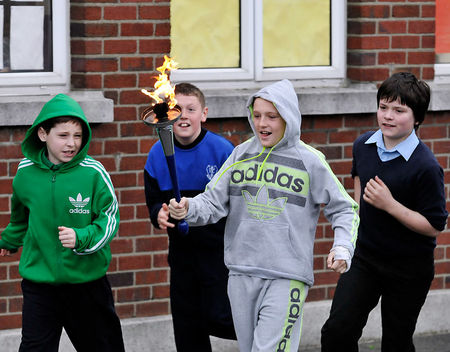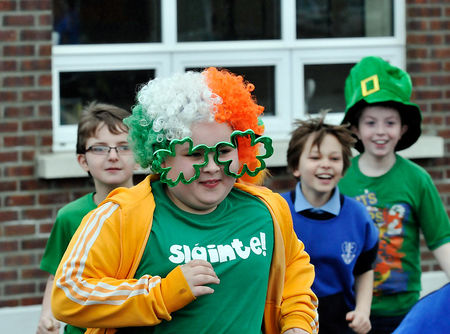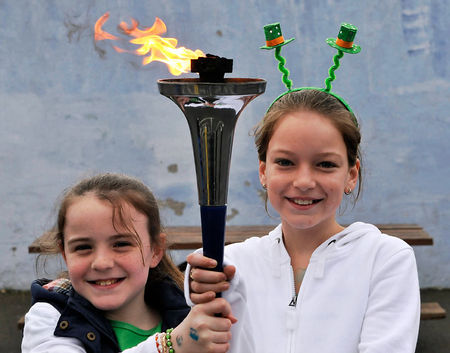 A group photo - we visited the school in 2010 and they were delighted to welcome us back again.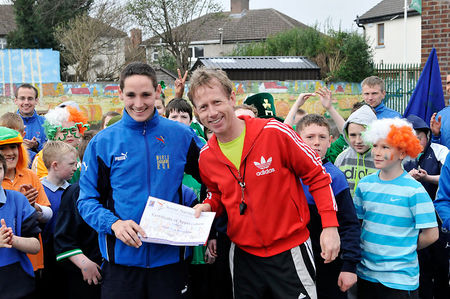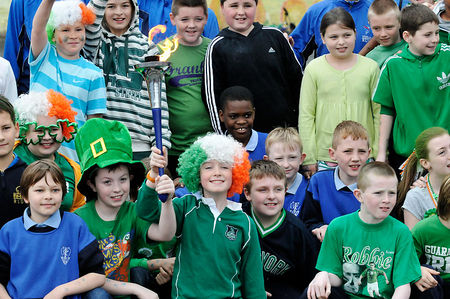 One..two...three....harmoneeeeeeeeee!!!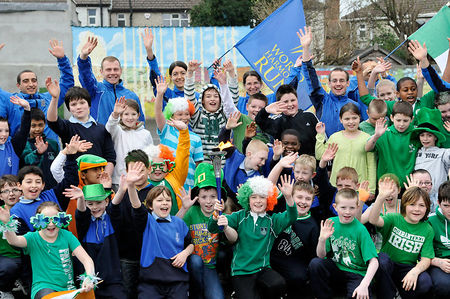 Then it was time to do some running! A little moment of silence before we depart from the edge of town...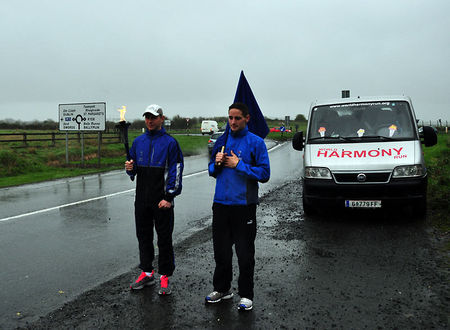 And then we're off!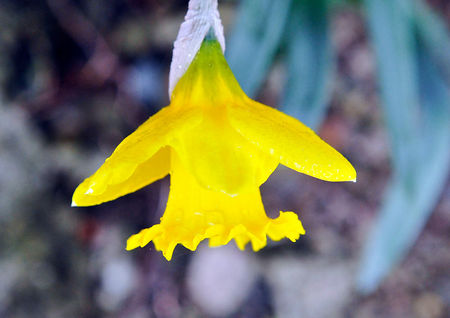 The children in Harold's Cross National school were asking us if we run if it is raining - the answer is definitely...yes!!!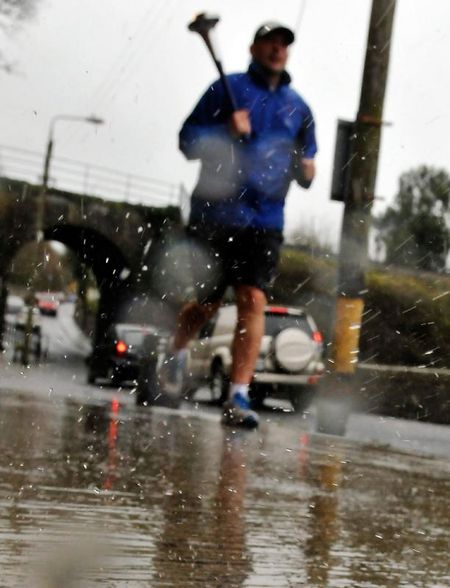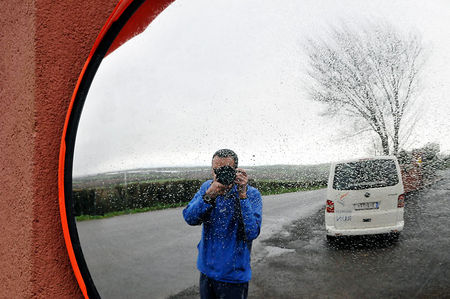 Not only do we run...but we also keep smiling! (Of course, it's easy to say that from inside the van...)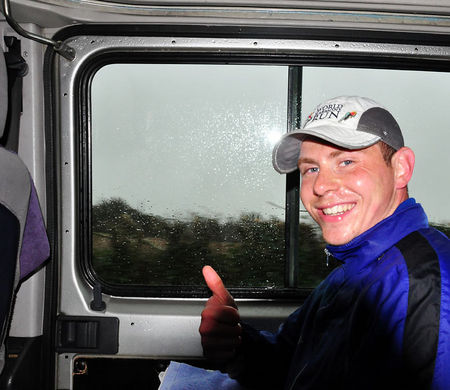 Our next school - Scoil Naisiúnta na hAille in Naul, North Dublin.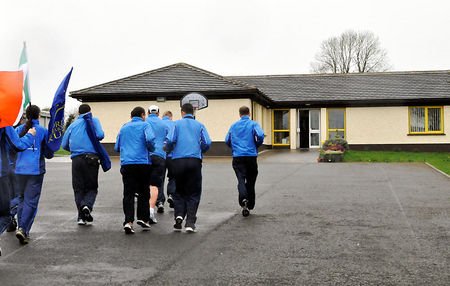 We took the Torch around three different groups of children, with happy faces and smiles in each group.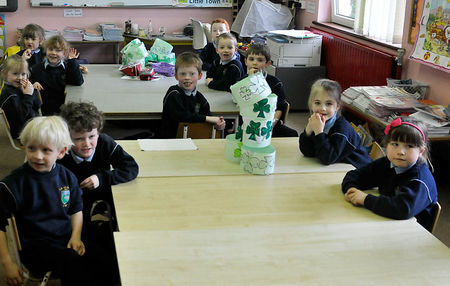 A few words by way of introduction...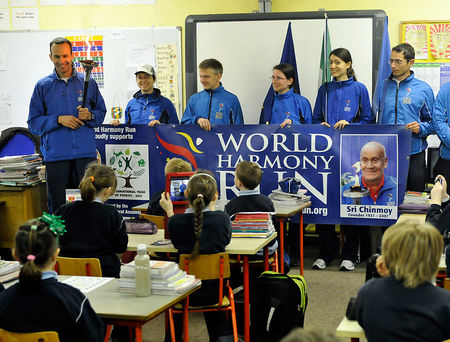 A practical example of harmony and friendship...when one gets tired, another takes over!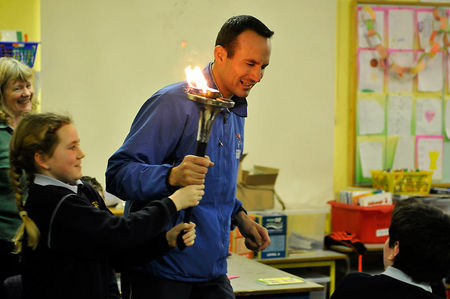 Everyone likes juggling. Double thumbs up.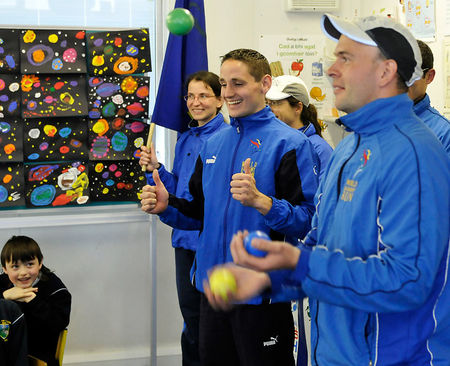 A chance to feel harmony inside our hearts...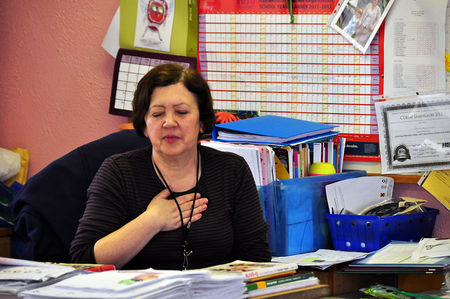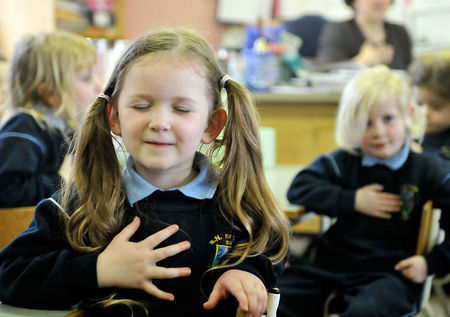 ...and to hold the torch and make a wish.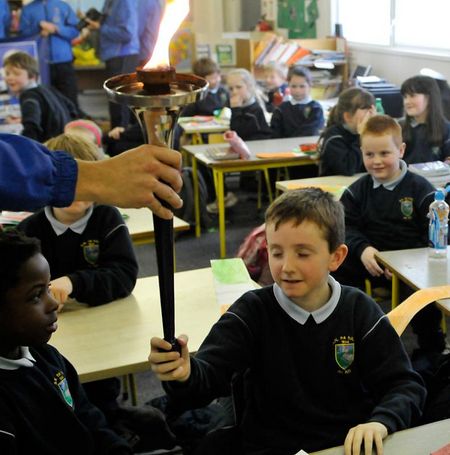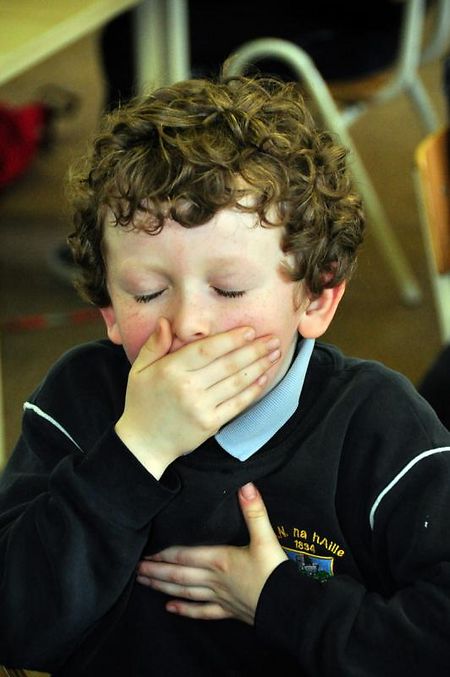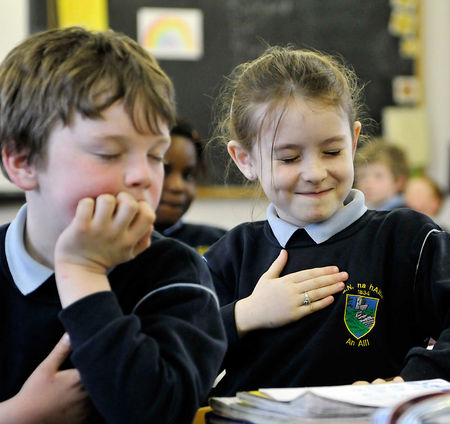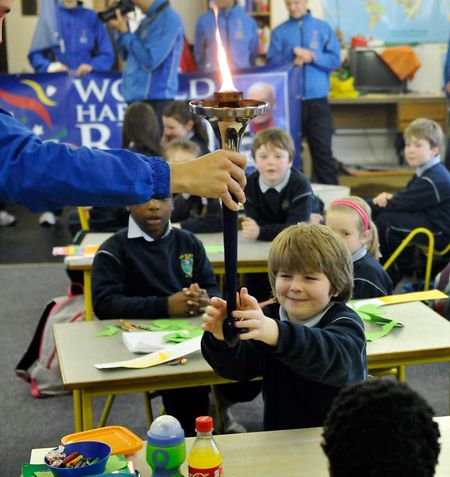 Finally, a small token of our gratitude to Scoil Naisiúnta na hAille for being such fantastic hosts!!!!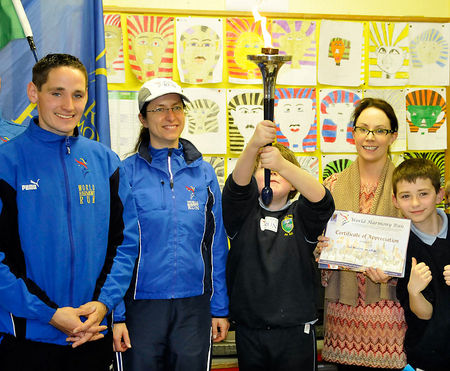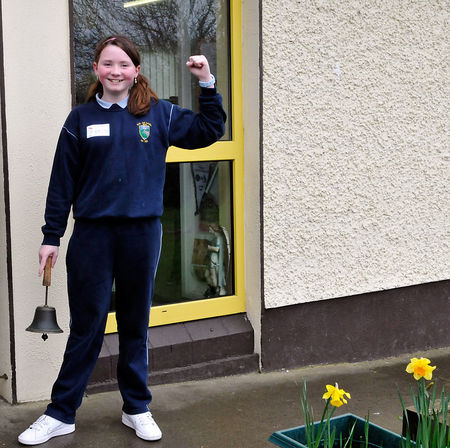 And on we go...this time towards the town of Drogheda.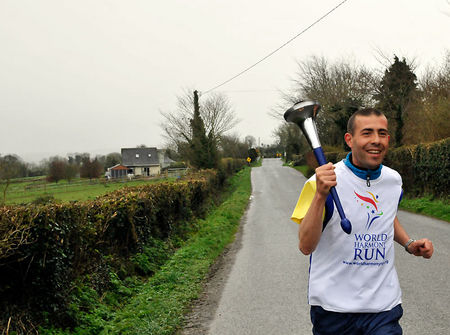 The town is all a-bustle as we enter...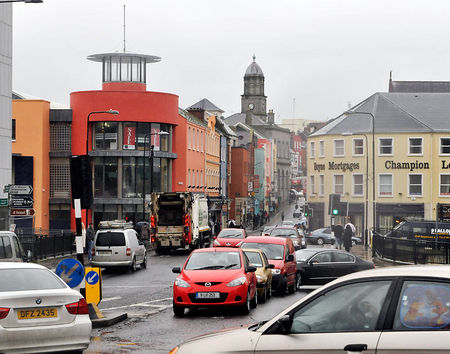 A group photo with the d hotel, who are very kindly sponsoring our accommodation this evening. Ireland is definitely the 'land of the thousand welcomes'!!!!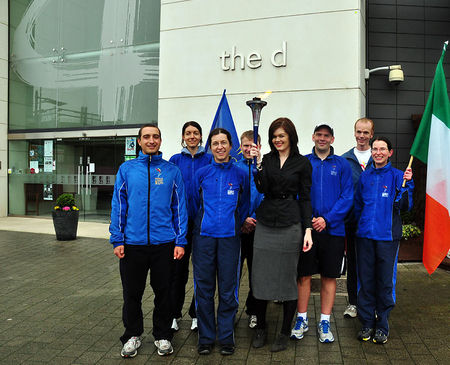 We are going to try and make up as much ground towards Belfast today before returning to Drogheda...but where do we go???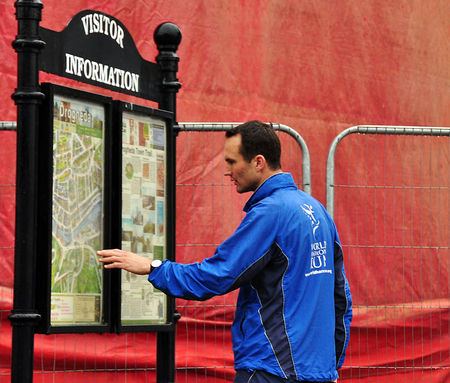 ...but our German runner Sumahat has much more important things on his mind!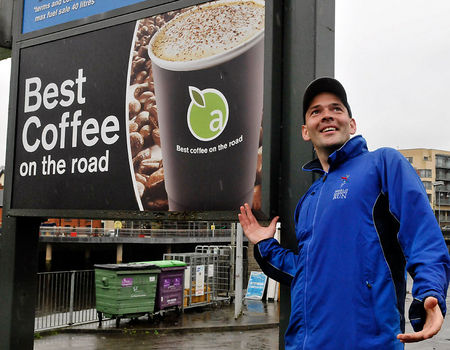 Vladimir's father was an accomplished boxer and is still a very respected coach in Russia - here Vladimir is showing he's definitely learnt a thing or two...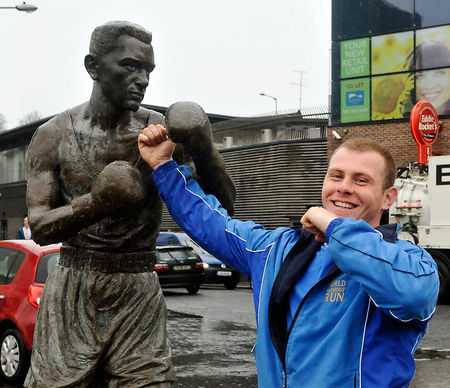 And the run continues, rain or shine...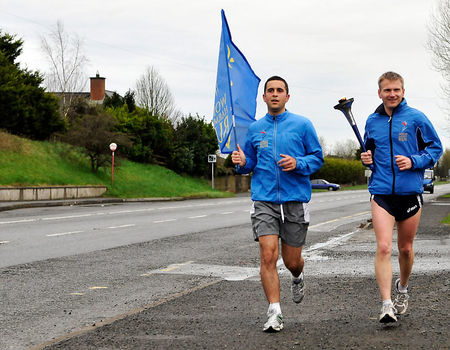 Some nice meetings with passers by on the road, which brings a little joy to everyone...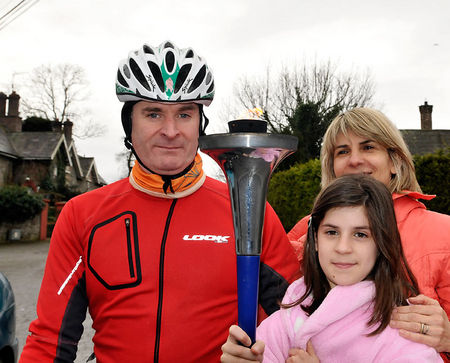 Now it's the girls' turn to start their running...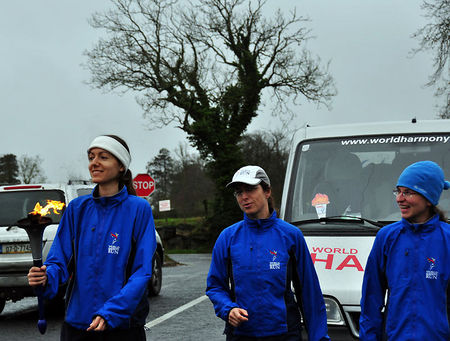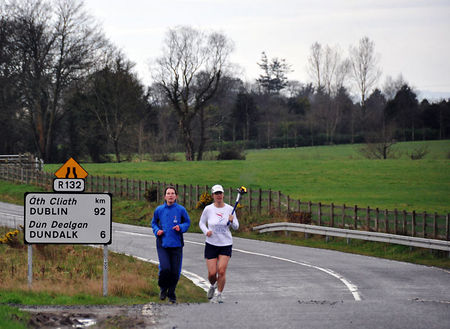 Laszlo from Hungary braves the elements.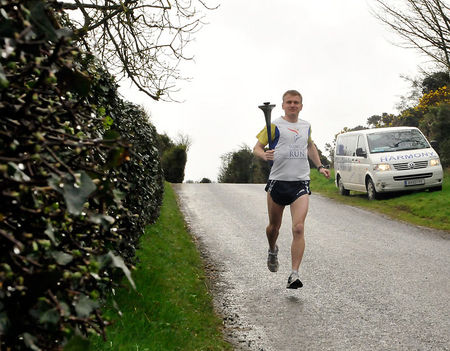 Unfortunately, they can't hold the torch, much as they'd like to.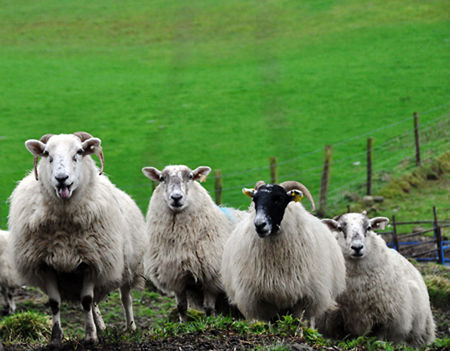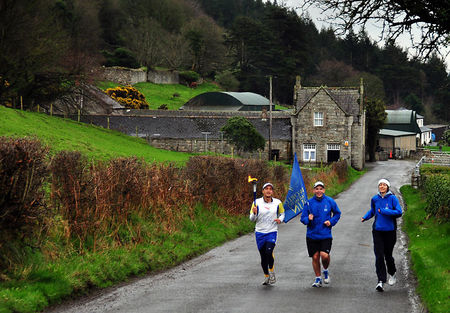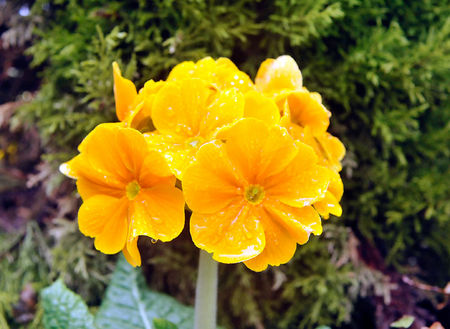 We ran just short of Newry before darkness intervened to stop us from running any further - we then made our way back to the d hotel in Drogheda to spend the night.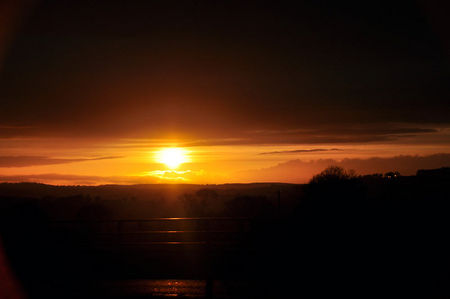 Our thanks to the team at the Bengal Spice Indian restauraunt for their contribution towards our food..it was very very tasty!!!!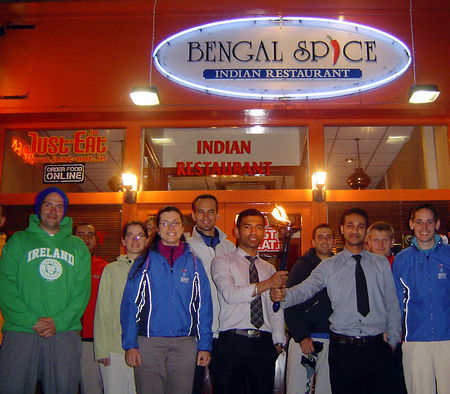 And back we go to the d hotel for a luxurious nights sleep, as we are participating in the St Patrick's Parade in Drogheda. Let's see what tomorrow will bring...
---
Video Message from Davidson Hepburn, President (2009 - 2011) of the General Conference of the United Nations Educational, Scientific and Cultural Organization (UNESCO) for 25th Anniversary of the World Harmony Run and a vision for the decade: "Toward a Oneness-World".
Full Text of the 25th annversary message and link to 25 language informal Translations: http://www.worldharmonyrun.org/25
or Click on language button for separate youtube videos wth sub titles in varous languages
See also: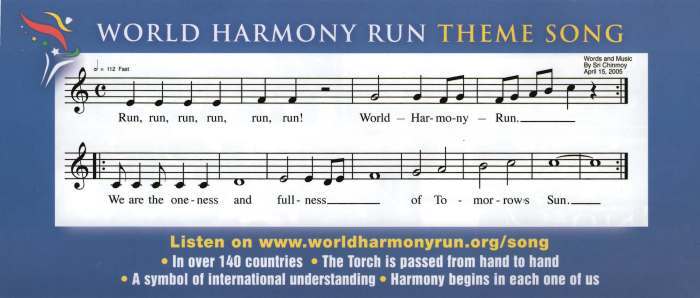 ---
Team Members:
Apaguha Vesely (Czech Republic), Sandro Zincarini (Italy), Andre Carvalho Ribeiro (Portugal), Sumahat Strohn (Germany), Mladen Vujaklija (Croatia), Petar Mihaylov (Bulgaria), Rui Paulino (Portugal), Vladimir Ilyasov (Russian Federation), Laszlo Szente (Hungary), Barbara Tabackova (Slovakia), Abhejali Bernardova (Czech Republic), Charumati Pernicka (Czech Republic), Sadanand Magee (Ireland), Nirbhasa Magee (Ireland), Gary D. Foran (Ireland)
Harmonemail:
You can send a message to the runners or read the messages.
Gallery: See more images!