Latvia 15 June: Utena (Lithuania) - Livani (Latvia)
We awoke to a glorious summer's day, and started from Utena town square where the mayor wished us a safe journey and a fair wind.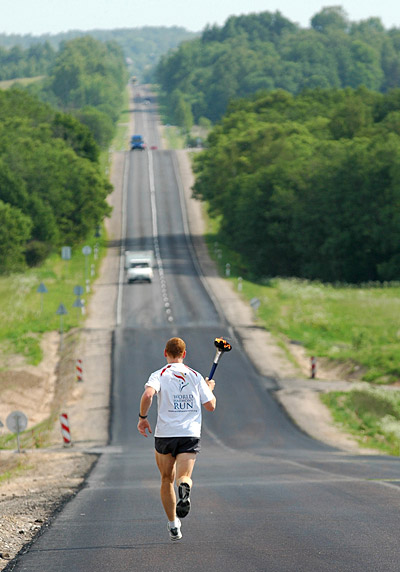 A local elderly man ran with the Team to the border. We ran through undulating countryside passing wonderful meadows, forests and lakes.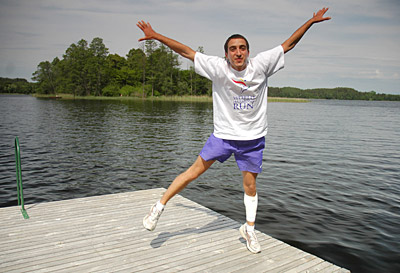 At our final ceremony in Lithuania, 48 km from Utena, we ran into Zarasai to be met by the mayor. There we had a quick lunch and Romas generously presented us each with a medal and a framed certificate, as a memento of our run in Lithuania.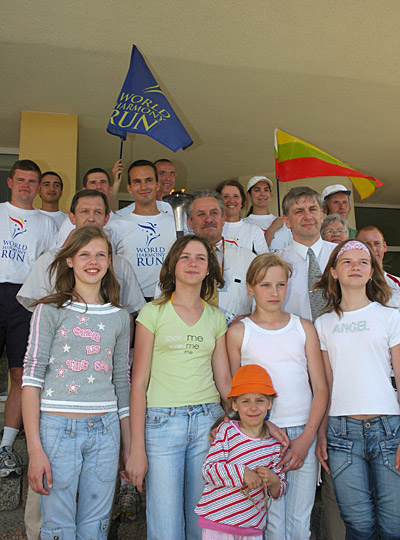 We headed towards the Lithuanian - Latvian border, where as now we were passing between member countries of the European Union, the border crossing was quick.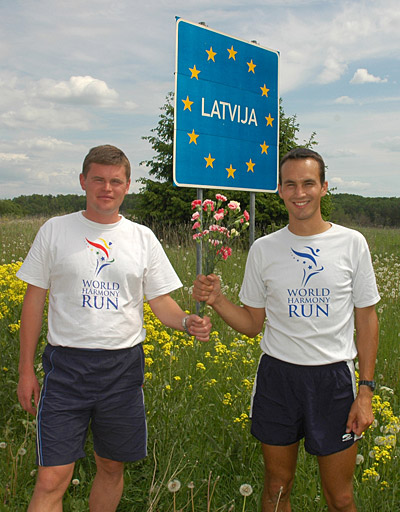 At the border we met Anastasia, our Latvian country co-ordinator. Waiting there was also a large group of children and teenagers from Daugavpils running club, eager to run with us, complete with their own mini buses. They even brought their own torch.
After a fortnight on the International Team we had to unfortunately say our fond farewells to Pawel who travels back to the Czech Republic.
Four kilometres from the border we arrived with all the children at the small town of Medumi. There the mayor was so sincere and she gave a heartfelt speech. One of the most memorable parts of her speech was when she commented that, although we speak different languages, we speak the same language of love and friendship. We were offered the traditional welcoming bread, but this was no ordinary sweet bread - it was covered in chocolate, nuts and coconut, and filled with raisins. We were also presented with a huge basketful of fruit and beautiful flowers.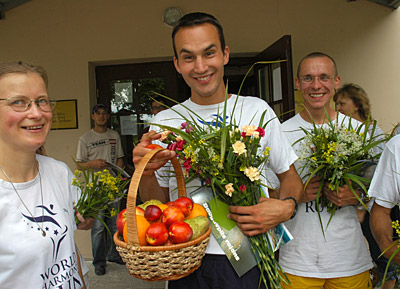 From Medumi, Mark ran 5 km with some teenagers from a local running club, and chatted with them about the World Cup. Football is definitely an international language. Their small mini bus was packed with young children waiting for us. The only room available for Mark was in the boot of the mini bus along with other small children.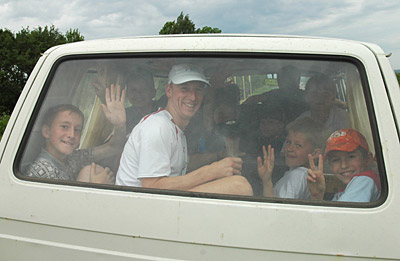 All the children continually turned around and smiled at Mark. They were so fascinating and open, and in the ten minutes it took to catch up with the World Harmony Run van, Mark and the young boys were the best of friends chatting about football.
On the road, the mayor so kindly brought us sandwiches, which we shared with the children. The children ran with so much energy and enthusiasm, which made us all happy.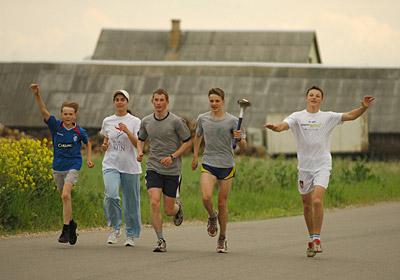 At the Daugavpils border we said goodbye to our new friends the young children, as they returned to Daugavpils.
At Preilli Region's border we met runners and children from Livani and Preilli running clubs.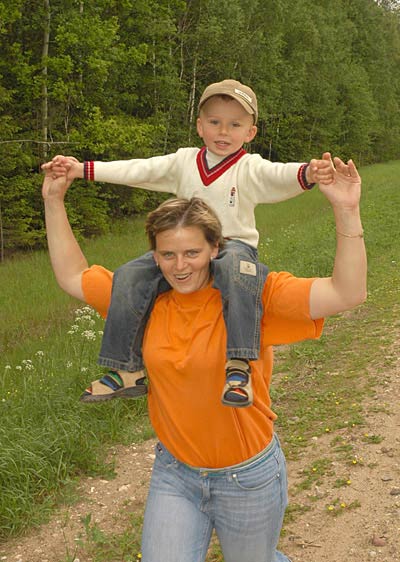 We ran with them for 7 km, and then stopped to catch up with the other team to continue the relay. The club runners were disappointed they couldn't run the whole 20 km to Livani.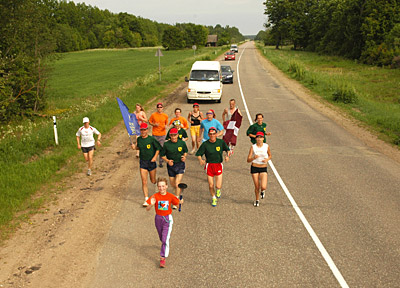 In Livani we were made to feel so at home, and the generosity and kindness was overflowing. We were all presented with a glass vase made in this region, and Anastasia was presented with a huge crystal glass bowl. The town also gave out special gifts to those local runners that ran with us, and gave each participant a special certificate of appreciation.
A girl flutist and saxophone player entertained us and some modern dancing by girls dressed in very bright outfits - they were brighter than the sunshine.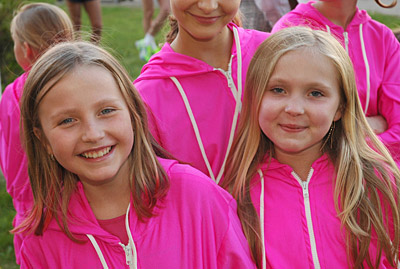 After the ceremony we visited Livani Crafts Centre and there were some interesting old shoes on show - we thought they might be the new fashion of running shoes.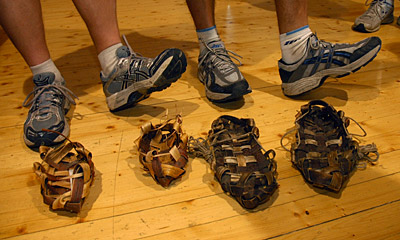 Then we drove through the forest to our accommodation, which has to be the best location so far on the World Harmony Run. It was a private timber house, recently built, beside a gorgeous lake and forest in the background. It was complete with a sauna outhouse beside the lake. We all took full advantage of the sauna and swam in the cool waters of the lake. Petar also decided to row the boat across the lake.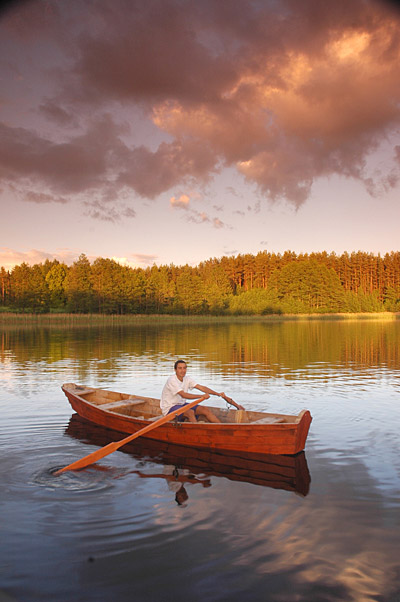 The light was so moving and awesome as day turned to night, and the twilight lasted for two hours. As we approach June 21 the days are so long at this time of year in the northern hemisphere. As we ate our dinner, so diligently prepared by the girls, we soaked up the tranquillity and harmony of this beautiful scene.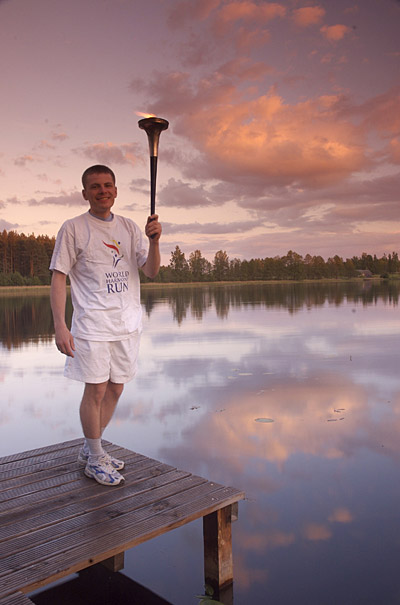 Moments like this make the Run extra special and the scenes such as this stay with each of us for eternity.
---
Distance: 140km
Team Members:
Anete Klavina (Latvia), Arturas Rasimavicius (Lithuania), Ieva Kurzemniece (Latvia), Jadranka Grbic (Serbia & Montenegro), Jarek Werner (Poland), Mark Collinson (England), Ondrej Vesely (Czech Republic), Pawel Szymanski (Poland), Petar Mihaylov (Bulgaria), Valentine Bebik (Ukraine).
Harmonemail:
You can send a message to the runners or read the messages.