Latvia 18 June: Saulkrasti - Valmiera
This morning Jarek left the International Team to travel back to Poland. He has been an invaluable team member and will be sadly missed.
At the ceremony in Riga yesterday letters of support from different Ministries of the Latvian Government were read out; they could only be translated in time to be included in today's report. Thank you Ieva for patiently translating them. Here are some key extracts and sentiments from those letters.
Karvina Petersone (Minister of Special Assignments in Society Integration Affairs) wrote the following:
"Peace and movement - two opposite and very closely connected things. Peace - not as absence of war, but harmony, stability and safety. Movement - no chaotic, restless, but development coming closer to the goal, searching for understanding. Run - moving closer to each other, moving shoulder to shoulder - to the same goal - towards universal understanding of all people, friendship. I am glad to greet you runners! While running you look for harmony inside yourself, and you make us think about world peace and oneness in society those who see you running. ... I am outside Latvia and cannot greet you myself but you should know my good thoughts are with you. ..."
Ainars Bastiks (Minister of Children and Family Affairs):
"It is very important that children and families in Latvia will have the opportunity during the summer vacation to understand that only by working together and doing good things, we can make Latvia and this world a better, more friendly and more full of oneness. ..."
Artis Pabriks (Minister of Foreign Affairs):
"With your run you show oneness and friendship between people of different nationalities and religions. Sport is very useful in this way. It's the same as music as a language which is well understood by everybody disregarding of nationality or background. Sport doesn't have national, human or age barriers. ... I hope this torch will become a benchmark on the way of the modern world, that feels very confused because of the lack of friendship. ..."
Baiba Rivza (Minister of Education and Science):
" ... Dear runners, everyone of you has a great privilege. That is the opportunity to turn the attention of our society towards things that are so often forgotten - harmony, oneness and understanding."
And now back to the events of today....For the first five kilometres from Saulkrasti we ran with children on the road that followed the coast.
It was good to have one last moment running on the golden sand, before we headed inland to Skulte.
Along the way we met two horse riders out for their Sunday morning ride.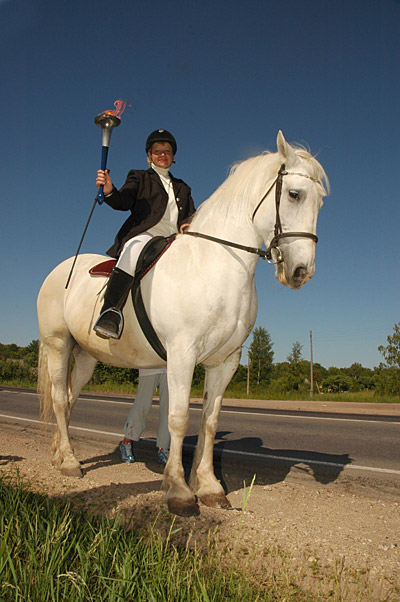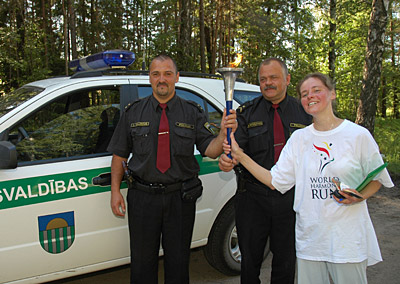 A few kilometres from Vidrizi we met a family outside their house. They had seen us on national television yesterday evening, and were astounded that we passed through their small village.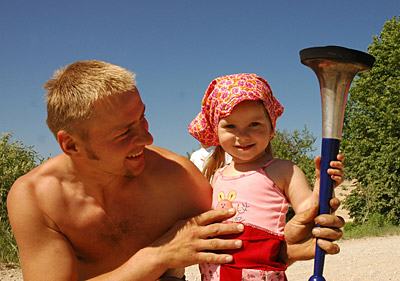 Their dog was rather confused what with all the commotion - it didn't know whether to be friendly or aggressive towards us. After its owner reassured the poor dog Valentine was able to play with it.
The countryside and landscape was such a contrast to the coast. Hardly any buildings, rolling green plains and very dusty roads. Someone made the comment that it was a bit like the Wild West - very isolated, with not a soul to be seen.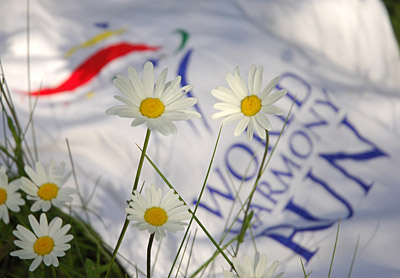 We had more runners on the road running together today than in the capital yesterday. Everyone wanted to run today in the summer sunshine, with the smell of lilac at the sides of the road.
We were ahead of schedule so we had time to relax by a lake for 20 minutes. We made good use of Petar's Frisbee, whilst others went for a quick swim or sat under the tree to read a book.
At the border of Limbazi we met some sprinters from the local athletic club.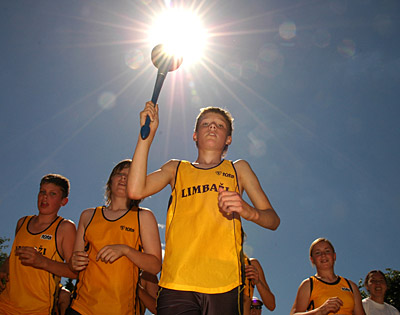 We kept up with them to arrive in the centre to meet the mayor. The town was very quiet and it certainly had that Sunday atmosphere - a typical lazy summer's day. But then again, we have felt that every day in Latvia has been a Sunday. People are so relaxed and laid back, and town's, cities and countryside are quiet and tranquil.
After our lunch we visited Limbazi Orthodox church. It was a moment of serenity.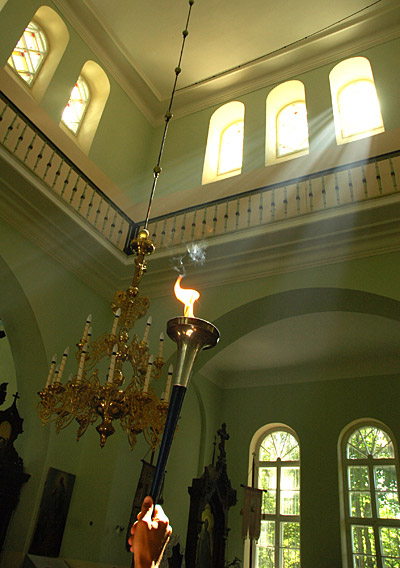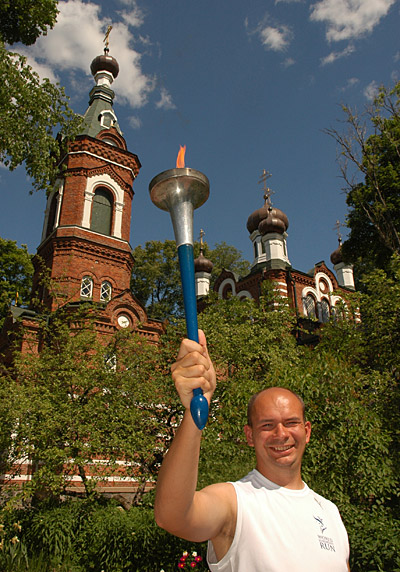 Late in the afternoon the sun was getting very hot, so we made another quick stop at another lake. We didn't hang beside the lake too long as the mosquitoes were back and they were hungry.
At the lake we met runners from Runners' Club 'Tonus' who have run with us each year the World Harmony Run has been in Latvia.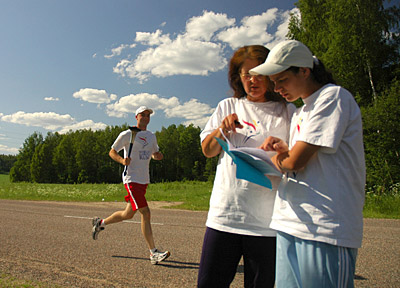 We made quick time the 21 km to Valmiera city, and a few kilometres from the centre were joined by children and a small group of girls from the athletic club.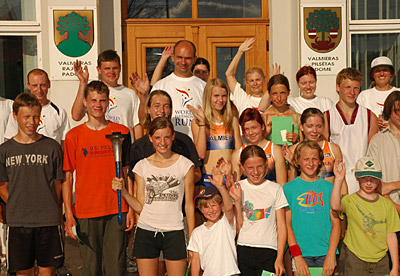 In the evening sunshine we were all happy running the final few kilometres with such happy and joyful children.
---
Distance: 96km
Team Members:
Anete Klavina (Latvia), Arturas Rasimavicius (Lithuania), Ieva Kurzemniece (Latvia), Jadranka Grbic (Serbis & Montenegro), Jarek Werner (Poland), Jirka Albrecht (Czech Republic), Mark Collinson (England), Ondrej Vesely (Czech Republic), Petar Mihaylov (Bulgaria), Valentine Bebik (Ukraine).
Harmonemail:
You can send a message to the runners or read the messages.