Latvia 19 June: Valmiera - Viljandi (Estonia)
The Latvian girls prepared a tremendous breakfast for us that gave us the needed energy for the whole of the day. A few boys, that shall remain nameless, overslept and unfortunately missed breakfast. However, Jadranka had kept aside much of the food left over from breakfast, so these boys were well looked after. After yesterday's hectic schedule we all seemed somewhat drained, but our energy levels picked up later.
At Valmiera town hall we met the mayor who wished us well and ran with us.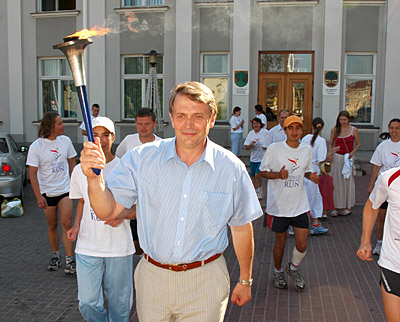 We ran the 15 km to Rozkalni were we visited an Education and Social Centre for children and young adults with special needs.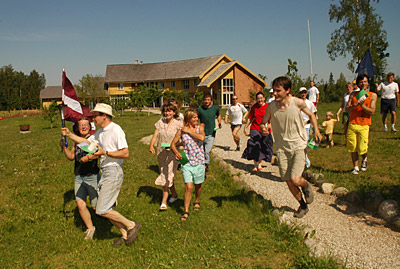 The centre was a self-contained community; it was so peaceful and the people running the centre were so self-giving and caring with the young adults. After we sang the World Harmony Run Song to them, they returned the compliment and sang us a lovely traditional Latvian song. Each of us wrote something special in their greeting book, and we promised that the World Harmony Run would visit them next year.
Ten kilometres from Rozkalni we were greeted by kind-hearted people from the small village of Renceni. The village band serenaded us with a song about lost youth accompanied by some unusual traditional instruments.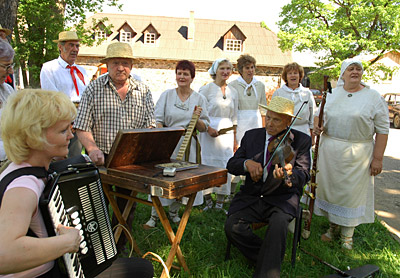 They were so friendly and open and we wished we could have spent more time with them. The mayor, the band and some children ran a short distance with us holding the torch up aloft.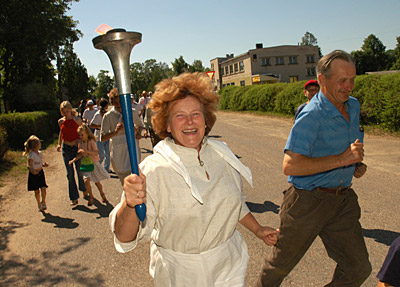 At the border of Rujiena we were joined by children from the local school and they were so enthusiastic and happy, waving to people and motorists.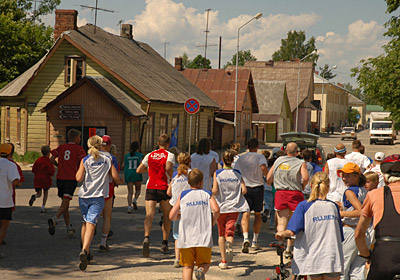 In the town's square over 100 people were gathered to cheerfully welcome us.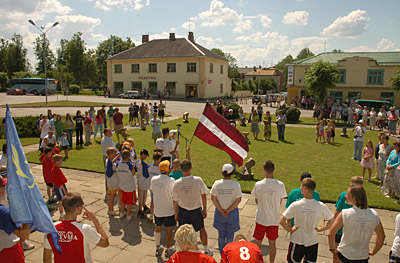 One woman came up to Ondrej and gave him a big bar of chocolate. Everyone was also given some fantastic ice cream - it was much needed in the heat of midday.
The world sometimes feels it is getting smaller - we met the Pine Tree Academy Bell Ringers from Freeport, Maine, USA. They are touring Finland, Sweden, Estonia and Latvia. They were interested in contacting our International Team on the American World Harmony Run when they pass through Boston.
After mingling and chatting with the people of Rujiena, the mayor led us to a restaurant where we had a great lunch of salad, excellent rye bread (as always in Latvia), cottage cheese, and home grown boiled potatoes. It tasted even better outside under the shade as we chatted and relaxed with the mayor. The laid back attitude of the Latvians are started to rub off on us. We were aware that the scheduled border crossing into Estonia was fast approaching, so unfortunately we had to depart far sooner than we had wished.
Two teenage girls and two young boys who had run with us earlier had waited for us, and when asked if they wanted to run with us again out of the town, they did not hesitate for a second. They were lovely children with such a sweet nature and gentleness that we have experienced is a common characteristic of children here in Latvia.
The final 8 km of our road in Latvia was simply sand and gravel and very dusty, as we ran through the tranquillity of the woods and open countryside with little sign of any habitants. As if out of nowhere the Latvian - Estonian border appeared. Petar, from Bulgaria, was slightly delayed as the border authorities had to check his passport details more closely, and Jadranka and Valentine had to stay behind at the border to complete a visa application. We learned later that it was very rare for people to request a visa at the Estonian border, but the authorities were extremely patient and both were granted a visa for their short stay in Estonia. They both joined us at the end of the day at Viljandi.
We sadly said farewell to our Latvian friends. Many special thanks for great co-ordinating and constant cheerfulness to Anastasia, and the regional co-ordinators of Anete, Baiba and Gints (who joins the International Team for the first time). They and the local runners all worked together so well and they were a brilliant team.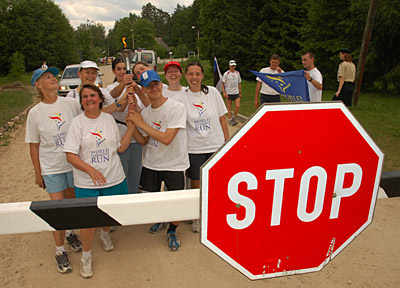 At the border we were happy to meet our Estonian country co-ordinator, Merle. The first 12 km of our running in Estonia was again on sand and gravel road. Runners and van (outside and inside) got covered in fine dust. Much cleaning was needed in the evening - all the boys (this is very rare and unusual!!) cleaned the van and a big load of laundry was washed.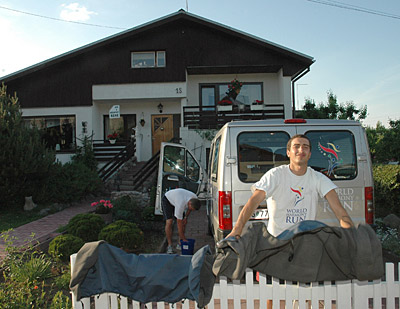 Our first ceremony in Estonia was in Harksi-Nuia. At the edge of the city some children from the town's sports school ran with us to the centre where we met the mayor.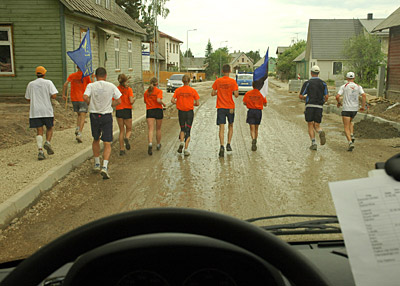 The children ran with us up to the city border, and two boys and a girl continued a further 2 km with us. I think they were only getting warmed up, as the girl, who is a 800m runner, set the pace up front holding the torch.
Some children in the woods beside the road heard the music from the van's loudspeaker and ran to meet us. They couldn't speak any English but we gave them stickers and let them hold the torch. As soon as they had appeared, they ran off into the woods in excitement.
The 33 km to Viljandi was slightly hillier than our running in Latvia.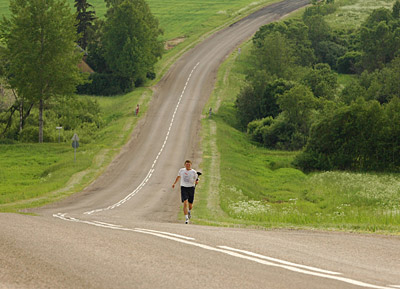 It's the first hills we've run up in many weeks, and it was good to get the legs and lungs working hard again to reach the top - it's always an achievement to run up a hill.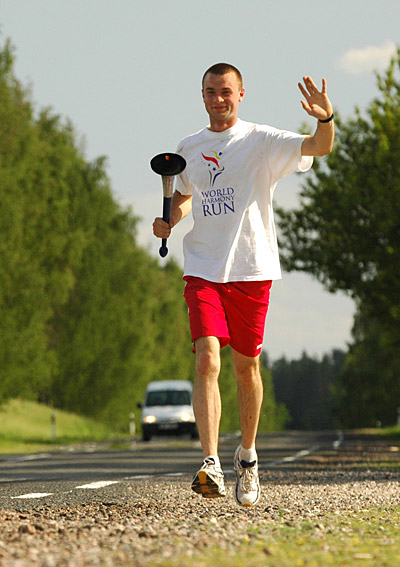 Before our final ceremony at Viljandi we went for a cooling and refreshing swim in Viljandi Lake. We nearly left Petar behind, as he was still swimming in the lake, but cheerfully and smiley as always, he ran to the van as it was pulling up the hill.
At Viljandi city border Valentine and Jadranka joined us again and we were also joined by Viljandi club rowers and girl volley players. Some of the rowers row for the youth and Under 23 National Team, and a few aspire to row for the Senior Team. Let's hope they succeed and we see them in the Olympics in 2008. Not only are they great rowers, but they are also excellent runners and set a good pace to the ceremony.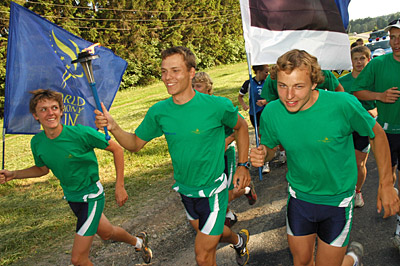 After a hot and sweaty day we were glad to have a refreshing shower in our accommodation 'Bed and Breakfast Rehe'. We must give special thanks to the owners for providing this accommodation at an extra special reduced rate. We relaxed in the wonderful spacious and well-kept garden eating our delicious evening meal as the sun set.
.
---
Distance: 113km
Team Members:
Arturas Rasimavicius (Lithuania), Gints Peleckis (Latvia), Ieva Kurzemniece (Latvia), Jadranka Grbic (Serbis & Montenegro), Jirka Albrecht (Czech Republic), Mark Collinson (England), Ondrej Vesely (Czech Republic), Petar Mihaylov (Bulgaria), Valentine Bebik (Ukraine).
Harmonemail:
You can send a message to the runners or read the messages.