Moldova 8 July: Briceni - Chernivtsy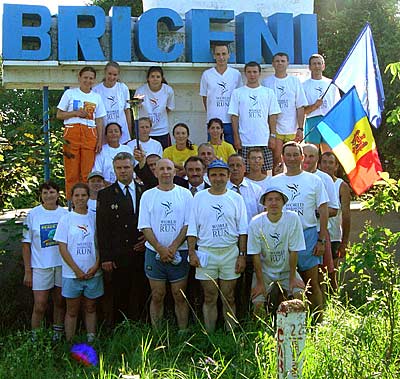 Oh my, what a morning! The whole town of Briceni seemed to be awake to see us off. At the square groups of people were waiting, and they watched the Mayor, the Head of Police, and other officials, happily running with the torch. On our way out of town people were filling the roadsides to wish us luck, with flowers in hand. They really made us aware of their loving presence.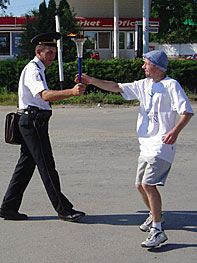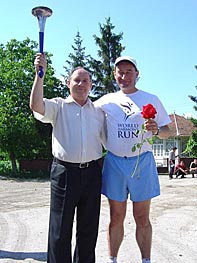 Nature was also showing its full lustre this morning! The trees sparkled with vigour and freshness, their warm green beauty breath-taking. Above us were absolutely clear azure blue skies. The weather was so inspiring that a big group of our runners ran together for 10k out of Briceni. We did not want to stop. On our way a roadside cow gave us several victory-moos as we passed it by.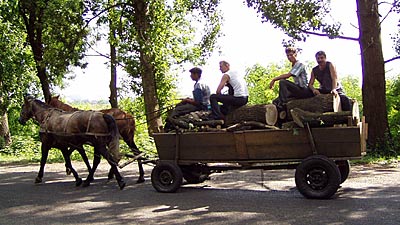 We had a surprise in a village along the way where we suddenly saw several children lining the road. Our running team was just getting bigger and bigger as this continuous stream of children joined from the roadsides. The same thing happened in a village not far away.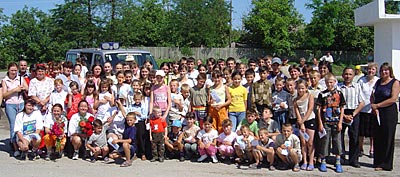 In the wonderful town of Lipcani the story was the same again. Literally hundreds of people flanked the roadsides. At the centre of town a big ceremony waited for us with great speeches, dancing, and singing, for a crowd many hundred strong. There was lots of cheering and clapping going on. This town was brimming with life.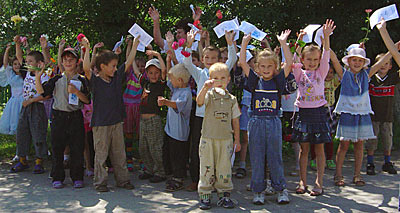 Another wonderful surprise happened just before the border in the town of Criva. Here again many kids flanked the streets with flowers. Then something very funny happened. The city representative said that they would go to the border and meet us there, and then about 30 of them jumped into an orange mini-bus and drove off. The sight of that packed mini-bus was really something. The rest of them got rides with passing cars. They just stopped the cars and asked if they could get a ride, and off they went. At the border the whole village was waiting for us with a lively ceremony of lots of singing and dancing. Our strong Ukrainian team crossed the border to join the ceremony.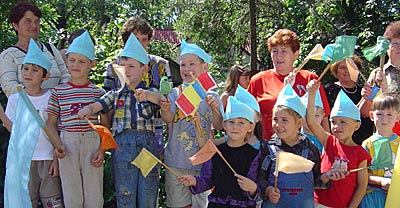 Moldova has really overwhelmed us with warmth, kindness, and hospitality. The people also really seem to feel and understand the message of the World Harmony Run. Today Dipavajan gave many good speeches, and I could feel how the audiences were really touched. People were nodding and holding their hands to theirs hearts. People were always so happy and enthusiastic to receive us, and they gave our team tremendous encouragement.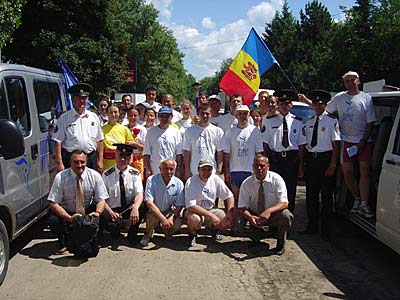 It was amazing how whole villages gathered to greet us and how people waited by the roadside for us, sometimes for as long as two hours even. Many of the officials were also overflowing with emotion and energy - Briceni especially comes to mind. The police were also so kind and helpful, and we offer them our gratitude. Thank you Moldova! Your bountiful good wishes and dreams of harmony are going to be carried on with the torch!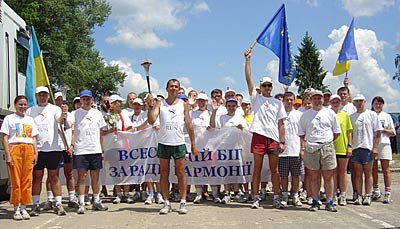 The Ukrainian team had already been running for two weeks around the Ukraine before we arrived. In order to cover a bigger area the team had been split into three teams: West, South and East. We will all meet in Kiev in three days, from where we shall together run towards the Russian border. 17 happy runners from the Ukrainian team met us at the border in Mamalyha to start the journey of team South.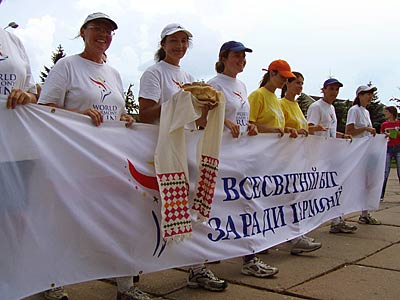 Running along the sunny roads past fields and villages we made our way towards our first meeting place, Novoselitsya, where we were heartily greeted by the Deputy Mayor and a small crowd of people.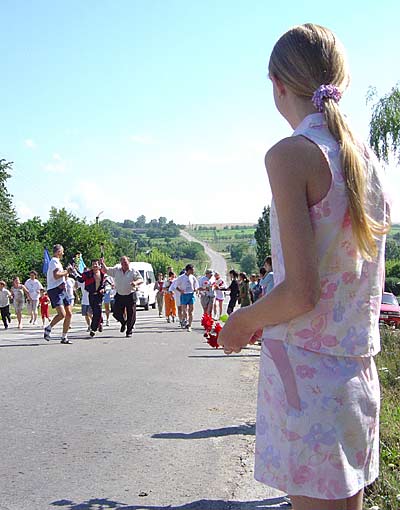 The bun-cake greeting with salt reigns supreme here in the Ukraine, too. Our Ukrainian team members are accomplished musicians and our World Harmony Run song sounds very good with them. They accompanied us with guitar and there were also a few whistlers. Our Ukrainian team also sang a folk song, then the local government invited us for a big lunch.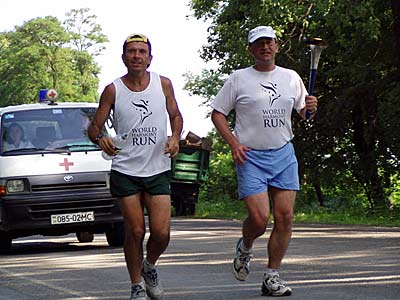 In Chernivtsy the day's final grand ceremony took place in a scenic park. A big stage had been set up for us in front of a beautiful white sculptured fountain. The greeting we received was wild! People in hundreds cheered and clapped loudly as we entered, and also as we presented ourselves and our countries. Some people even jumped up and down, hands in the air. The city officials gave us a warm welcome. We now had two guitars, a violin, plus some light percussion accompanying our World Harmony Run song, which was great! A cute little girl entertained us with two upbeat numbers, and then two talented young singers took the stage. After this, members of the Ukrainian team gave a Harmony concert, which included very nice pieces on keyboard and violin. We then headed for our accommodations for the night that the city had provided, and went for a very nice dinner at a local restaurant.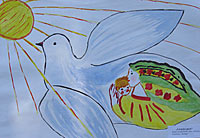 ---
Distance: 135km
Harmonemail:
You can send a message to the runners or read the messages.