Moldova 5 July: Ungheni - Chisinau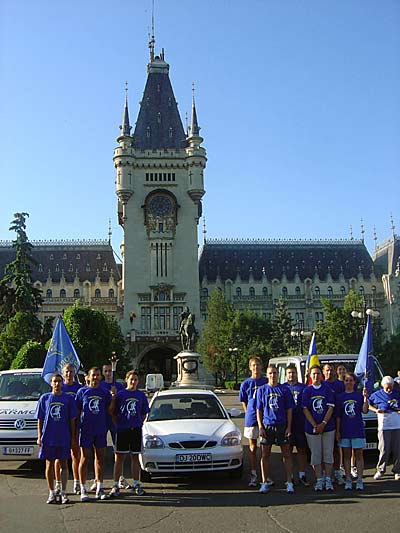 All dressed in our sharp blue t-shirts presented to us the day before the team rendezvoused at the large castle once more. After a quick meeting with town officials we were on our way, dashing 3km towards the city edge. As quickly as possible we covered the last 20k to the country border.
After some nice hills and colourful flatland we arrived at the border. We were received by the Mayor of Sculeni. Holding the torch he walked across the border with us and officially handed it to the Moldavian official. At the checkpoint we had a cheerful little ceremony where a local girls basketball team had gathered to run with us. They presented us with a large tray of biscuits and chocolates. Unfortunately we had a delay of two hours until all visa queries were resolved.
Yeeeaaahh! New country! Eventually we crossed and joined our Moldavian team who had come in force, approximately thirty strong! We ran the first few kilometres in style with such a large group, all full of glee. We had to totally rearrange our plans because we were so drastically late. The Moldavian team attended the first ceremony in Ungheni while the international team kept running in order to get back on track. After the ceremony the team was treated to a wonderful lunch.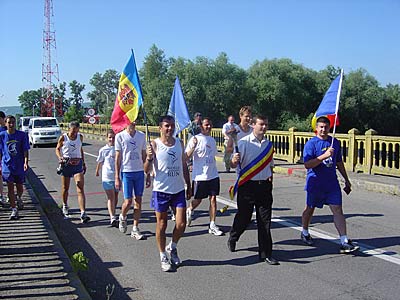 We ran through magical countryside with road, rail, and canals sweeping through flat valleys. In the sky only one or two clouds drifted by and sun shone intensely. In hilly areas clumps of trees provided shade here and there. Our second meeting was in Cornesti but we were an hour late. However, word got through that the town folk had already gathered and because there was no sign of us they celebrated and ate all the food on our part!
...Vroom! (sound of bus driving off) Hello everyone! This is Jan signing in. Our dear Irish friend, Colm, had to go back home (cows needed to be milked, chickens to be fed…it's understandable, though we do miss him already). Anyway, I'm here to finish off his report. Right...
Our team had split up in order to make up for the time we lost at the border. When it became clear that runners had run through Cornesti, the town wanted to invite us for a big lunch. One half of the team had already run past, but the other half, coming from the local event in Ungheni, had the possibility to attend and have a feast!
36km onwards we arrived in Calarasi. Here we were greeted warmly by the city representative, and invited for another big meal.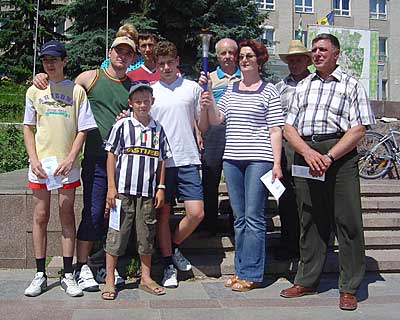 Now the other hungry half of the team had the possibility to eat to their hearts' content while the rest of the team were obliged to make their way towards the country capital Chisinau. The bountiful hospitality of Moldova really amazed us this first day!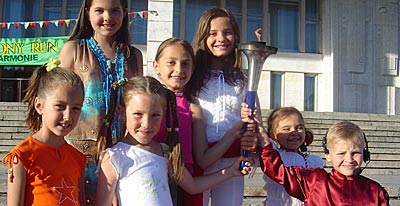 In Chisinau we were greeted by the city representatives, and a big ceremony had been organised for us.
We got to experience many sweet children singing and dancing, some jolly and energetic folk music, and some pop music. It was a very nice event. The city then provided us with a good hotel for the night including dinner.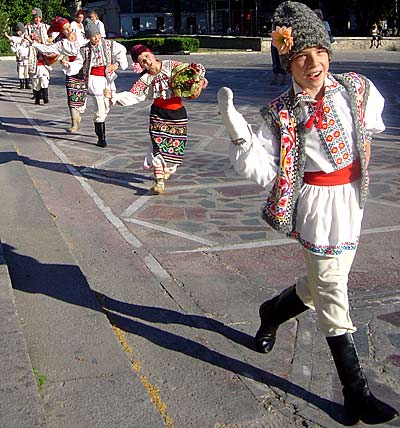 ---
Distance: 160km
Harmonemail:
You can send a message to the runners or read the messages.