Moldova 16 July: Border with Ukraine - Soroca
Hello Moldova, here we come...
Salut, Moldova, noi venim...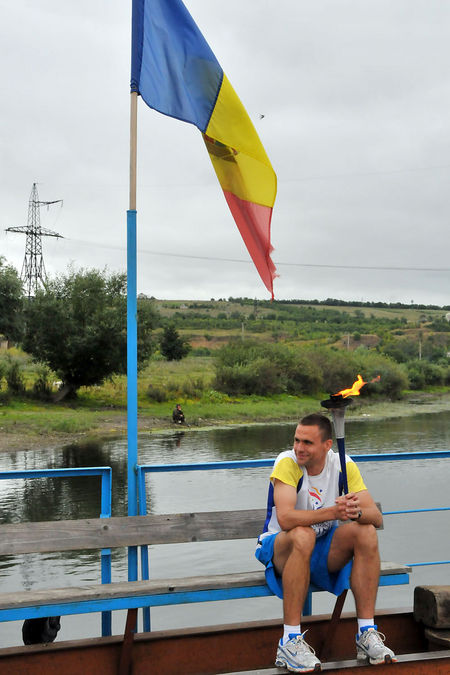 Mate waiting to cross the river.
Mate aşteaptă să trecem râul.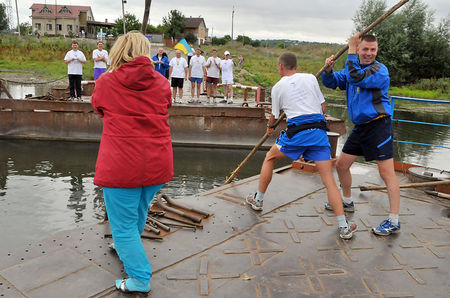 With a little help from your friends it is much easier...
Cu o mână de ajutor din partea prietenilor e mult mai uşor...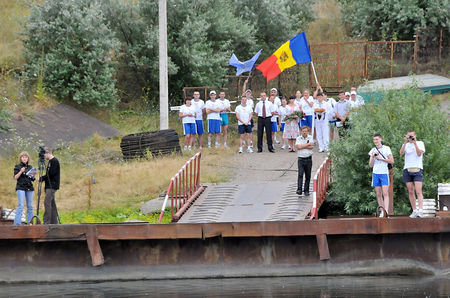 On the other side, the Moldovian team was already waiting for us.
De partea cealaltă, echipa din Moldova ne aştepta deja.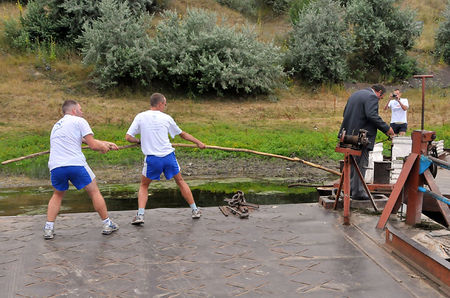 ... more to the right - a little more...
... mai la dreapta, încă puţin...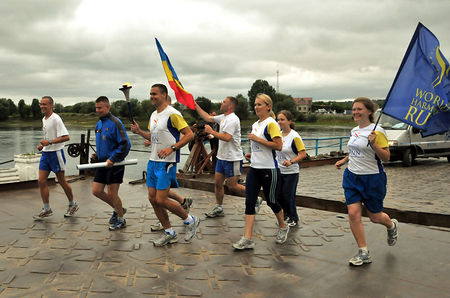 Running in to the new country...
Alergăm într-o nouă ţară...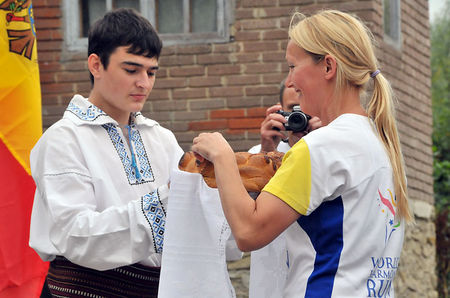 ... first reception: bread & salt...
... prima întâlnire: pâine şi sare...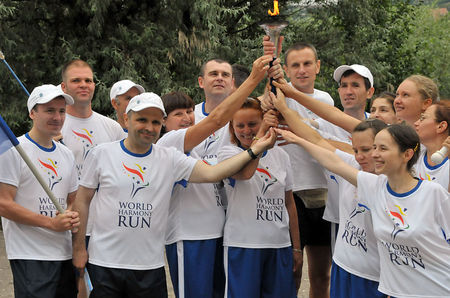 The Moldovian team - our good friends :)
Echipa din Moldova - bunii noştri prieteni :)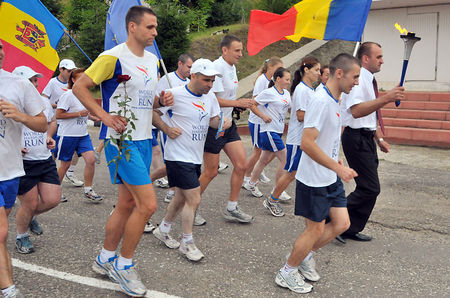 ... and off we go to the first city.
... şi am pornit în primul oraş.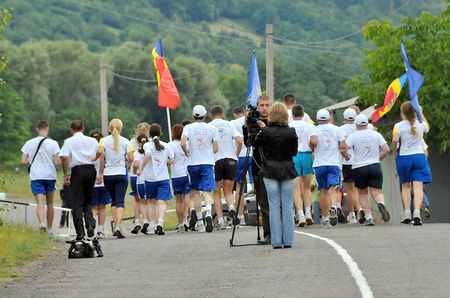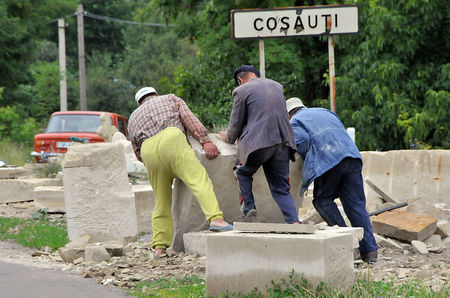 Hard-working men.
Oamenii lucrează din greu.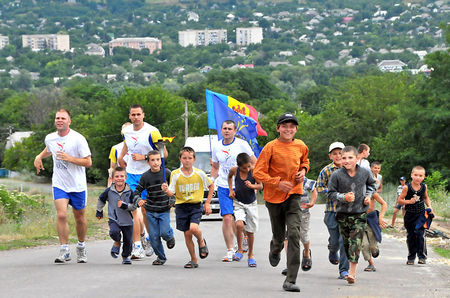 The boys on the uphill part with the kids...
Băieţii aleargă la deal cu copiii care ne-au întâlnit...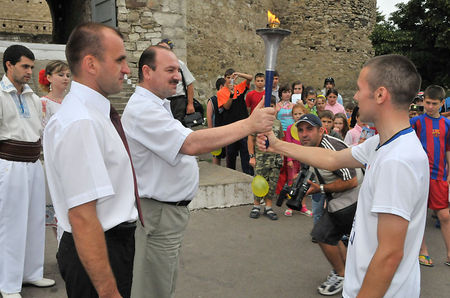 Ion, with the mayor of Soroca and the deputy chief of the region.
Ion cu primarul de Soroca, dl Victor Său, şi vicepreşedintele raionului Soroca, dl Valeriu Tetiu.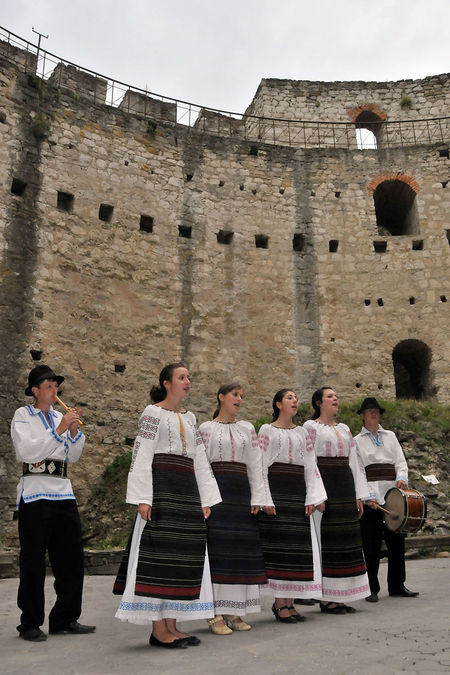 Music and singing performance in the fortress of Soroca.
Muzică şi cântece în cetatea Sorocii.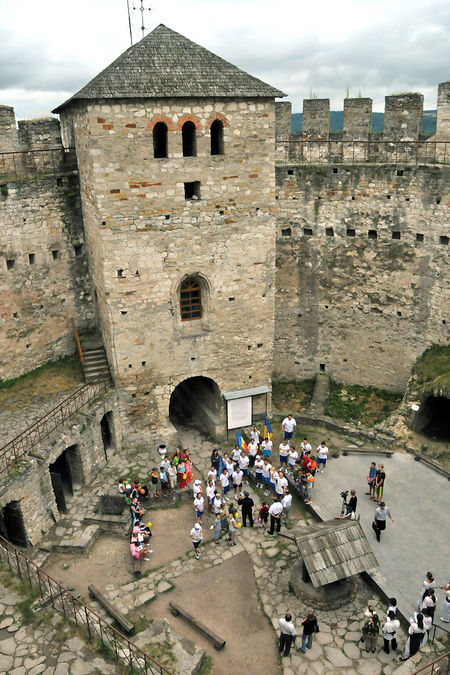 I had to climb up high to get this shot...
A trebuit să urc sus ca să fac această poză...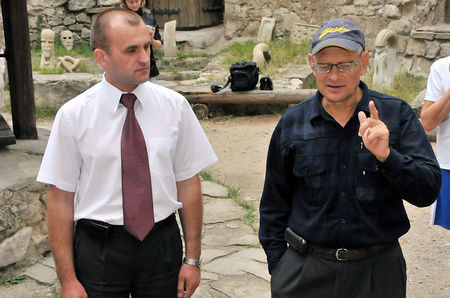 Mr. Bulat told us very interesting stories about the fortress. His English is quite perfect - he lived in the USA for quite some time.
Dl Bulat, directorul Muzeului de istorie şi etnografie din Soroca, ne-a povestit lucruri foarte interesante despre cetate. Vorbeşte engleza excelent - o perioadă a trăit în SUA.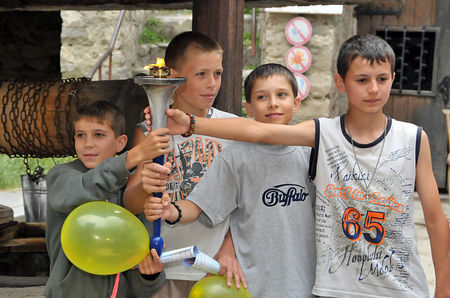 Friends holding the torch together.
Prietenii împreună ţin torţa.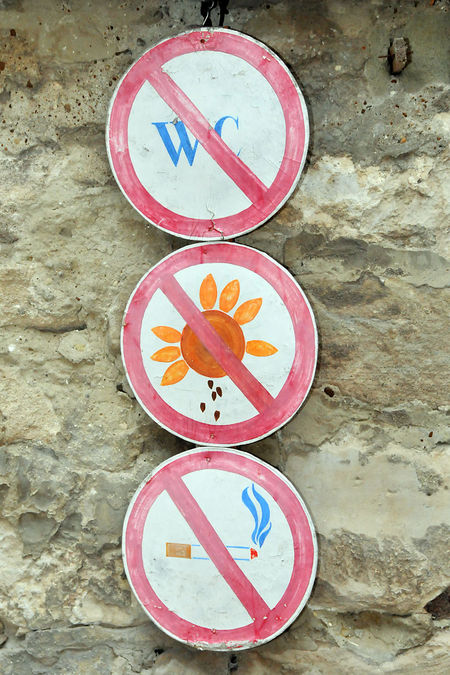 Don't...
Să nu...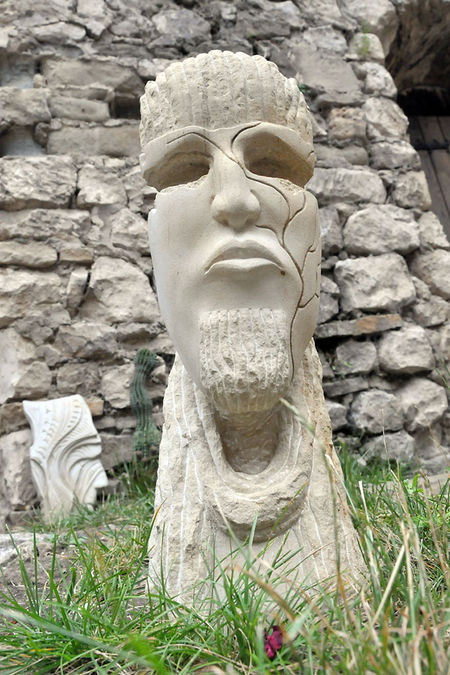 Stone-faced :)
Faţă de piatră :)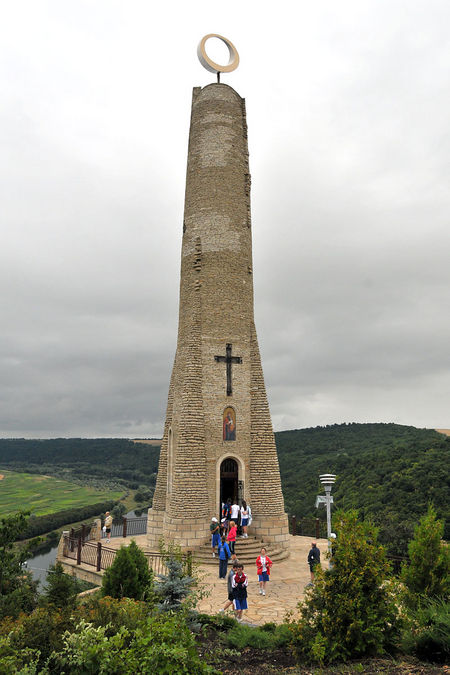 Before we went to have dinner we were taken to the famous 'candle' of Soroca. The huge tower is actually a small church. Just below, is the river Nistru.
Înainte de merge să luăm cina, noi am fost conduşi la faimoasa "Lumânare a recunoştinţei". Turnul înalt este de fapt o mică biserică. Iar dedesubt - râul Nistru.
---
Distance: 14 km
Team Members:
Martin Leitner (Austria), Matthias Eckerle (Germany), Olga Soboleva (Russia), Mate Szekely (Hungary), Daniel Schenke (Germany), Jarek Werner (Poland), Radka Metelkova (Czech Republic), Vera Balonishnikova (Russia)
Harmonemail:
You can send a message to the runners or read the messages.
Gallery: See more images!