Moldova 5 July: Balti - Chisinau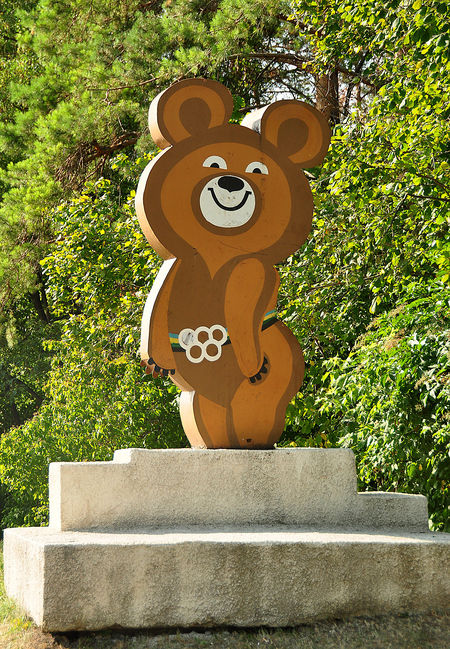 Good morning Balti!
Bună dimineaţa, Bălţi!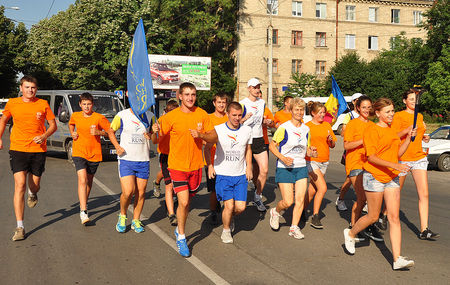 Runners met us on the main square and we started our today's long journey. Little did we know that it was about to become a one-big-meeting with countless meetings and lots of amazing people...
Alergătorii ne-au întâlnit în piaţa centrală şi împreună am început lunga călătorie pe azi. Nici nu ne-am închipuit că ziua urma să devină o mare întâmpinare cu nenumărate întâlniri şi mulţimi de oameni minunaţi...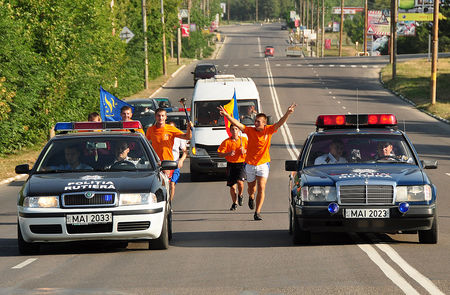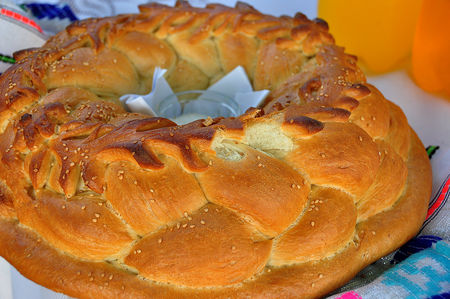 ...a first meeting in Bilicenii Vechi along the main road...
... o primă întâlnire la Bilicenii Vechi, la marginea drumului...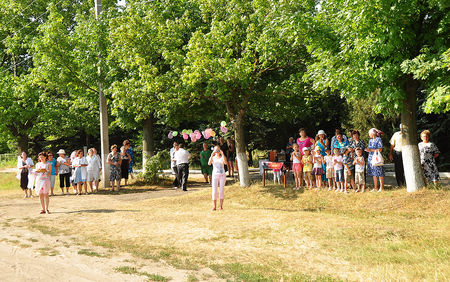 Moldova conquered us already at 8 a.m. with it's hospitality...
La ora 8 dimineaţa Moldova deja ne cucerise cu ospitalitatea ei...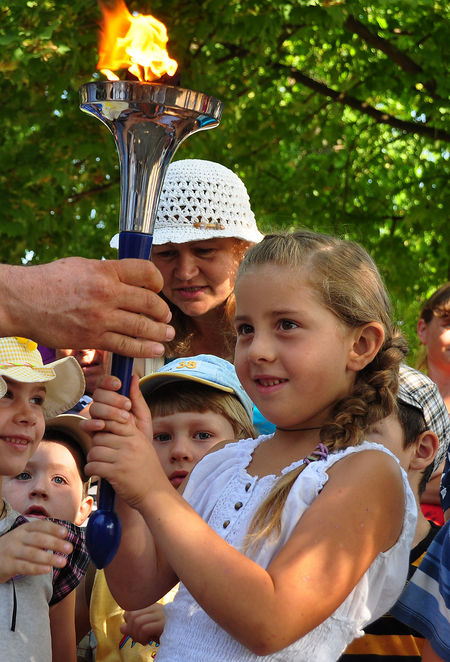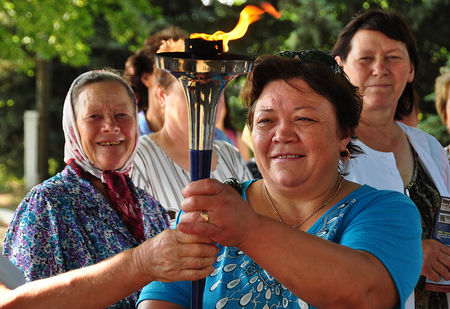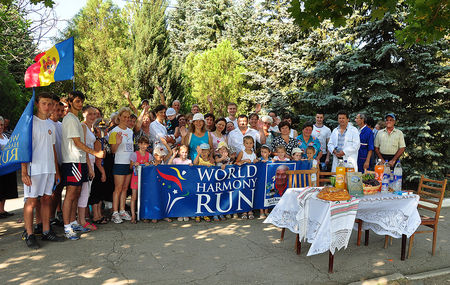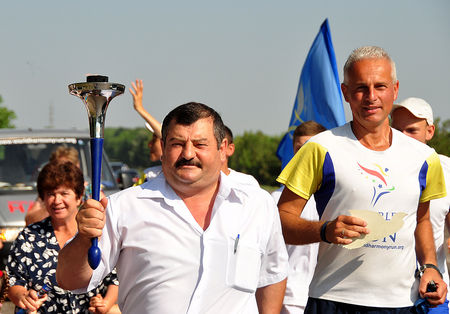 ...the mayor led the community into a few symbolic steps...
... Primarul a condus localitatea pe primii paşi simbolici...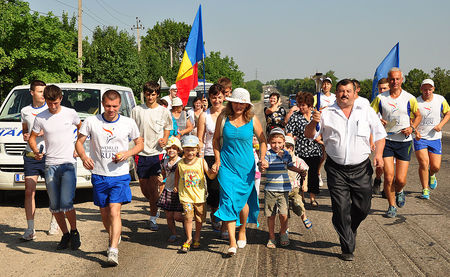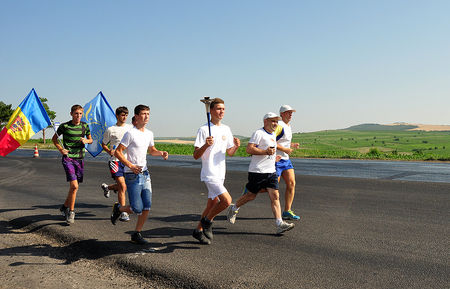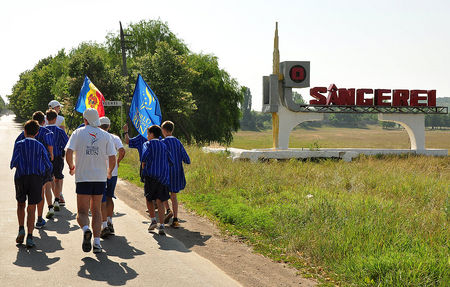 Sangerei was next: more runners joined in...
A urmat Sângerei: ni s-au alăturat noi alergători...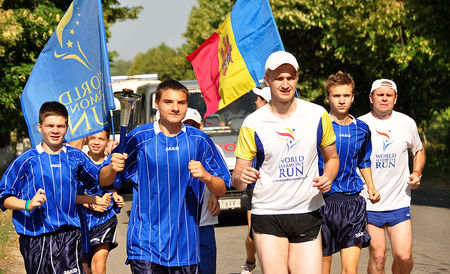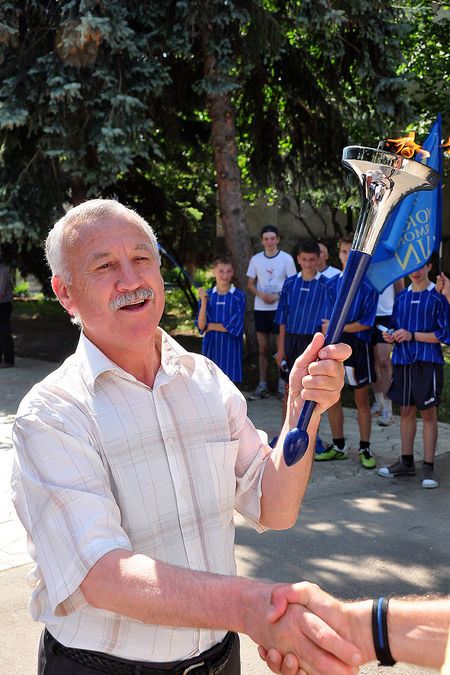 ...the mayor welcomed us with kind words...
... domnul primar ne-a întâmpinat cu cuvinte frumoase...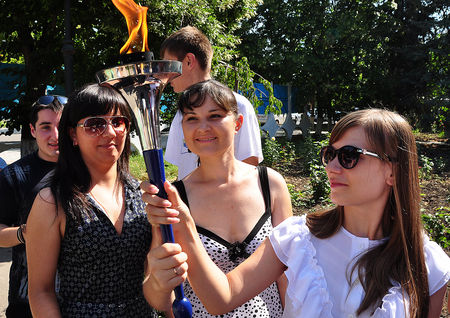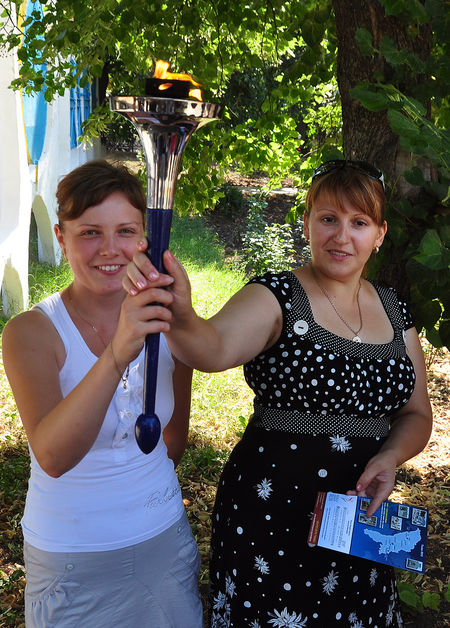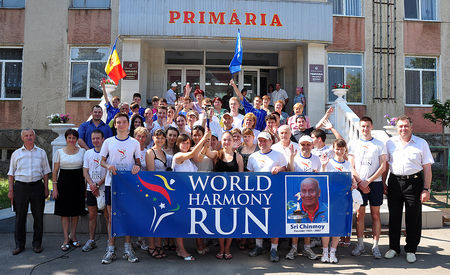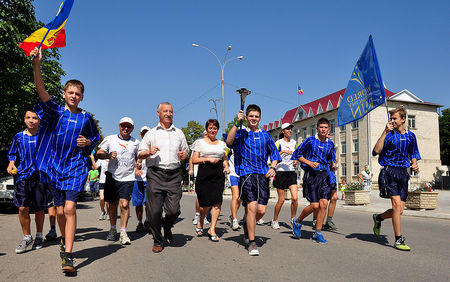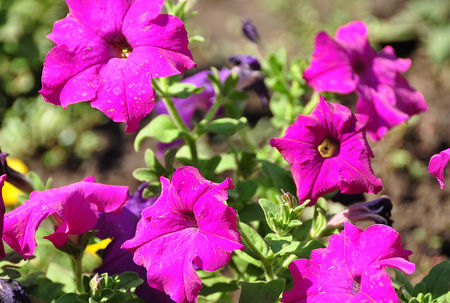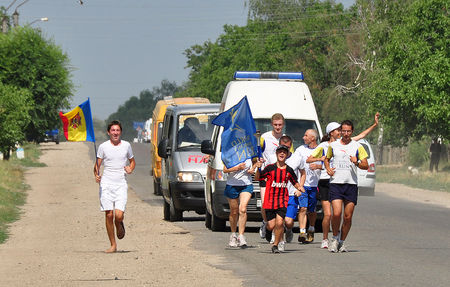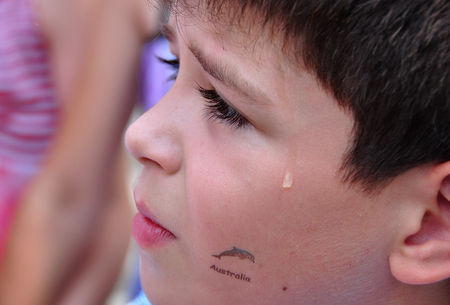 ...no tears, but simply sweat: the temperature climbed well over 30º C...
...nu, nu sunt lacrimi, ci transpiraţie: afară era o temperatură de peste 30º C...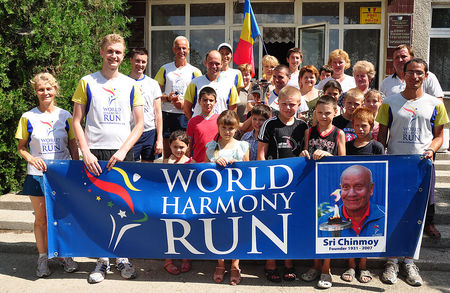 Thank you Grigorauca!
Mulţumim, Grigorăuca!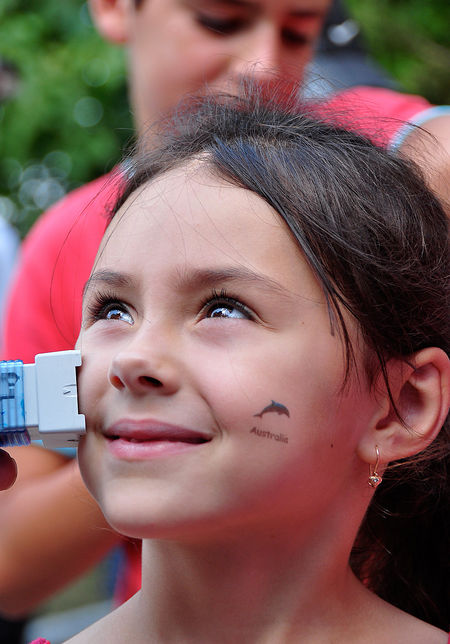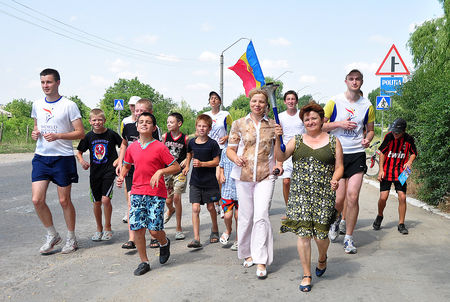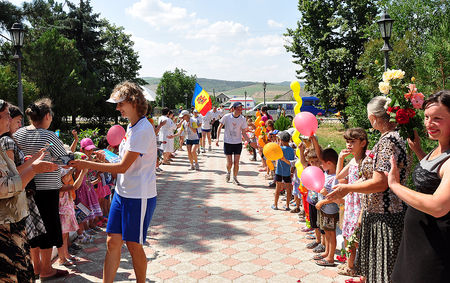 ...Copaceni was next:
... următoarea localitate: Copăceni...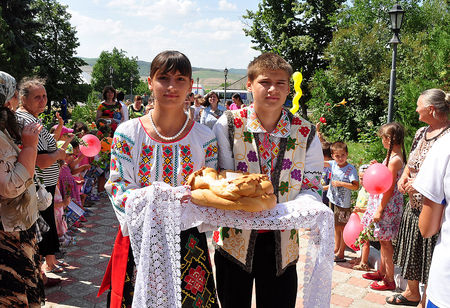 ...traditional bread and salt...
... Tradiţionala pâine şi sare...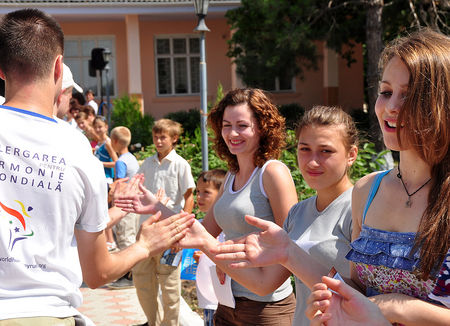 ...as well as traditional Moldovan smiles...
... şi zâmbete tradiţionale moldoveneşti...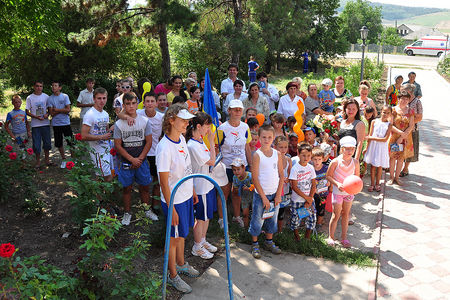 ...the audience escaped in the shadow...
... audienţa s-a salvat la umbră...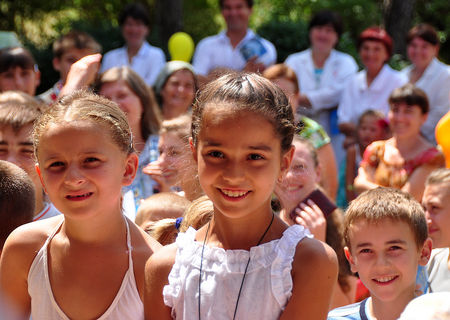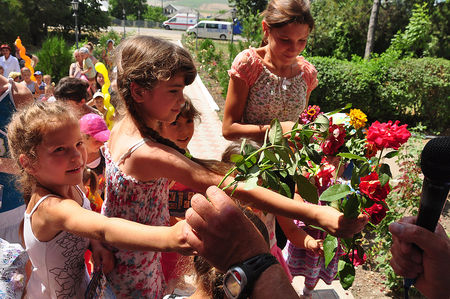 ...only the small kids challenged the sun and offered our runners flowers...
... numai copilaşii au provocat soarele şi au oferit flori alergătorilor...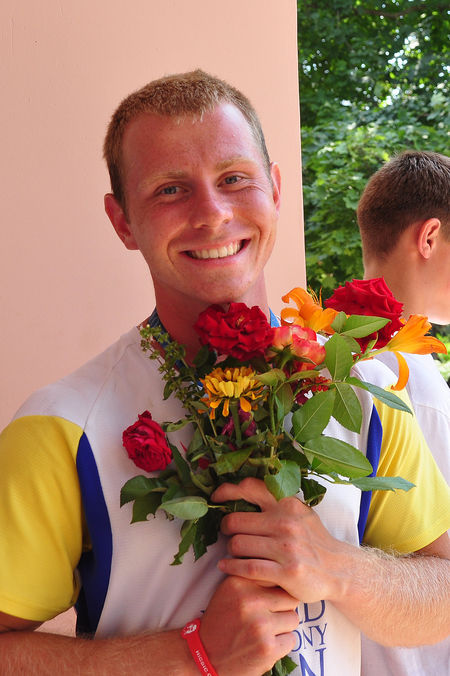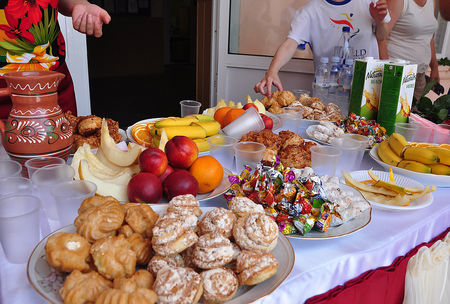 ...refreshments at every meeting...
... la fiecare întâlnire ne reînnoim forţele...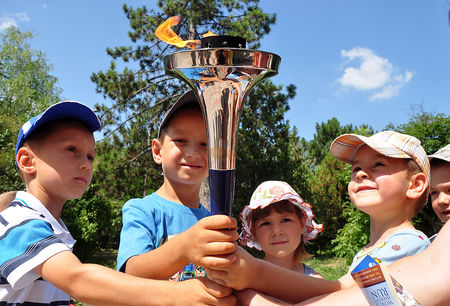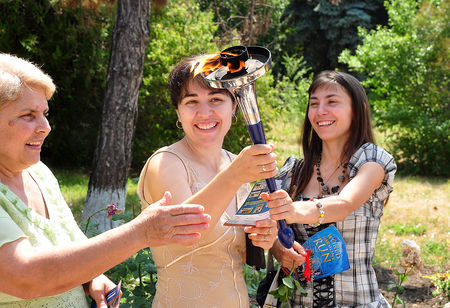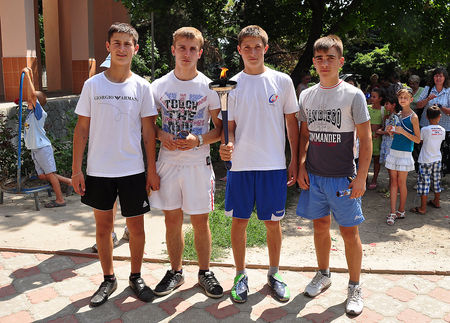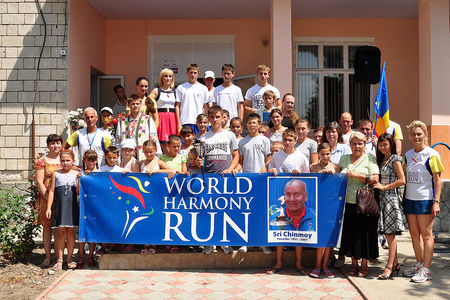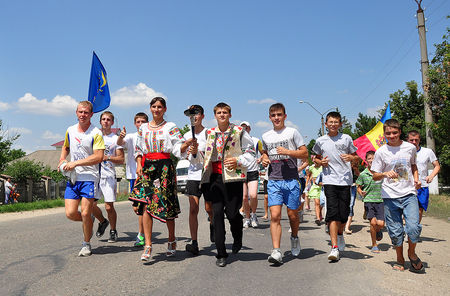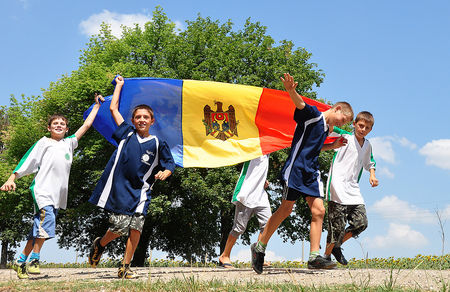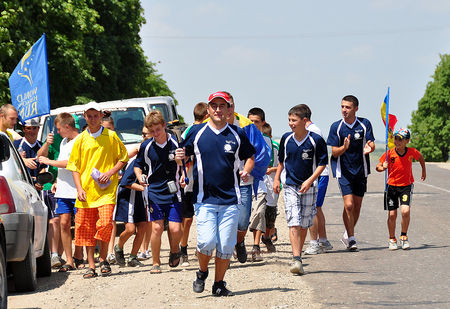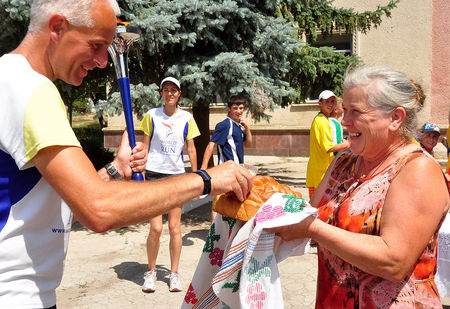 ...and the journey continued to Prepelita...
... călătoria a continuat la Prepeliţa...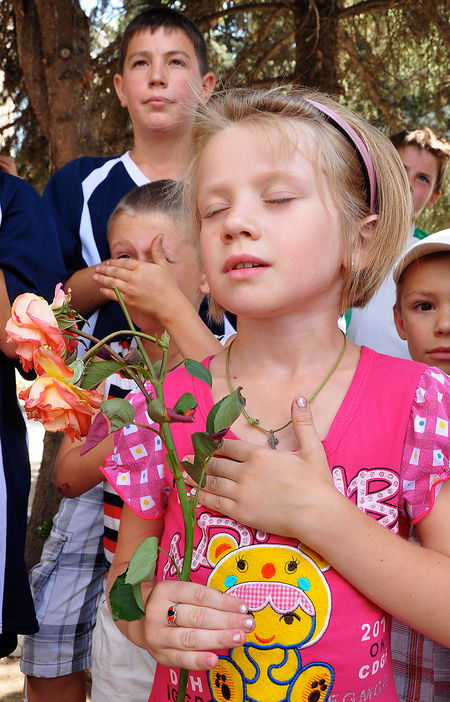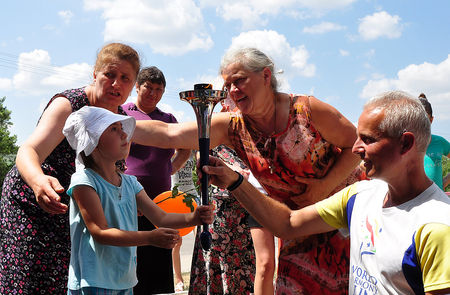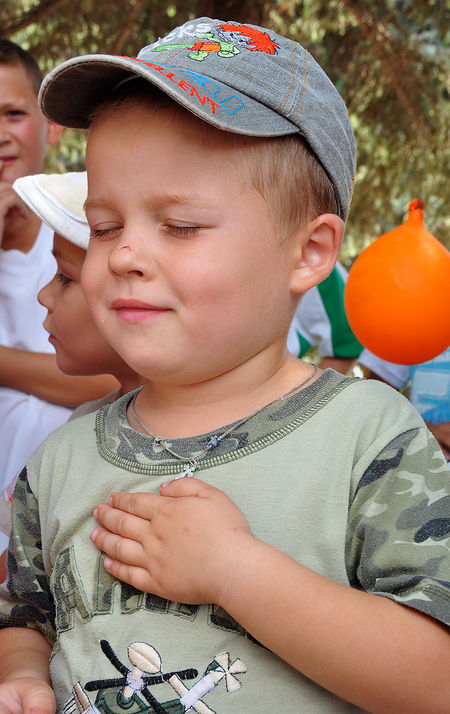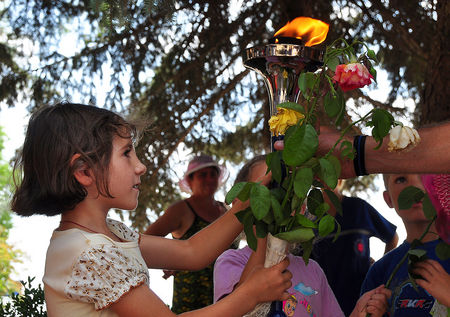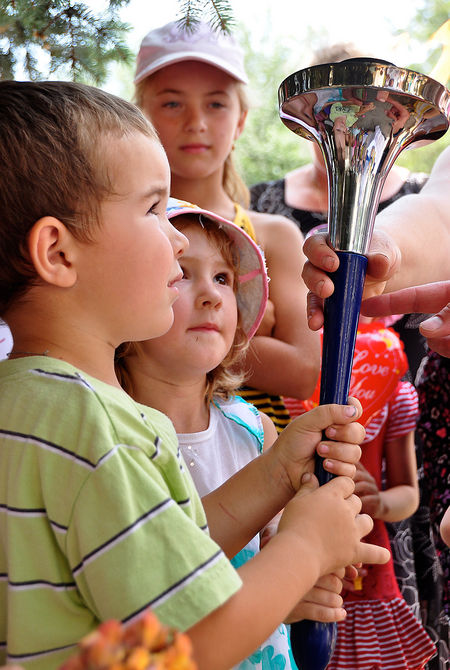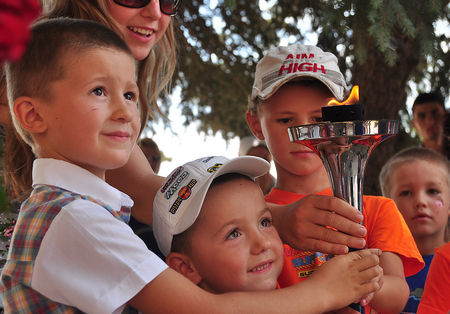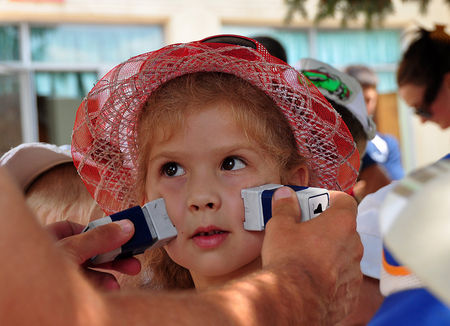 ...efficiency rules...
... aşa e mai efectiv...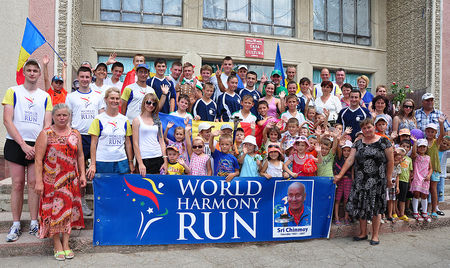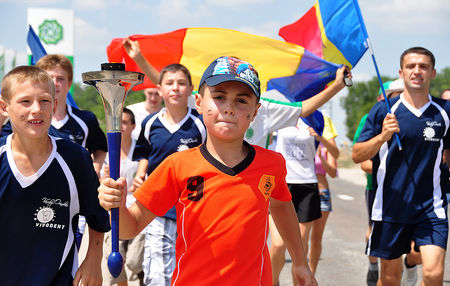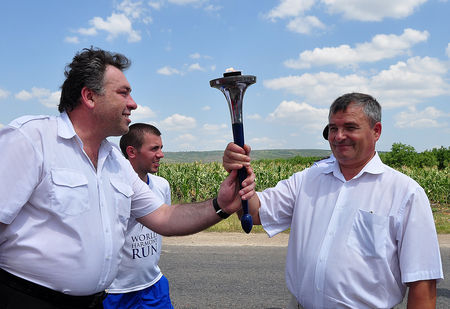 ...the torch was passed on to the next region...
... Torţa a fost transmisă următorului raion...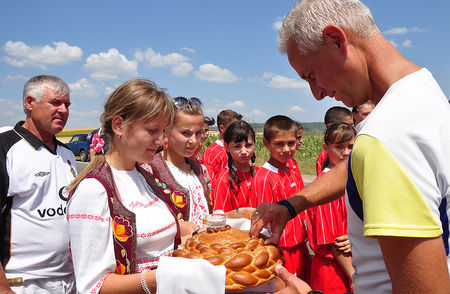 ...and Banesti showed us it's enthusiasm!
... Băneştiul ne-a arătat entuziasmul său!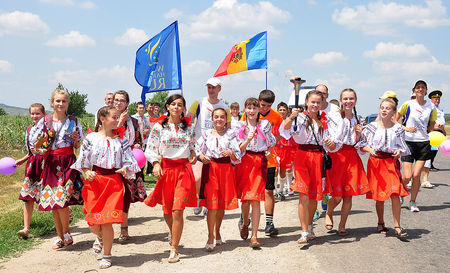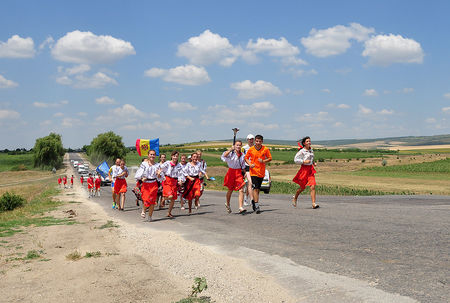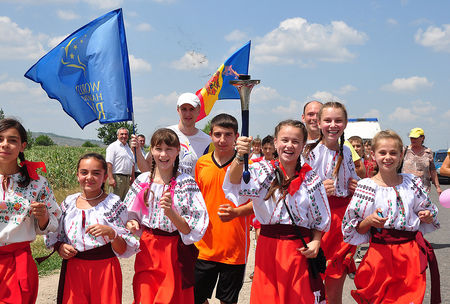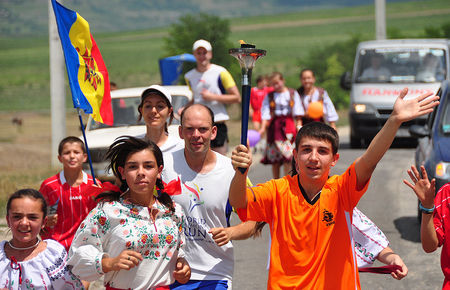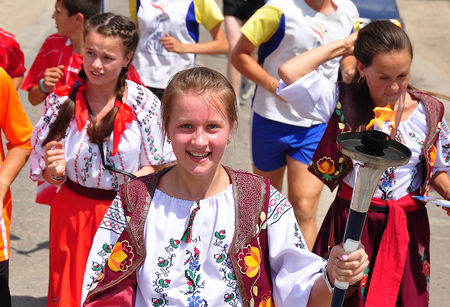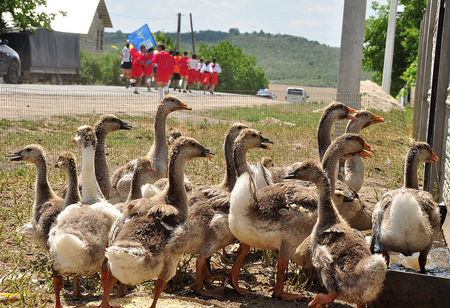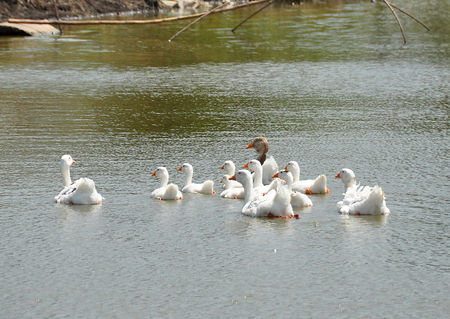 ...that's the best way to spend such a day...
... cea mai bună modalitate de a petrece o asemenea zi...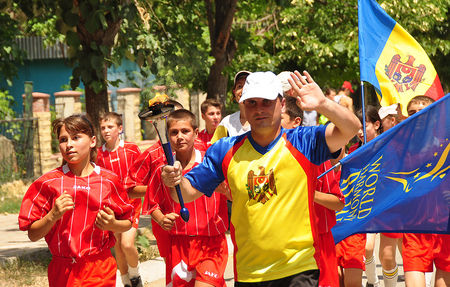 ...Telenesti gave us a warm welcome!
... o călduroasă întâmpinare ne-a oferit or. Teleneşti!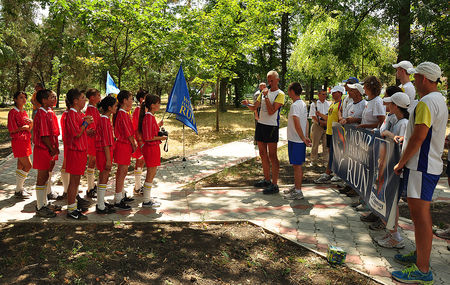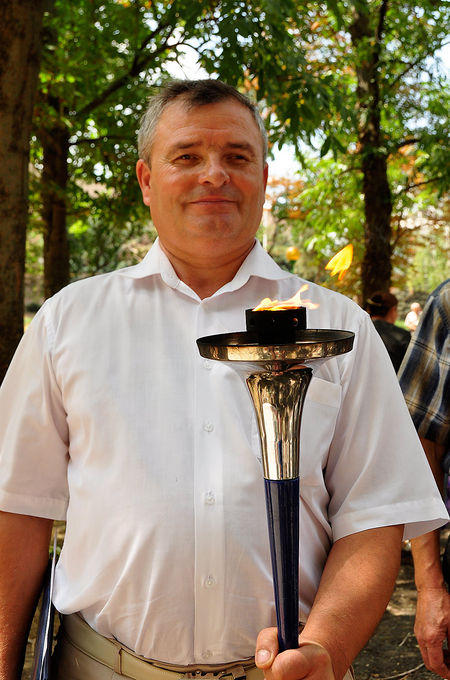 ...the vice-county president received the torch...
... Vicepreşedintele raionului a primit torţa...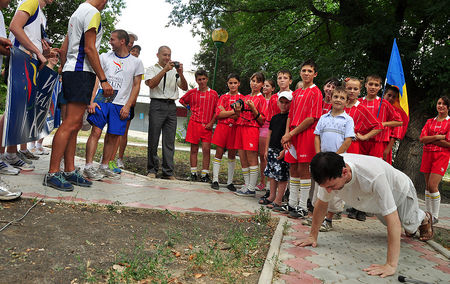 ...cheating in the country-guessing game will be punished...
... pedeapsa pentru încălcarea regulilor jocului de ghicire a ţărilor...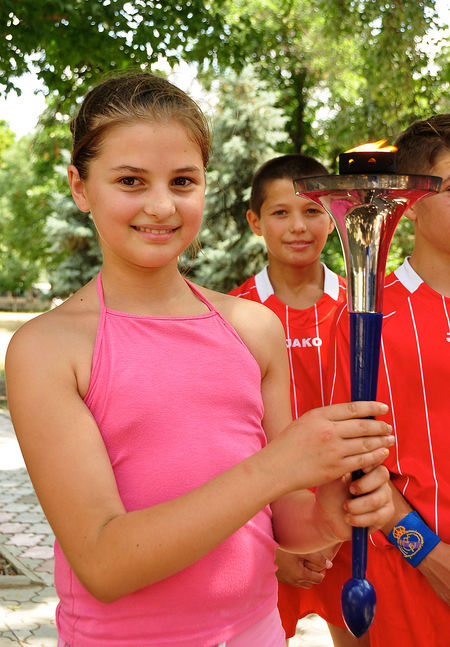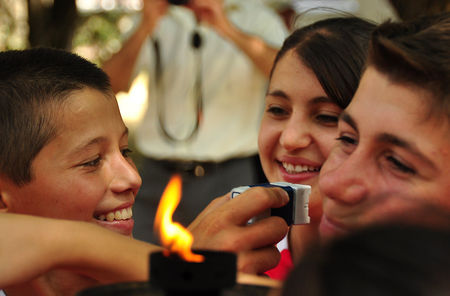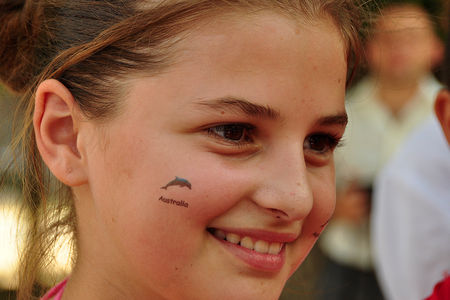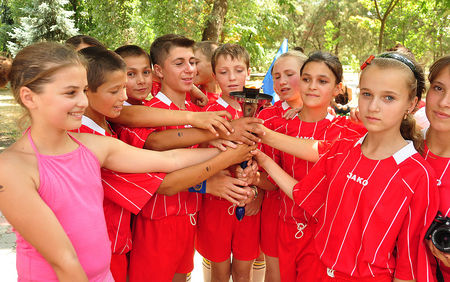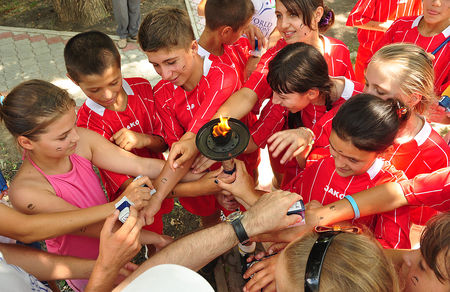 ...and the stamps again!
... şi iarăşi ştampiluţele!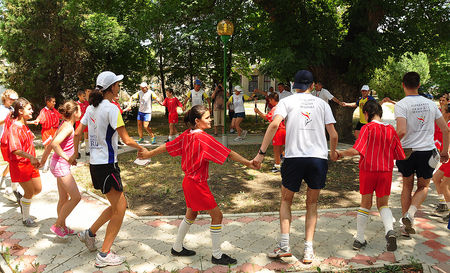 ...a traditional dance ended the official part and the city treated us with a great lunch!
... după un dans tradiţional partea oficială s-a încheiat şi oraşul ne-a servit o masă de zile mari!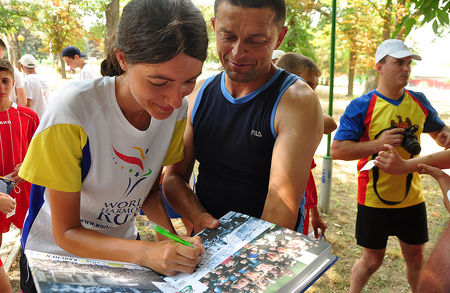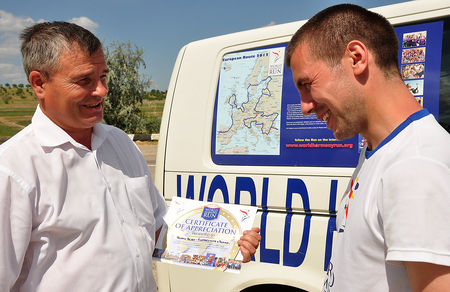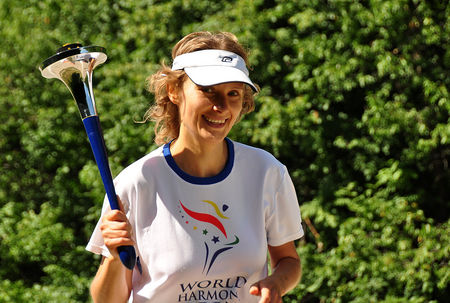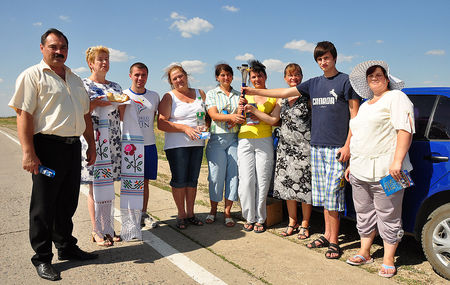 ...representatives from Codreanca met us on the road! Another hearty meeting...
... reprezentanţii de la Codreanca ne-au întâlnit pe drum! Încă o primire cordială...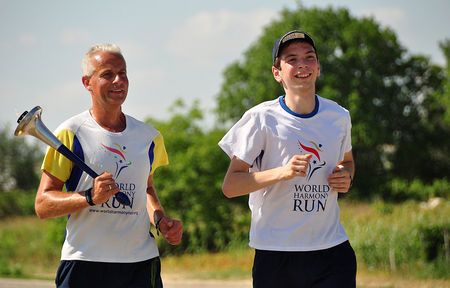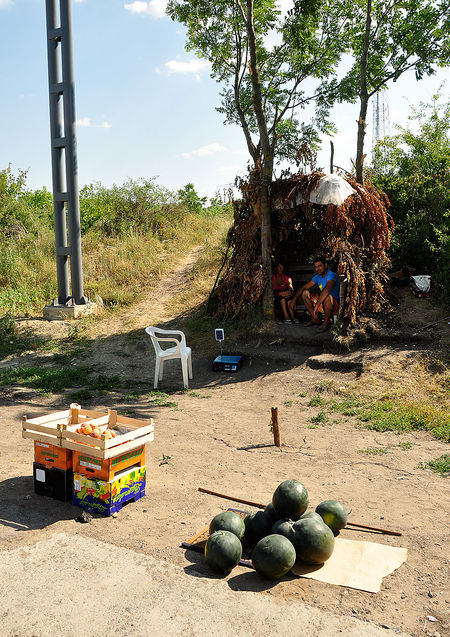 ...a typical business along the road...
... afacere obişnuită la marginea drumului...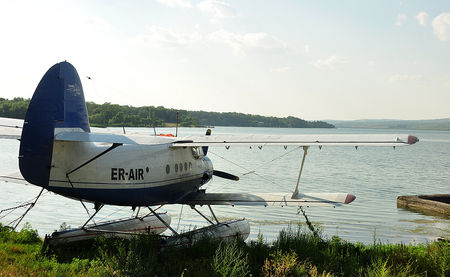 ...ready for take-off...
... gata de decolare...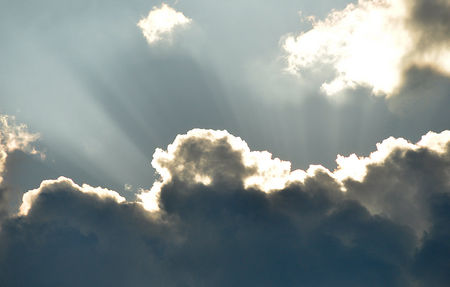 ...just as we were about running into Chisinau, some clouds covered the sun and made the run into the capital quite pleasant...
... numai la intrarea în Chişinău, câţiva nori au acoperit soarele, făcând alergarea prin Capitală cât se poate de plăcută...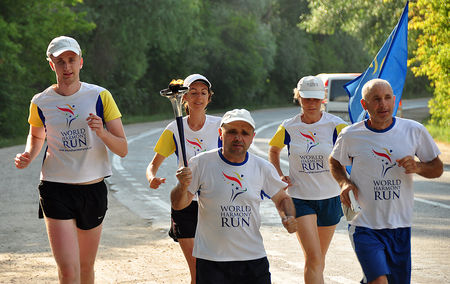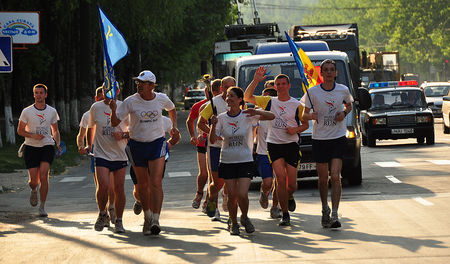 ...and the last steps...
... şi iată ultimii paşi...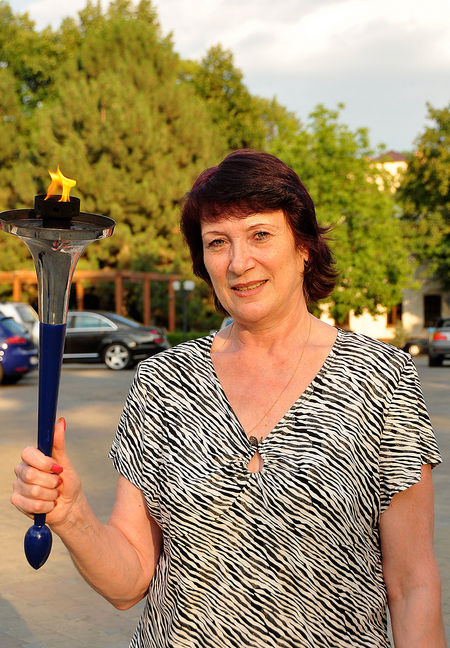 Mrs. Larisa Popova, Olympic Champion in Rowing, gladly received the torch...
Dna Larisa Popova, campioană olimpică la canotaj, a primit cu bucurie torţa...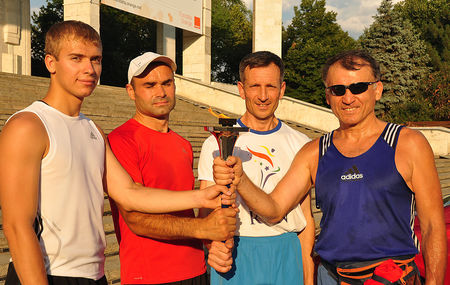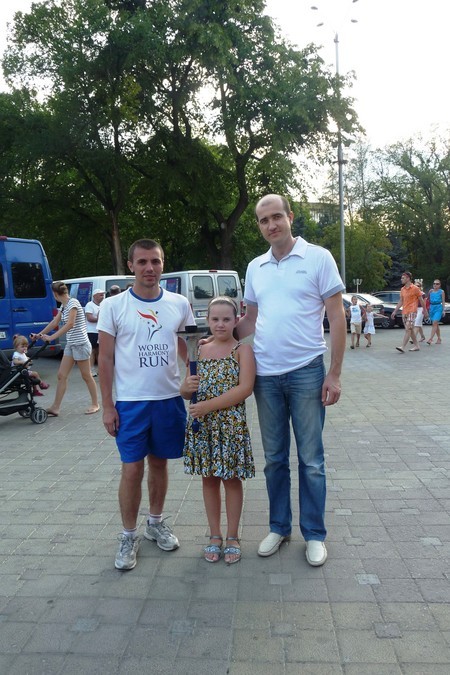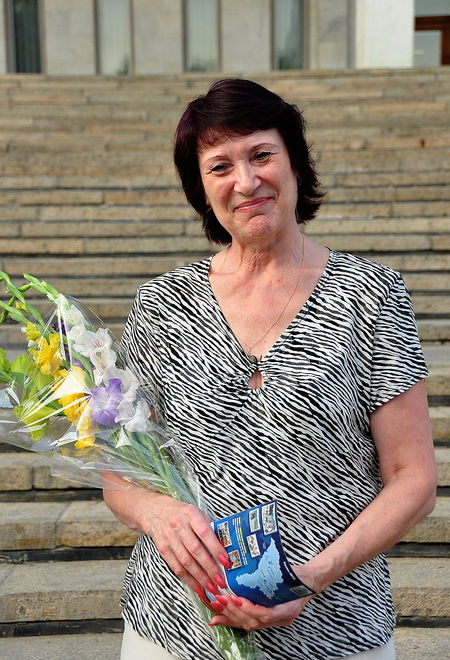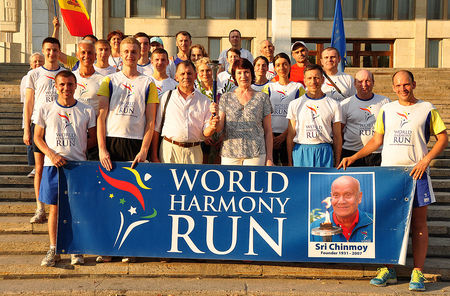 Mr. Constantin Negura, the General Secretary of the Athletics Federation of the Republic of Moldova welcomed us also with kind words. A group picture ended the official part.
Thank you for the most inspiring day!
Dl Constantin Negură, Secretarul General al Federaţiei de Atletism din Republica Moldova, ne-a întâmpinat cu cuvinte calde. O fotografie de grup a încheiat partea oficială.
Mulţumim pentru o zi plină de inspiraţie! 
---
Distance: 137 km
Team Members:
Dipavajan Renner (Austria), Sandro Zincarini (Italy), Sumahat Strohn (Germany), Vladimir Ilyasov (Russian Federation), Barbora Tabackova (Slovakia), Ildiko Kuremszki (Hungary), Valters Kinna (Latvia), Denis Gribok (Luxembourg), Moldavian runners
Harmonemail:
You can send a message to the runners or read the messages.
Gallery: See more images!