Netherlands 1 May: Amsterdam
The first of May is celebrated in many European countries as Labour Day. Our team of World Harmony Runners did not have to work very hard though (runningwise), as we spent a very special day in the beautiful city of Amsterdam, blessed by warm and sunny weather. We held a Relay of Religions, visiting 5 different religious communities and sharing with them our common inspiration.
The first visit was to the Protestant church Willem de Zwijger, located about 50 meters across the street from the place where we spent the night: an easy start!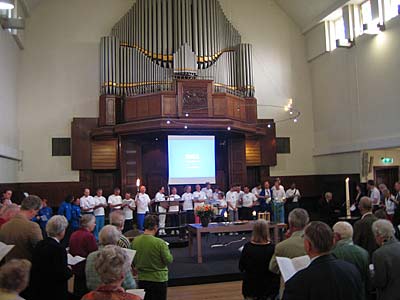 Minister Wies Houweling had kindly made room for us in their normal Sunday-service. After we talked a little about the World Harmony Run, one of the children in the church presented us with a very nice little gift: a paper string of many different people holding hands: a perfect representation of the spirit of the Run. The torch was passed on to all the churchmembers. Afterwards we sang a song that World Harmony Run founder, Sri Chinmoy, composed about Jesus Christ. Somehow, in these Christian surroundings this song sounded especially meaningful. We were pleasantly surprised when, at saying goodbye, the chairman of the church council, Michiel de Nooy, joined us on our way. As he said, as chairman, "you had to be all-round." He turned out to be an excellent runner, and was with us for most of the day.
Then it was off to the synagogue of the Liberal Jewish Congregation, which is quite large in Amsterdam (1900 people). We were warmly welcomed by Mrs. Van Praag. Harrie Polak read a beautiful prayer from Rabbi Nachman of Bratzlav.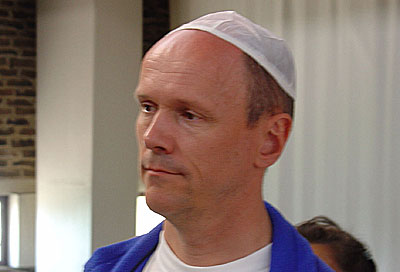 The members present then sang a moving Hebrew song for us. As we sat down for some refreshments, it turned out that also in their community, as in our team, people came from many different countries, so also on this account there was a lot to talk about. After a little tour, we were on our way again.
The Chinese Buddhist Temple on the Zeedijk, situated in the very heart of the city, was opened only 4 years ago by Queen Beatrix of the Netherlands. We were given a most beautiful reception. The temple was filled with their members, waving little flags and singing for us.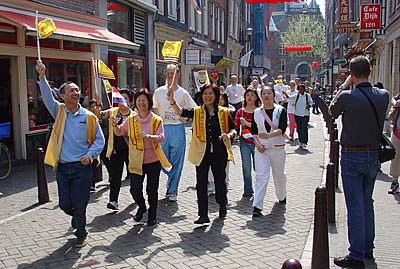 We sang a song Sri Chinmoy had composed about the Buddha. The name of the Buddha was chanted, and then, as the torch was passed from hand to hand, the Venerable Man Jong recited the Heart Sutra. They presented us then with the message for the year 2005 of the founder of this particular form of Buddhism, Master Hsing Yun, which very fittingly was "Auspicious Co-existence." They also gave each of us a little pin, which we will proudly wear. Very generously they afterwards fed us a superb lunch, better than the many Chinese restaurants in the neighbourhood could have offered us.
We then went to the big complex of the Aya Sofia Mosque in the west of the city. We took our running shoes off as we entered the large prayer hall. Chairman Fatih Öcler Dág was just then receiving a large group of Christians, telling them about the Islamic belief, their Mosque, and discussing ways of working together. Our visit fitted very well with the spirit of this meeting.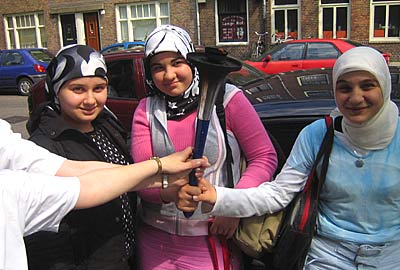 Mr. Dág gave us warm and wise words of encouragement and support. It is especially meaningful to meet together, to look beyond the short-term difficulties, and reach out towards each other.
Our last visit of the day was to the Roman Catholic Missionaries of Charity (Sisters of Mother Theresa).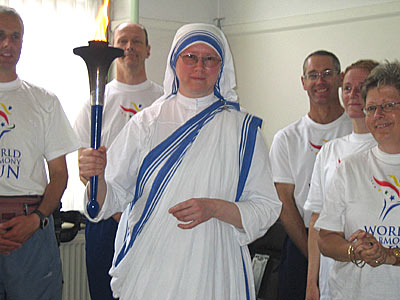 We arrived just before they were about to feed a large group of homeless people. As we sang the World Harmony Run song, they passed the torch to each other, their faces lit up by smiles. We then went upstairs to the little chapel, where we shared a moment of prayer and a few songs. It was very beautiful to see how the Sisters can do this difficult and selfless work for the homeless, fed by their deep source of spirituality.
As a day in Amsterdam is not complete without a boat ride through the canals, this is how we spent the last part of the afternoon. It was a beautiful day, showing all of us once more how people from very different (religious) backgrounds have so much in common, and can share so much goodwill. A day like this makes one very optimistic about the future of this world of ours!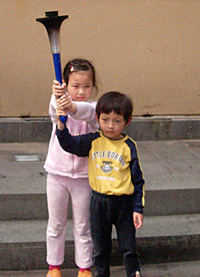 ---
Distance: 15km
Harmonemail:
You can send a message to the runners or read the messages.