Netherlands 2 May: Amsterdam - Culemborg
Today we ran from Amsterdam to Utrecht. Our first meeting was in the city of Naarden, famous for its 600-year-old fortress. It is also the final resting place of the famous Czech scholar, Jan Amos Comenius, who launched a reform in education in the 17th century.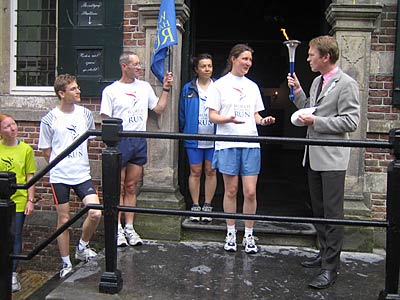 We were very warmly welcomed by the Mayor, Mr. Rehwinkel, who gave us a wonderful message to take with us on the road. It's a message that completely comes together with ours, quoting Jan Amos Comenius:
"Universal harmony and peace must be secured for the whole human race. By peace and harmony, however, I mean not that extended peace between rulers and peoples among themselves, but an internal peace of mind inspired by a system of ideas and feelings. If this could be attained, the human race has a position of great promise".
The Mayor offered our team some refreshments and made us promise to come back next time. We would love to!
We ran off and continued our journey in the direction of Hilversum and Utrecht. Typical Dutch countryside: flat, green, through little villages and over bridges that we sometimes had to stop for because boats would pass underneath a lever bridge.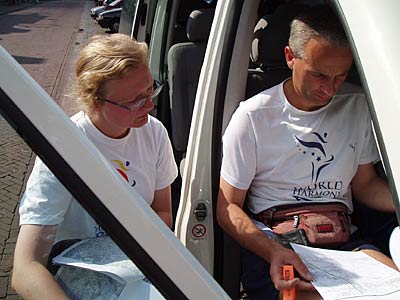 In Utrecht we arrived in the north of the city, one of the first cities where European Christianity started to blossom centuries ago, and which is known for its 'Dom' tower, which was the highest in the country for many years.
We were received by a very multicultural group at one of the playgrounds there. There were about 30 children and some officials from the city. The children made arches of balloons that we ran through as we entered their playground. We talked with them and ran with them. They were so happy!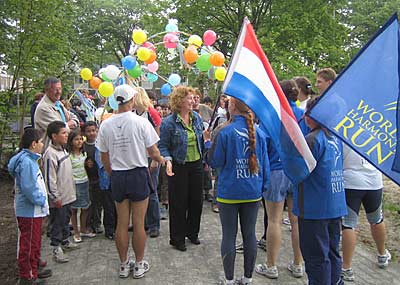 The last meeting of the day was at a community centre with about 25 kids. Another heartfelt meeting and running until every kid held the torch.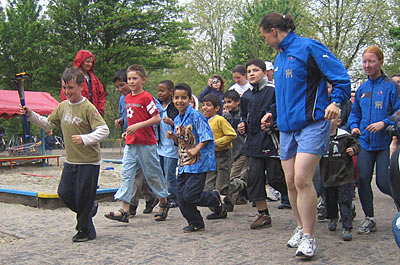 In the evening we had a wonderful meal cooked by our two best cooks: Elizabeth from Scotland and Annemarie from Holland. What a great treat after a day of running on the road.
Annemijn, The Netherlands
---
Distance: 75km
Harmonemail:
You can send a message to the runners or read the messages.