Netherlands 4 May: Eindhoven - Aachen
Our last day of flat (and therefore easy going) running, before we go to Germany.
We would like to thank our host for the night for receiving us so warmly. With very short notice two families prepared our dinner and sleeping places. As runners we sometimes don't know beforehand where we will sleep and it's incredible how people receive us sometimes in their houses without knowing us, and give us such a warm welcome. This time, friends of friends of one of our team members did that in a little town called Aalst. (Dear families, if you read this, thank you again!!)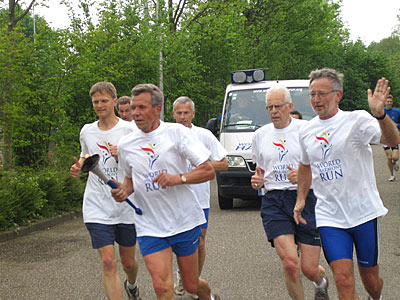 We started our day in Eindhoven, the light city, where Philips light bulbs and electronics come from. We ran to Weert and met about 10 enthusiastic runners from an athletic club. We ran with them for 14km.
At 1pm we arrived at Sittard, and ran with 15 kids to the City Hall where the Deputy Mayor received us and spoke such nice words. The city offered all the runners and children a lunch before we went on.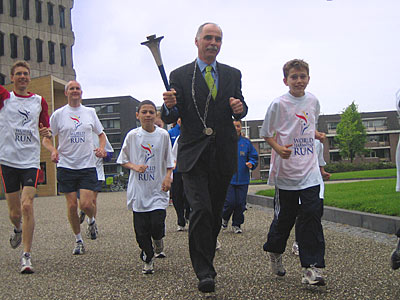 The countryside slightly changed as we ran, getting more hilly, and we arrived at Valkenburg. The Mayor welcomed us and offered us refreshments. He also referred to the date, 4th of May: a day of remembrance and respect for the people who gave their lives during World War II.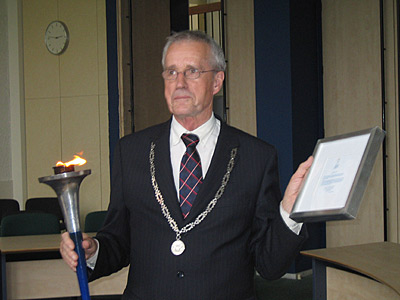 Today the Mayors said that we also share freedom and happiness in our meetings along the way. At end of the day we went to Vaals, the point where three countries come together: Belgium, Germany, and Holland, a city with many cultures. The Mayor who received us, said that in her city they are also working on friendship and harmony between all the citizens.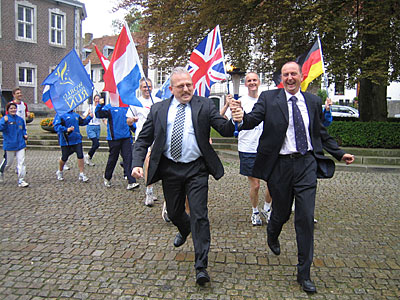 With this beautiful idea we passed the torch from the Dutch to the German, as we crossed the border and went to our respective sleeping places in Germany.
---
Distance: 108km
Harmonemail:
You can send a message to the runners or read the messages.