The Netherlands 18 May: Gorinchem - Den Haag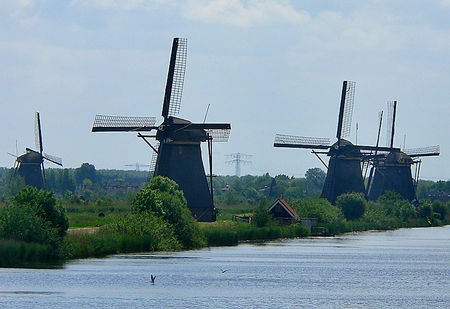 A sunny Sunday of running through the scenic beauty of The Netherlands.
Just as yesterday was all about fortresses and castles, today was all about nature's beauty. We had a nice, light day ahead of us and took it easy in the morning.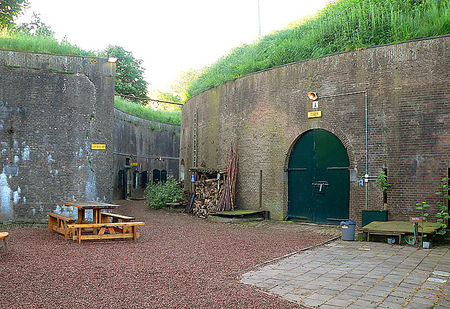 This is Fort Vuren, where we spent the night in comfortable beds. We are very grateful to the owner for accommodating us free of charge.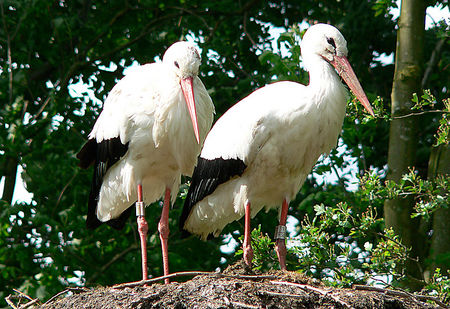 Our journey today took us past the village of Groot Ammers, famous for its big community of storks which like to make nests here. The two above were all for world harmony, as they benignly watched us run by.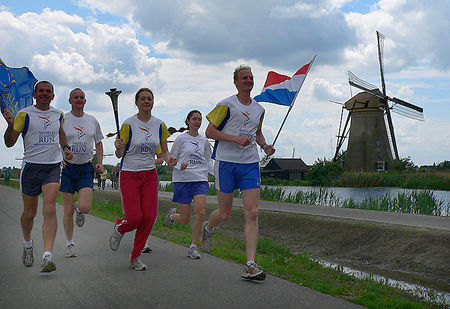 From Groot Ammers we ran towards the small town of Kinderdijk, famous in Holland for having the biggest concentration of windmills grouped together. The first picture in the report and the above photograph were both taken there. A beautiful place to visit!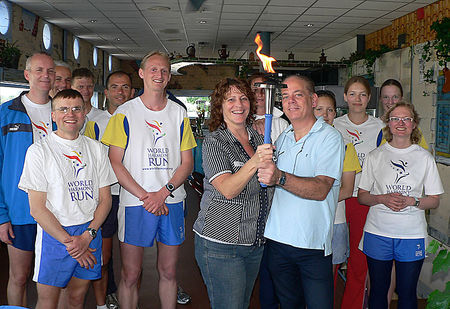 In Kinderdijk we visited the lunchroom and gift shop Anmadis, the owners of which very generously supported our initiative by offering us a free lunch in their beautiful café. Thank you so much!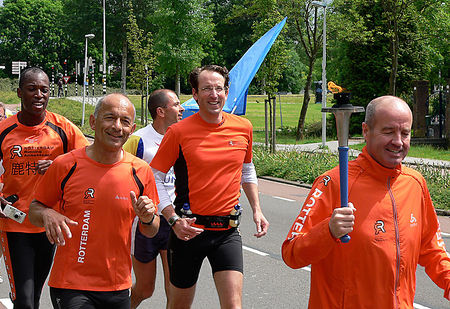 Then we hit the first big city in the West of Holland: Rotterdam. Rotterdam is famous for its harbour, which is the largest in Europe and second largest in the world (after Shanghai). In Rotterdam, runners from the Rotterdam Running Ambassadors awaited us for a 10K run through the heart of their wonderful city. This running group consists of different entrepreneurs from Rotterdam who like to combine running with expanding their business network. But they're serious about their running, training for two marathons each year.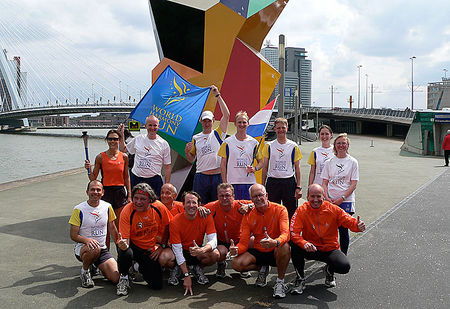 We finished our refreshing run at the marathon monument, a work of art dedicated to the Rotterdam marathon, one of the four fastest marathons in the world. The famous Erasmus Bridge is seen in the background (left).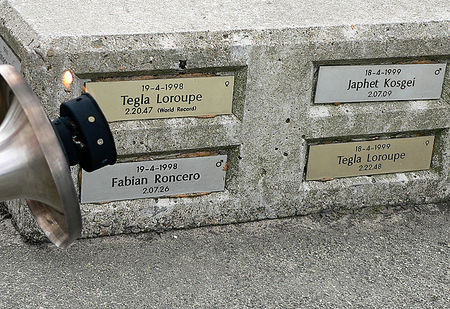 The Rotterdam marathon has been won by our good friend Tegla Loroupe on multiple occasions. Her name is etched into the monument's base - which lists all the winners - more than once. Tegla was present at the start of the European World Harmony Run in Rome on March 27th this year.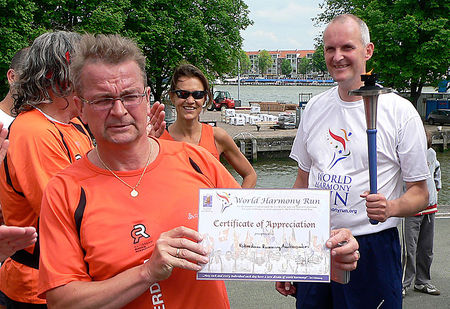 A proud Rotterdam Running Ambassador with our certificate of appreciation. Thanks for the great run, you guys were a wonderful team! We hope to see you next time in 2010.
From Rotterdam we cruised the remaining kilometres to Den Haag ("The Hague") where we finished our running for today.
See you tomorrow!
---
Distance: 90 km
Team Members:
Dipavajan Renner (Austria), David Mouton (France), Namitabha Arsic (Serbia), Darya Soboleva (Russia), Ksenia Soboleva (Russia), Abhinabha Hidde Tangerman (Netherlands), Anita Borics (Hungary), Sabine Meyer (Belgium), Rabinath De Lange (Netherlands), James Doran (New Zealand), Pradeep Hoogakker (The Netherlands), Annemarie Beumer (The Netherlands), Roos de Waart (The Netherlands), Peter Zuidema (The Netherlands)
Harmonemail:
You can send a message to the runners or read the messages.
Gallery: See more images!