Romania 1 July: Giurgiu - Urziceni
The team woke to a calm mild morning after the static of thunderstorms passed all around in the distance the night before. We did not leave until 10 o'clock so most of us enjoyed one or two extra hours of sleep…I think we deserve it now and again!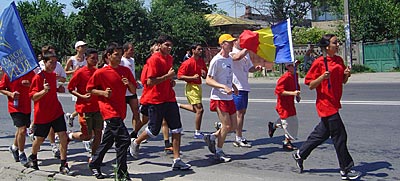 In the village of Jilava 15km from Bucharest we met a cheerful group from a local karate team who were all kitted out in bright red t-shirts. Twice we picked up more red runners as they waited along the road for our arrival. After a quick 5k we stopped for a break. Here the karate team departed but we were then joined by a group of about 30 runners from three or four different athletic clubs. They ran with us right into the centre of Bucharest. Here we came across a local tending to his flock of gobbling geese.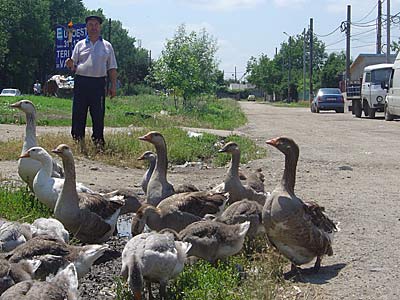 The energetic runners kept a fair pace for the whole 9km. It was a bright sunny day but luckily a nice breeze made running conditions quite comfortable. Tramlines ran right down the middle of the road and many commuters waiting on the platforms looked on with puzzlement. However we had one of Romanian runners announce our joyful message through the load speaker on the van easing the curiosity of onlookers. Every few kilometres we stopped for quick refreshments while the local runners jumped in and out of their own van. We even had some local kids join us for a little while. Police escorts cleared the way ahead of us through traffic-filled roads.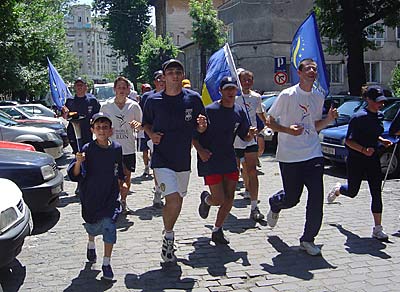 We arrived outside the Town Hall of Bucharest in good time and were greeted by the Councillor of Prefecture and the Representative of Sport. Both were filled with enthusiasm and after putting on World Harmony Run T-shirts they ran merrily with the torch.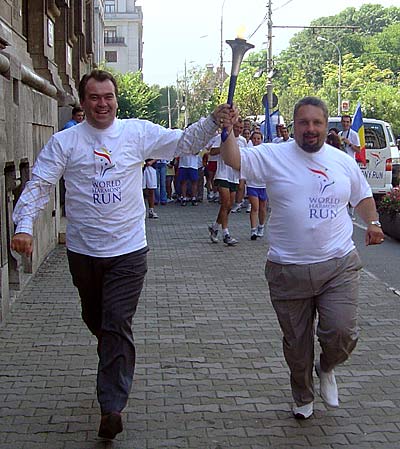 The team was then invited inside for a nice conference with refreshments. Here the General Secretary of Bucharest joined us also. After exchanging stories and good wishes, we left for a leisurely 8k run to the city edge. Meanwhile one of our vans went to be fitted with some fresh tyres.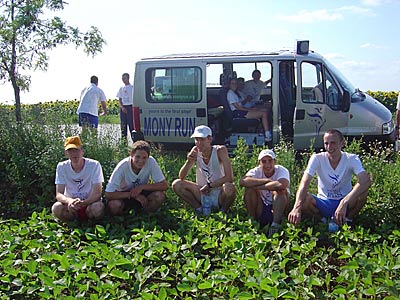 Glad to back in the countryside once more we passed by a luminous sea of yellow sunflowers that stretched as far the eye could see. Every sunflower gazed upon the sun as it crossed the sky. For miles there was nothing but crops growing strongly. We briefly took a rest by the roadside and sat down and stared across the vastness of the plantation of soya crops before us.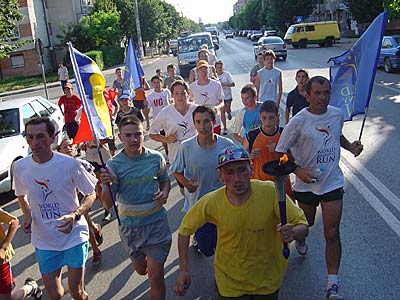 We covered 50k and were soon at the periphery of the town of Urziceni. Once again we were joined by a thrilled bunch of runners. The local council had put up posters regarding our arrival so we were received very warmly by the Mayor and town folk. They had set up a fancy stage for us and they handed us small gifts as we arrived.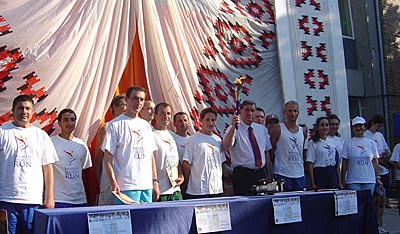 It was a day of transcendence with everyone covering some impressive distances ranging from 15km to 25km to 35km. One ultra-distance runner, Namitabha, ran even more than a marathon …45km! The local council also looked after our accommodation and a wholesome (good food for runners) meal. Afterwards we were glad to depart to our beds.
---
Distance: 126km
Harmonemail:
You can send a message to the runners or read the messages.