Romania 2 July: Urziceni - Focsani
Massive clouds fill the skies. The rain pours down. Brave Namitabha is the first to tackle the chilly weather. His trusty legs take him off into the horizon, torch in hand, mind steadfast, on towards better skies, better times, better… actually, most of the team are eagerly lining up to run in this "glorious running weather". It is weather in which you can keep a good speed. The terrain is pretty level all the way, too. Flat deep green fields of corn and sunflowers stretch out into the distance as far as the eye can see. Many runners find that they're making quite good times today.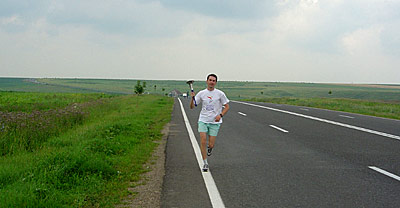 Buzau, our first stop, hosts a large and pretty square. The colours are light and airy, the Town Hall in hues of peach. Here we arrive with a lovely bunch of kids to meet the kindly Deputy Mayor.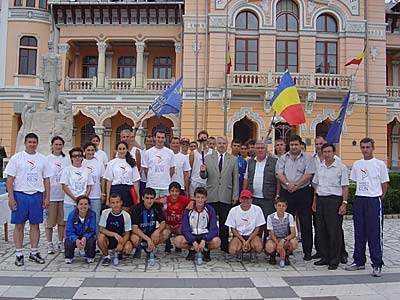 After the ceremony the kids and us take off again out of the city.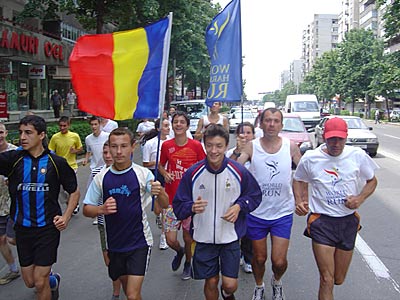 Run, run, run, run, run, run! That's what we do, we run. Although we also take lunch breaks, and most of us would agree that this is a very fine thing to do. While stopping today for cheesy spreads, bananas and other miscellaneous foodstuffs, we encounter a dear mother dog with her four adorable wee pups. At this point some of the lads are helplessly enchanted. So enchanted in fact that all we can do is take to our 13 kilo watermelon to knock them out of it.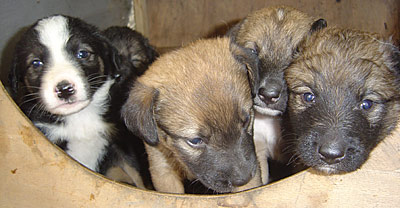 Just kidding.
A delightful group of sporty kids run with us in Focsani, our day's final destination.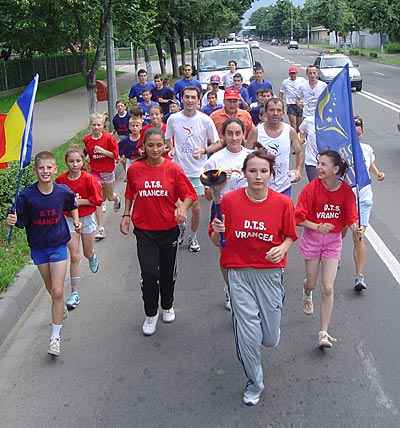 Here we are greeted by the representative of the Ministry of Sports for the region. The city then invites us for a good dinner.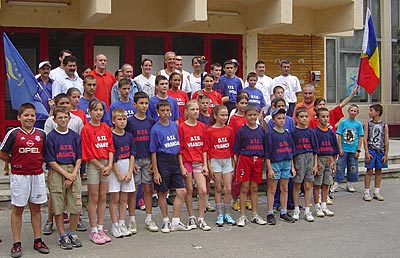 In the evening some of the boys set up a game of football. Then come the important preparations for the night. Our room is well prepared with some mosquito-repellent-incense and mosquito cream! Ha! Still, we get some buzzing and a few bites. Our room surrenders. In other rooms, however, it is a different story. Deep in the late hours of the night great battles are taking place: the epic and age-long wars of man against mosquito. Out on the street the late-night wanderer who haphazardly glances into the right window can be the lucky spectator of this strange ritualistic dance involving lots of erratic movements, clapping and jumping on beds.
---
Distance: 126km
Harmonemail:
You can send a message to the runners or read the messages.