Serbia 25 September: Belgrade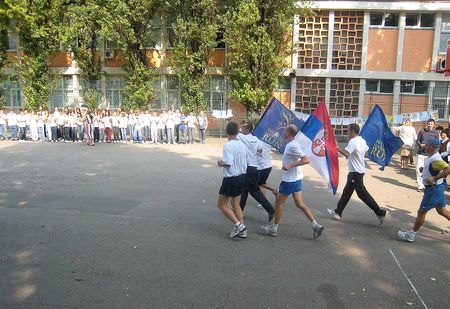 The WHR is back in Serbia and we celebrated the first day with lots of kids.
First we visited the "Vuk Karadžić"- school: the kids gave us a warm welcome and drawings decorated the schoolyard.
Trka harmonije sveta je ponovo u Srbiji, a prvi dan smo proslavili sa zaista mnogo dece.
Prvo smo posetili Osnovnu skolu Vuk Karadzic gde su nas klinci toplodocekali u dvoristu okicenom sa mnogo crteza.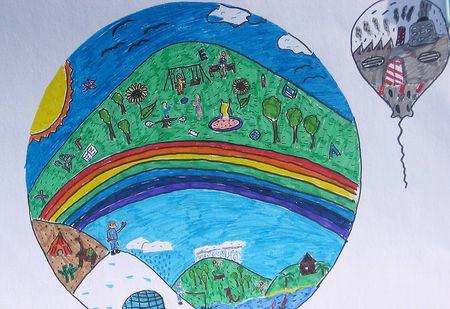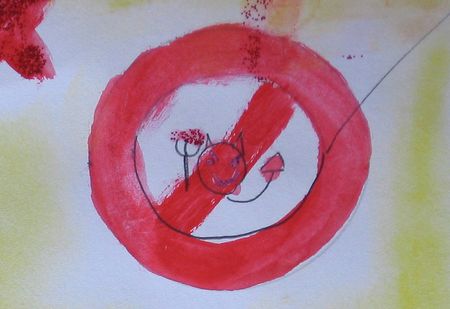 a special artwork...
specijalna umetnost...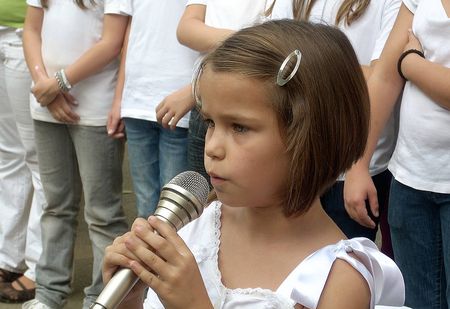 ...the kids recited poems and performances followed...
...deca su nam recitovala pesme a predstava se nastavila sa...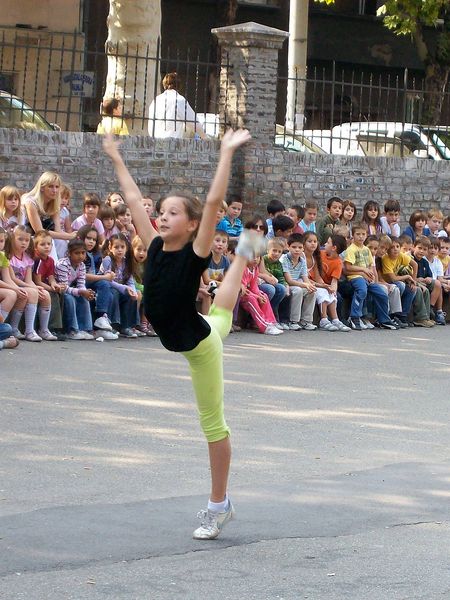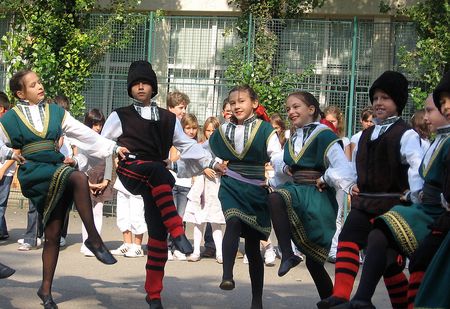 ...traditional dancing..
...folklorom....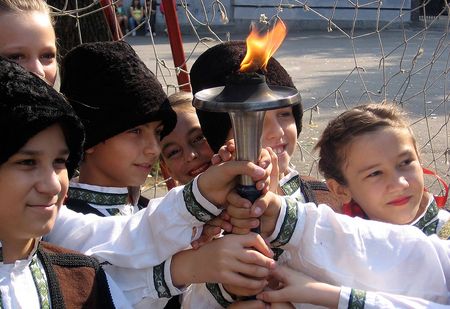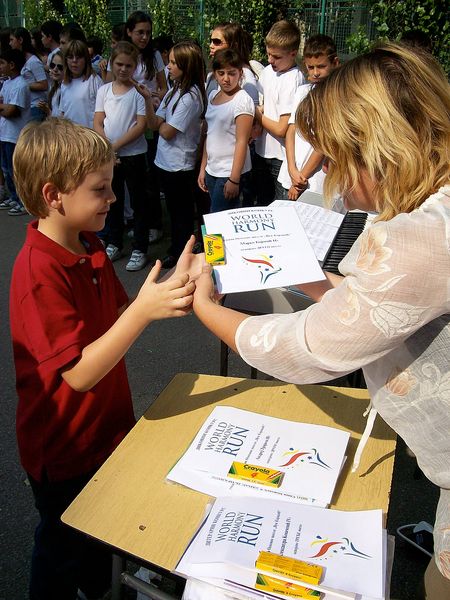 The kids participated in a poetry - and drawing competition and the WHR - awards were given to the winners!
Dodeljene su nagrade deci za najbolje radove iz poezije i crtanja!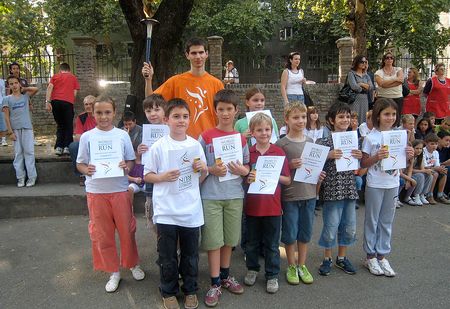 ...a group picture with the winners...
...zajednicka slika pobednika...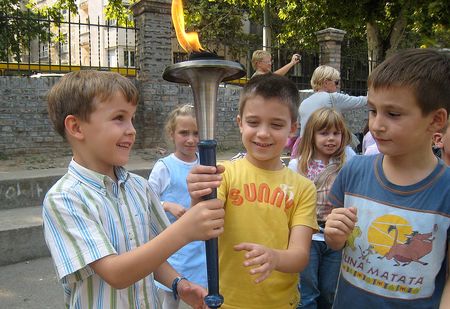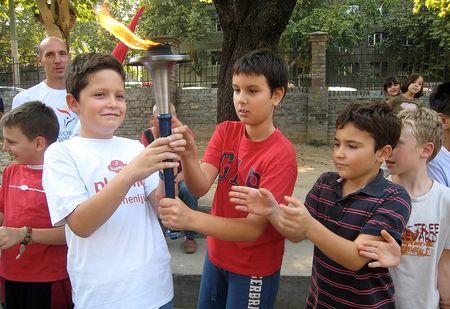 finally everybody got a chance to hold the torch!
napokon su svi dobili sansu da drze nasu baklju!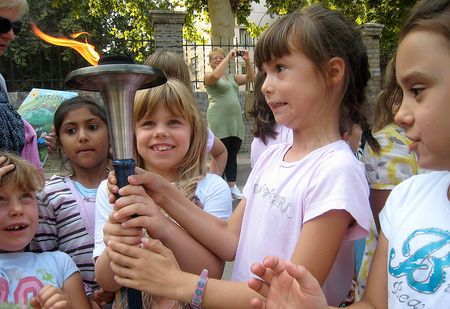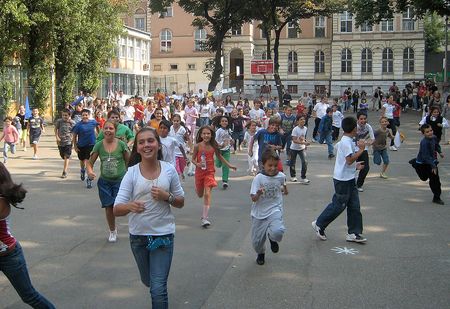 ...and the usual schoolyard stampede....
...a zatim uobicajeni stampedo u skolskom dvoristu...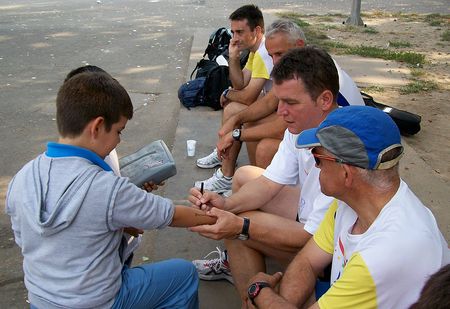 ...and autographs...
...i autogrami...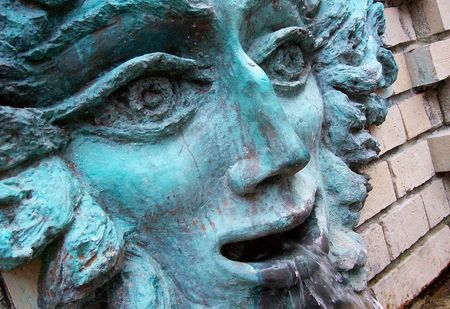 After a short run through the streets of Belgrade we reached the "Skadarlija" - school.
Posle kraceg trcanja ulicama u centru Beograda dosli smo do Osnovne skole Skadarlija.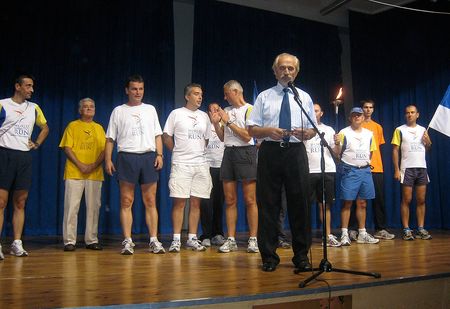 The principal received us on stage and soon afterwards the kids took over!
Direktor skole nas je primio na bini ali ubrzo nakon toga su nas zamenila deca!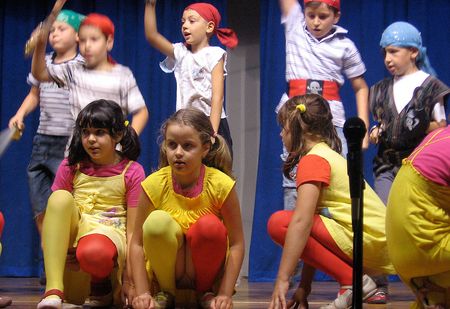 Their performances were multi-cultural and they had lots of fun!
Predstave su bile multi kulturalne i saljive!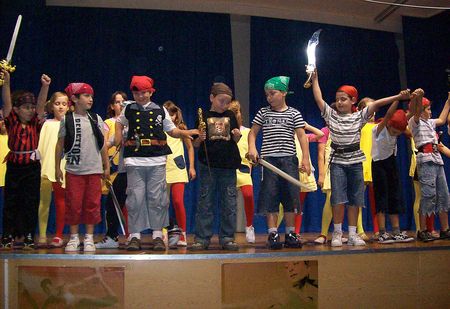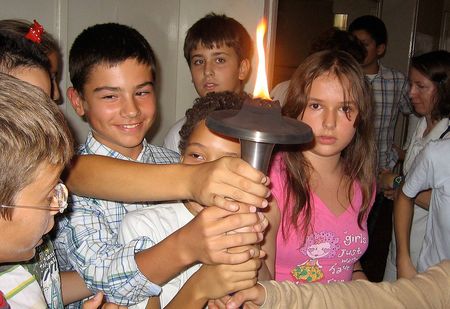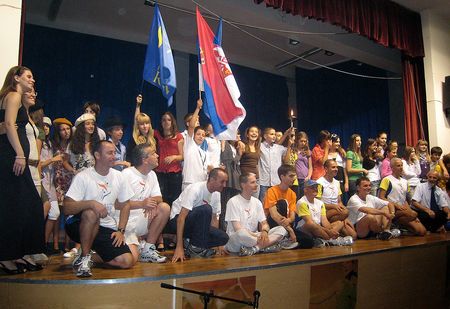 Thanks to everybody for the good time!
Hvala svima na lepo provedenom vremenu!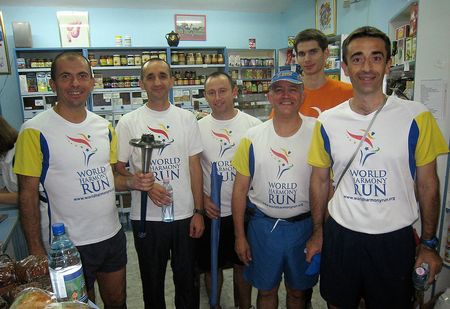 A short stop over in the Hema Kheya Neye - Health Food store...
Kratak predah u prodavnici zdrave hrane Hema Kheya Neye...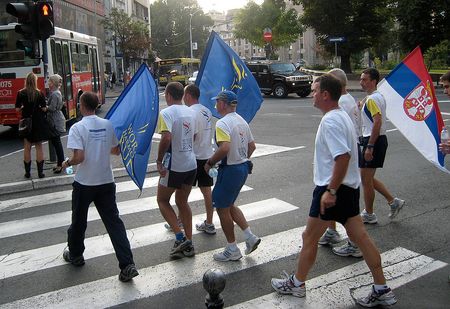 ...more city-running...
...jos malo trcanja kroz grad...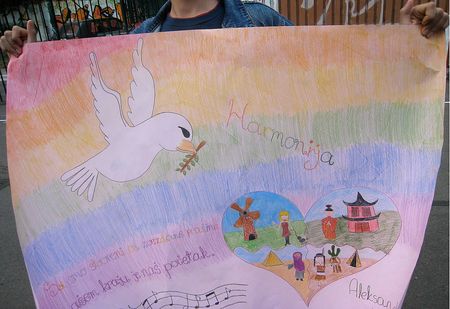 Our last visit brought us to the "Drinka Pavlović" - school.
Nasa poslednja poseta je bila u skoli Drinka Pavlovic.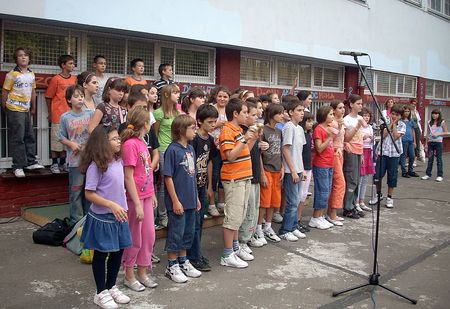 A childrens choir welcomed us with an enthusiastic performance!
Bilo je puno entuzijazma u izvodjenju pesme dobrodoslice!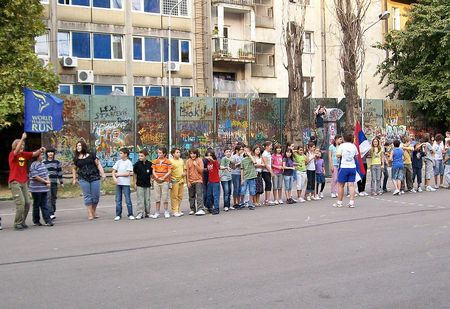 ...a big circle on the schoolyard to pass the torch around...
...veliki krug sa decom je formiran na skolskom igralistu...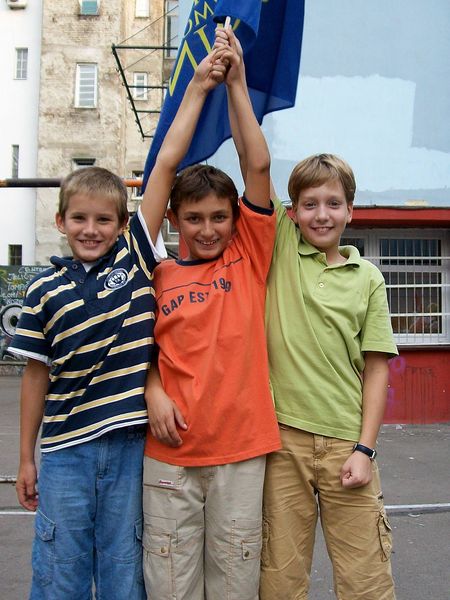 ...friends...
...prijatelji...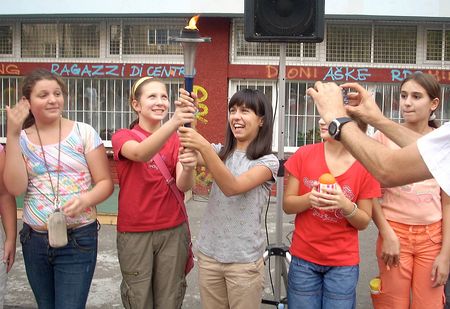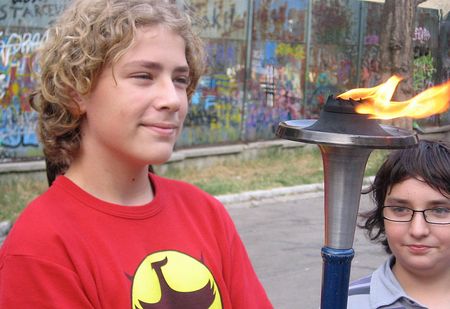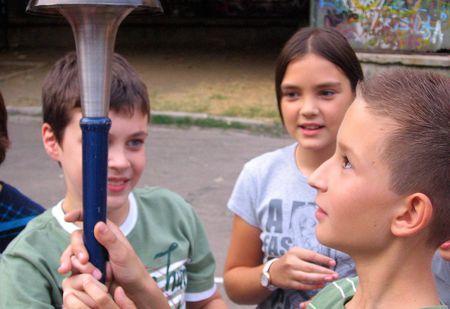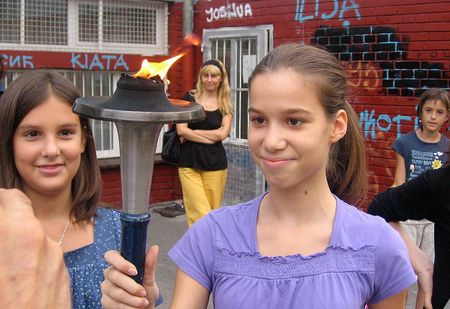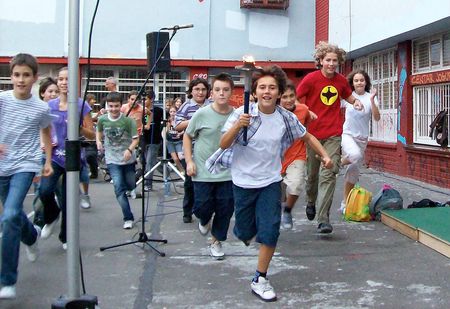 A symbolic run around the schoolyard ended our first day in Belgrade!
Dan je zavrsen sa simbolicnim trcanjem skolskim dvoristem!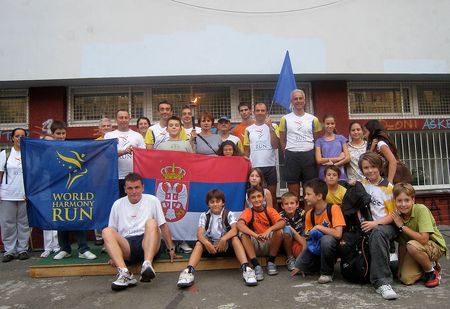 Thanks for the warm welcome!
Hvala na toplom doceku!
---
Distance: 7 km
Team Members:
Dipavajan Renner (Austria), Chanakhya Jakovic (UK), Pedja Knesevic (Serbia), Milan Bogar (Slovenia), Nenad Stajic (Macedonia), Dejan Kljaic (Bosnia i Hercegovina), Luka (Croatia), Dejan Kakonji (Hungary), Namitabha Arsic (Serbia), Alan Santrac (Spain)
Harmonemail:
You can send a message to the runners or read the messages.