Serbia 28 September: Nis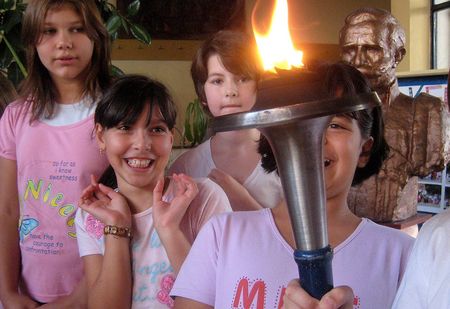 We arrived at the first school: Kole Rasic. The kids gave us a warm welcome!
Stigli smo u prvu školu, Kole Rasić. Deca su nas zaista lepo dočekala!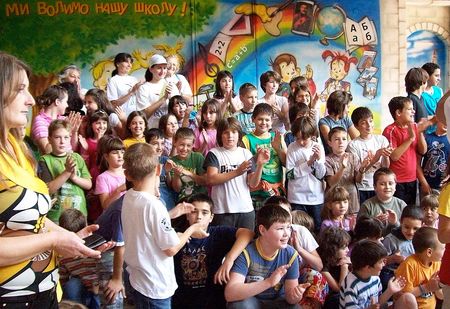 ...after a short presentation we went to the schoolyard...
...posle kratkog predstavljanja, zajedno smo otišli u školsko dvorište...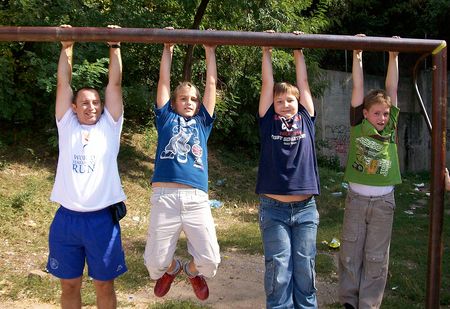 ...some exercises....
...malo vežbe neće škoditi...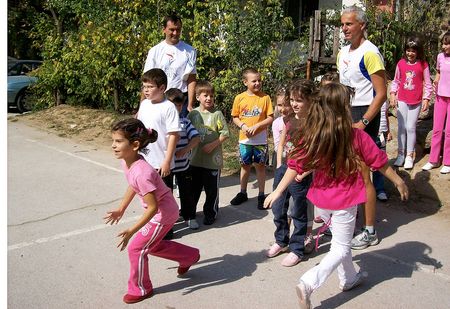 ...we organised some kids' races....
...uspeli smo da organizujemo veliku trku...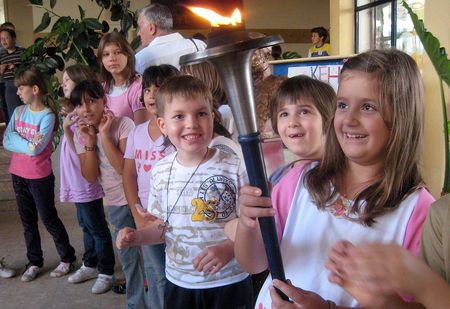 ...and everybody took the torch!
...zatim su svi dotakli baklju!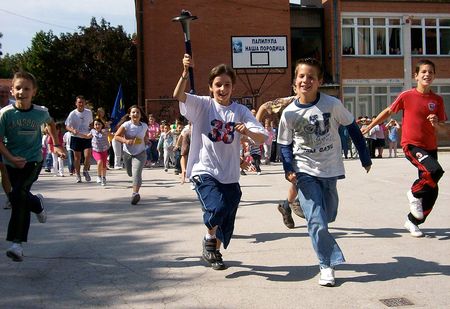 ...we were running back and forth, as the kids didn't get tired...
...trčali smo na sve strane bez prekida, kod dece umora nema...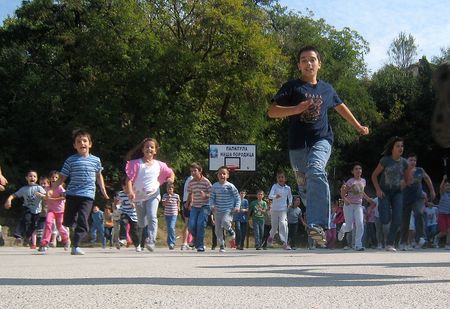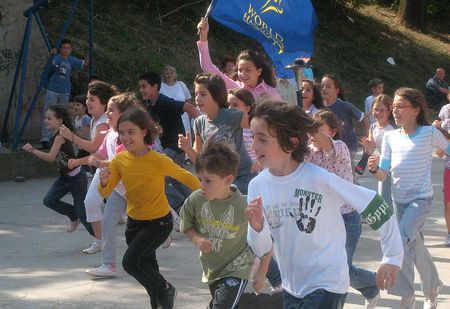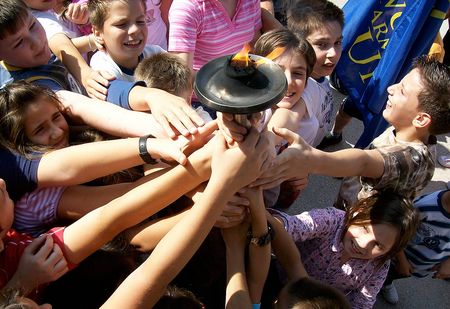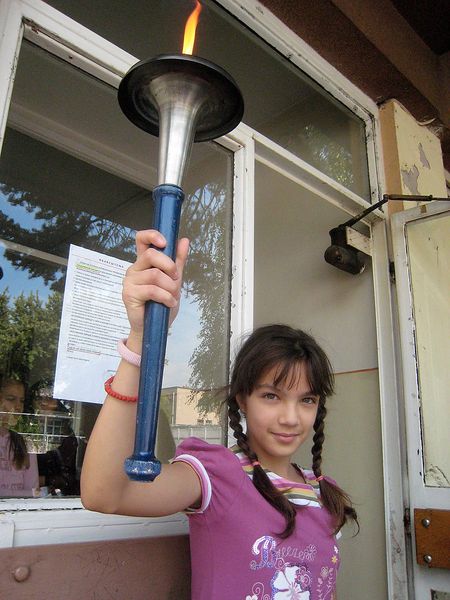 Soon afterwards, we went to the "Branko Miljkovic" school.
Odmah posle toga smo otišli u drugu školu "Branko Miljkovic".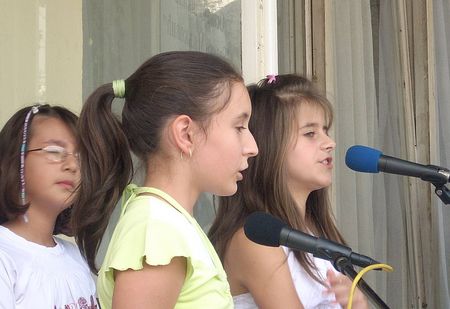 ...the kids recited poetry....
...gde su deca čitala svoju poeziju...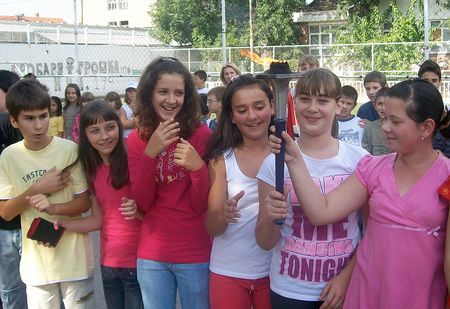 ...many smiling faces...
...mnogo nasmejanih lica...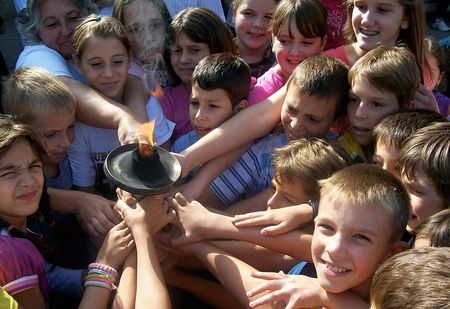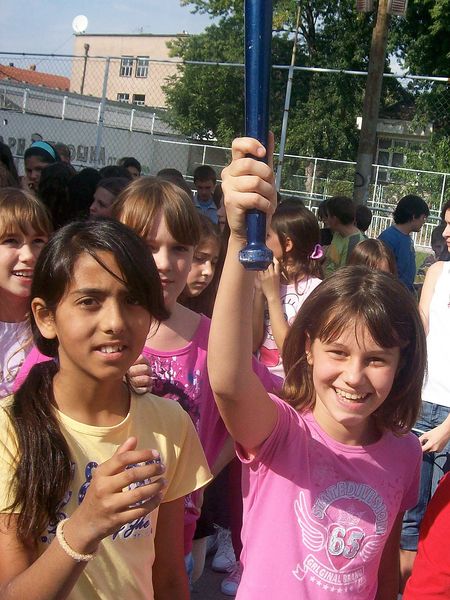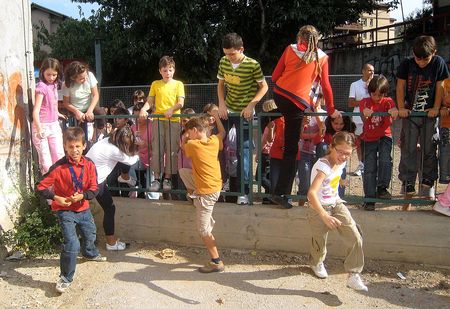 ...as we ran around the school we encountered some obstacles...
...trčali smo oko škole gde smo naišli na mnoge prepreka...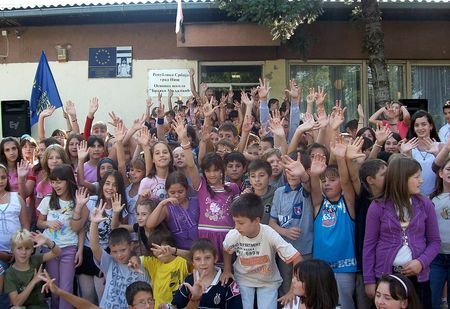 ...nevertheless, everybody returned happily for the final group picture!
...bez obzira na prepreke svi smo se vratili nasmejani za finalnu zajedničku sliku!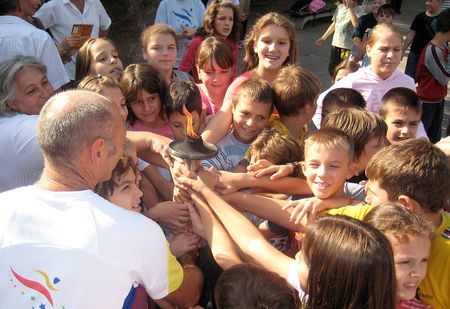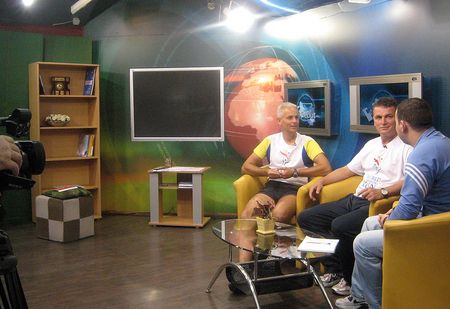 After the school visits, we went to a TV studio to record an interview for a TV show...
posle škola smo otišli na lokalnu televiziju gde smo dali intervju za TV show...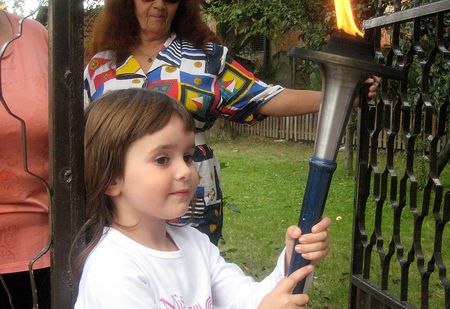 ...an impromptu meeting on the road...
...jedan improvizovan susret na našem putu...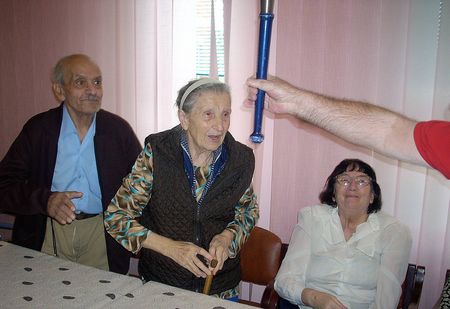 Our last meeting took us to a home for retired people.
Naš poslednji susret je bio u domu za starije osobe.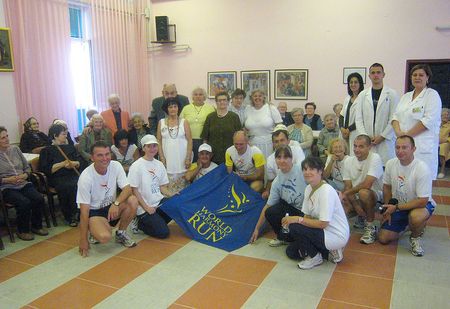 We received a warm welcome, with great traditional singing performances...
Naišli smo na topao doček sa izvođenjem tradicionalnih pesama...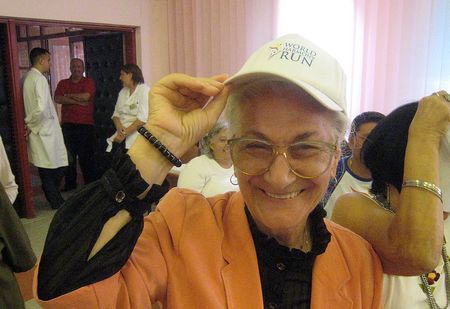 ...young at heart...
...mladi u srcu...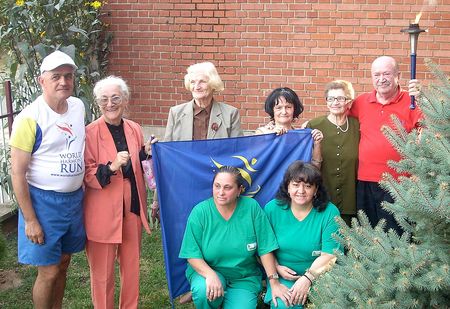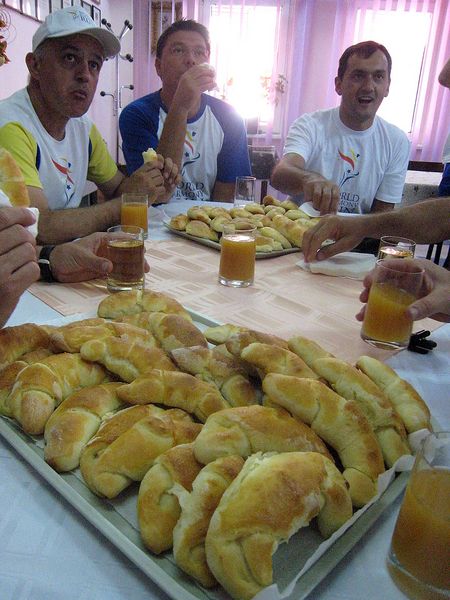 We ended our WHR 2009 in Serbia with great refreshments. Thanks to everybody for the overwhelming hospitality and the good time we had! We look forward to returning next year, for WHR 2010!
Završili smo naš WHR 2009 u Srbiji sa domaćim, neverovatno ukusnim kiflicama. Hvala svima na gostoprimstvu i lepo provedenom vremenu! Jedva čekamo da se ponovo vratimo kod vas u julu sledeće godine na WHR 2010!
---
Distance: 7 km
Team Members:
Dipavajan Renner (Austria), Chanakhya Jakovic (UK), Pedja Knesevic (Serbia), Nenad Stajic (Macedonia), local serbian runners
Harmonemail:
You can send a message to the runners or read the messages.