Slovakia 31 May: Trnava - Topolcany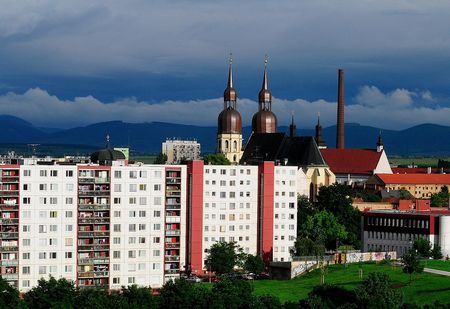 Precious rays of sun light the day...
Vzácne slnečné lúče zažiarili skoro ráno...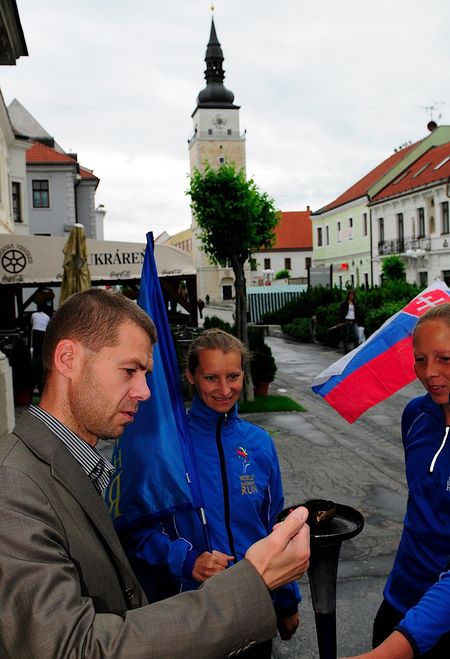 ...and the torch was lit as well.
...a tiež pochodeň sa rozžiarila.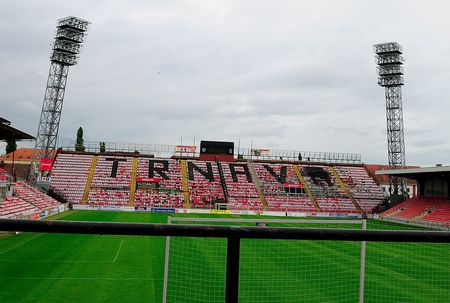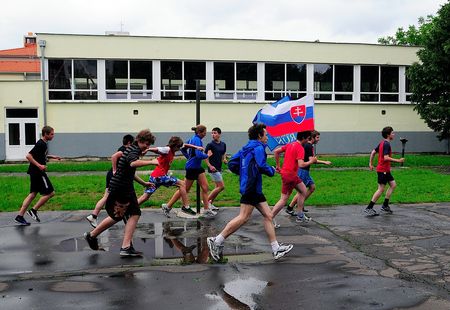 Jumping over puddles.
Skok cez mláky.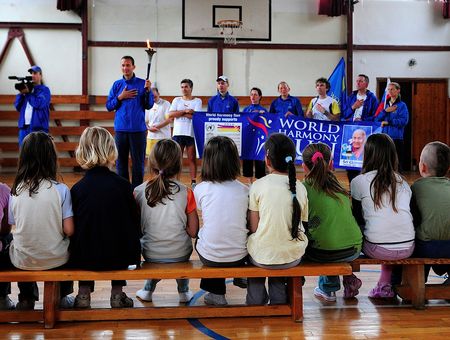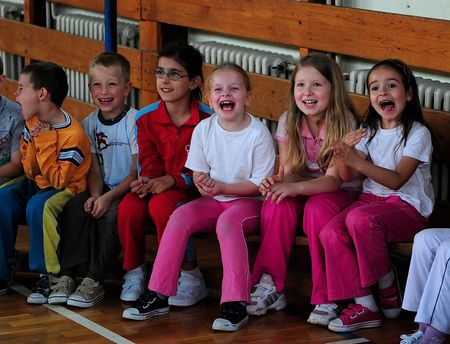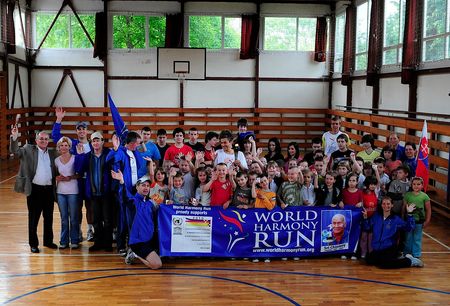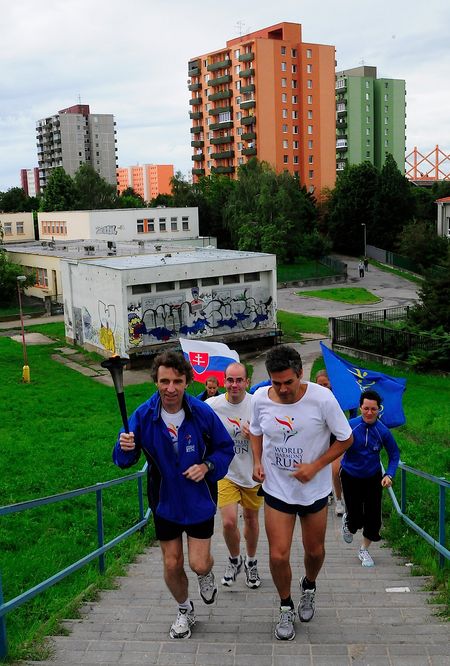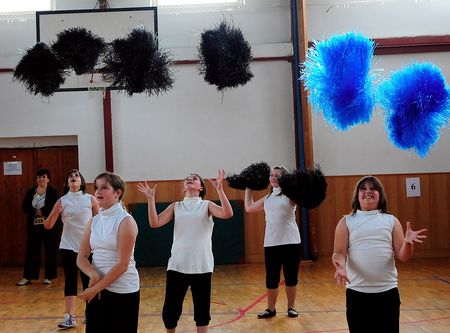 As the rain got heavier we gladly took shelter in a school gym in Trakovice. Great kids were gathered there to meet us. Cheerleaders welcomed us in brisk rhythm. The Mayor of Trakovice, Helena Hercegová came along to join the run.
V silnejúcom daždi sme veľmi privítali strechu nad hlavou v podobe telocvične na škole v Trakoviciach. Čakali nás tu nadšený školáci aj detičky zo škôlky. Vo svižnom rytme nás uvítali mažoretky a pani starostka Helena Hercegová.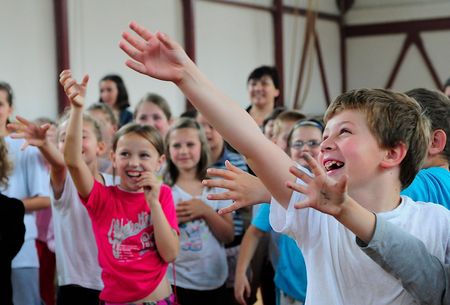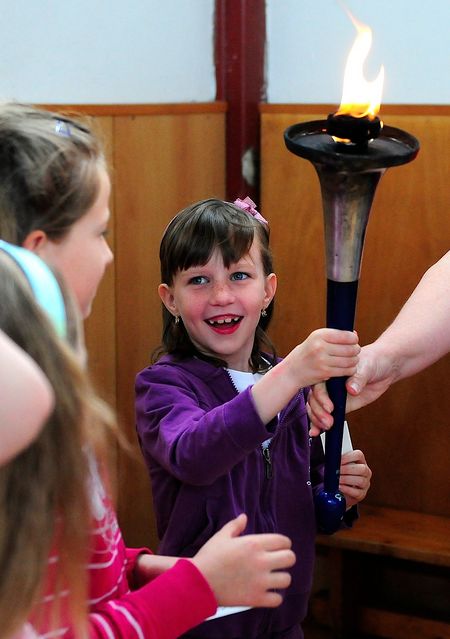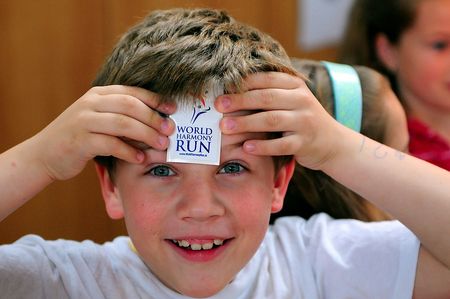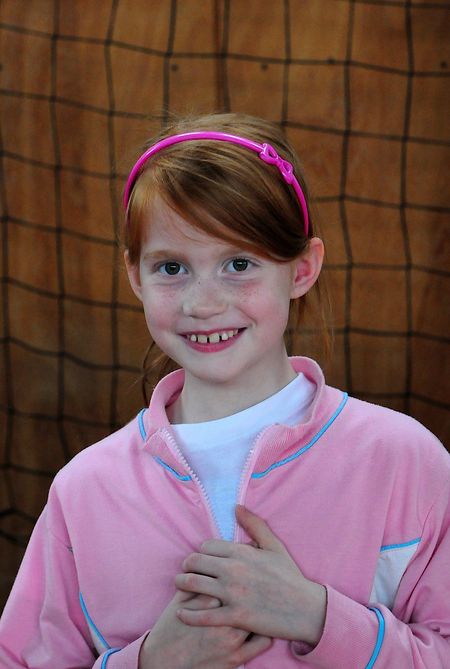 Feeling harmony in the heart...
Cítim harmóniu vo svojom srdci...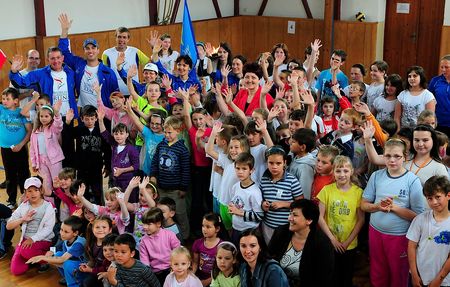 The mayor, in a team shirt, also ran with the torch.
Pani starostka v tímovom tričku si tiež zabehla s pochodňou.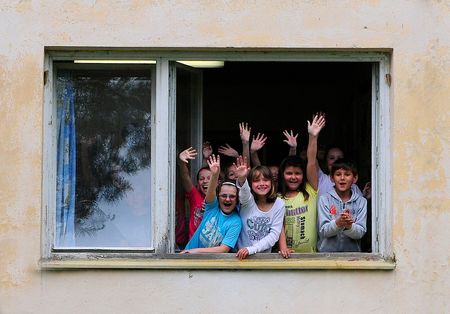 Thanks for this lovely gathering.
Ďakujeme za toto veľmi milé stretnutie.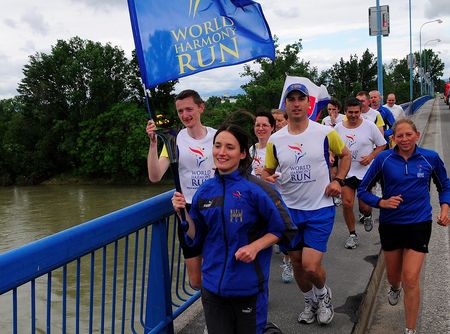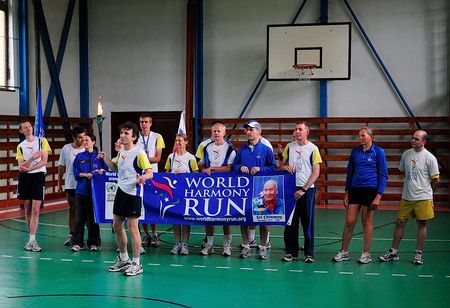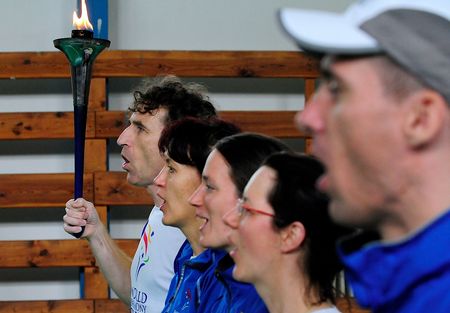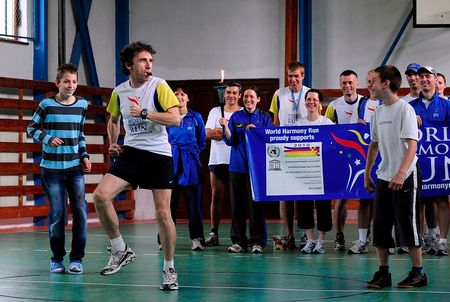 Pantomimed running at a school in Hlohovec. It is much more fun than normal running!
Pantomimický beh na škole v Hlohovci. Je to väčšia zábava než normálny beh!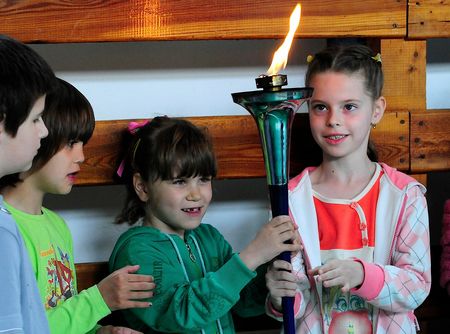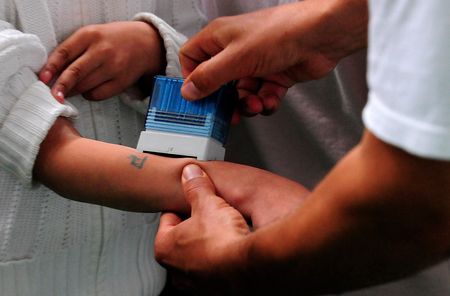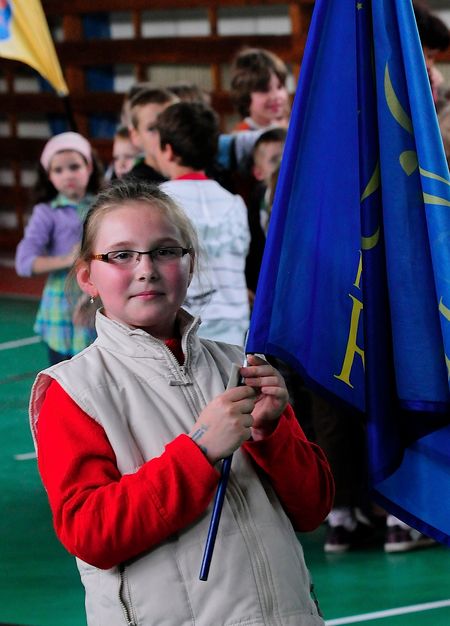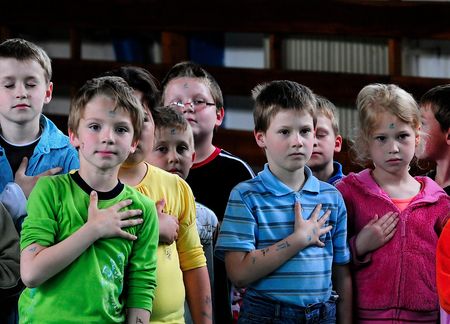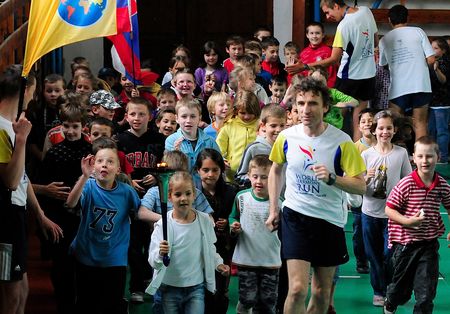 Together with the new members of our big team, we ran all around the world.
S deťmi, ktoré sa stali členmi nášho veľkého tímu sme prebehli celý svet.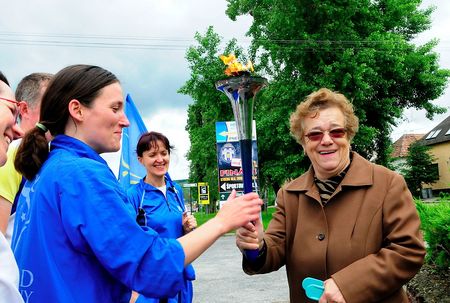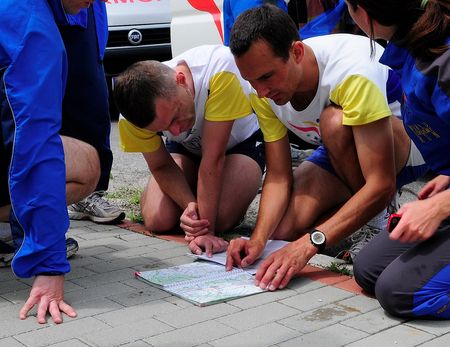 First we plan...
Dva-krát meraj...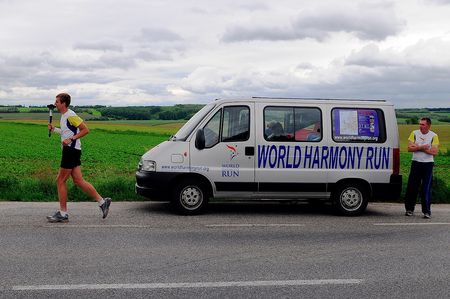 ...and then we run.
...raz bež.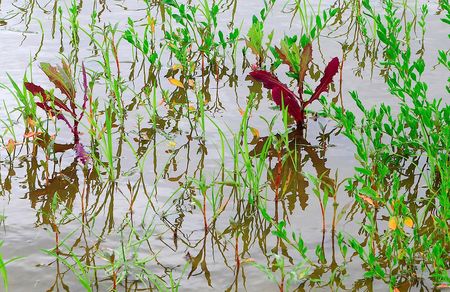 Rice should be easy to grow these days.
Ryža by sa teraz dobre pestovala.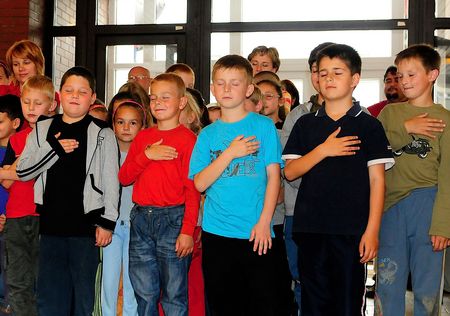 We could all feel friendship, love and harmony in our hearts when we tried it in Veľké Ripňany.
Vo Veľkých Ripňanoch sme pocítili priateľstvo, lásku a harmóniu vo svojich srdciach.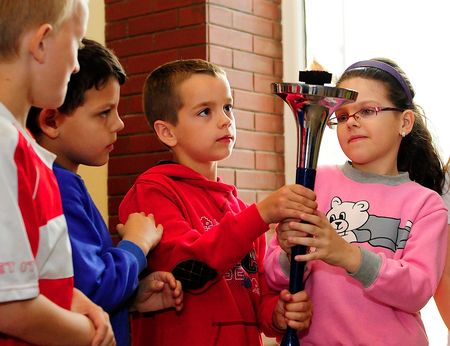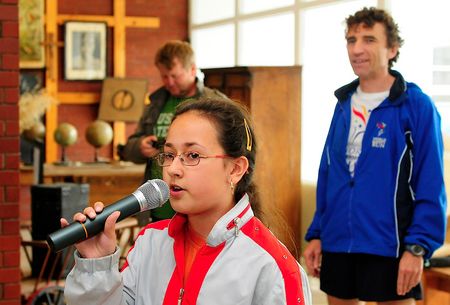 Spontaneous singing for the runners.
Neočakávané vystúpenie pre bežcov.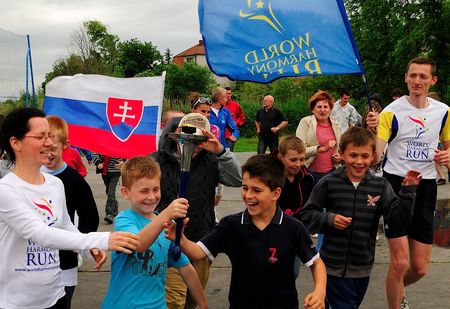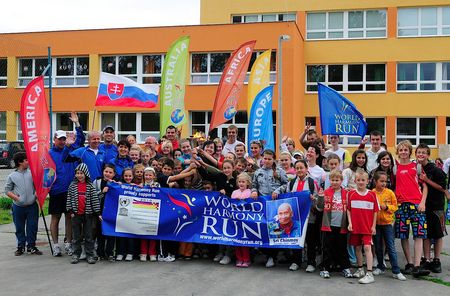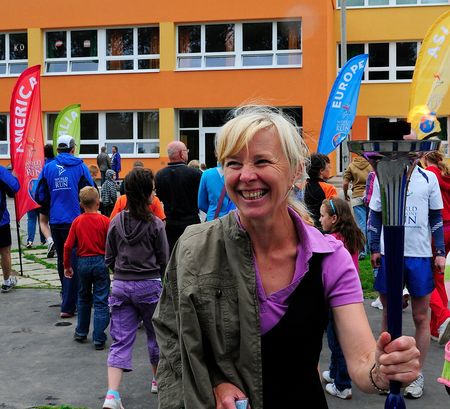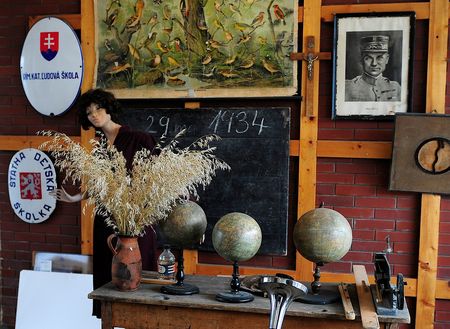 School as it was in old days.
Škola zo starých čias.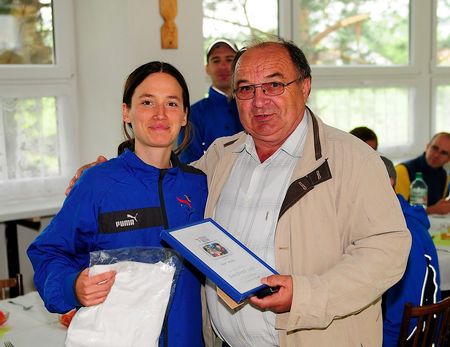 We are very grateful to the Mayor, Mr. Jozef Balážik and Vice-Mayor, Mr. PhDr. Jozef Krištof for great organization for the World Harmony Run in Veľké Ripňany.
Pán starosta Jozef Balážik a prednosta PhDr. Jozef Krištof výborne zorganizovali Svetový beh harmónie vo Veľkých Ripňanoch.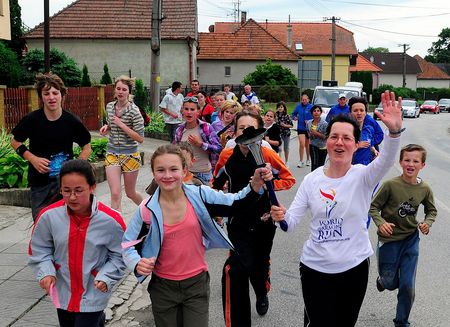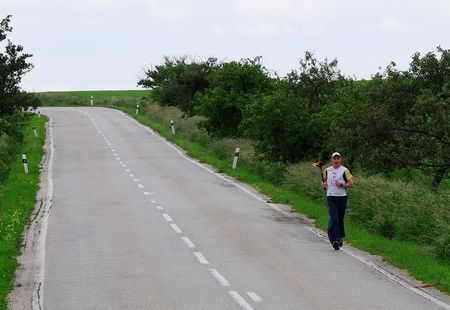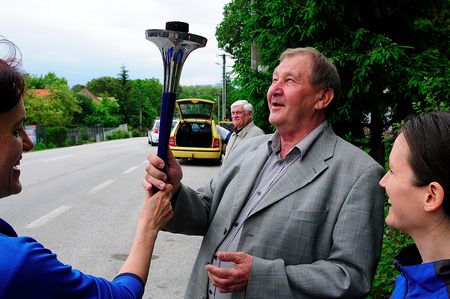 The Mayor of Horné Štitáre, Ladislav Halo took the harmony torch and passed it along to other citizens.
Pán starosta v Horných Štitároch, pán Ladislav Halo, prevzal pochodeň harmónie a odovzdal ju ďalej občanom.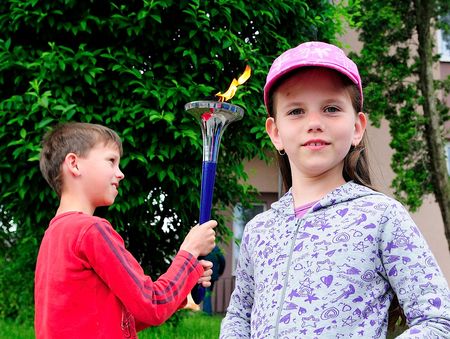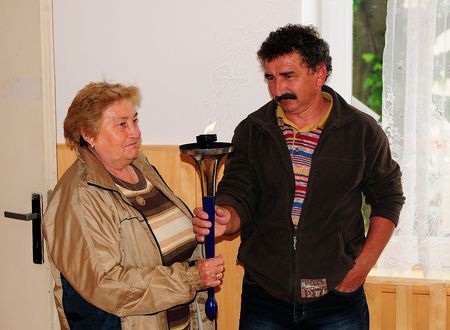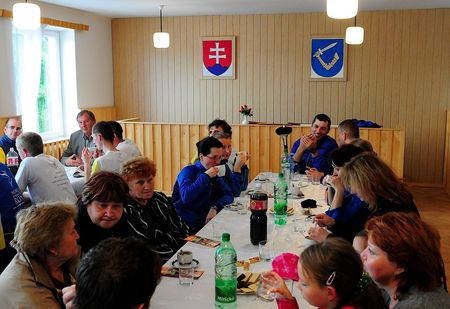 Runners from different countries and the people of Horné Štitáre took the opportunity to talk together for a while.
Bežci z rôznych krajín a ľudia z Horných Štitárov si chvíľku mohli pohovoriť počas prestávky na obecnom úrade.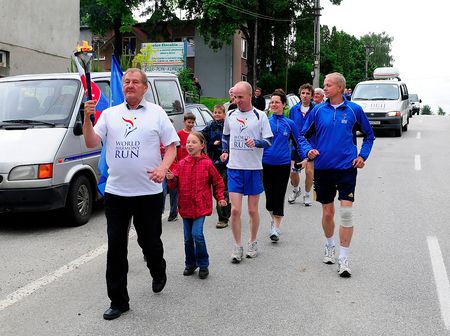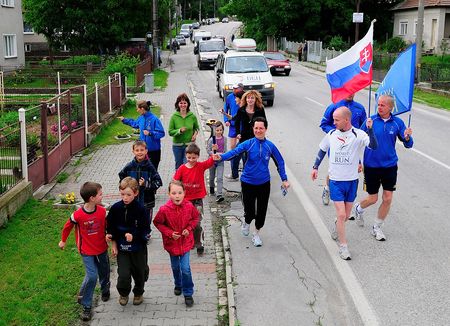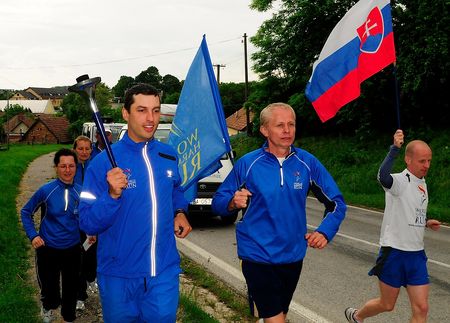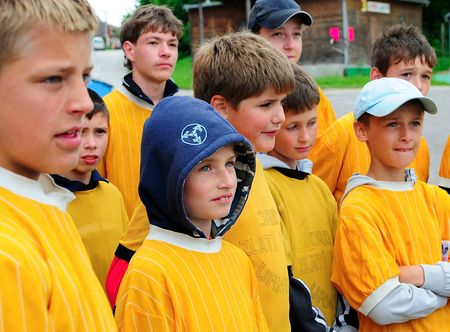 Urmince foorball team came to help us with the running, even though it was raining hard.
Napriek silnému dažďu nám s behaním prišiel pomôcť futbalový tím v Urminciach.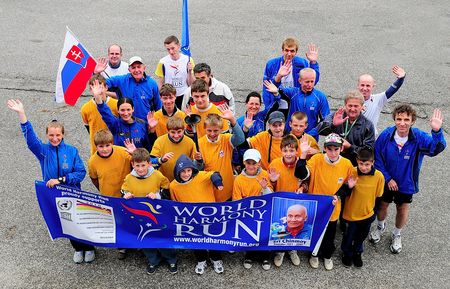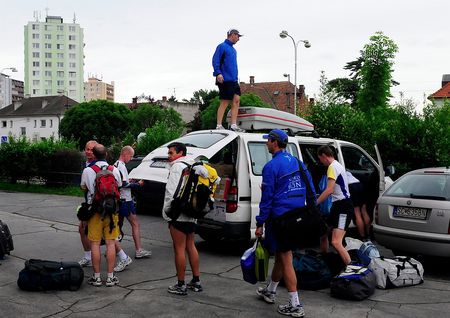 ---
Distance: 61 km
Team Members:
Apaguha Vesely (Czech Republic), Zoltan Theobald (Hungary), Svetlana Gorshkova (Russia), Balavan Thomas (Great Britain), Kastura Panenkova (Russia), Slovakian runners
Harmonemail:
You can send a message to the runners or read the messages.
Gallery: See more images!