Slovakia 3 June: Povazska Bystrica - Strelna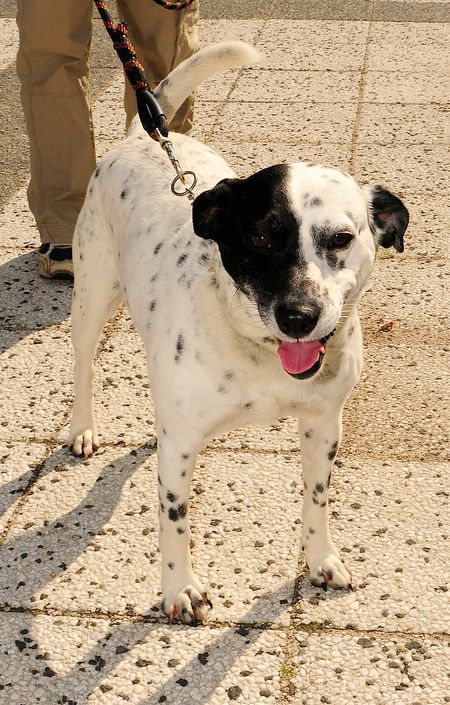 A dog eagerly awaits the runners.
Dokonca aj pes dychtivo očakáva bežcov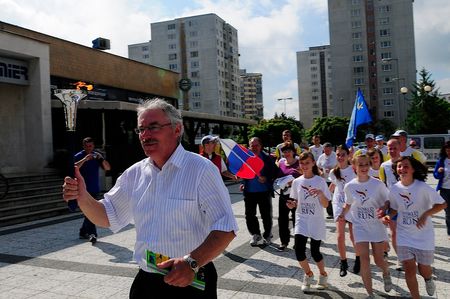 The Vice-Mayor of Považská Bystrica, Mr. Ľubomír Kubovič ran a few symbolic steps and children from a local sports school accompanied us at the begining of this new day.
Na začiatku nového dňa nás niekoľkými symbolickými krokmi vyprevádzal zástupca primátora Považskej Bystrice pán Ing.Ľubomír Kubovič spolu s deťmi z miestnej športovej školy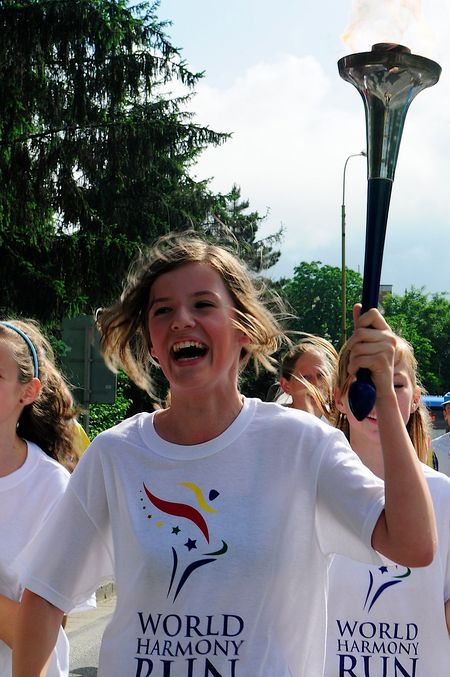 With a happy smile.
So šťastným úsmevom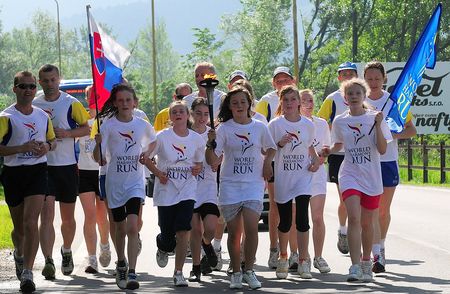 and perseverance...
a vytrvalosťou...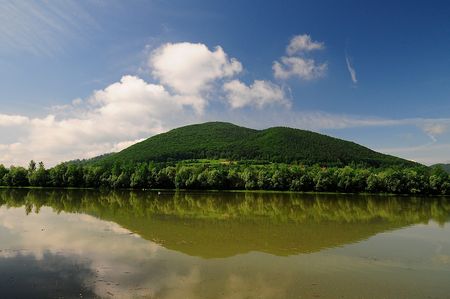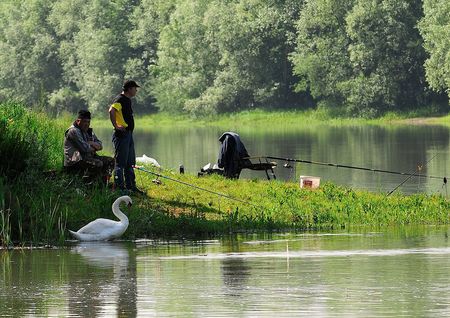 For us, no rest...
Žiadny odpočinok pre nás...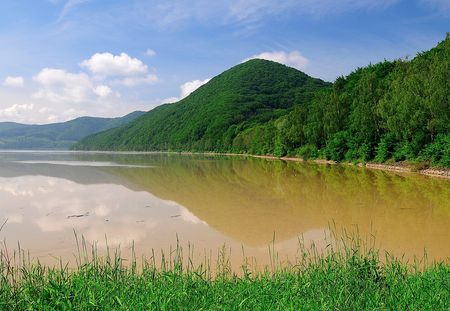 This is how it looks after a lot of rain.
Takto to vyzerá po veľkých dažďoch.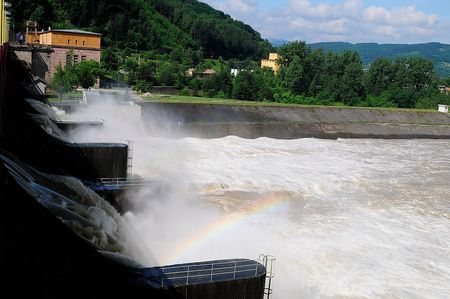 Nosice Dam.
Vodná nádrž Nosice.
A rainbow gives joy to everyone...
Dúha poteší každého z nás...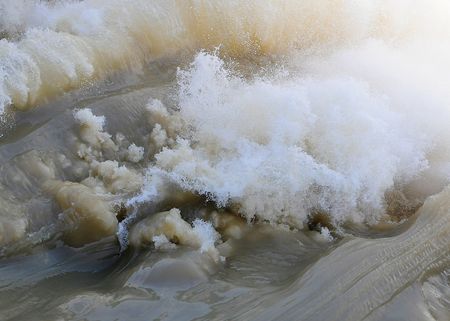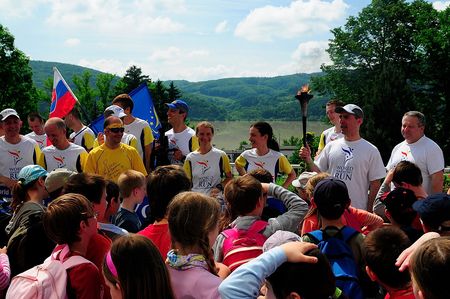 Nimcica surprised us with a lot of kids.
Nimnica nás prekvapila s kopou detí.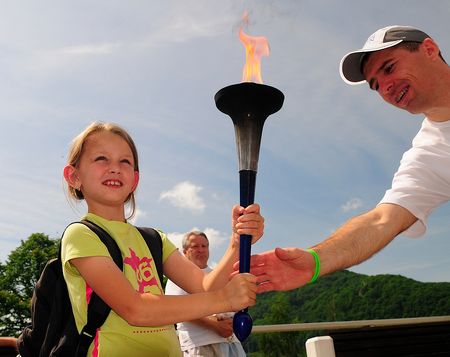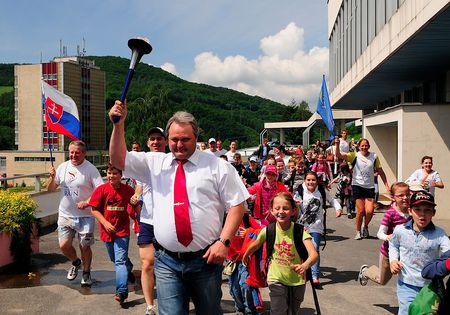 The Mayor of Nimnica, Mr.Ladislav Ďureček with the torch.
Starosta Nimnice, pán Ladislav Ďureček s pochodňou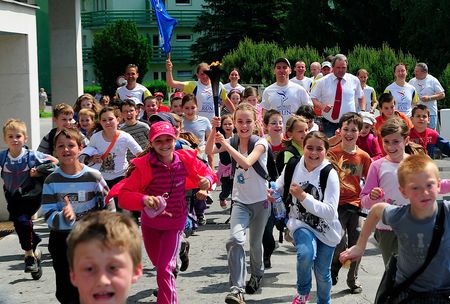 ... then faster runners took over.
... potom rýchlejší bežci prevzali pochodeň.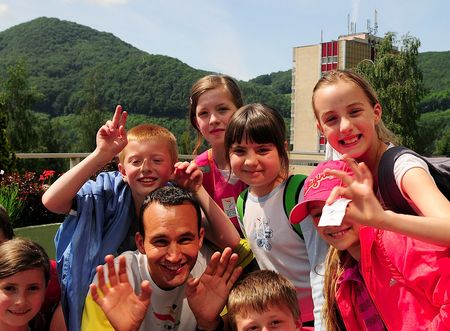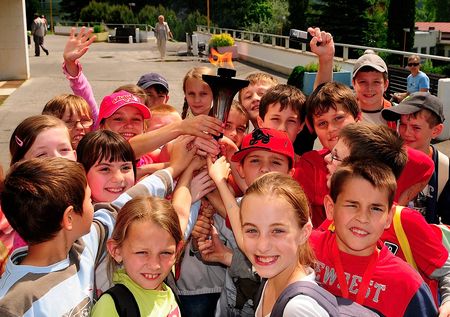 The torch unites not only hands, but also  - in fact mostly, hearts.
Pochodeň nespája len ruky, ale aj srdcia, hlavne srdcia.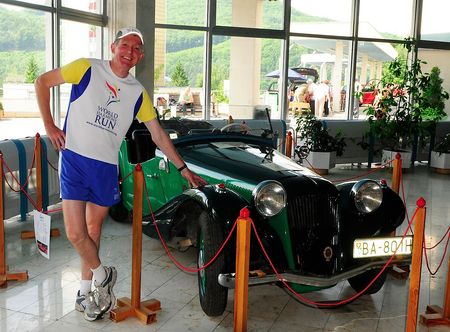 ..my darling...
..môj miláčik...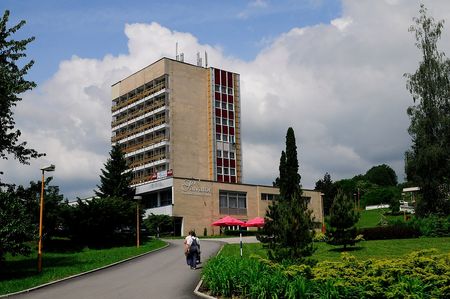 Nimnica Medical Spa.
Liečebné kúpele Nimnica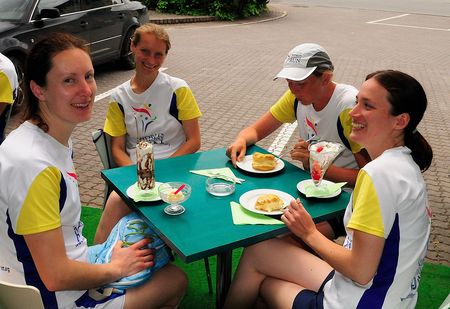 A sweet stop :), at a bakery.
Sladká zastávka v cukrárni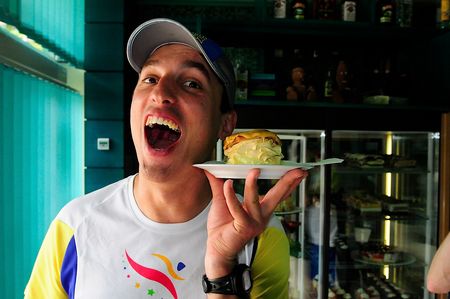 I can easily eat it, and even the plate!
V pohode to zjem aj s tanierom!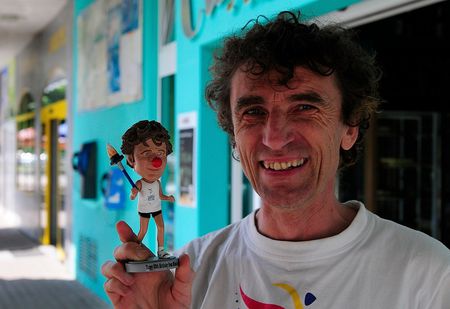 A birthday present for a great mime and member of our team Vlado Kulíšek. (Which one is the real one?)
Narodeninový darček pre veľkého míma a člena nášho tímu Vlada Kulíška. (Ktorý z nich je skutočný?)
School kids from Záriečie joined us.
V Záriečí sa k nám pridali deti z miestnej školy.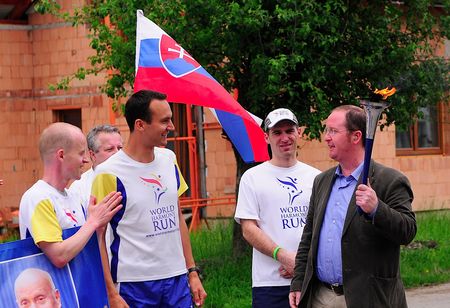 The Mayor of Záriečie, Mr.Jozef Kollár.
Starosta obce Záriečie, pán Ing.Jozef Kollár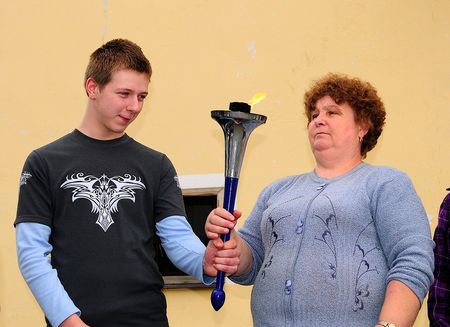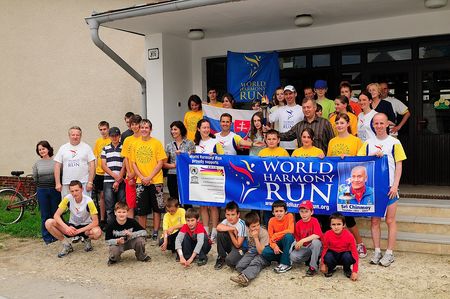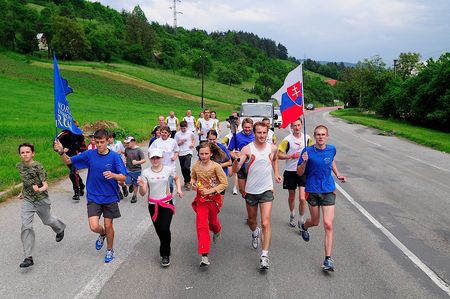 Runners from Lysá pod Makytou.
Bežci z Lysej pod Makytou.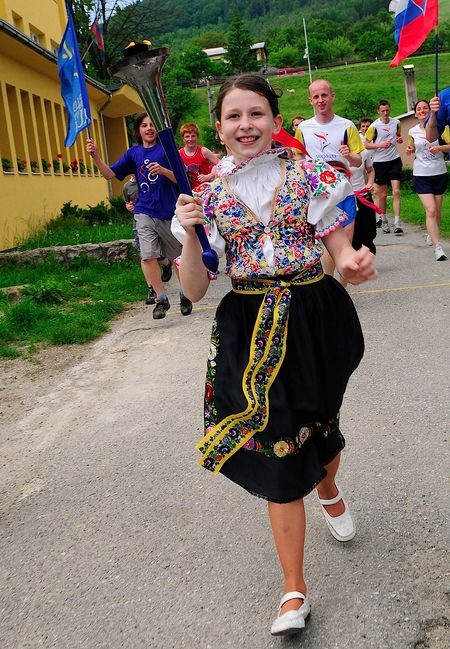 A girl in Lysá pod Makytou welcomes us in traditional costume.
V Lysej pod Makytou nás privítalo dievčatko v kroji.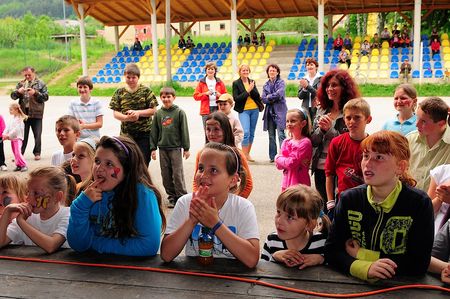 Every second is unique and never to be repeated.
Každý okamih je jedinečný a neopakovateľný.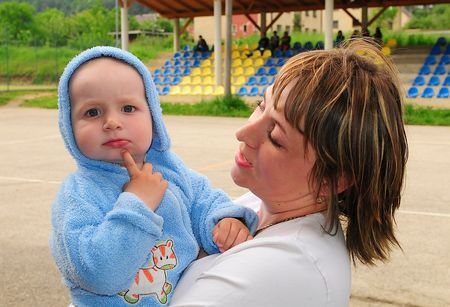 Perhaps I will also run when I grow up!
Možno tiež pobežím až vyrastiem!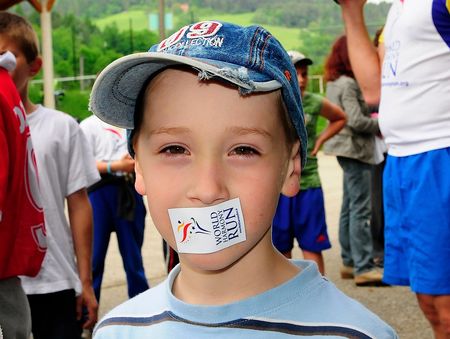 No comment...
Nie je čo dodať...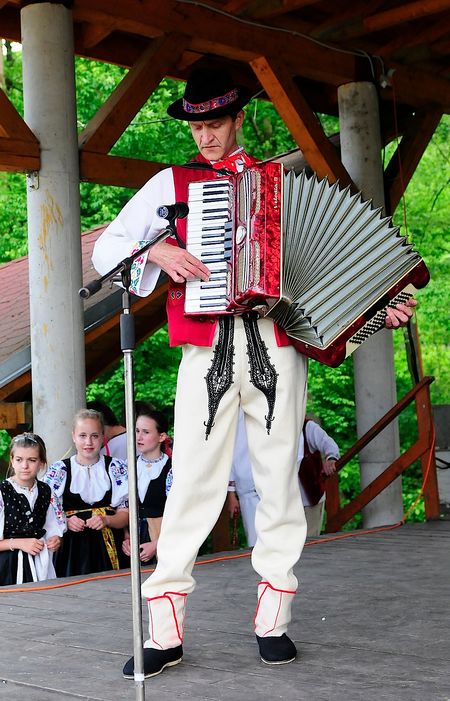 Nice performances in traditional costumes gives us a warm feeling.
Pekné vystúpenia v ľudových krojoch navodzujú vrelú a príjemnú atmosféru.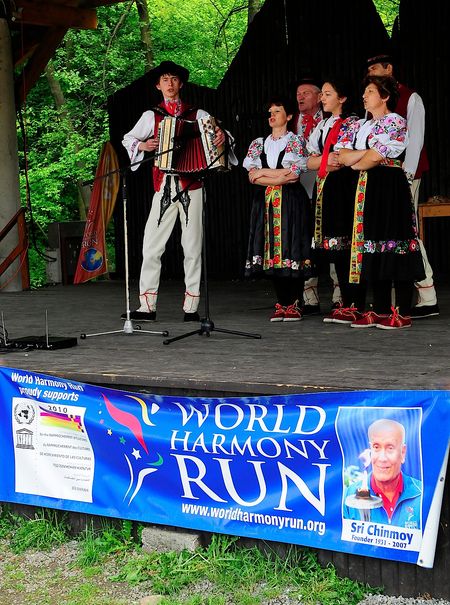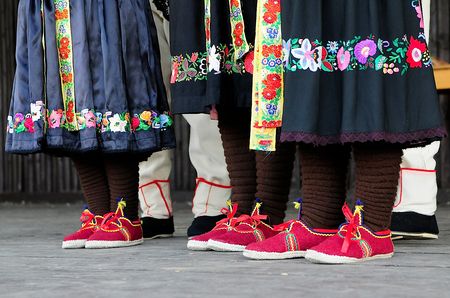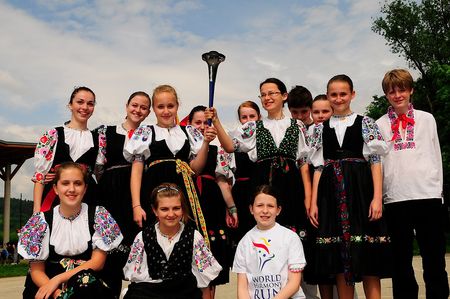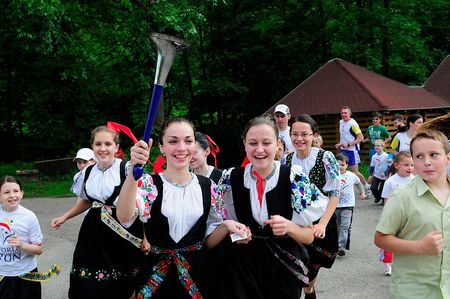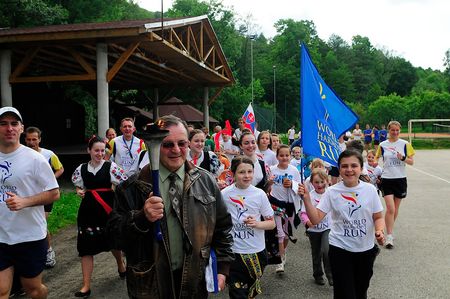 The Mayor of Lysá pod Makytou, Mr.Pavol Gábik and new little members of our World Harmony Run team usher us out.
Starosta Lysej pod Makytou pán Ing.Pavol Gábik nás vyprevádza spolu s novými malými členmi nášho World Harmony Run tímu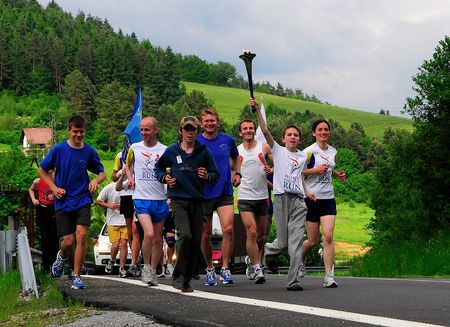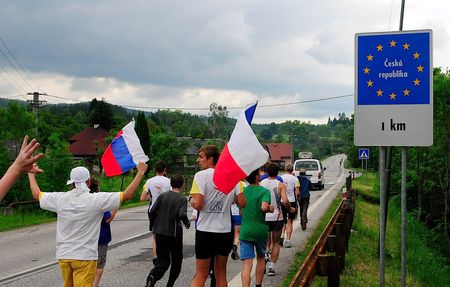 ...last steps in Slovakia. Only 1 kilometre and we will be in Czech Republic.
... posledné kroky na Slovensku. Len 1 kilometer a budeme v Čechách.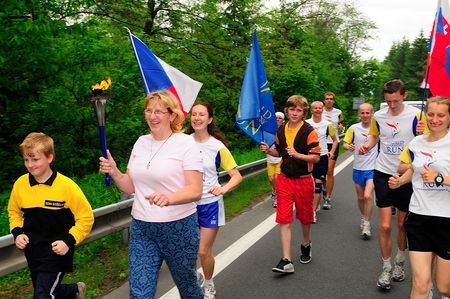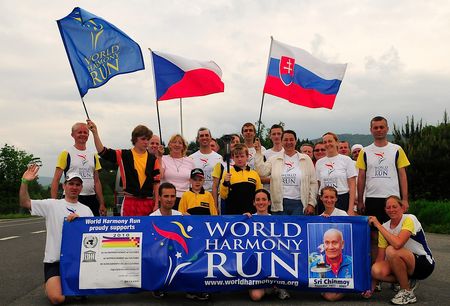 Welcome to the Czech Republic!
Vitajte v Českej republike!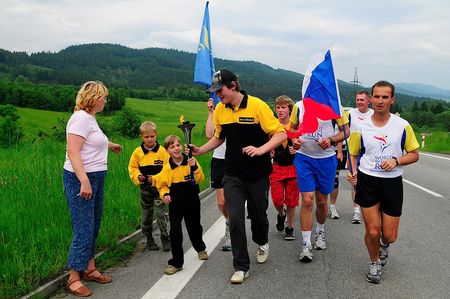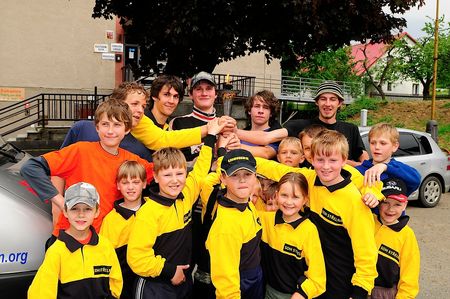 An important part of the fire brigade team from Střelná.
Dôležitá časť hasičského tímu zo Střelnej.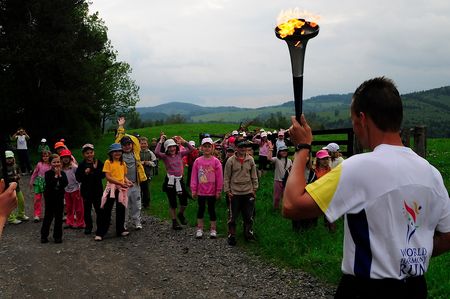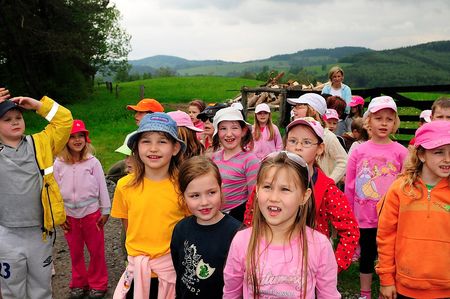 The last meeting of the day took place in a beautiful mountain hotel Antarik near Valašská Senice, surrounded by a group of kindergarten children.
Naše poslední setkání dne bylo se skupinou dětí mateřské školy v přírodě na pěkné horské chatě Antarik při Valašské Senici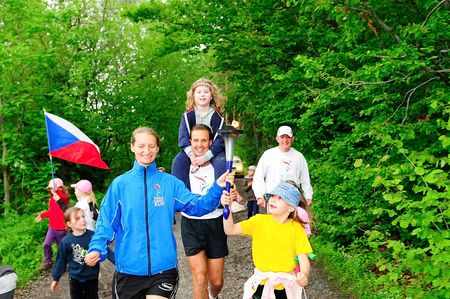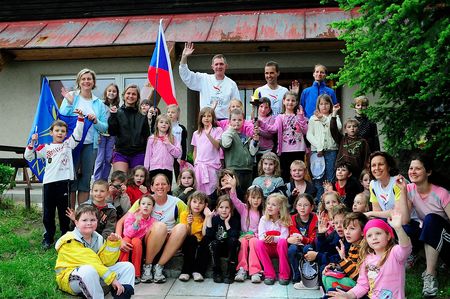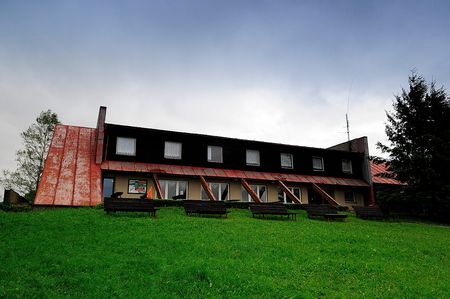 Antarik - the mountain hotel (www.selanka.cz).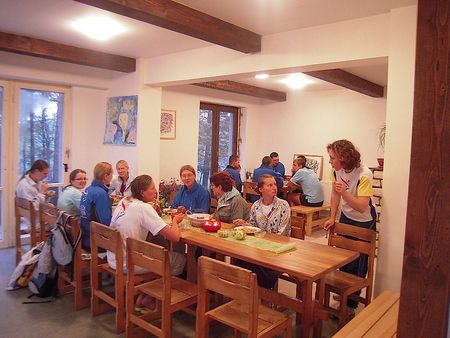 Well-deserved dinner.
Zasloužená večeře
---
Distance: 50 km
Team Members:
Apaguha Vesely (Czech Republic), Zoltan Theobald (Hungary), Svetlana Gorshkova (Russia), Balavan Thomas (Great Britain), Sergey Sydenko (Ukraine), Kastura Panenkova (Russia), Slovakian runners
Harmonemail:
You can send a message to the runners or read the messages.
Gallery: See more images!