Austria - Slovenia 12 October:Graz - Sentilj - Maribor
I think it is just excellent that everyday is so different, because newness is one of the things we always look for.
We all know by now that the coordinator for Europe, Dipavajan, lives in Graz (when not on the run), so we were invited for breakfast at the World Harmony Run headquarters. Here we also had our torches repaired and we sorted our stuff from our cars taking only the things we really needed for the last 16 days on the road.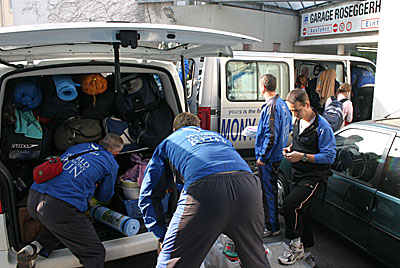 9.40 - off we go. Today the day was a little cooler than previous days but it did not change the beautiful feeling while running on the little marked cyclist road, which is also used for marathon training. We were surrounded by charming landscape, a fast rushing river, beautiful grass fields, trees of all kinds and brownish corn fields.
The very first stop on the way was after about 20 kilometres of peaceful running. It was in a village called Wildon, where we met our first school children of the day. The ceremony took place next to a beautiful lake and a very charming lady mayor welcomed us.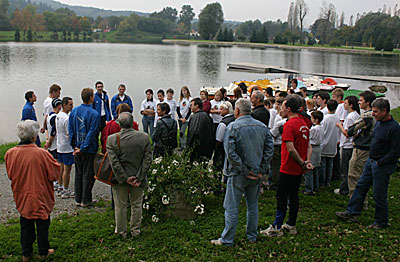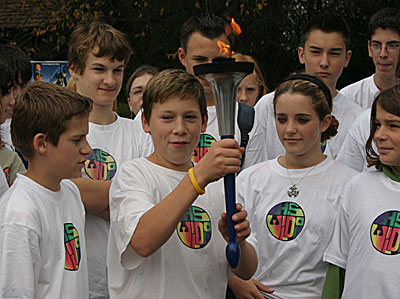 We were told that the 2nd biggest bicycle race takes place in the area. We also found out that the lake is used for a Graz swim-run competition. After our refreshments we ran a 1 km relay with the kids, which were super friendly. On their little shiny faces you could see they definitely enjoyed it a lot.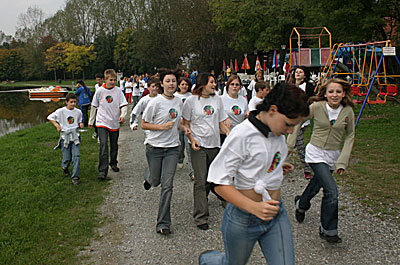 The country road led almost to the border across which we ran already with a few Slovenian runners which joined us still on the Austrian side. As soon as we crossed the border, there was a big surprise waiting for us.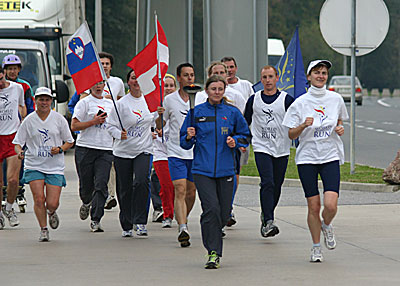 Except for the sun coming out to welcome us, two mayors - a lady mayor from Spielfeld, Austria and a mayor of Sentilj, Slovenia - welcoming each other with an embrace like old friends, and handing the torch from hand to hand.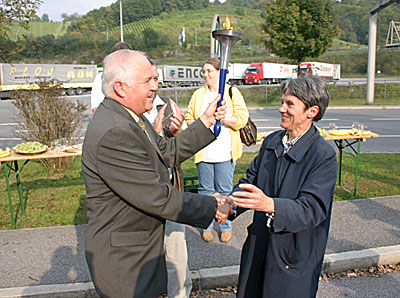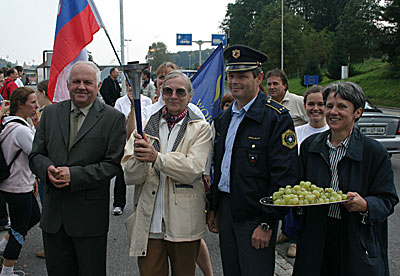 They were also very delighted to be able to run a few steps holding the torch together before they passed it to Helena Javornik, a National marathon champion, her best time being an excellent 2:27. She represented her country in the 2004 Olympics in Athens. She and a few other runners took off towards our final destination of today, the city of Maribor.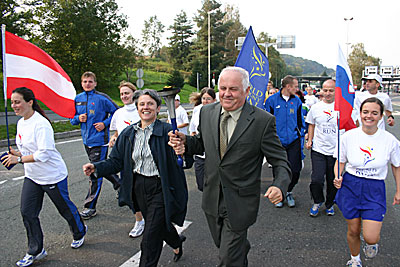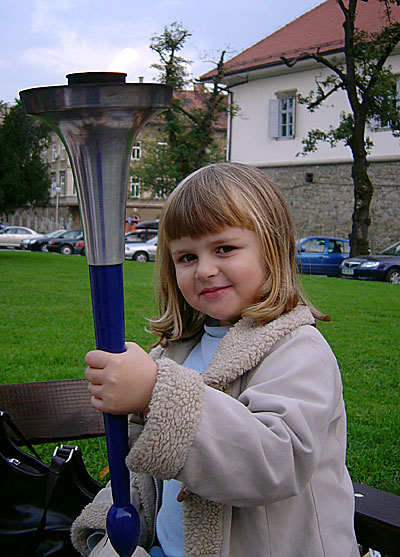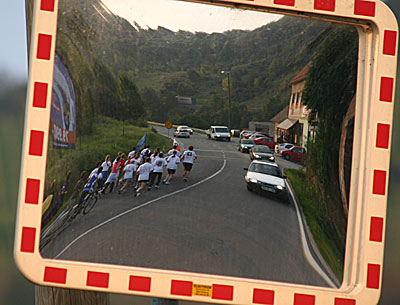 On the way we stopped in the town of Pesnica, where younger athletes were waiting to join us for the last 8 kilometres. From now on we had one more champion running with us, a running girl, who is national junior champion for 100, 200 and 400 metres. Even though by now we already know that children CAN run really well, it surprises us again and again how WELL they run, with so much joy, enthusiasm and lightness.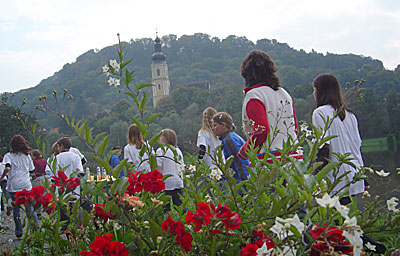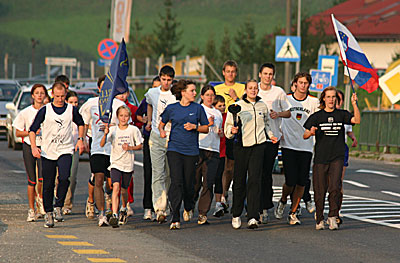 By the time we arrived in Maribor, there were approx. 35 of us running, young and old. We stopped on a little square with a great fountain, which sprayed up drinking water in little geysers. Of course being thirsty runners we drank.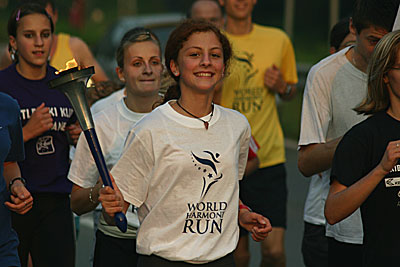 Oh yes, I almost forgot about a few more people joining us on the way - TV SLO came with us all the way from the border right to the end of our run. They were not running, but I am sure they did a good job.
In the evening one of our friends, who also joined the World Harmony Run for some time earlier in the year, gave us shelter in his and his wife's beautiful house. Here another friend of ours cooked a great tasty meal which ended with a very delicious strudel. Thank You for your hospitality!
---
Distance: 67km
Harmonemail:
You can send a message to the runners or read the messages.