Slovenia 14 October: Ljubljana - Kamnik
The world is full of beautiful people, people with genuine concern for others and for the welfare of mother earth, our home in this vast, vast universe. You just have to find them. The World Harmony Run seems to be like a magnet, wherever we go it draws good people forward and through the passing of the torch connects them. To be on the World Harmony Run one is especially fortunate, for everyday one gets to meet great and good people. A day like today...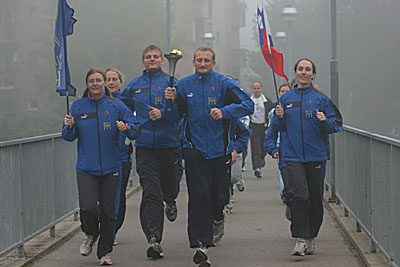 The weather in the early day was misty and quite chilly while we visited the first two schools, but as the time approached to head for the parliament skies cleared and sunshine broke out. Not before long, long pants and jackets could be exchanged for shorts and cool-max t-shirts.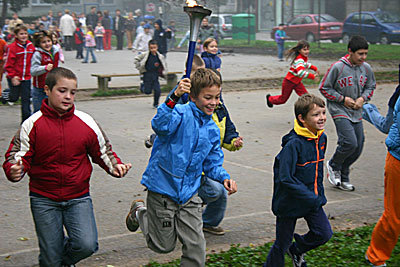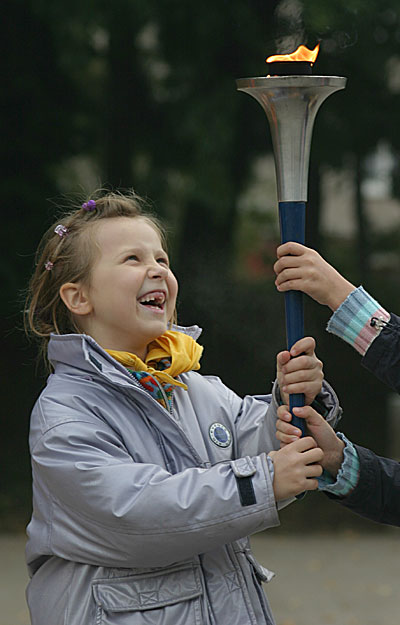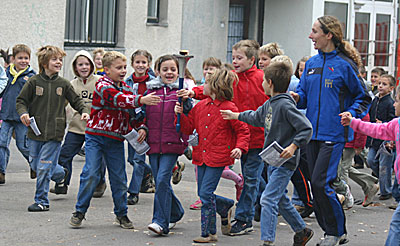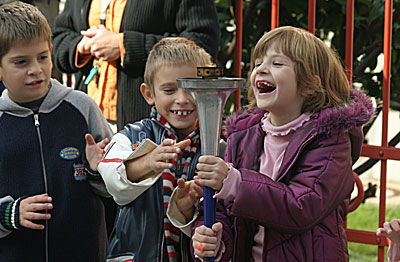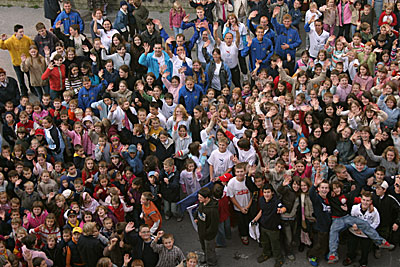 ...6 great schools, thousands of lively school children, admirable fully engaged teachers, a memorable meeting at the parliament with the magnanimous President of the Slovenian Parliament Mr. France Cukjati, Dr. Med., a meeting with the good mayor of Ljubljana Ms. Danica Simsic, meeting the good-hearted Olympic Champion Mr. Miroslav Cerar...
Parliament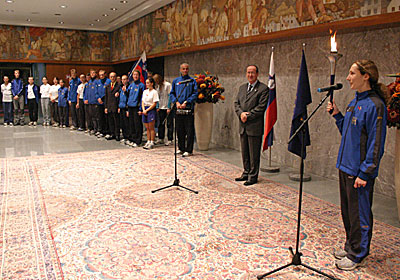 A truly great athlete met us outside the parliament, Mr. Miroslav Cerar. He has a two time Olympic gold in Gymnastics and many other honours. He was truly delighted to meet us, and we to meet him. We proceeded inside, where a group of people had gathered, including some members of parliament.
The President of the Slovenian Parliament Mr. France Cukjati, Dr. Med. gave a beautiful speech about universal harmony. It was clear that he greatly valued any initiative for a more peaceful world. Wisdom shone in his deep glittering eyes. This is the greeting he gave us in our book, translated to English:
May the flame of harmony change this wonderful planet in the middle of the universe into a nice home of the world citizens.
France Cukjati President of Slovenian Parliament
After the reception he ran with us for the first 20 metres and really blossomed.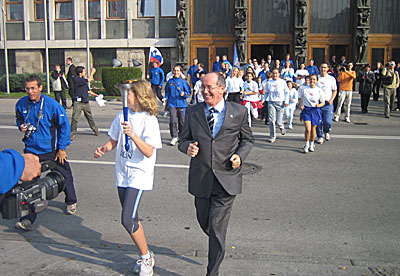 Our Olympic champion friend ran with us into the next school and joined us again at a reception in front of the city hall with the affable mayor of Ljubljana, Ms. Danica Simsic. She presented Mr. Cerar as also being a man of Peace and gave us a warm welcoming speech.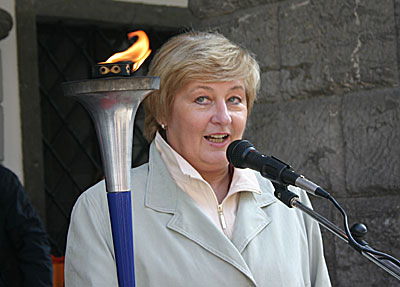 We were also presented with stylish orange paper bags with among other things energy powder and a porcelain bowl. Here is the greeting she wrote for us in our book, translated into English:
Respected peace messengers, members of the World Harmony Run!!
I wish that humanity's dreams of millennia, to live in peace, would be fulfilled also with the help of the warmth of your torch.
Ms. Danica Simsic The mayor of Ljubljana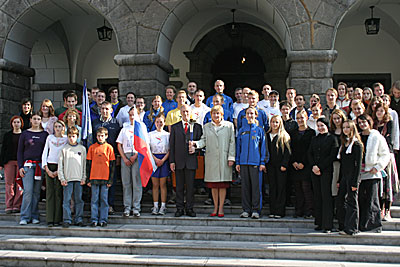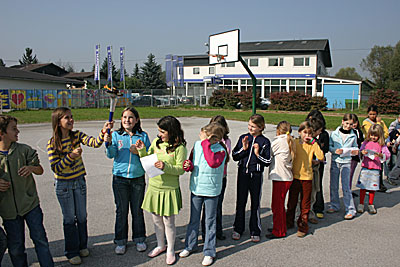 We visited 5 schools in Ljubljana and 1 school in Kamnik. The exuberant children welcomed us with manifold cheers and clapping. They had lots of fun guessing which countries we were from, participating actively and loudly. It really is a special and exotic event for children. Many of the schools were very well prepared. We enjoyed great performances such as musical performances, dancing and poetry reading, which at times was coupled with costumes and choreography.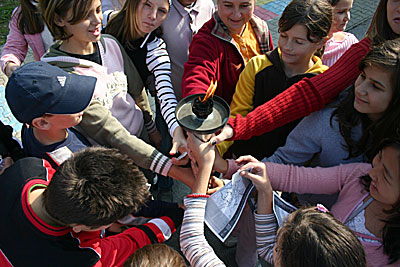 While standing in a huge ring around a 400m track at one school, handing the torch from hand to hand, our runners interspersed among the children, the kids nearby me and Edi decided to entertain us with English and Slovenian songs they had learned, which they performed happily without reserve. During the opening program the teachers from this school joined in with dancing with the children in rings. One group held a multicoloured circular blanket in their midst which with their movements they puffed up into a great balloon. This school displayed its internationality by having a group of children greet us in many languages, and also after we had sung the World Harmony Run song the same kids gave its translation in their languages. Like this we experienced that many of the schools had really engaged themselves in a big project in preparation for the event.
In Kamnik the children had made beautiful placards, which they held up high for us, depicting friendship, peace, and a oneness-world. It must be mentioned that the whole school waited for us for half an hour after the school-day had finished on a Friday afternoon, and greeted us with great energy and joy. While the whole school with the teachers exuberantly ran around the school yard, a very talented young boy let his fingers flow over his accordion player. We got to know that he is a national junior champion.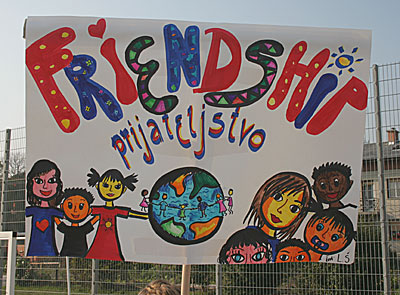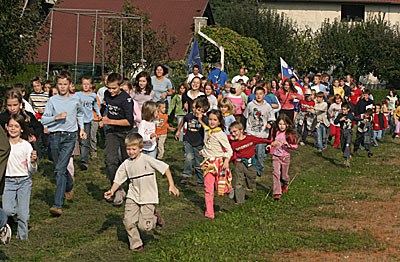 We really must congratulate the teachers of the schools on the excellent job they had done in leading and inspiring the kids in this project. We were touched by their enthusiasm and concern!
"Tomorrow I start my running course, this is what I have decided after holding the torch", these were approximately the words of one of the teachers in Kamnik. Laslo was there to give good advice on how to ease into training, not to outdo one-self in one go but to take it step by step. The most important thing is to get joy and a good feeling from running, whatever condition one is in on a particular day. The teacher appreciated this very much.
We then ran with a local junior football team into the centre of the city, where we were very well received by the mayor of Kamnik. Thank you!
During the day we heard some amazing speeches. Here is one that two children recited for us in the school in Kamnik:
World Harmony Runners, warmly welcome at Primary
School Preserje pri Radomljah!
We really appreciate that we can share a few moments and steps with you today. You have come a long way. You have run thousands of kilometres connecting crowds of people, members of many different nations throughout the world, passing them this torch of friendship and harmony.
You overcome the distances with your perseverance and zeal proving that this way we can go beyond not only distances but also differences. All the way across Europe you encourage friendship, communication and peaceful harmony among the nations from all over the world. Thousands of people have shared a part of your run with you. They have carried this torch to show their desire for a better world.
We are extremely happy to participate in the World Harmony Run, to be able to carry this torch of peace and harmony for a few steps around our school. We want to be an image of the old vision of complete harmony and partnership. We want to forget everything that divides us and prove that our desires to make the world a better place are much stronger than our fears."
---
Harmonemail:
You can send a message to the runners or read the messages.