Greece 2 May: Athens, local events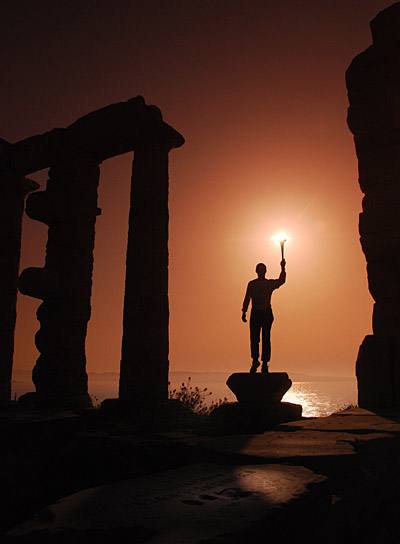 It seemed to us that the Greek gods were sending us a messenger, but it was Mrittunjoy our Swiss "local" runner. We think this picture could well symbolise the meaning of the harmony torch, that millions of people pass to each other with wishes of hope and goodwill.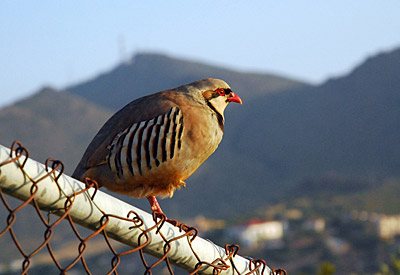 This was the first being we met today. If anybody knows the name of this strange bird please let us know!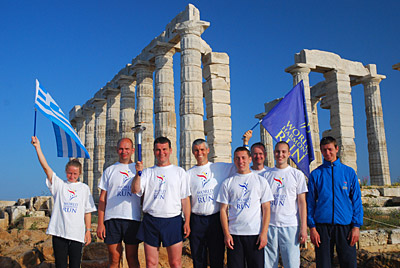 Here is another very special place in Greece, on the top of a cliff, in front of the Aegean sea, an antique temple dedicated to Poseidon. In Greek myth Poseidon is the god of the sea and of earthquakes, and brother of Zeus, Hades, and Hera.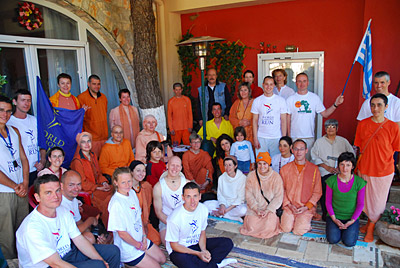 Later on we visited one of many spiritual communities on the run, the Satyananda's ashram . The people in this centre of yoga offered us a nice and peaceful moment of sharing. They sang for us and we ran together around the yard. One could describe this place by the mere words "Living in harmony".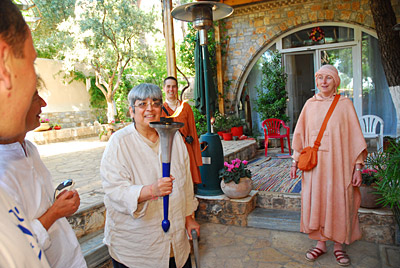 Everybody had a chance to hold the torch and express their wishes or prayers for harmony. It was a very special moment. We are always happy to meet people that are working towards the betterment of this world.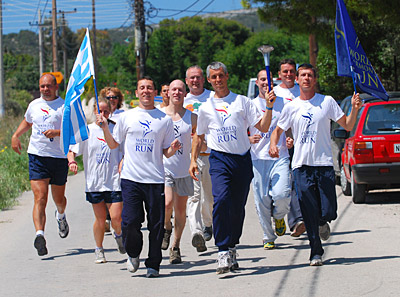 Two new runners joined us today but we didn't run that much. However, it was an opportunity for us to discover the beauty of the hills around the city.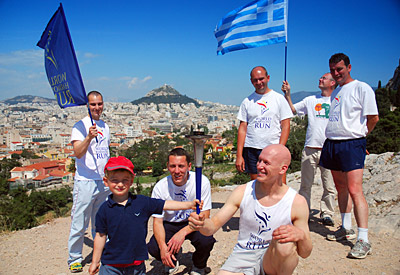 This little German tourist was enjoying the view of the megalopolis as much as the torch.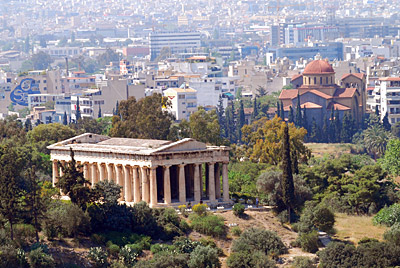 The rich ancient Greek culture is present almost on every doorstep in Athens.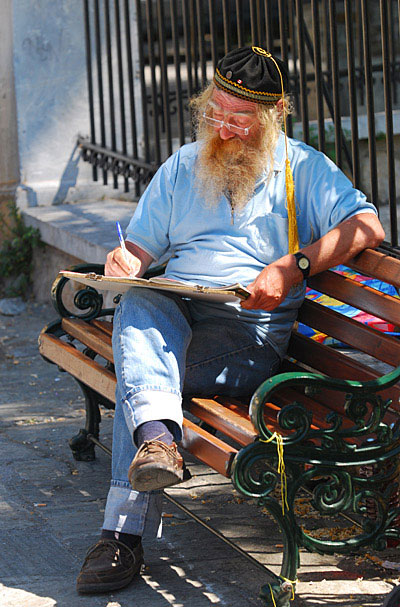 Some of the oldest Greek traditions are still observable today. The long beards that we can see on many artefacts from the Hellenic period are still in fashion in the streets of Athens.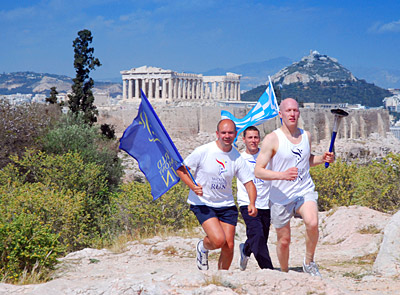 How could we have left Athens without seeing the Acropolis (even from a far distance), this ancient ruins still dominates the capital nowadays.
---
Team Members:
Ondrej Vesely and Rosta Vagner (Czech Republic), Pierre Lantuas Monfouga (France), Valentin Bebik and Nataliya Lehonkova (Ukraine), Janos Derekas (Hungary), Predrag Knezevic-Pedja and Magda Hajdu (Serbia), Arthur Janczak (Poland), Mrittunjoy Bader (Swizerland), Jewgenij Kuschnow (Austria), Lachezar Rusev (Bulgaria)
Harmonemail:
You can send a message to the runners or read the messages.