Spain 26 April: Barcelona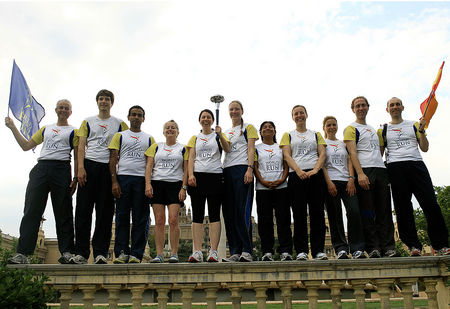 The World Harmony Run 2011 starts in Spain!
Our team arrived in Barcelona, eager to carry the flaming torch for the next days through the great country...
El equipo internacional de la Carrera de la Armonia Mundial 2011 ha llegado a España.
Nuestro equipo llegó a Barcelona lleno de entusiasmo por llevar la antorcha encendida en los próximos días a través del gran país...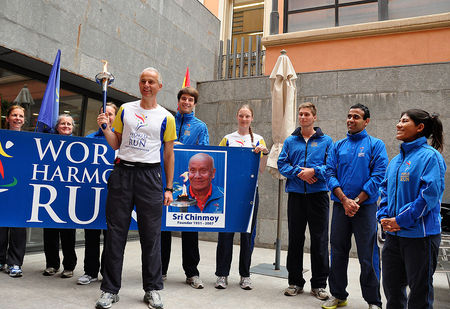 We started our journey at the Youth Hostel Pere Tarres, which kindly supported the WHR by hosting the international team.
Empezamos nuestra jornada en el Albergue Juvenil Pere Tarres, dónde nos apoyaron con mucho cariño alojando al equipo.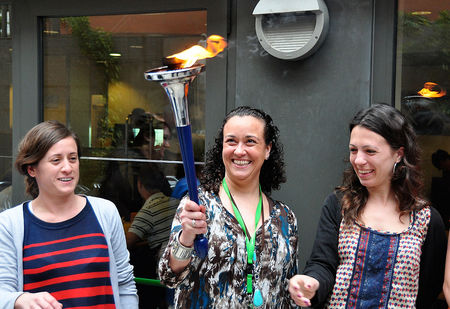 We met the staff of the hostel in a small ceremony. Mariluz, the director of the Hostel Pere Tarres received the torch.
Nos reunimos con el equipo del hostal en una pequeña ceremonia. Mariluz, la directora del hostal Pere Tarres recibio la antorcha.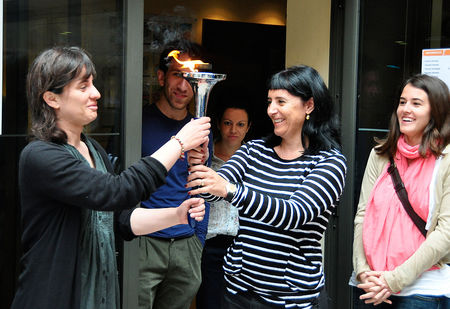 ...and all her colleagues participated too...
...y todos sus colegas participaron tambien...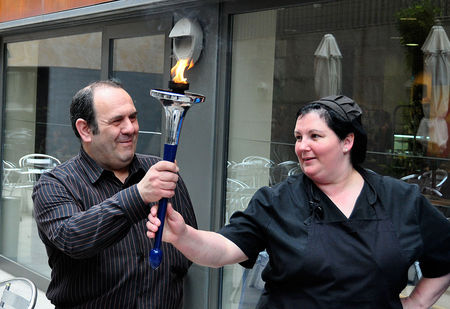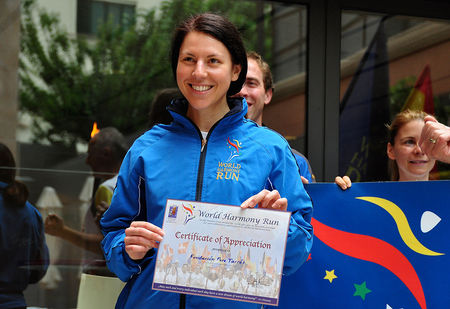 We thanked the Hostel with a certificate of appreciation...
Agradecimos al hostal con un certificado de apreciacion...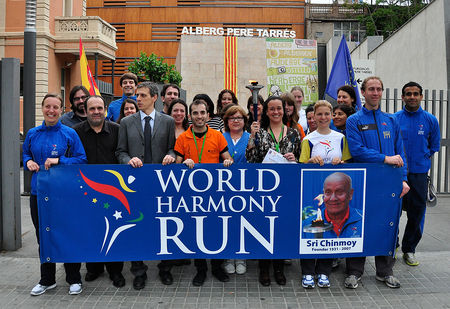 A happy group picture in front of the Hostel....
Una foto del grupo feliz enfrente del hostal...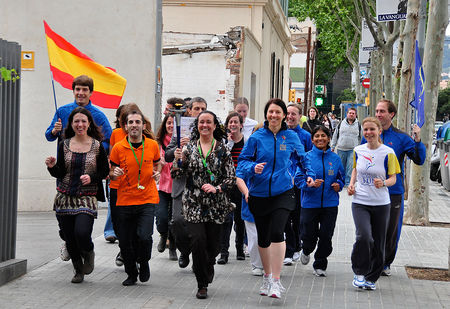 The group picture turned into a spontaneous run which was hard to stop!
¡La foto de grupo se convirtió en una espontánea carrera que fue dificil de parar!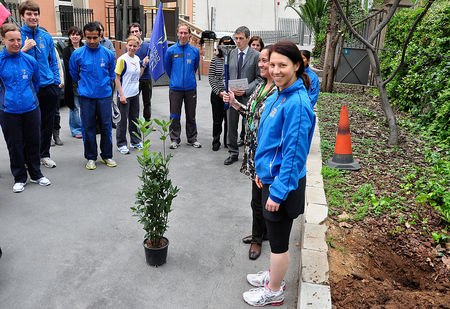 ...and finally we planted a tree for the UNESCO Year of Forests in front of the Foundation...
Y finalmente, plantamos un árbol enfrente de la fundación, en honor al Año del Árbol de la UNESCO ...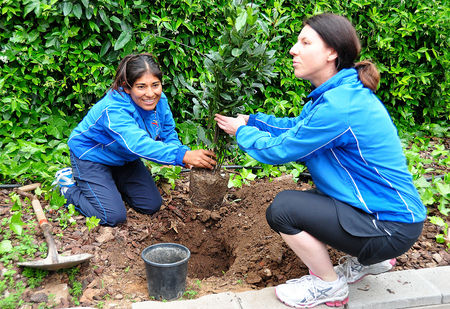 Albena and Oliveria, our two hobby gardeners...
Albena y Oliveria, nuestras dos aficionadas a la jardineria...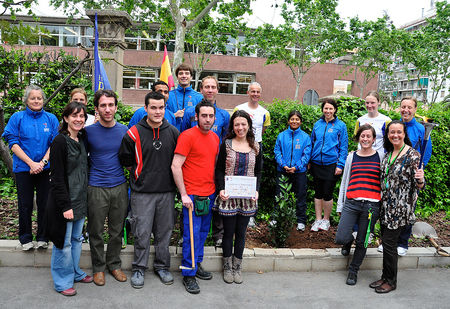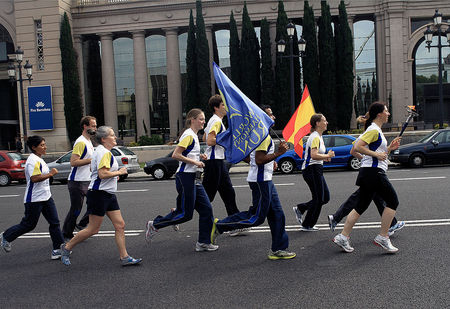 Finally we started our running in Spain! Our international team went on a scenic city run through the picturesque old part of Barcelona...
Finalmente empezamos nuestra carrera en España. Nuestro equipo internacional empezo con un recorrido escénico por la antigua y pinturesca Barcelona.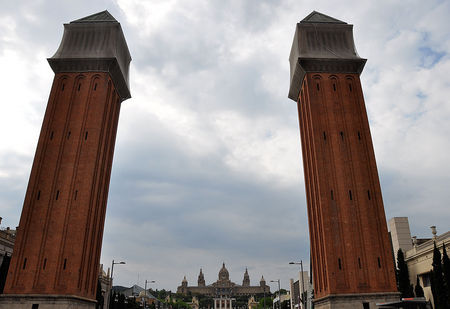 The Venecian pillars of Plaza España....
Los pilares venecianos de la Plaza de España...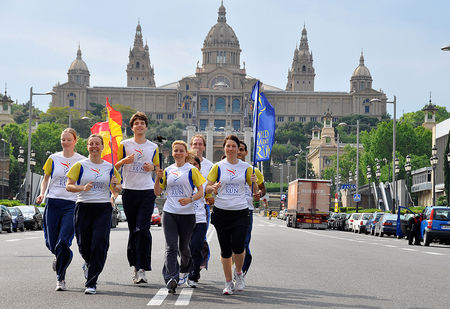 ... and the Museum of Modern Art...
... y al fondo el Museo de Arte Moderno...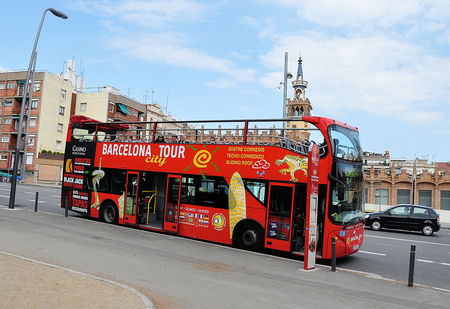 ...a typical tour-bus in Barcelona....
...el típico autobús turístico de Barcelona...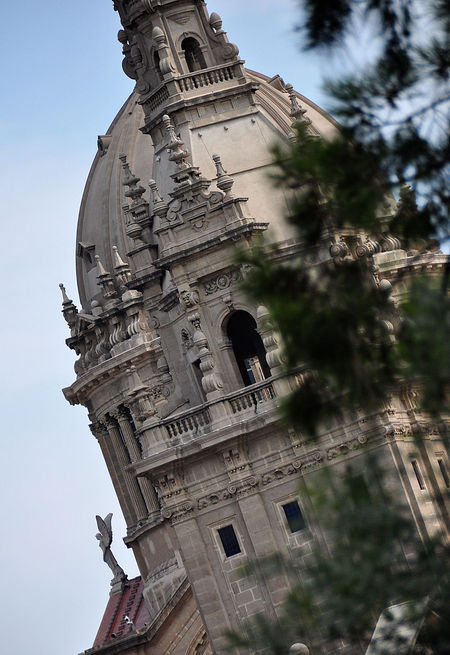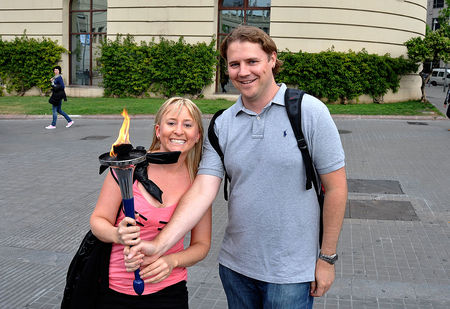 ...friendly spectators held the torch...
...amigables espectadores compartiendo la antorcha...

...and people joined in spontaneously...
...la gente se une espontáneamente ...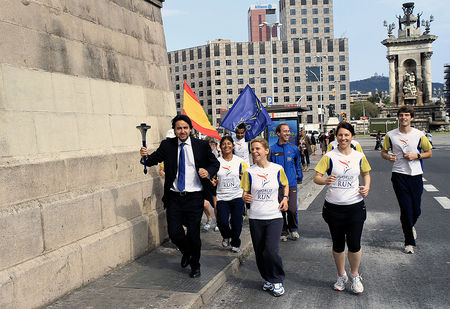 ...and took a few steps for harmony!...
...y participan con algunos pasos por la armonía...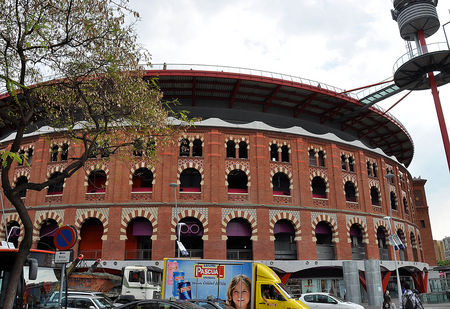 A former bull-fight arena in Barcelona.
Una ex-plaza de toros en Barcelona.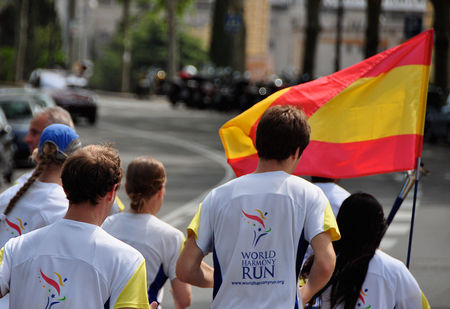 After an opening run through Barcelona we climbed up the hill to the Olympic Stadium.
Despues de una carrera de apertura subimos hasta el Estadio Olímpico.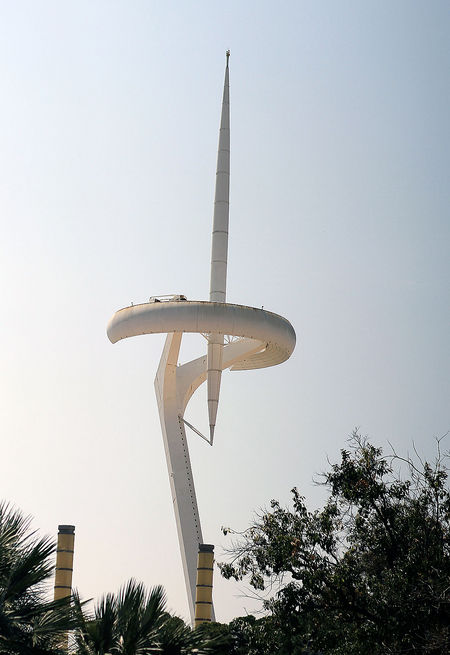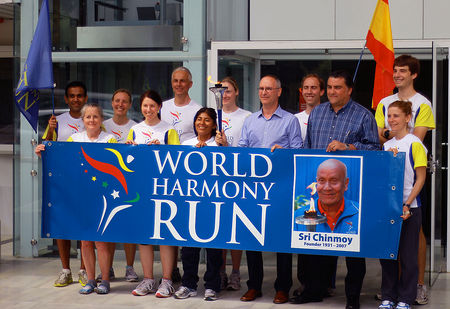 We met the event team of the Sport Institute Barcelona which helped us with the organisation of the WHR events in Barcelona.
Nos reunimos con el equipo de Instituto de Deportes Barcelona que nos apoyaron en la organizacion de los eventos de la carrera en Barcelona.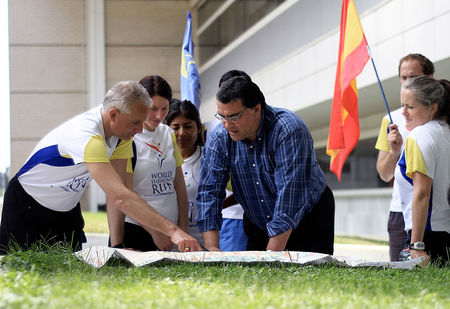 ...Working out the WHR running route in Barcelona with Pep Rubi...
...Discutiendo la ruta de WHR en Barcelona con Pep Rubi...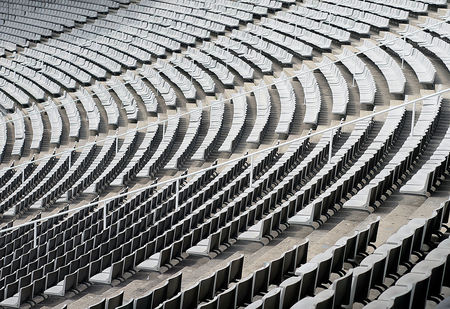 We visited the Olympic Stadium in Barcelona, which hosted the Olympic Games in 1992.
Visitamos el Estadio Olímpico de Barcelona, donde se celebraron los Juegos Olímpicos en 1992.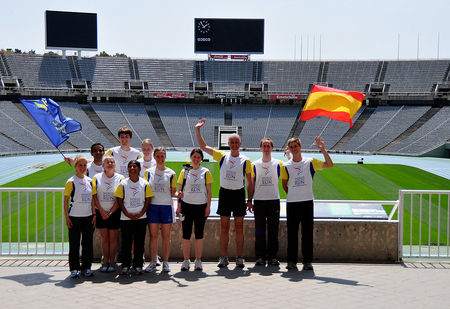 ...the games are open!...
... los juegs han empezado...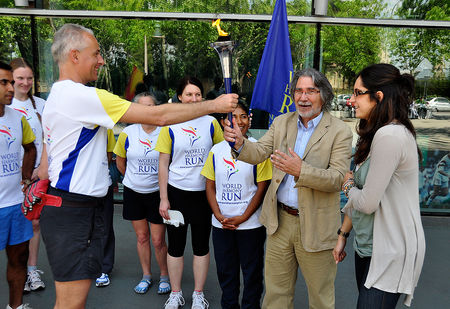 We also met the director of the Olympic Museum.
Nos encontramos también con el director del Museo Olímpico del Deporte.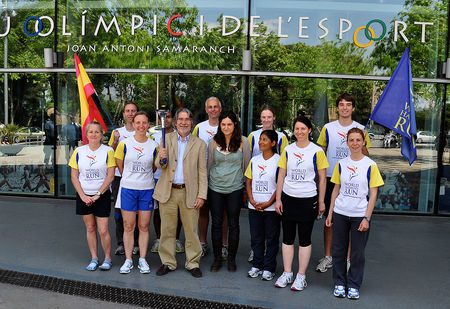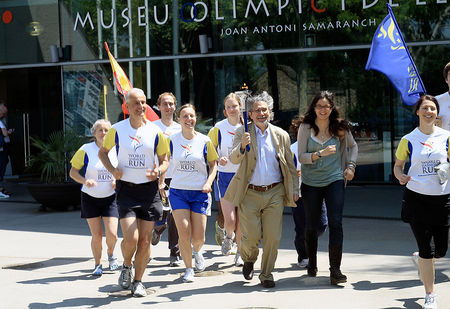 The director was also a torch carrier for the Olympic Games, so he kindly took a few step for Harmony too!
El director, que fue portador de la antorcha de los Juegos Olímpicos, corrió tambien unos pasos por la armonía con la antorcha de World Harmony Run.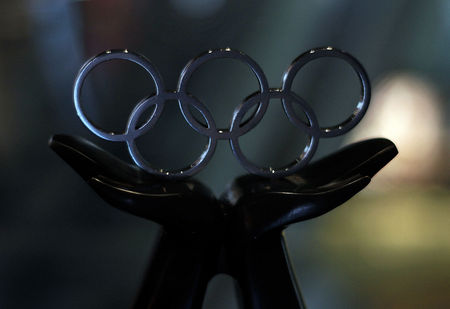 We gladly accepted an invitation into the Olympic Museum...
Contentos hemos aceptado la invitacion para visitar el museo.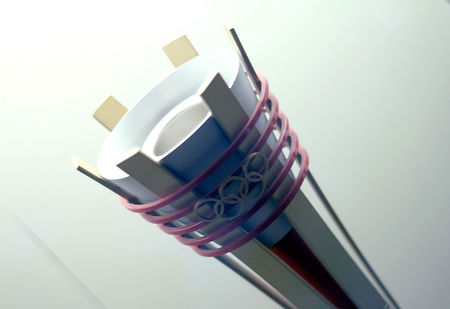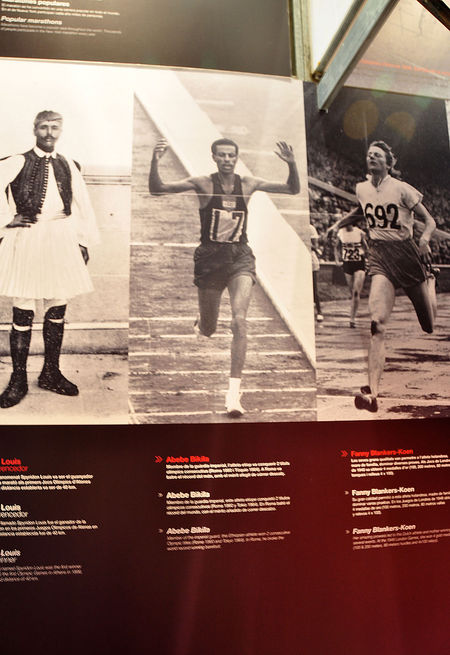 Abebe Bekila, one of our running heroes!
Abebe Bekila - uno de nuestros heroes del atletismo.
The collection of Olympic torches in the museum immediately drew our attention!
La colección de las antorchas olímpicas atrajo imediatamente nuestra atención.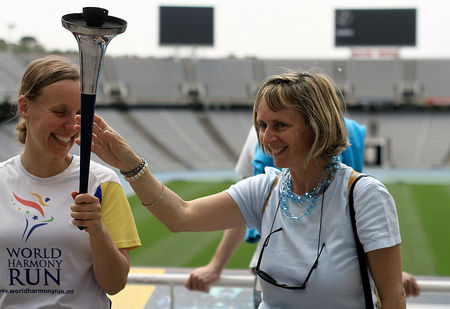 ...and more enthusiastic new team members...
... y mas entusiastas nuevos miembros del equipo...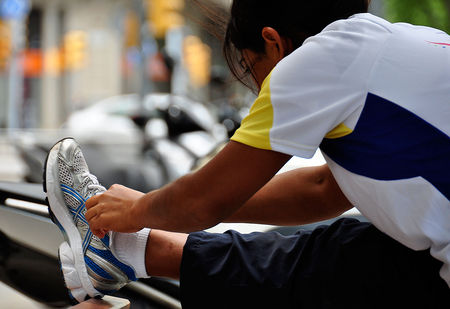 After the visit to the museum we continued our city run! Quick stretching and off we went!
Despues de nuestra visita al museo continuamos nuestra carrera por la ciudad. Un estiramento rapido y despegamos.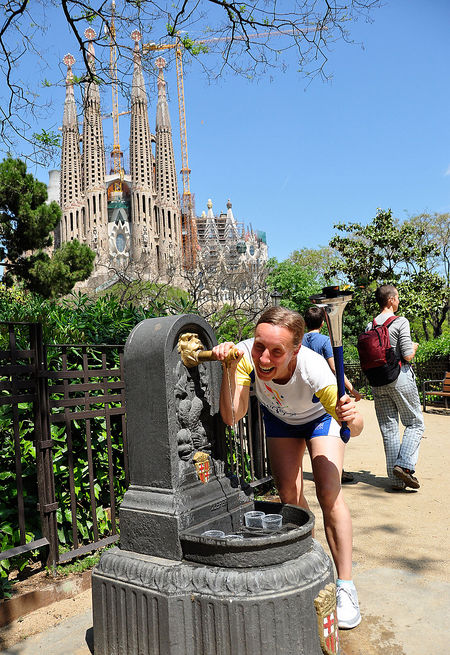 ...a thirsty runner in front of the Sagrada Familia...
...una corredora sedienta enfrente de la Sagrada Familia...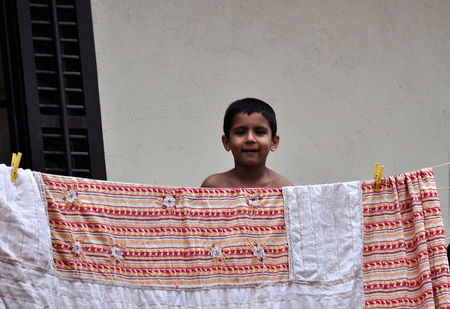 ...curiosity....
...curiosidad....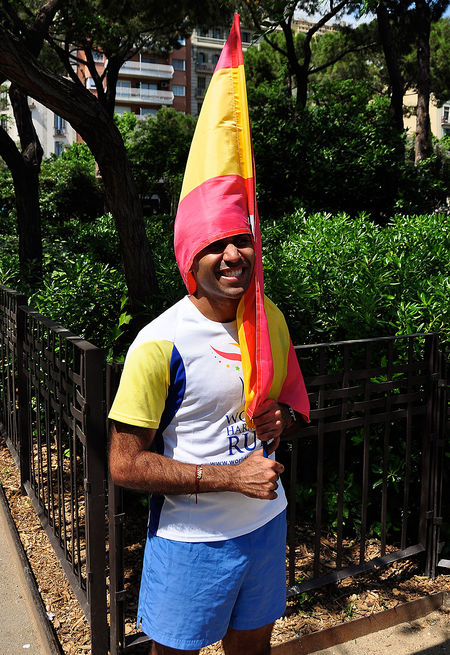 ...an Indian Smurf...
...un duende indu...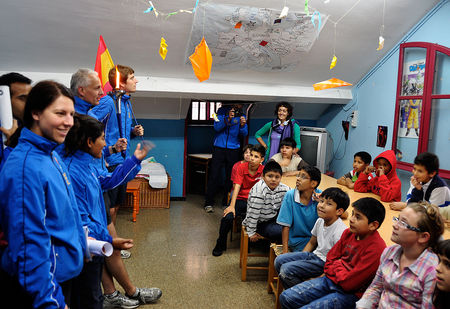 In the afternon we visited kids of the ITACA in their classroom...
Por la tarde visitamos a niños de la escuela ITACA en sus aulas.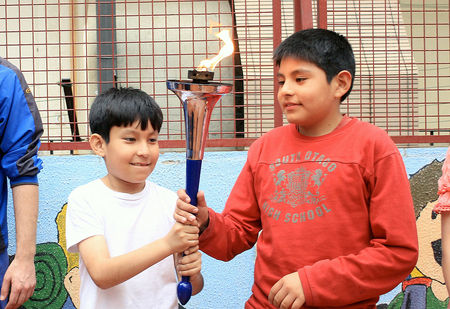 We introduced the WHR to the kids and then we took them to the schoolyard...
Les presentamos la Carrera de la Armonía y después salimos al patio...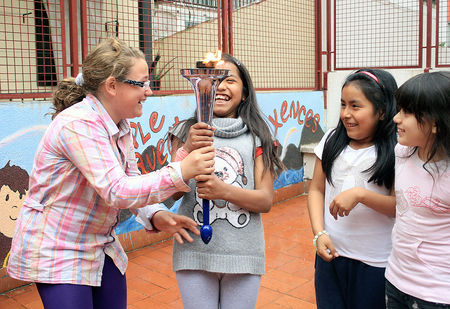 ...everybody got a chance to hold the torch...
...donde todos tuvieron la oportunidad de tomar la antorcha...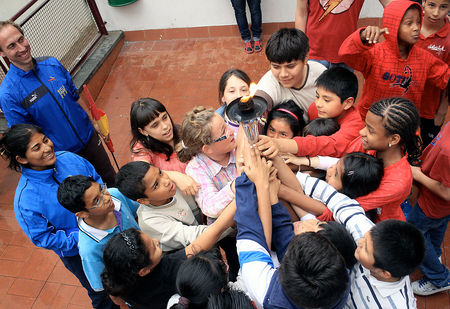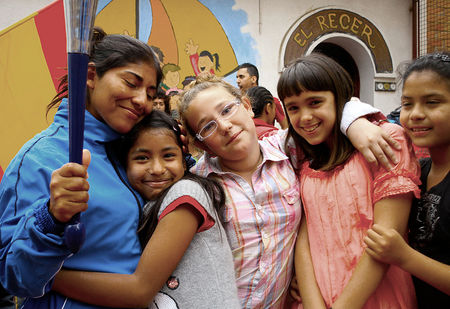 Oliveria caught the heart of the kids...
Oliveria cautivo el corazon de los ninos....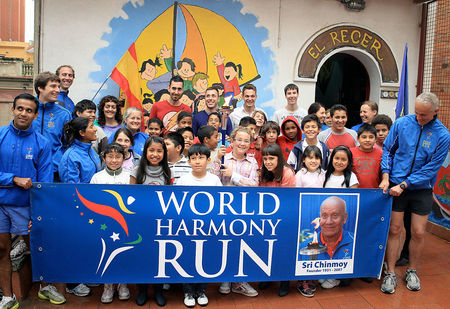 Thank you ITACA!
Gracias ITACA.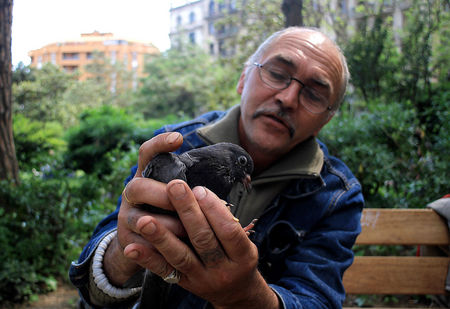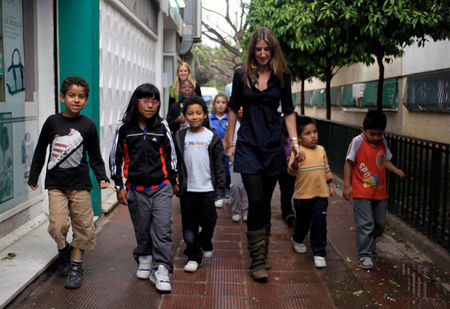 Our last meeting of the day took us to Esclat, an after-school program.
Nuestro ultimo encuentro del dia nos llevo a Esclat- un programa después de la escuela.
...another presentation...
...otra presentacion...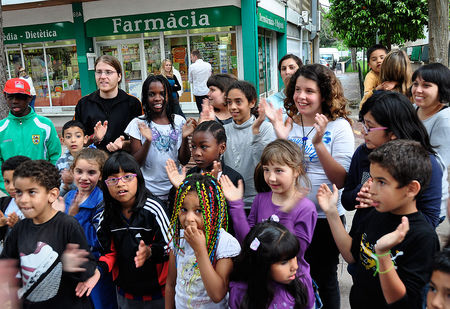 ...our WHR theme-song went quite well....
...nuesta cancion de la WHR salió muy bien...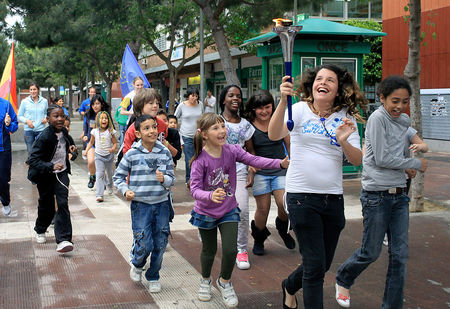 ...a run with the enthusiastic kids...
... corriendo con los niños llenos de entusiasmo...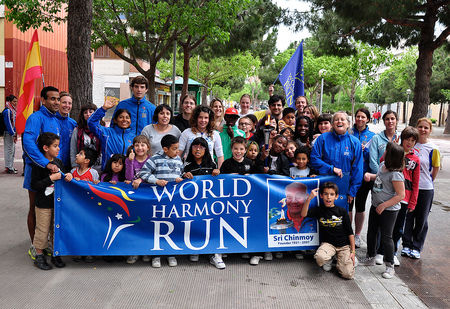 A final group picture ended a busy day. Thank you Barcelona for the great start!
Una foto en grupo para terminar un día bien ocupado. ¡Gracias Barcelona por el gran comienzo!
---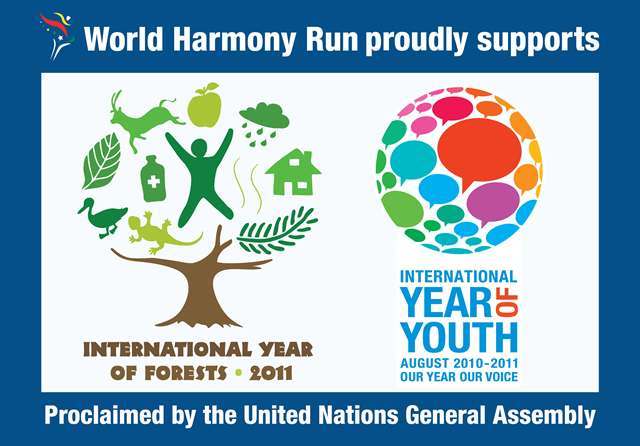 The World Harmnoy Run proudly supports the International Year of Youth (IYY) and the International Year of Forests (IYF) proclaimed by the United Nations General Assembly.
See also recent Youtube video which illustrates IYY slogan "Our Year Our Voice"  International Year of Youth - Zambia World Harmony http://www.youtube.com/watch?v=w6qehMiIWuYRun
---
Team Members:
Dipavajan Renner (Austria), Zach Saltzman (USA), Atul Arora (India), Patricio de sa da Rocha Rodrigues (Portugal), Roos de Waart (Netherlands), Claudia Nunes (Portugal), Katrina Uddyogini Hall (Australia), Albena Margaritova (Bulgaria), Angela Muhs (Germany), Marc Schrader (Germany), Olivia Lopez Cortes (Mexico), Daniel Spiro (Norway)
Harmonemail:
You can send a message to the runners or read the messages.
Gallery: See more images!