Spain 2 May: La Alberca - Salamanca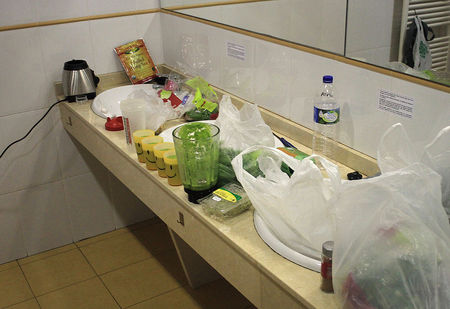 A typical morning, with smoothies, on a military base...!
¡Una mañana tipica con batidos, en una base militar...!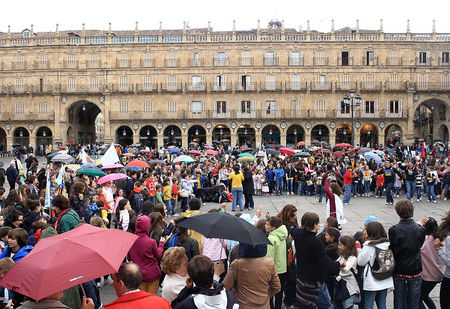 La Plaza Major de Salamanca.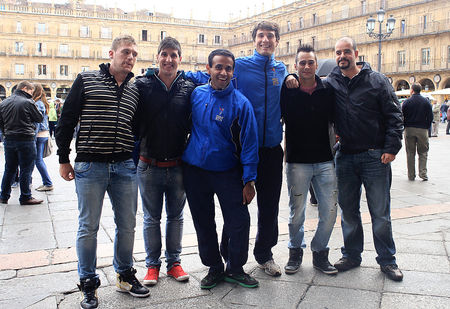 A group of soldiers escorted us throughout Salamanca, with even a little sightseeing.
Un grupo de soldados nos escoltaron en el corazón de Salamanca. Magnífica arquitectura.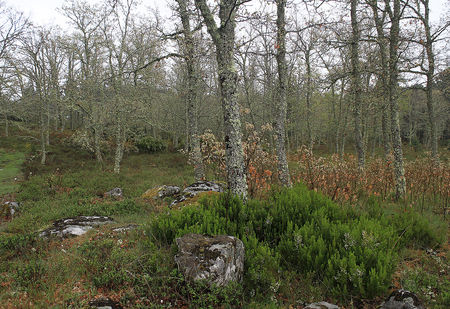 The nature around La Alberca is pristine.
La naturaleza de La Alberca es increiblemente hermosa.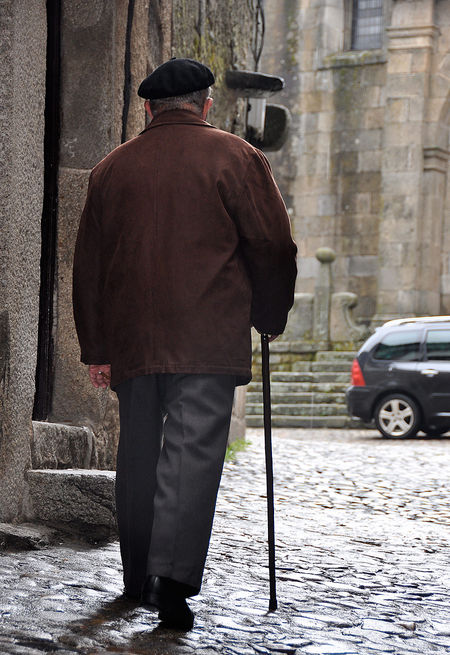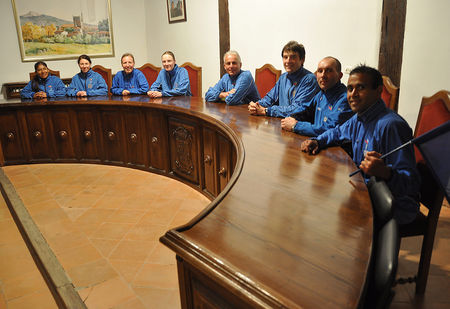 The "World Harmony Run City Council" in La Alberca.
La Carrera de la Armonia Mundial en el municipio de La Alberca.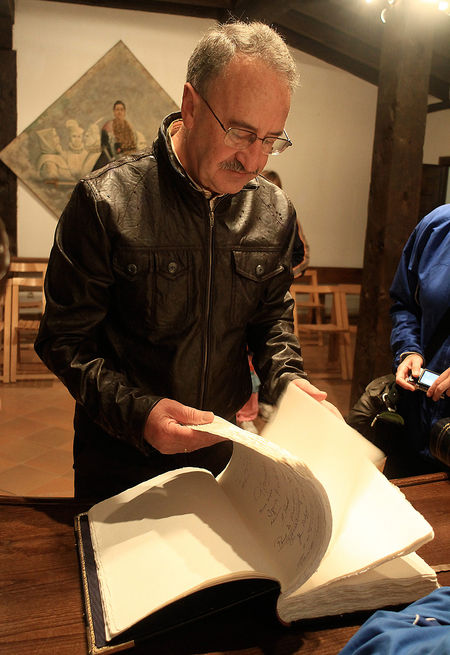 The mayor invited us to sign on the city's "Golden Book."
El alcalde nos invito a firmar el "Libro de Oro".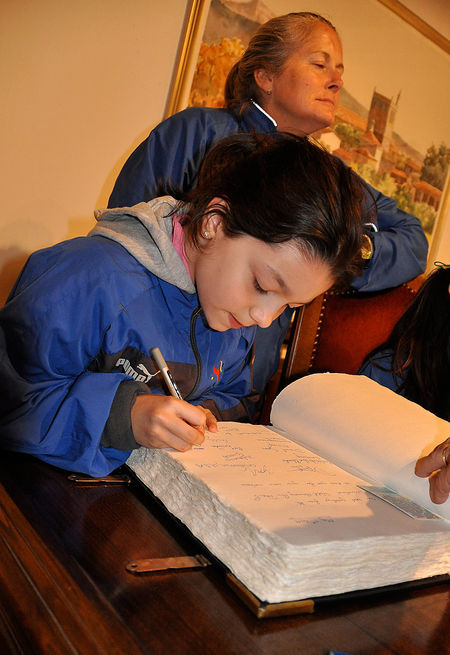 The newest member of our team leaves her autograph; it's bound to be worth a lot someday!
El miembro más nuevo del equipo deja su autógrafo.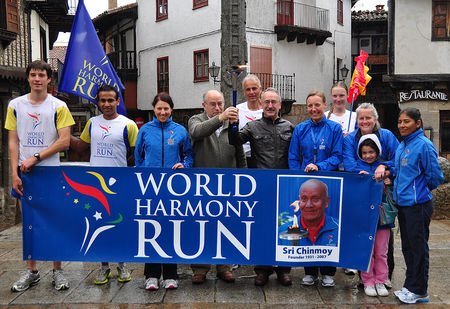 Special thanks to the mayor and council members for meeting with us on such a fresh and rainy day!
Muchisimas gracias al alcalde y miembros del consejo por recibirnos en un día lluvioso y fresco!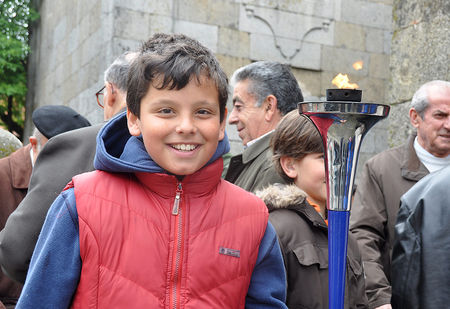 Great smiles from the kids of La Alberca.
Hermosas sonrisas de los niños de La Alberca.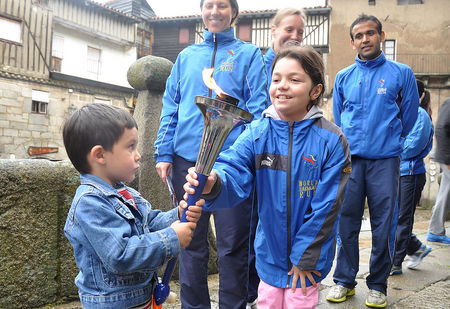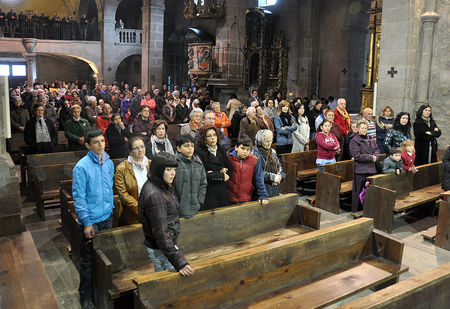 We gave a short presentation at Iglesia Asuncion.
Dimos una breve ceremonia de presentación en la Iglesia de la Asunción.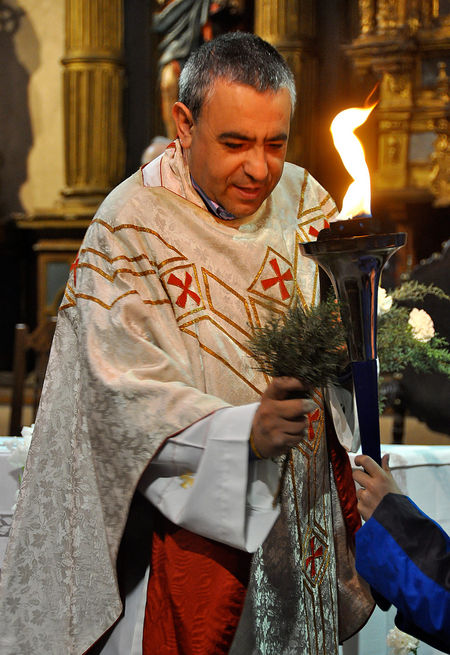 The Padre blesses the torch.
El Padre bendijo la antorcha.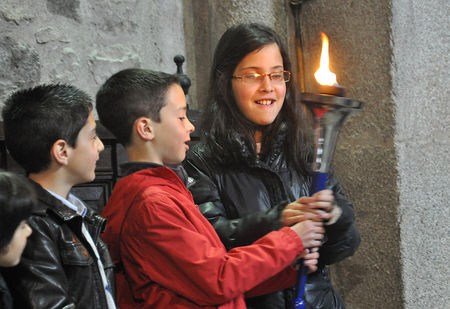 Thanks to the kids of the church for their wonderful songs and recitations.
Los niños ofrecieron maravillosas canciones y oraciones.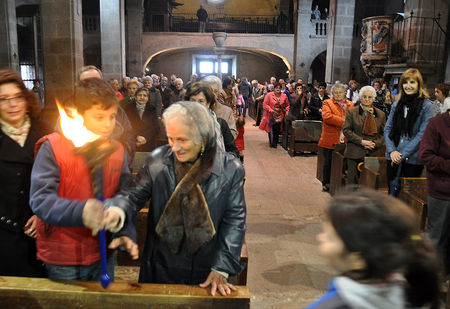 Everyone passed the torch, hand to hand.
Todos se pasaron la Antorcha formulando sus deseos de paz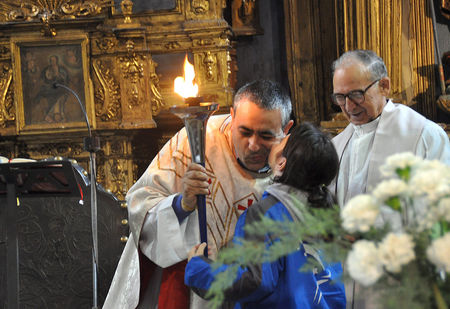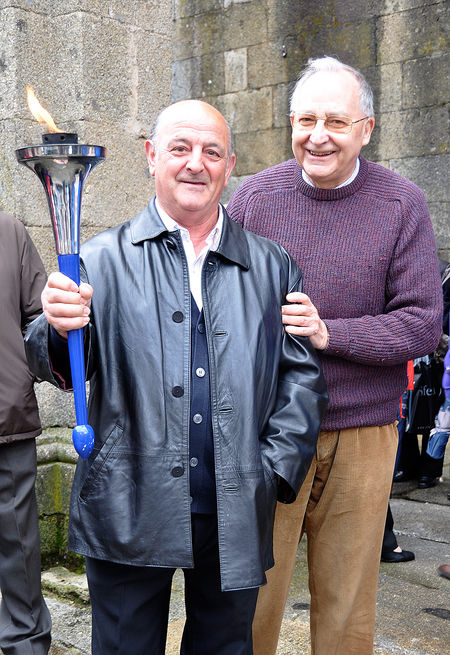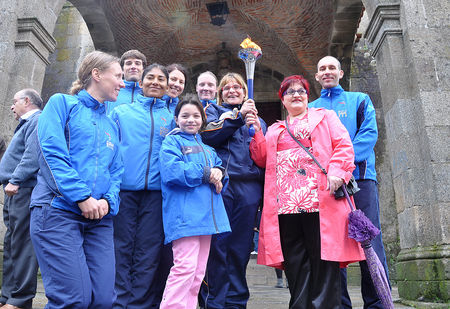 Many thanks to Iglesia Asuncion of La Alberca!
Muchas gracias a la Iglesia de la Asuncion de La Alberca!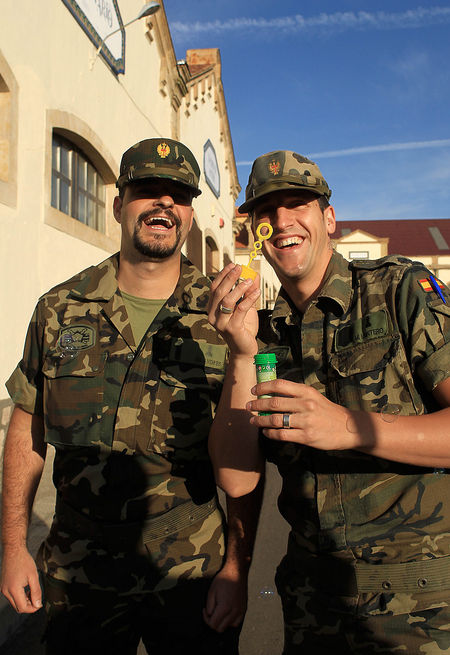 Our good friends! Thanks for all your help and putting up with our attempts at speaking Spanish.
¡Nuestros amigos y anfitriones! ¡Mil gracias por vuestra asistencia y esfuerzo en entender nuestro español !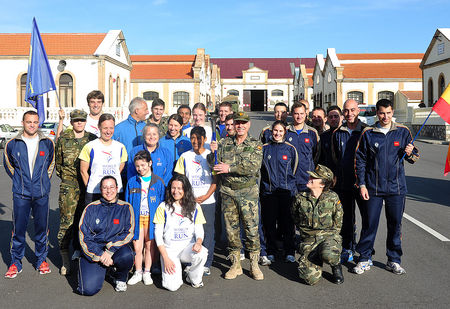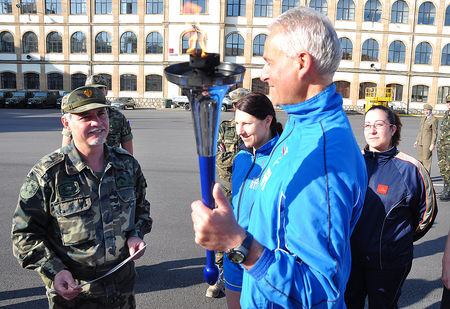 The General receives the torch...
El General recibió la antorcha...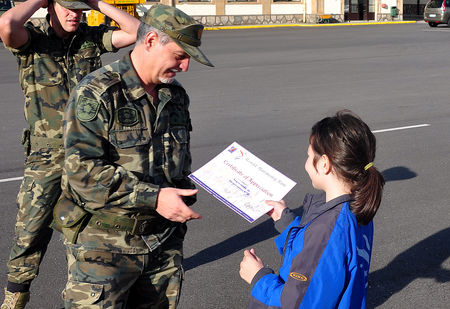 ...and a certificate of appreciation for his efforts towards peace.
...y un certificado de apreciacion por sus esfuerzos por la paz.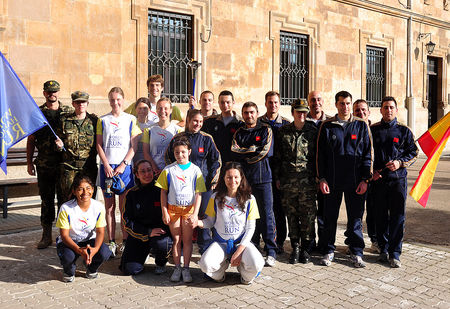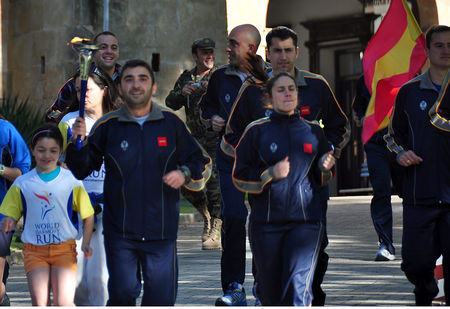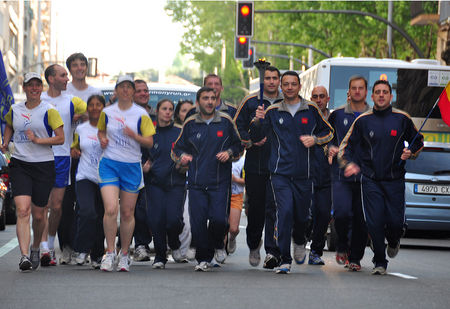 We had a great run through the city, with military athletes from the base.
Tuvimos una gran carrera en la ciudad con los atletas militares de la base.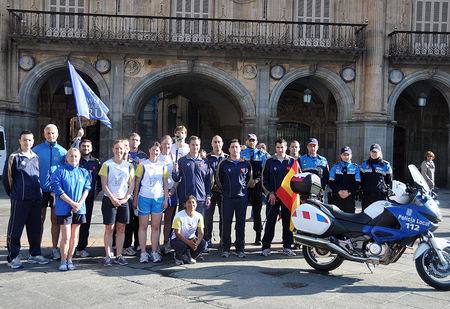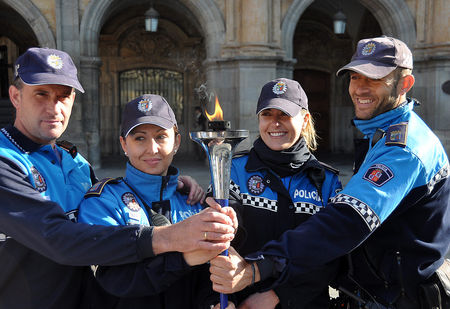 We had a clear path straight to the centre of the city, thanks to our police escorts.
Tuvimos un camino limpio y seguro al centro de la ciudad, ¡ gracias a la policia de transito por su solidarida !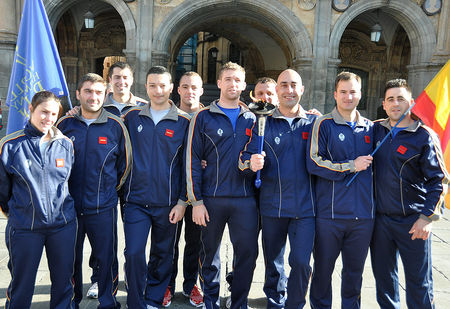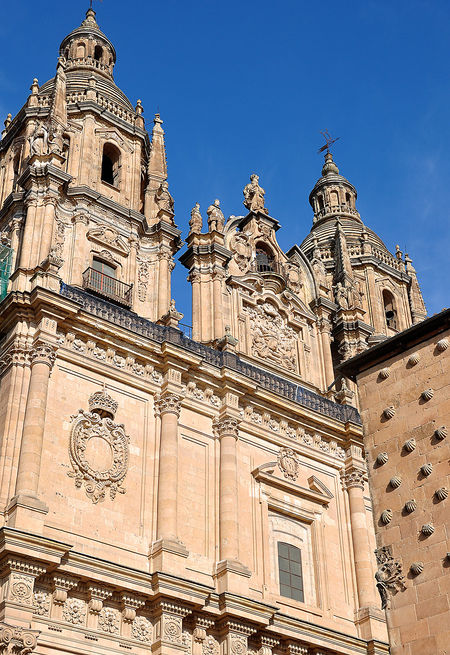 La Catedral de Salamanca.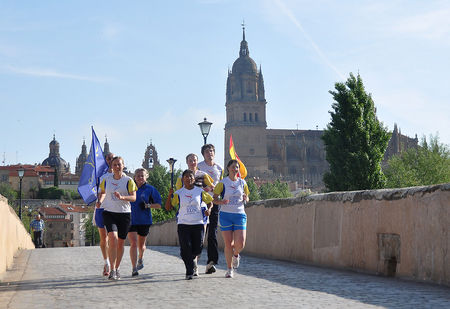 The City of Salamanca in the background, as we run over a local river.
Cruzando sobre el puente romano con Salamanca al fondo.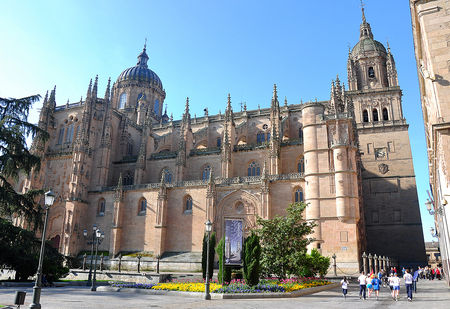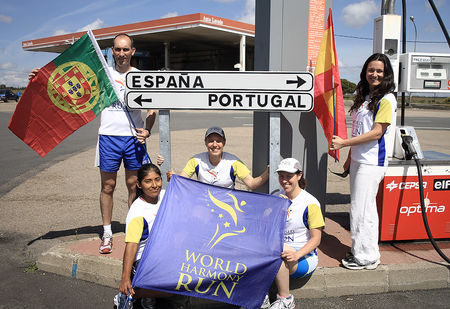 Adios Spain, thanks for the beautiful experiences and friendships!
¡Hasta luego España, gracias por las bonitas experiencias y amistades!
---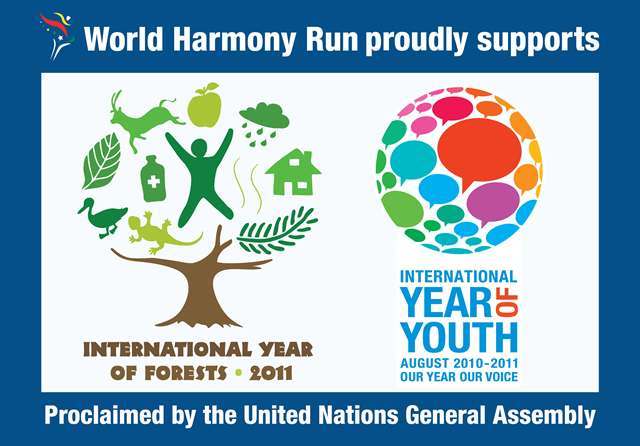 The World Harmnoy Run proudly supports the International Year of Youth (IYY) and the International Year of Forests (IYF) proclaimed by the United Nations General Assembly.
See also recent Youtube video which illustrates IYY slogan "Our Year Our Voice"  International Year of Youth - Zambia World Harmony http://www.youtube.com/watch?v=w6qehMiIWuYRun
* * * * * * * * * * * * * * * * * * * * **
---
Team Members:
Dipavajan Renner (Austria), Zach Saltzman (USA), Atul Arora (India), Roos de Waart (Netherlands), Albena Margaritova (Bulgaria), Angela Muhs (Germany), Marc Schrader (Germany), Dulce (Portugal), Daniela (Portugal), Olivia Lopez Cortes (Mexico), Daniel Spiro (Norway), Katrina Uddyogini Hall (Australia)
Harmonemail:
You can send a message to the runners or read the messages.
Gallery: See more images!