Spain 28 April: Barcelona - Valencia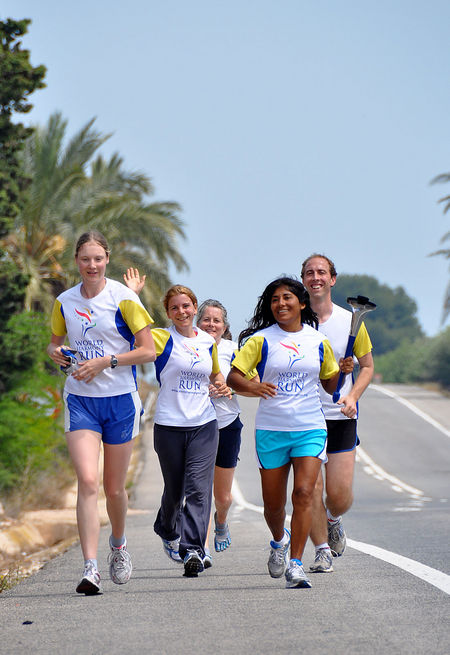 We took two days to run from Barcelona to Valencia. Our first run of the day was slow, but at least it was cheerful!
Nos tomamos dos dias para ir de Barcelona a Valencia. La primera carrera del día fue lenta pero alegre.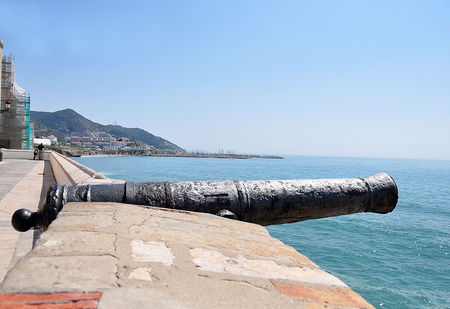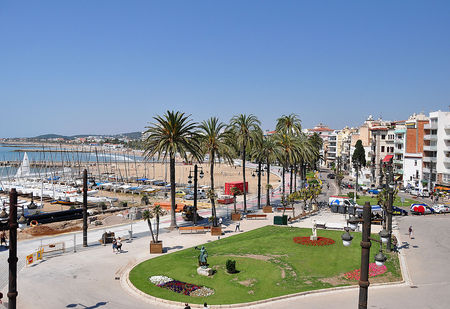 The small beach towns on the way, such as Sitges, were beautiful and relaxing.
Las playas locales en el camino como Sitges fueron bonitas y relajantes.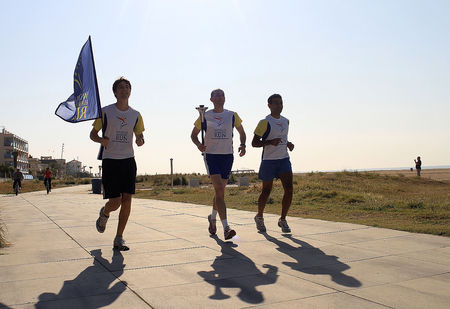 The ocean air was invigorating and refreshing.
El aire del mediterraneo es vigorizante y refrescante.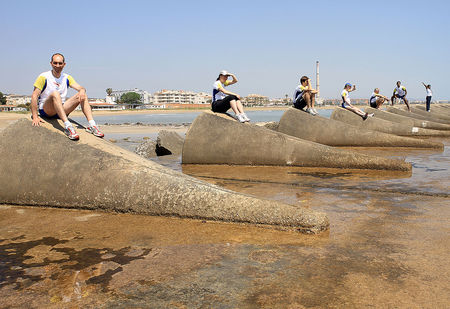 On the lookout.
El el mirador.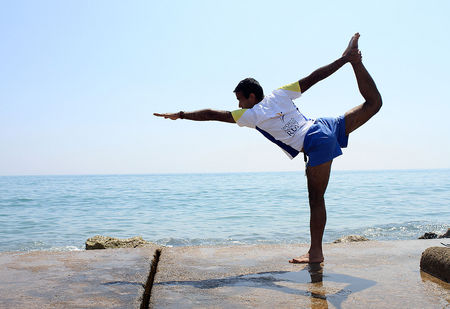 You can't find a more scenic place for hata yoga.
Un lugar sin igual para hacer hata yoga.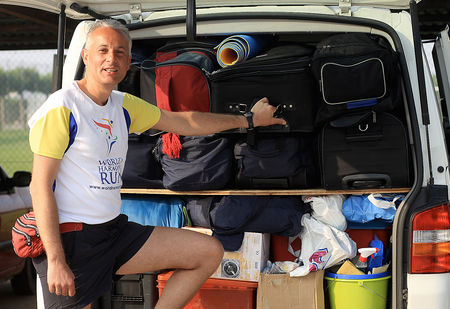 We gave up any hope of seeing out the rear window!
Hemos perdido la esperanza de ver algo por la ventana trasera de la furgoneta.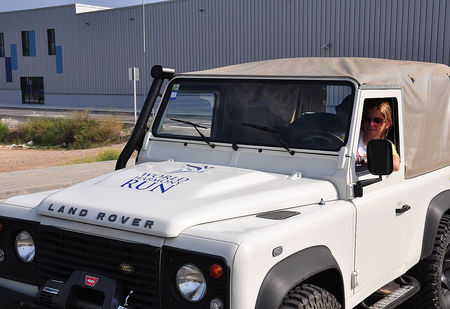 Presenting the World Harmony Run Jeep and its fearless driver.
Les presentamos el jeep de World Harmony Run y su intrépida conductora.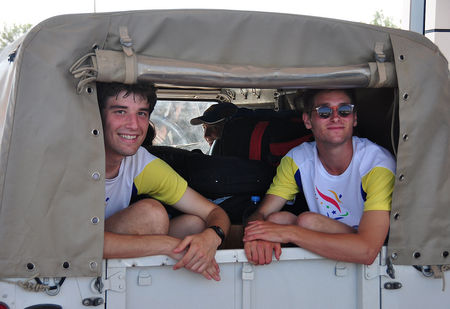 Bumpy ride...
Un viaje agitado...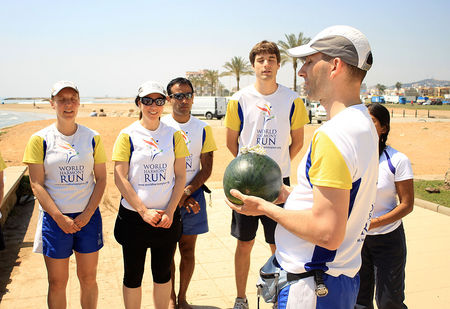 We had to improvise a little for a birthday cake.
Un "pastel" de cumpleaños improvisado.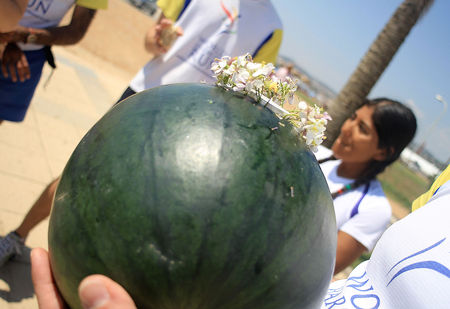 Happy Birthday Marc!
¡Feliz cumpleaños Marc!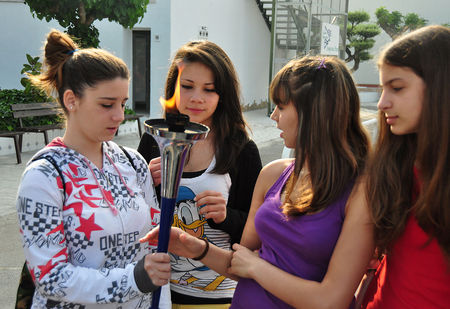 Some kids in Amposta put their wishes into the torch.
Algunas chicas en Amposta pusieron sus deseos con la antorcha.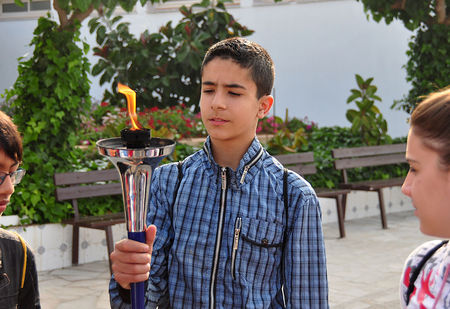 Then some running...
Luego corrimos...
Thanks to our wonderful hosts Magda and David at Centro Deportivo Amposta Parc, we got a great night's sleep, full stomachs, and enjoyed playing soccer at night!
Gracias a nuestros maravillosos anfitriones Magda y David del Centro Deportivo Amposta Parc hemos dormido y comido bien y hemos disfrutado jugando furtbol por la noche.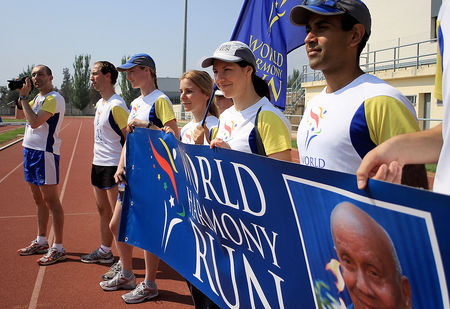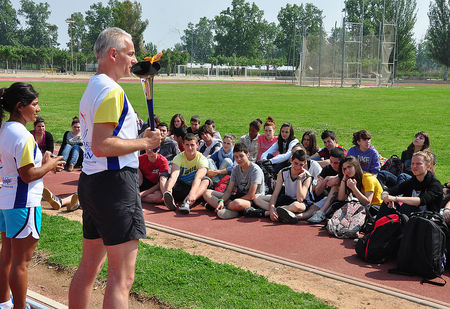 The kids at the Municipal Sports Complex in Amposta were amazing; we had a lot of fun running a lap with them.
Los jovenes en el Complejo Municipal de Deportes en Amposta fueron fantásticos. Lo pasamos muy bien corriendo con ellos.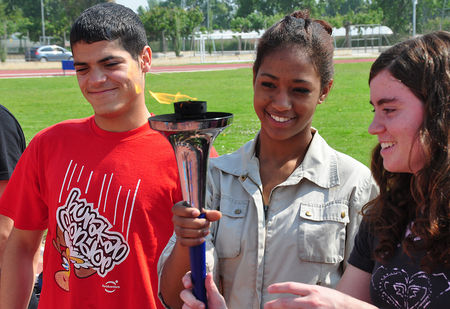 We had a very international crowd, such as this girl from the Dominican Republic.
Tuvimos también un grupo muy internacional; como esta joven de la Republica Dominicana...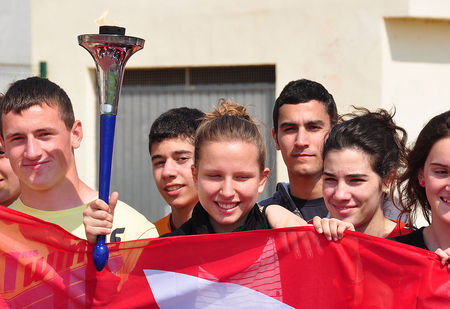 More international students, from Lithuania and Romania.
...o de Lituania y Romania.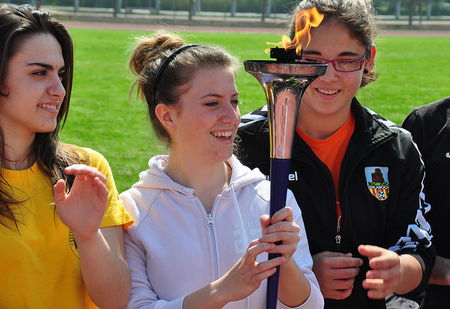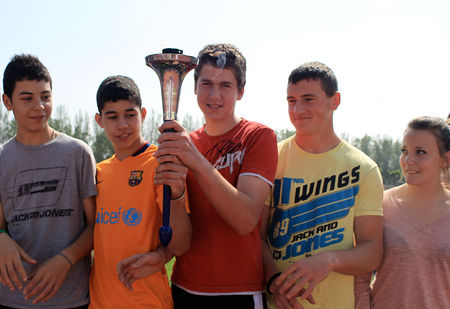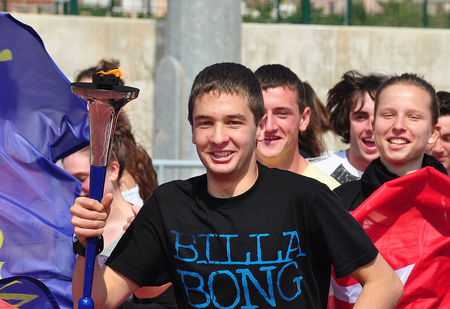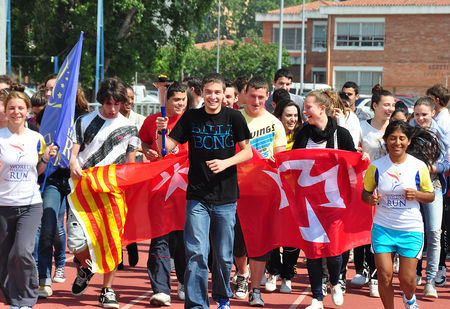 Joy and smiles all around.
Alegría y sonrisas por todos lados.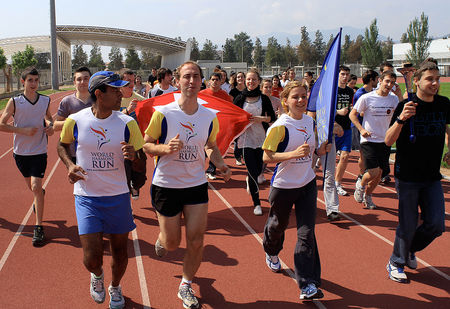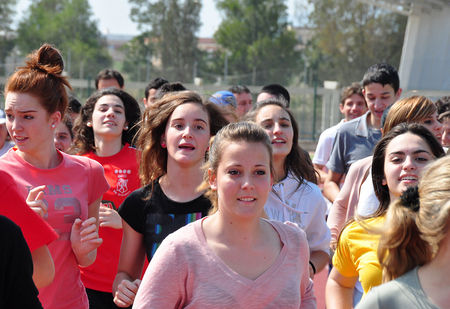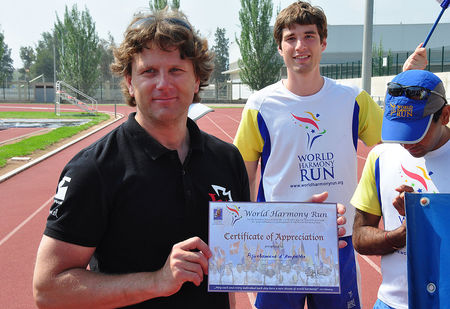 A big thank you to Axel Mueller, director of the sports department, for organising our visit and introducing us to some great students.
Muchas gracias a Axel Mueller, director del departamento de deportes, por organizar nuestra visita y presentarnos a grandes estudiantes.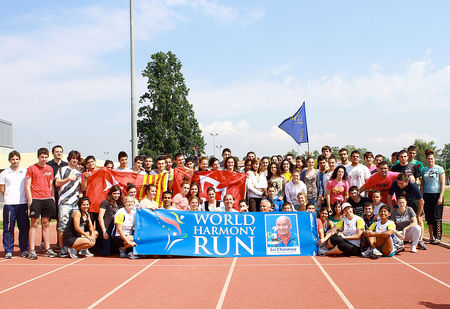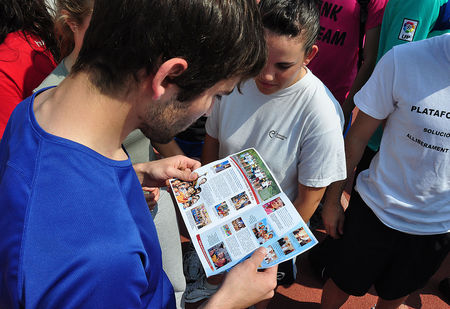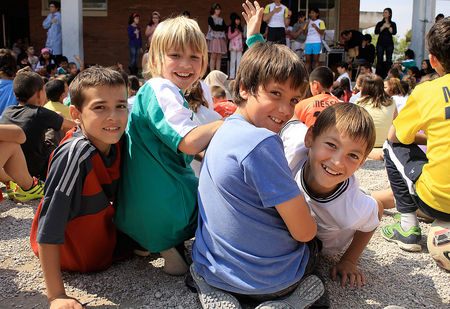 Our visit to Agusti Barbera school was completely spontaneous.
Nuestra visita al colegio Agustín Barberá fue totalmente espontanea.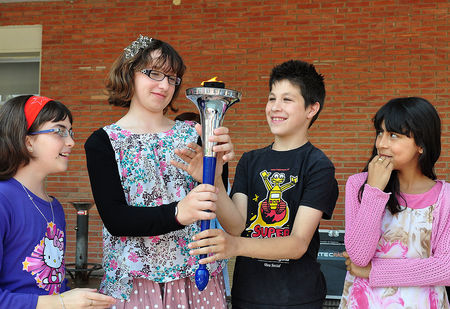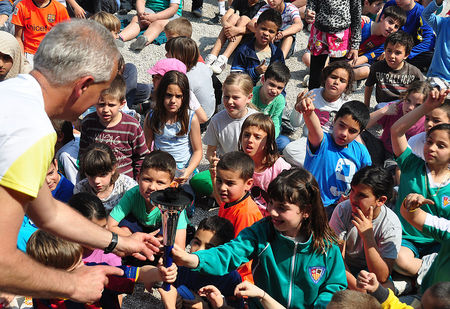 The students had no idea who we were, but once we introduced ourselves they were eager to hold the torch.
Los alumnos no tenian idea de quienes eramos pero cuando nos presentamos estuvieron deseosos de sostener la antorcha.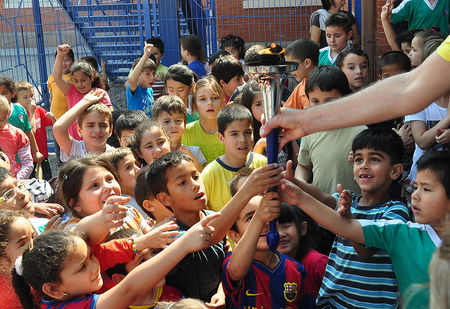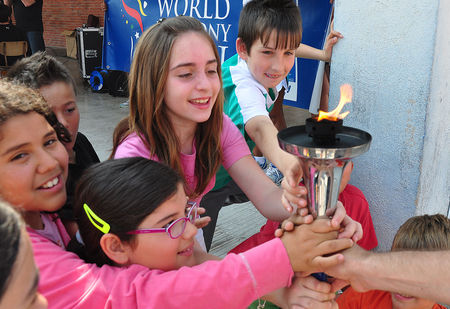 We are so glad we stopped in to Agusti Barbera school; these smiles made our day.
La parada en el colegio Agustín Barberá fue genial; esas sonrisas alegraron nuestro dia.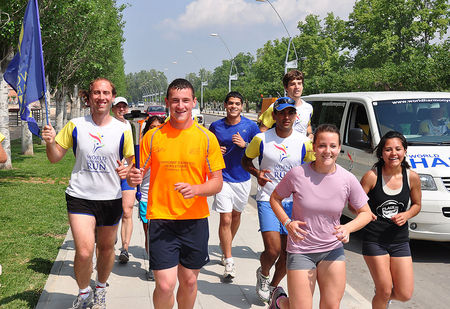 After our spontaneous meeting we joined our friends from the previous school for a quick run.
Después de nuestro espontáneo encuentro nos encontramos con nuestros amigos del Centro Deportivo para una carrera rapidita.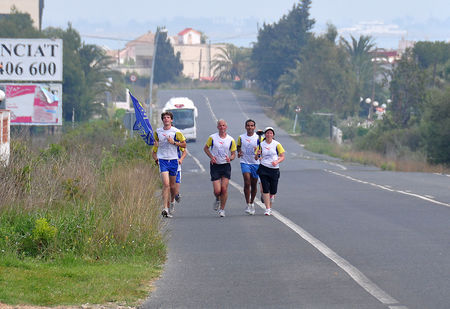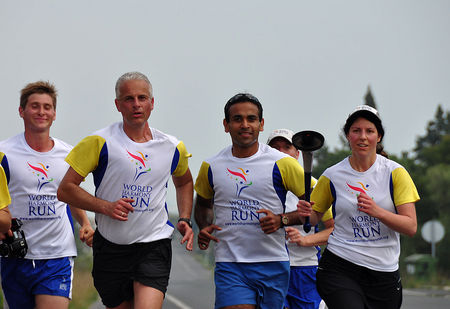 A speedy run along the coast.
Una carrera veloz a lo largo de la costa.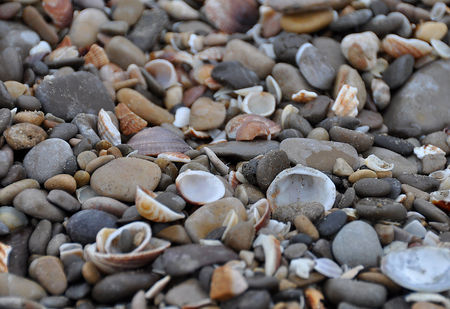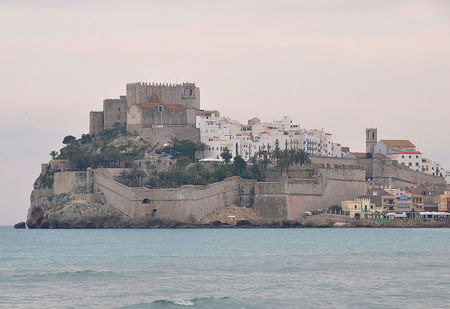 The fortress we passed made for a spectacular view.
Hemos pasado una espectacular vista de la fortaleza.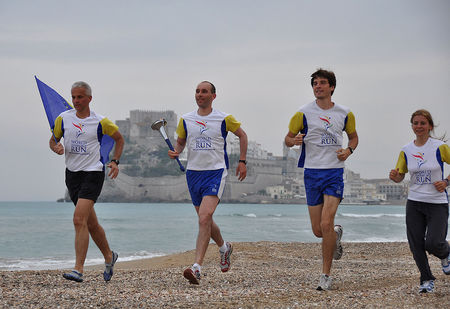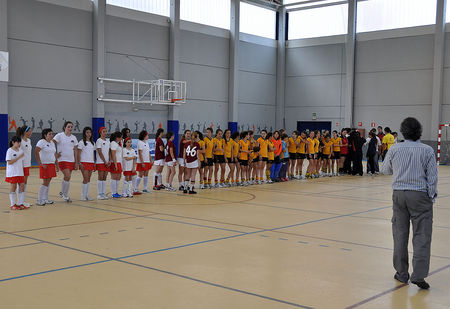 At the Pavello Malva-Rosa in Valencia we met with the championship indoor hockey teams.
En el pabellon Malvarosa en Valencia nos encontramos con los equipos del campeonato de hockey de interior.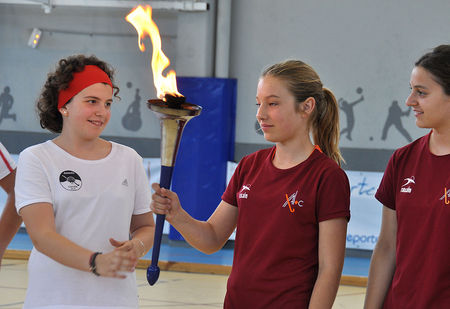 It was amazing to watch the two teams who had just competed so hard with each other, pass the torch and offer wishes for friendship.
Fue extraordinario ver los dos equipos que acababan de competir rendidamente, pasarse la antorcha y ofrecer los mejores deseos de hermandad.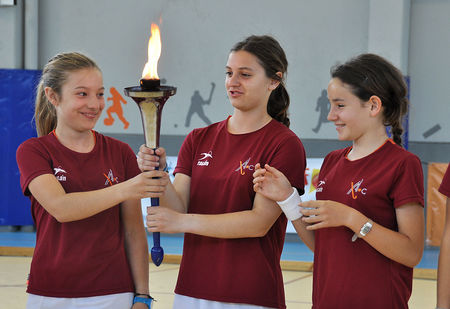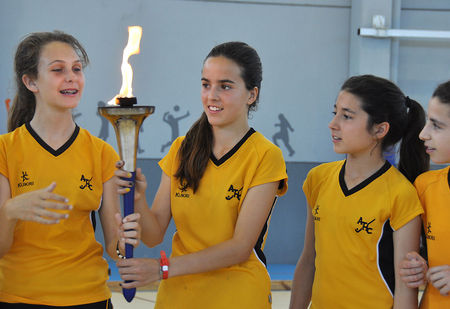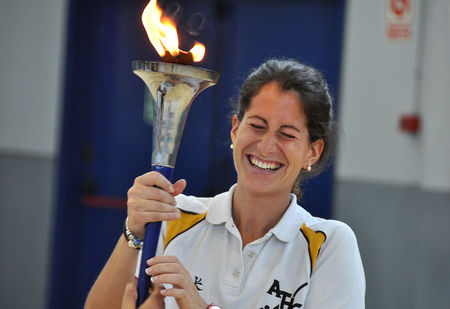 Overall it was a joy-filled day!
Sobre todo de todo fue un dia lleno de alegría.
---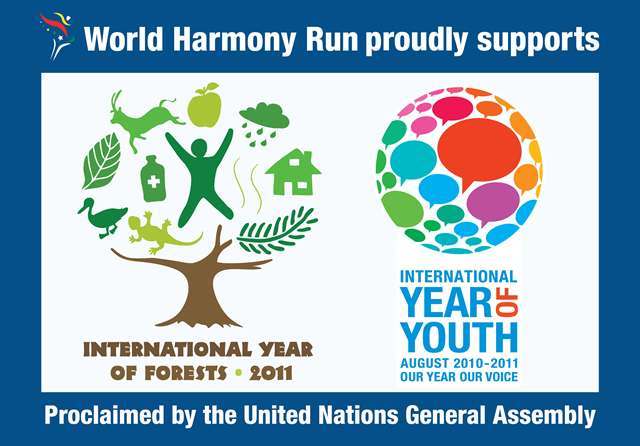 The World Harmnoy Run proudly supports the International Year of Youth (IYY) and the International Year of Forests (IYF) proclaimed by the United Nations General Assembly.
See also recent Youtube video which illustrates IYY slogan "Our Year Our Voice"  International Year of Youth - Zambia World Harmony http://www.youtube.com/watch?v=w6qehMiIWuYRun
---
Distance: 400 km
Team Members:
Dipavajan Renner (Austria), Zach Saltzman (USA), Atul Arora (India), Patricio de sa da Rocha Rodrigues (Portugal), Roos de Waart (Netherlands), Claudia Nunes (Portugal), Katrina Uddyogini Hall (Australia), Albena Margaritova (Bulgaria), Angela Muhs (Germany), Marc Schrader (Germany), Olivia Lopez Cortes (Mexico), Daniel Spiro (Norway)
Harmonemail:
You can send a message to the runners or read the messages.
Gallery: See more images!